New Hampshire is known for a lot of things but to start it is one of the New England states. New Hampshire is a small state and was one of the original 13 colonies when the United States was formed. 
It was also the first state of the original 13 to have its own state constitution. It is the 5th smallest state in the United States but there are a lot of great historical facts about NH, places to visit, things to do, and many things that New Hampshire is known for.  
Let's dive in and look at some of the things New Hampshire is most known for.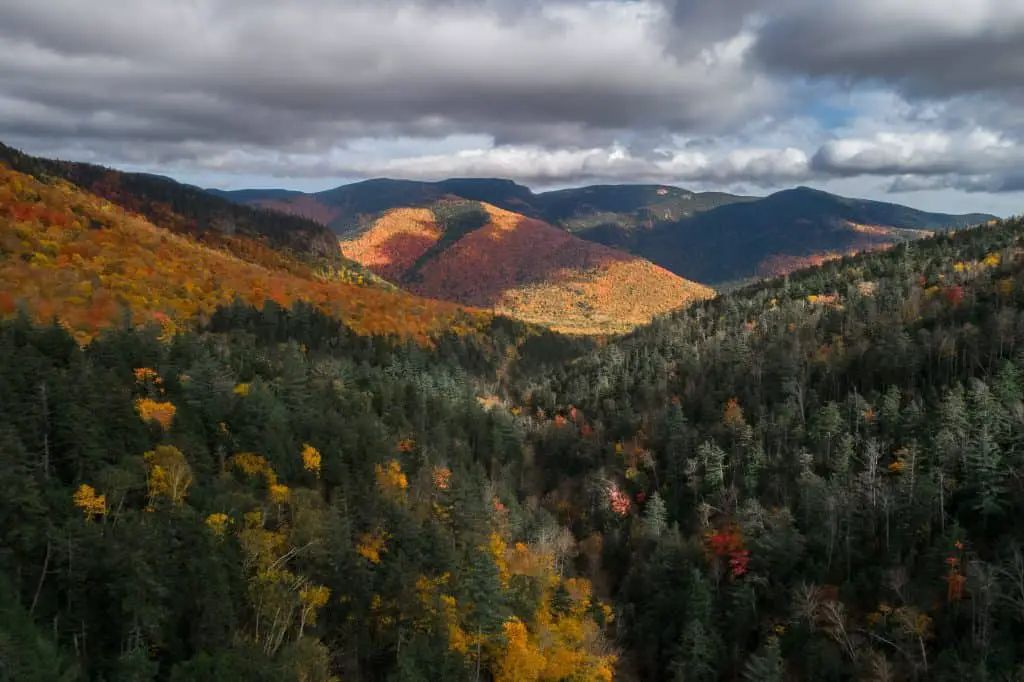 37 Things New Hampshire Is Known For
New Hampshire is the 5th smallest state by size but it has a lot to offer to residents and tourists.  Here are some of the things NH is known for.  
New Hampshire Fall Foliage / "Leaf Peeping"
Every Fall season New Hampshire offers up an absolutely beautiful delivers array of colors from the changing leaves between September and October. 
Fall foliage in New Hampshire is a great thing to see and many look forward to it every year. When is the best time to see Fall foliage in New Hampshire? New Hampshire's Fall foliage season usually begins in early September and goes into October.
The leaves that were green in the Summer now change to fiery reds, vibrant yellows, and many other shades of orange. Many tourists flock to the state of New Hampshire during prime leaf peeping season to go on scenic drives to see the sea of colors. Some of the best Fall foliage colors can be seen by driving through the White Mountains of New Hampshire.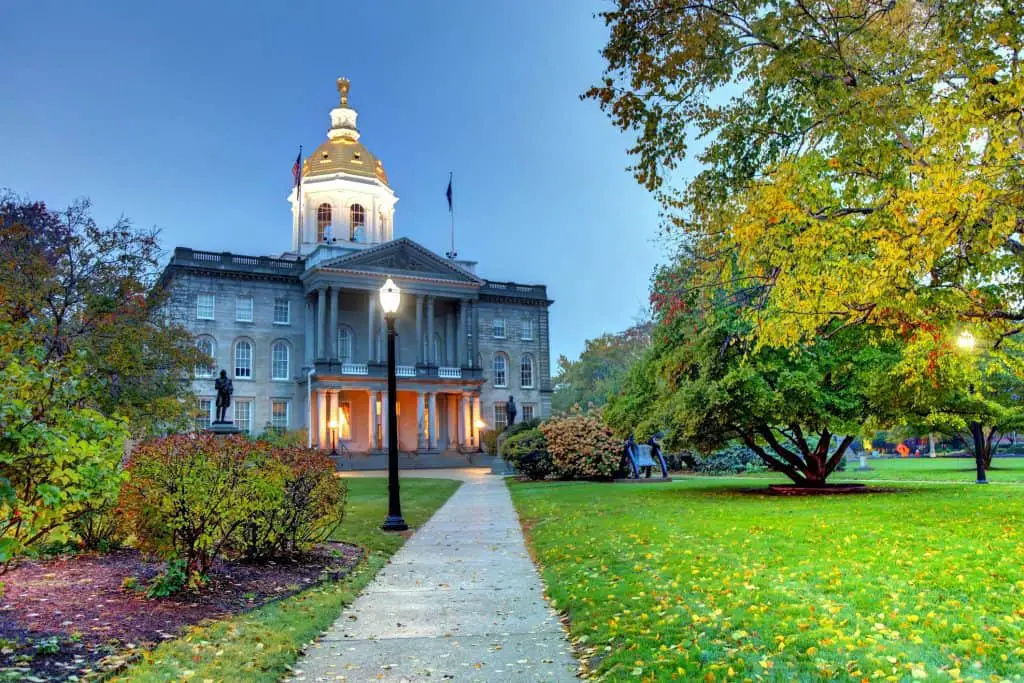 The Capital of New Hampshire
The capital of New Hampshire is a very lovely little city called Concord, New Hampshire. Concord NH is the seat of New Hampshire's government and has a lot to offer residents and tourists passing through the NH State Capital.  
The majestic New Hampshire State House is located at 107 North Main Street in the centerpiece of Concord NH, their charming Main Street.  The State Capital building is where the NH general court, the Governor of NH, and the Executive council meets.  
If you are looking for things to do in Concord NH this small city has a lot to offer.  There are some great restaurants, breweries, coffee shops, boutique stores and other attractions to entertain you.  You can catch a live musical performance or a play at the Capital Center for the Arts or the Bank of NH Stage.  
Some personal favorite restaurants to add to your list include Revival Kitchen and Bar, The Barley House, and the New Hampshire Pizza Company.  Follow your meal up with some local NH craft beers from Concord Craft Brewing Company, Feathered Friend Brewery, and Litherman's Limited Brewery.  
New Hampshire State Motto
New Hampshire has a rather famous State Motto with being "Live Free or Die."  There is some history to the NH State Motto but in short, General John Stark famously wrote in an 1809 toast to a reunion celebration "Live Free or Die: Death is not the worst of evils." 
His words became trendy during the French Revolution and eventually became the New Hampshire state motto.  
Today you can see the NH state motto written on NH license plates, NH road signs, and more.  As a lifelong NH resident I have always loved our state motto and I have even had residents of other countries comment on it when I traveled so it is very well known.  
New Hampshire White Mountains
The New Hampshire White Mountains is a key thing New Hampshire is known for.  Known as The White Mountains, is a mountain range in New Hampshire that covers about a quarter of the entire state of New Hampshire.  
This mountain range even extends into a small portion of Western Maine, one of the neighboring states to NH.
The White Mountains are part of the Northern Appalachian Mountains and some of the most rugged mountains in all of New England.  The mountain range stretches 87 miles across central NH and up into Northern NH.  The White Mountains contain some wonderful NH State Parks, adorable small NH towns, impressive NH hiking trails, NH waterfalls, and more.  
There are 48 mountain peaks in the White Mountains with its highest peak being the famous Mount Washington.  Mount Washington is 6,288.2 feet and is the largest of the White Mountains and it attracts hikers from all over the world who want to check this peak off their lists. 
Other famous White Mountains in the range include Mount Monadnock, Mount Bond, Mount Monroe, Mount Moosilauke.  You can see the full list of all the White Mountains here.  
Stretching 87 miles across central and northern NH into a small portion of western Maine, the White Mountains encapsulate state parks, unforgettable small towns, scenic parkways, mountain ranges, waterfalls, hiking trails, and so much more
Within the New Hampshire White Mountains you will find the beautiful White Mountain National Forest.  The White Mountain Trail, the famous Appalachian Trail, and the Kancamagus scenic highway all are part of the White Mountain National Forest.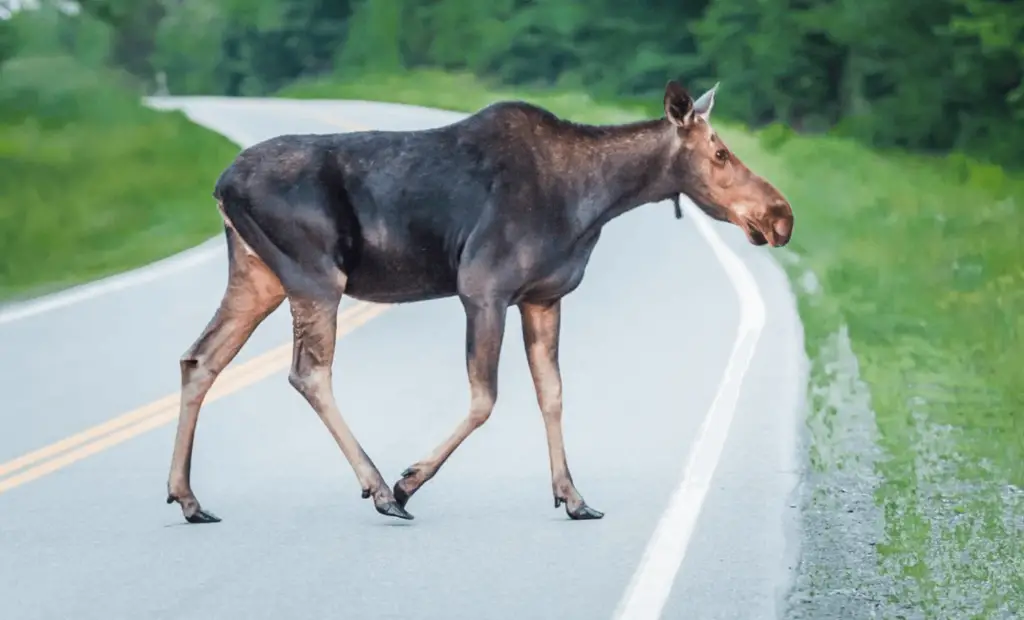 On your drive through Northern NH you may even be fortunate enough to see a Moose.
New Hampshire has forty-eight 4,000 footer mountains and there are many hikers who have a going list of these mountains to hike.  Most of these mountains on the 4,000 footer list can be found in the White Mountains.  Some people even hike all 48 of the 4,000 footers and then they do it in the Winter (and some even do it with their dog!).  
I have had many friends and family members over the years who tackled this lofty goal!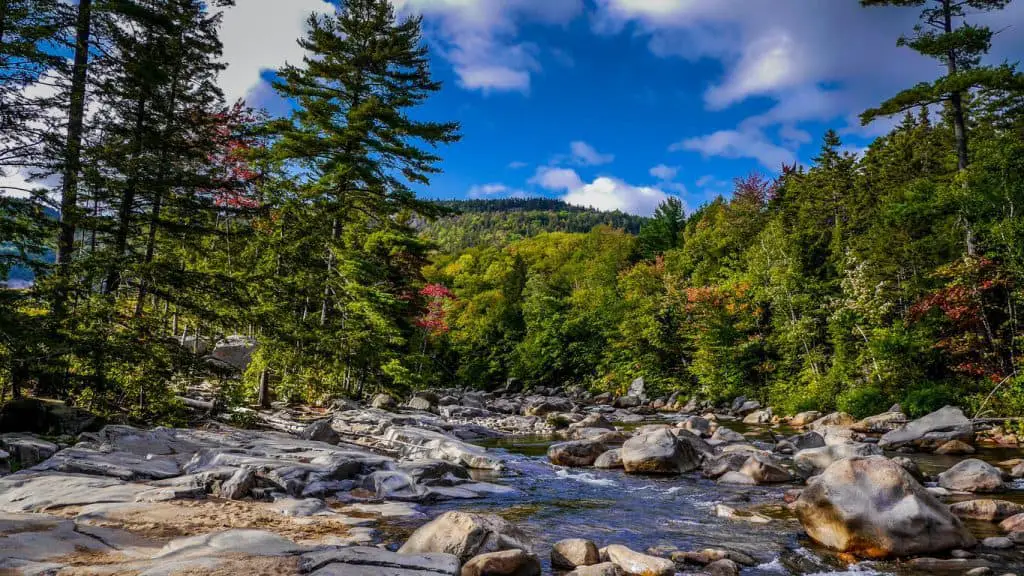 The White Mountain National Forest
The White Mountain National Forest can be found within the scenic White Mountains of New Hampshire.  This wonderful forest boasts 800,000 acres of protected forest land and pristine nature.  
Some notable attractions inside the White Mountain National forest are of course the White Mountain peaks, the White Mountain Trail, the Kancamagus Scenic Highway, the Cog Railway, and 160.9 miles of the world-famous Appalachian Trail.   
Tourists flock to the White Mountain National Forest for the hiking and during "Leaf Peeping" season in the Fall to see the beautiful colors of the changing trees.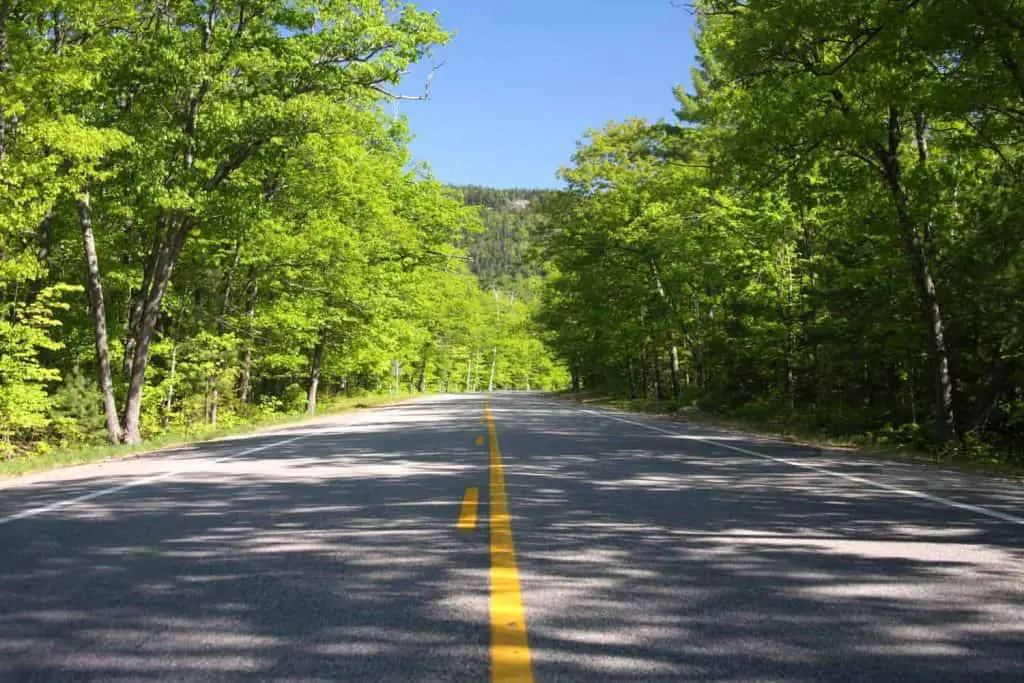 The Kancamagus Highway
One of New Hampshire's top destinations in the Fall is The Kancamagus Scenic Highway.  It is a beautiful stretch of road that offers a scenic view.  Every Fall there are hundreds of thousands of tourists that flock to the White Mountain highway each year.  They drive the 34 mile stretch of road which begins at the intersection of Route 16 in Conway and proceeds through the White Mountain National Forest ending in Lincoln near Interstate 93.   
It is a twisty and curving NH roadway which makes it a prime NH motorcycle trip and for tourists who want to take in NH's beauty from the comfort of their vehicle.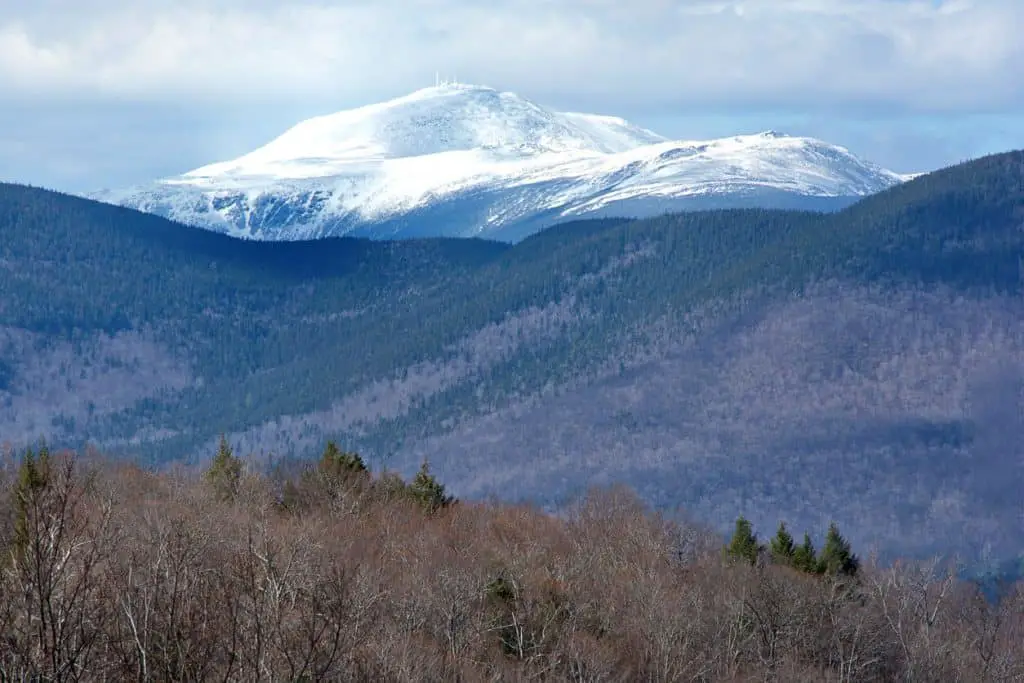 Mount Washington
Nestled in the White Mountains of New Hampshire is the majestic Mount Washington.  Mount Washington is located in Coos County, New Hampshire and thousands of people visit it every year to behold this sight.  
Mount Washington is visited by hikers and some of those hikers are hiking the Appalachian Trail.  Others choose to visit the mountain to drive up the breathtaking Auto Road, rock climb, fly gliders, and even backcountry ski.  Mount Washington also hosts various races up the mountain including an auto race, a bike race and even a road race.  
As mentioned above, it boasts the highest peak in the Northeastern United States.  The mountain stands 6,288,2 feet in height and is a sight to behold.  
Mount Washington is well-known for having some of the most erratic weather.  Back in April of 1934 the Mount Washington Observatory clocked a wind speed at the summit of an astonishing 231 miles per hour!  This wind speed held a world record for many years up until 1996.  
There is also the famous Mountain Washington Cog Railway which is a historic railway that ascends the Western side of the mountain.  The views on this railway experience are fabulous!
Mountain Washing is a fabulous attraction that New Hampshire offers and it is a sight to see.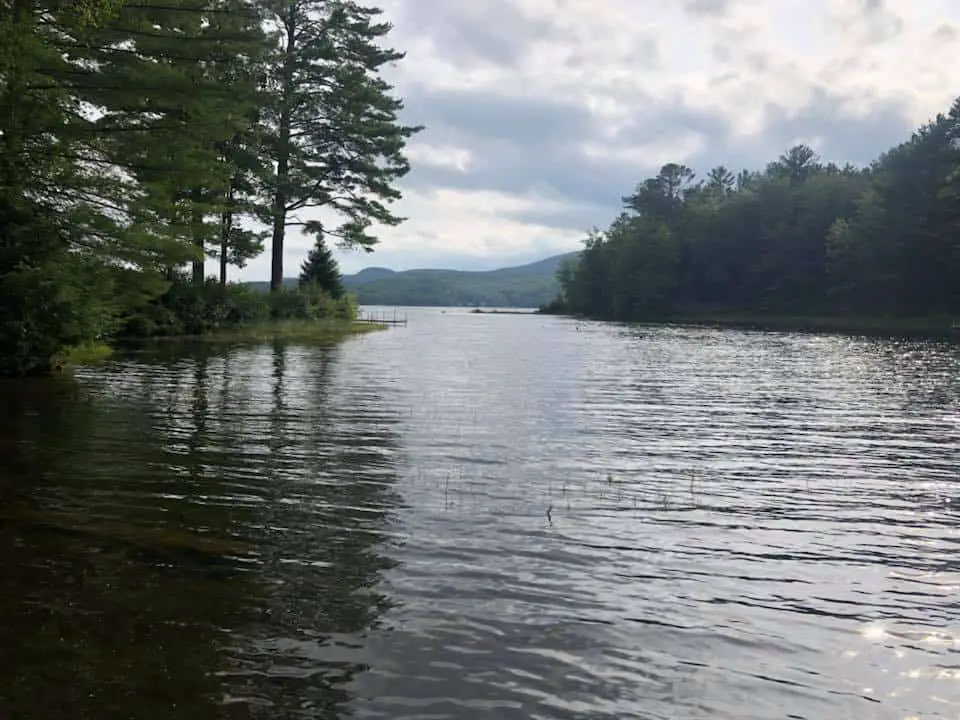 New Hampshire Lakes
While New Hampshire is a relatively small state it is home to an impressive 944 lakes and they are an important part of life in the state.  NH Lakes are a major tourist attraction and NH residents enjoy them year round.  
New Hampshire lakes offer activities such as swimming, boating, kayaking, and fishing.  In the Winter months many tourists and residents still frequent the lakes.  They ice fish, ice skate, cross country ski, ride ATVs, and even snowmobile across them.  
New Hampshire lakes are known as some of the cleanest lakes in the country and boast very high water quality levels.  Some of the biggest and most popular lakes in New Hampshire include "the big lake" Lake Winnipesaukee, Squam Lake, Lake Winnisquam, Newfound Lake, Lake Sunapee, and even Ossipee Lake.  
I personally grew up in Enfield spending lots of time on Mascoma Lake and Crystal Lake.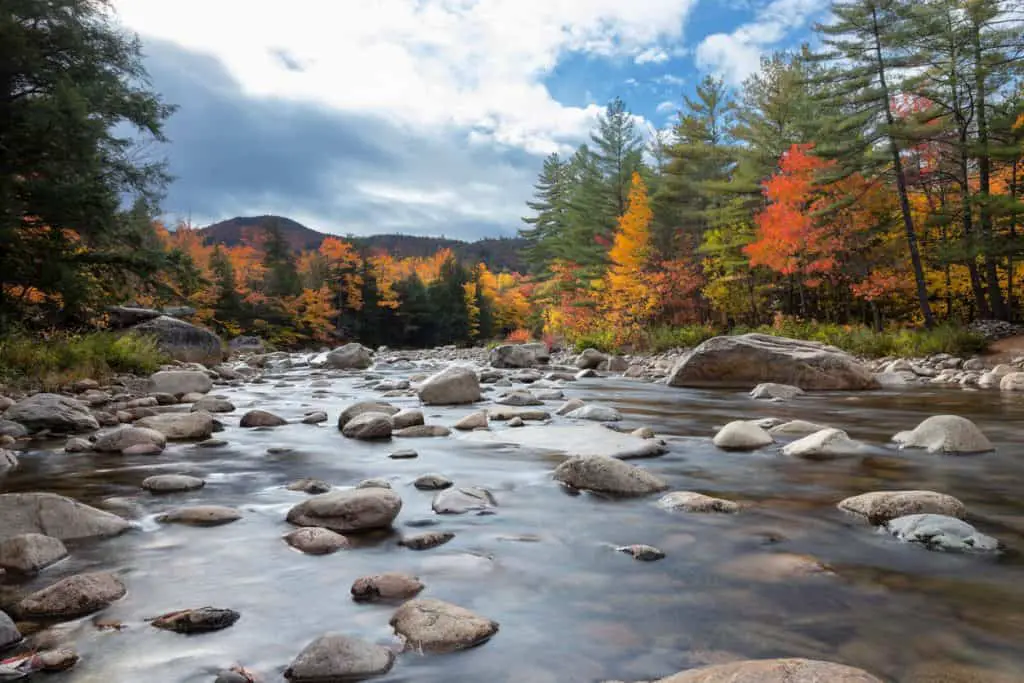 New Hampshire Rivers
On top of all the lakes in New Hampshire, the "Live Free or Die" state has 19 rivers totally about 10,874 miles of river.  Some of the major rivers in New Hampshire include the Connecticut River, the Androscoggin River, the Saco River, and the Merrimack River which travels through Concord NH and Manchester NH.   
On any given weekend in New Hampshire you can see residents and tourists boating, paddle boarding, kayaking, fishing and swimming.  New Hampshire has a lot of great swimming holes to offer too!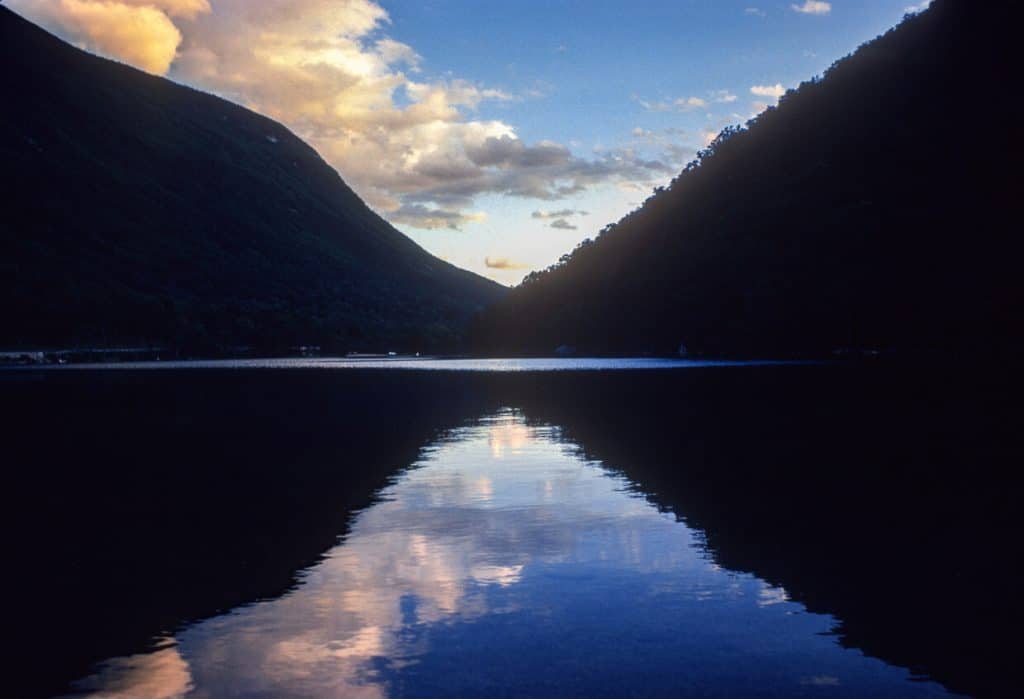 Franconia Notch
Franconia Notch is the famous mountain pass through the beautiful White Mountains of New Hampshire.  On the Western side of it you will find Cannon Mountain.  On the East, Mount Lafayette.  You can find Franconia Notch inside the Franconia Notch State Park.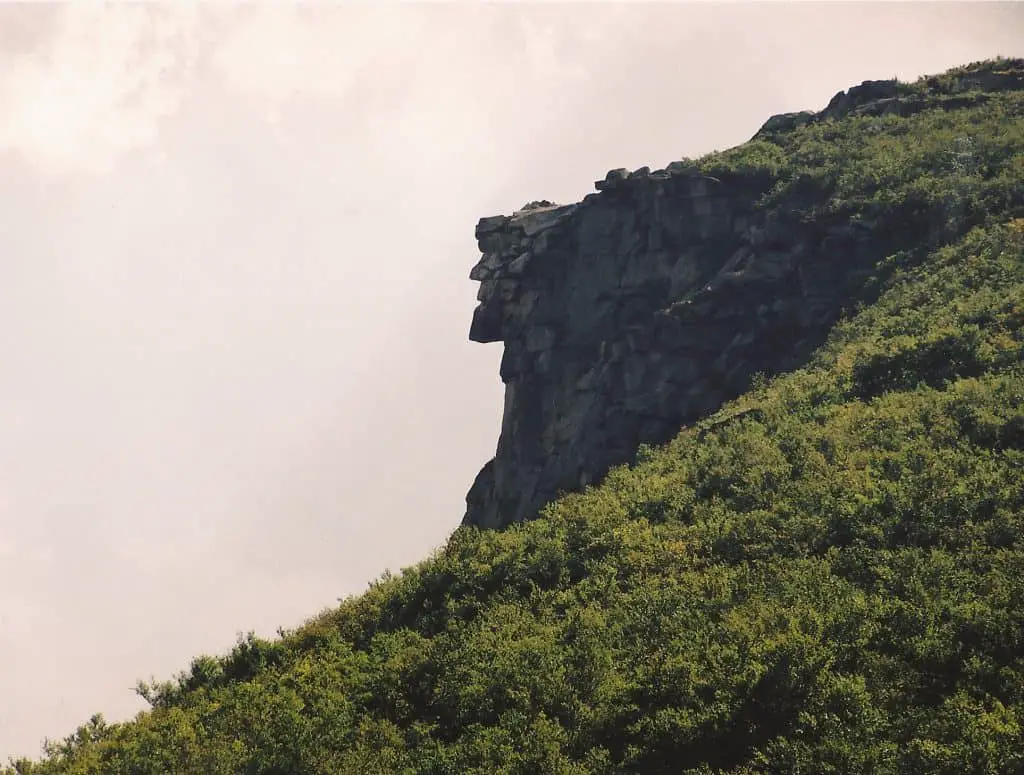 Franconia Notch was home to the beloved "Old Man of The Mountain" rock formation that which unfortunately collapsed in 2003 after years of wear and tear.  When I was a child driving North with my family to Errol NH we always drove through the Notch and I would always look for the Old Man.  
Franconia Notch State park offers a nature preserve and a public recreation area bellied right up to interstate 93 which passes through it.  It is an impressive sight to see!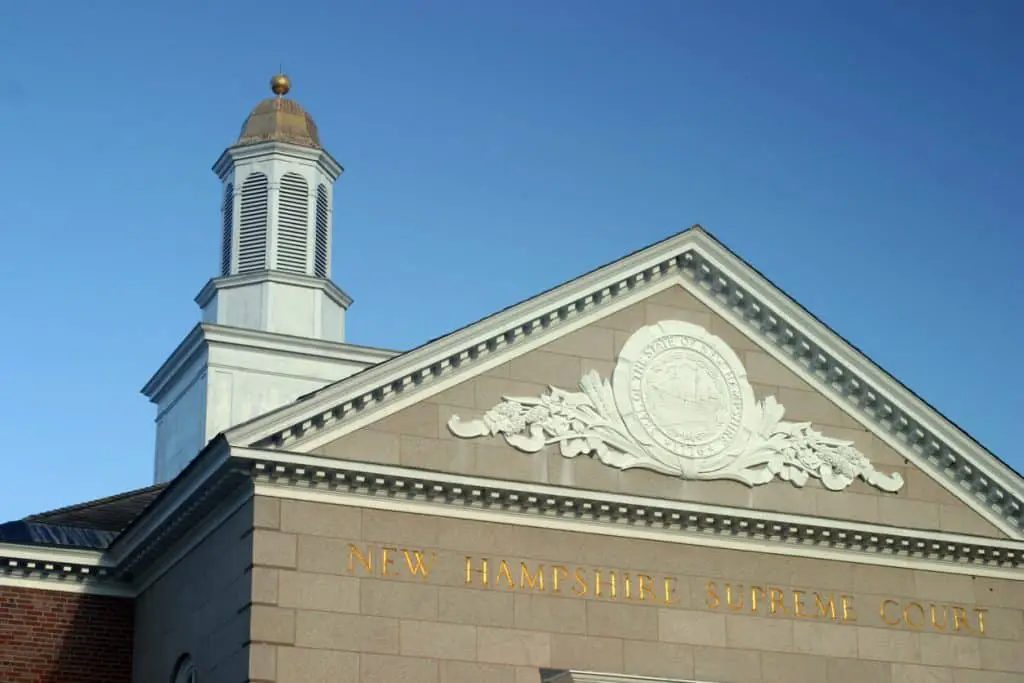 First In The Nation – New Hampshire's Presidential Primary
New Hampshire has always taken its Politics very seriously and since the year 1920 it has played a pivotal role in National Politics.  The New Hampshire primary is one of the most important initial tests for any Presidential candidates as it happens early in the race. 
New Hampshire passed a state law requiring lawmakers to move the day of the NH Primary before any other state.  This makes the NH primary a very important early indicator for a presidential candidate's popularity.  It is well-known that if you don't perform well in the New Hampshire Primary that they typically don't recover from that.  
Back in the year 1977 (the year of my birth incidentally), NH had to fight to keep its primary.  This makes New Hampshire an important part of every presidential race.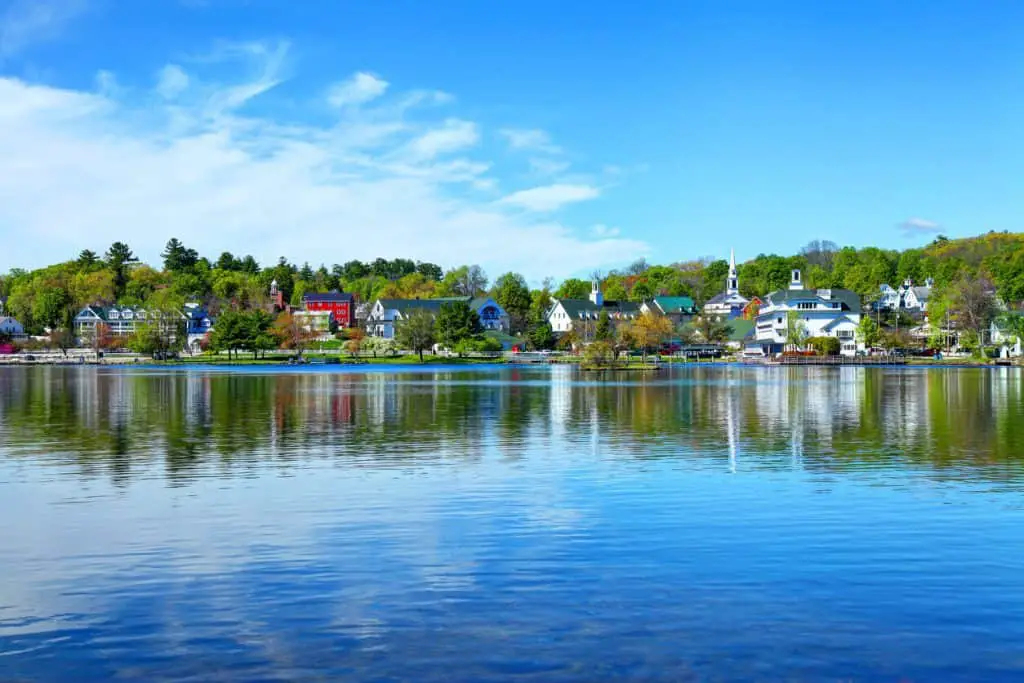 Lake Winnipesaukee
As I mentioned earlier, New Hampshire has many lakes.  Nestled in the "Lakes Region" of New Hampshire is its "Big Lake" Lake Winnipesaukee.  Lake Winnipesaukee is the biggest lake in all of New Hampshire and is located at the foothills of the White Mountains.  
How big is Lake Winnipesaukee?  Lake Winnipesaukee is 1-9 miles wide and over 21 total miles long.  Its maximum depth is said to be 180 feet at its deepest.   
Lake Winnipesaukee is a popular lake in New Hampshire and people from all over New England (and even the United States) have visited this lake to enjoy everything it has to offer.  Many people live here, have second homes on the lake, and vacation here.
There are all kind of things to do on Lake Winnipesaukee including boating, jet skiing, water skiing, tubing, kayaking, and paddle boarding.  Around the lake are many attraction including the famous Weirs Beach, Fun Spot arcade, the Mountain Washington Cruise Ship, and even the Winnipesaukee Scenic Railroad which travels along one edge of the big lake.  
During the Summer Months there are many lake-goers who enjoy its beautiful waters and patronize the Inns, restaurants, and attractions around the lake. 
Some of the New Hampshire towns that surround the lake include Alton NH, Franklin NH, Holderness NH, Moultonborough NH, Tilton NH, Ossipee NH, Belmont NH, Gilford NH, Laconia NH, Sanbornton NH, Tuftonboro NH, Center Harbor NH, Gilmanton NH, Meredith NH, Sandwich NH, and Wolfeboro NH.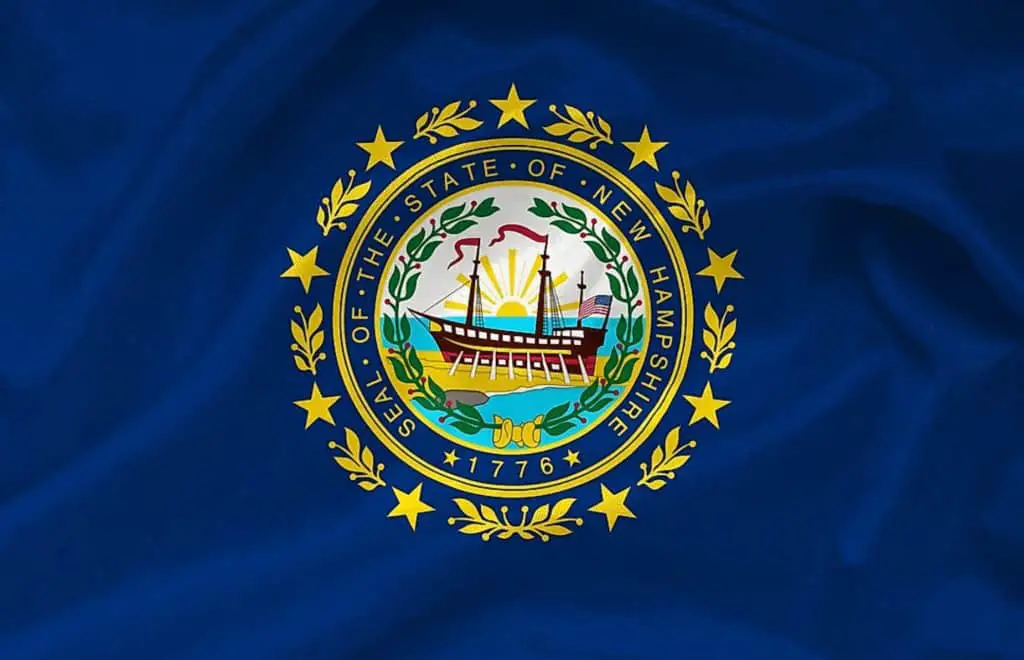 New Hampshire State Flag
My office is right downtown Concord NH and my window overlooks the State House.  Every single day the New Hampshire State Flag is flying and it makes me smile.  
What does the NH State Flag look like?  The New Hampshire State Flag is typically a blue background that has the NH state seal center flag. The state seal at the center of the flag is surrounded by laurel leaves with 9 stars against a field of blue.  
Even though New Hampshire was officially founded in 1776 the state did not adopt this flag as its state's flag until 1909.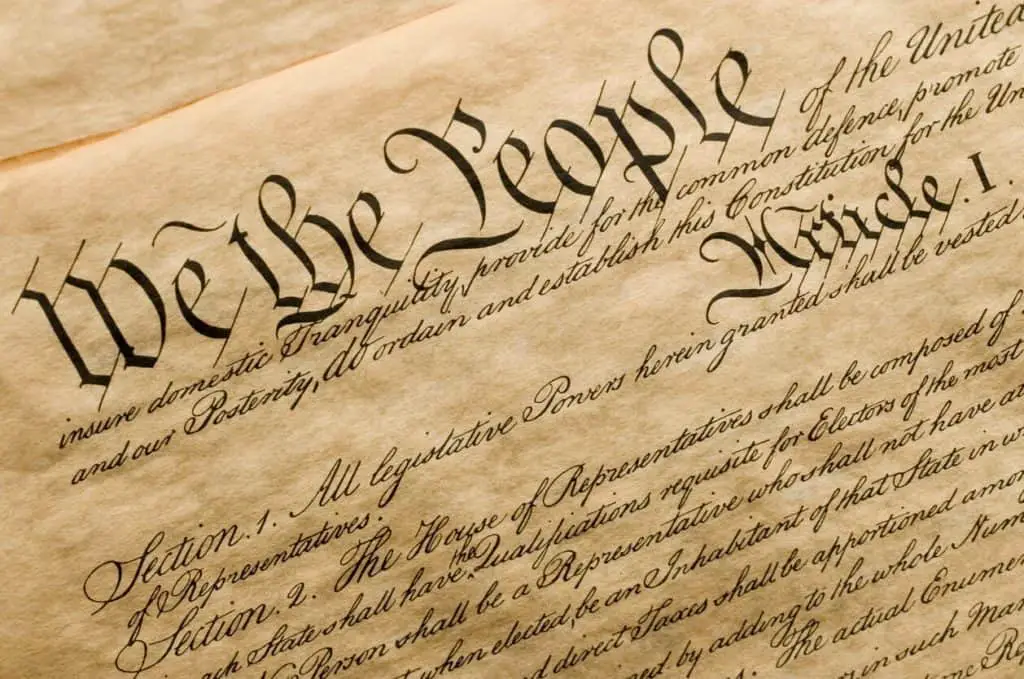 New Hampshire Was The 9th State To Ratify The Constitution
While New Hampshire became an official state in 1776 the state was slow to officially ratify the United States constitution.  New Hampshire finally ratified the Constitution in June of 1788 making it the governing document to rule the United States.  
Better late than never right?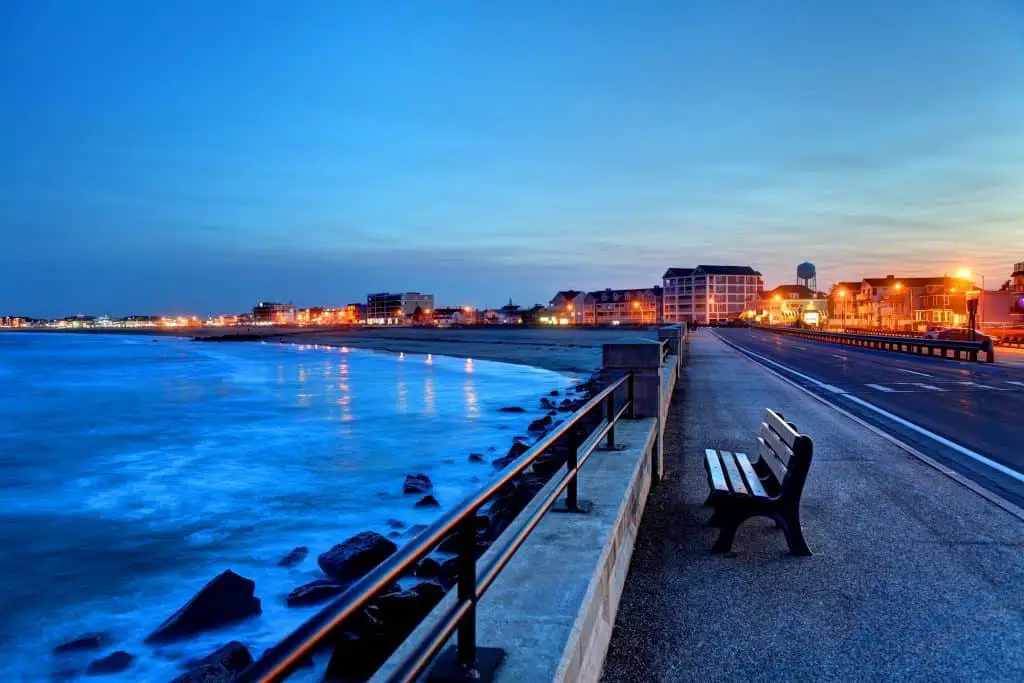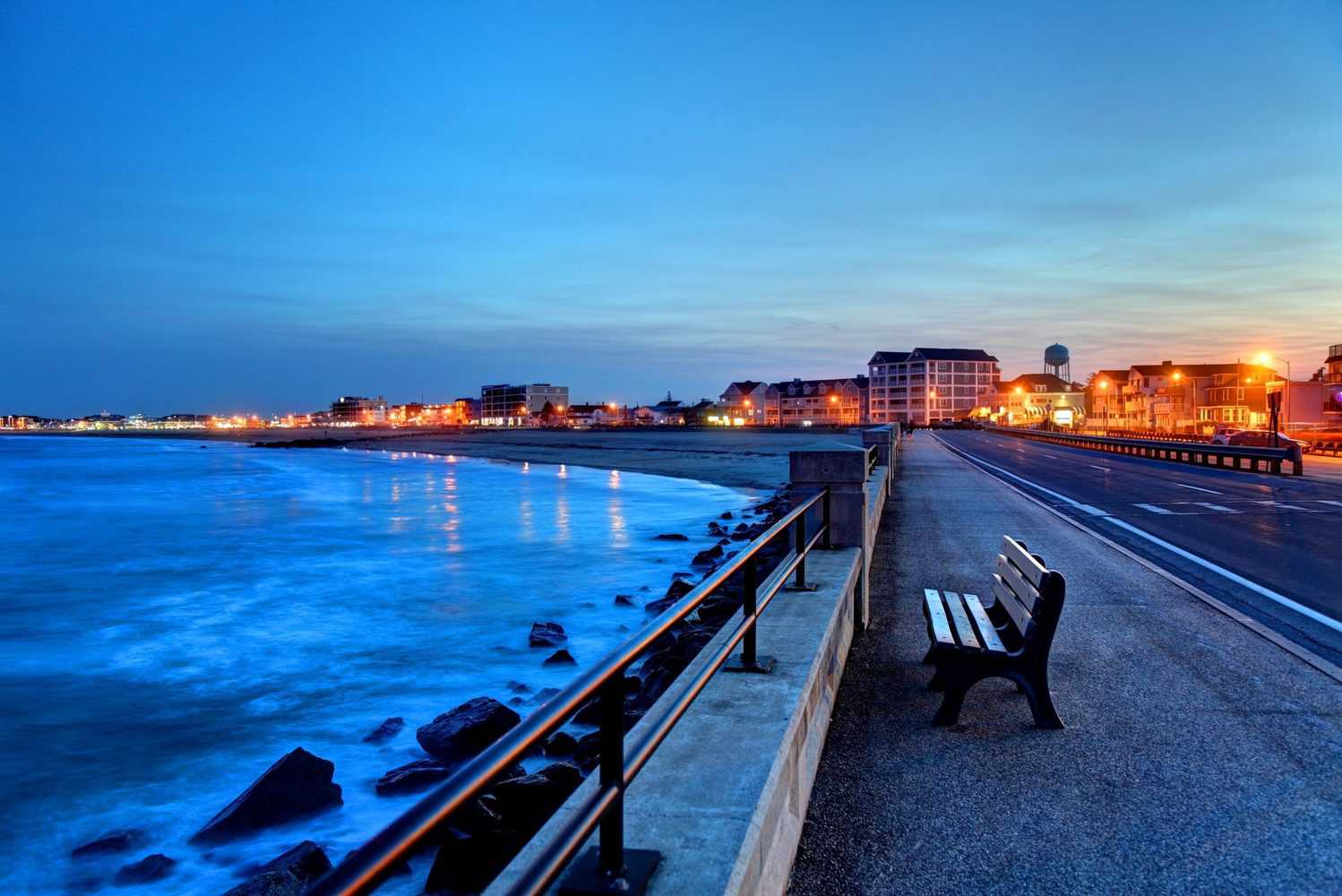 New Hampshire Has 18 Miles of Coastline Touching The Atlantic Ocean
Our little State of New Hampshire does have a shoreline that touches the Atlantic Ocean.  New Hampshire has about 18 miles of coastline and the very popular New Hampshire Seacoast is a popular place to live and a tourism center in the state.  While the mere 18 miles of shoreline is the shortest of any state in the US it is lovely.  
Within the New Hampshire shoreline you will find the popular Portsmouth New Hampshire and Hampton Beach which attracts many visitors during the short but beautiful Summer.  There aren't many New Hampshire beaches but the ones we do have are very popular.  
New Hampshire State Parks
Whether you like camping, hiking, trailing, or site seeing, New Hampshire has a variety of state parks that you could visit. Overall, the state has 93 state parks that provide a wide range of recreational activities (see also 'The Best New Hampshire Escape Rooms'). Interestingly, these parks are suitable for all ages and abilities.
The largest of these state parks is Bear Brook State Park, situated in Allenstown. The park lies on over 10,000 acres and is the largest developed state in the state. Other large state parks within New Hampshire include Cardigan Mountain State Park, which has 5,655 acres, and Crawford Notch State Park, which lies on 5,775 acres.
If you are an outdoorsy person, here are some of the activities you can undertake in these state parks.
Hiking
Campgrounds
OHRVing
Winter recreation
Winter recreation
Snowshoeing
Snowmobiling, and
Swimming
However, before visiting these venues, you need adequate planning. You need to determine the state park that you'd like to tour, then confirm the schedule and fees. The state allows you to visit with your pets, and you could also hold weddings and events.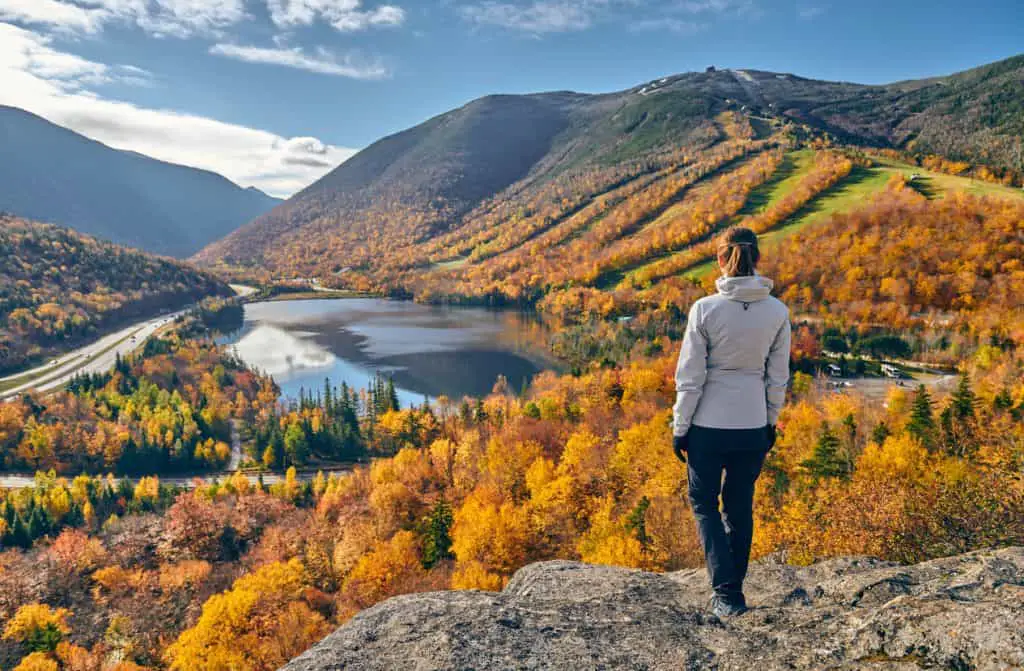 Echo Lake State Park
Do you love walking around the lake or swimming in one? Well, Echo Lake State Park is one of the best destinations in New Hampshire for such. And the best part? It is a suitable venue for families where you could go for picnics.
The park has a couple of hiking trails, including one that's around the lake. Some trails in the park lead to Cathedral Ledge State Park, which offer spectacular views. However, before visiting the park, you're required to make a reservation – preferably 30 days before your arrival.
Making early reservations is advisable because the park has limited parking spaces. However, this destination has walk-in spaces but they're offered on a first-come/first-serve basis.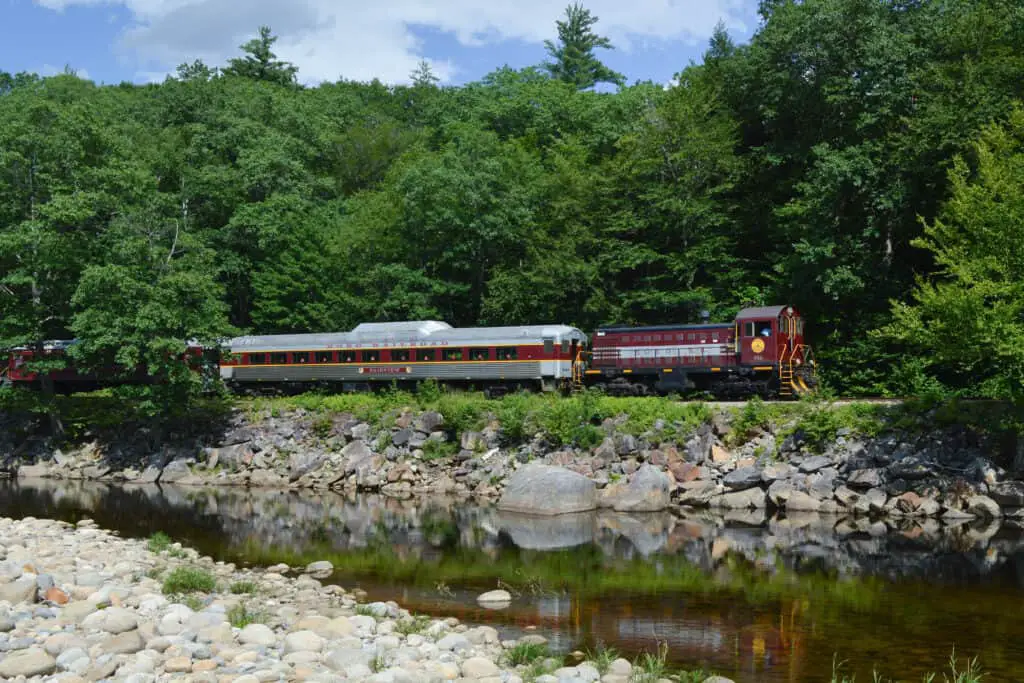 Hobo Railroad in Lincoln NH
If you enjoy train rides, then the Hobo Railroad in Lincoln NH is a must-visit. The railroad is a tourist-hauling short-line that operates two routes in central New Hampshire that were originally served by the historic Boston & Maine Railroad. One company, based in Lincoln, runs passenger excursion trains into the White Mountains.
The Boston, Concord & Montreal Railroad built the railway between Northfield and Lincoln, which was completed in 1846. The Winnipesaukee Scenic Railroad, which is situated in Meredith and operates passenger excursions in the middle Lakes Region, is the other tourism route.
The company leases several pieces of state-owned trackage from New Hampshire, including a 54-mile stretch from Tilton to Lincoln. In Lincoln, shops are maintained, as well as the provision of contracted rebuilding services to other railroads.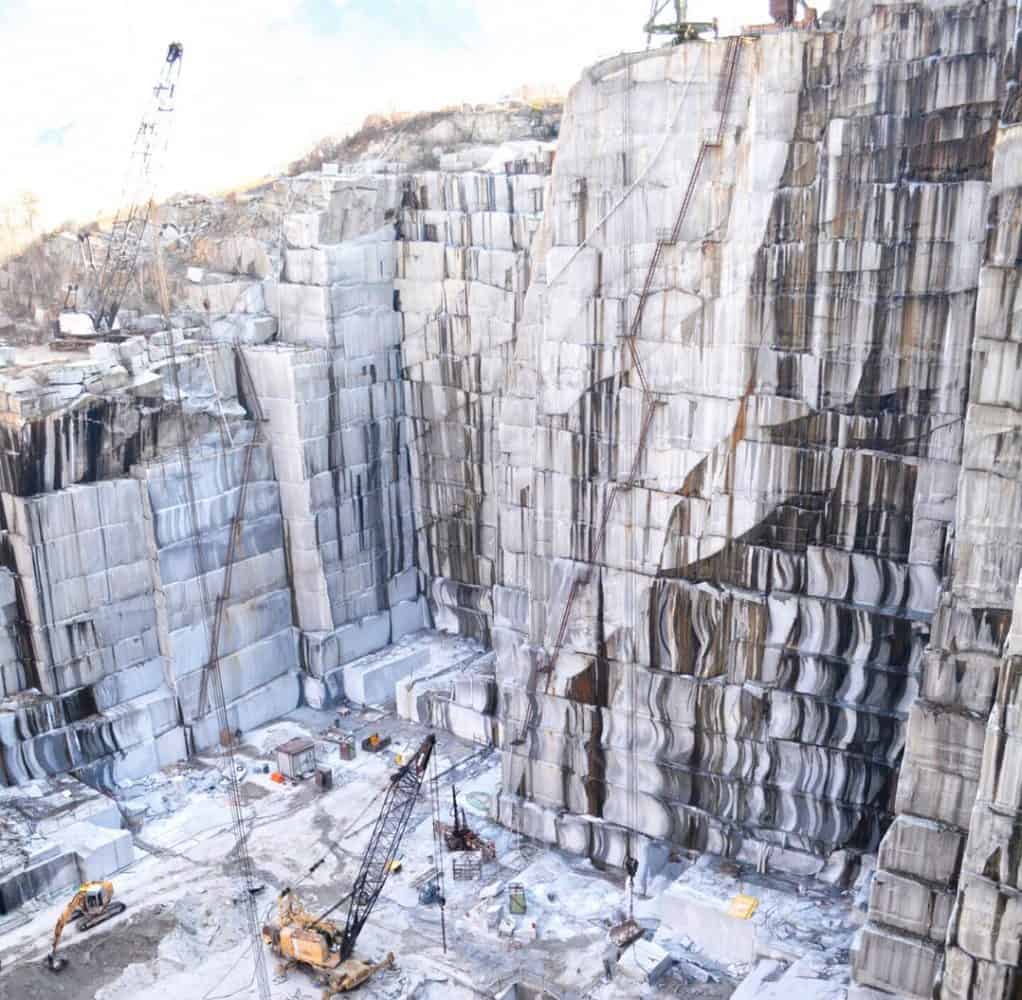 New Hampshire Nicknames
New Hampshire is commonly referred to as the Granite State because of its extensive quarries and granite formations. The state also has other nicknames, including:
The White Mountain State
Live or Die State
The 603
Switzerland of America
Mother of River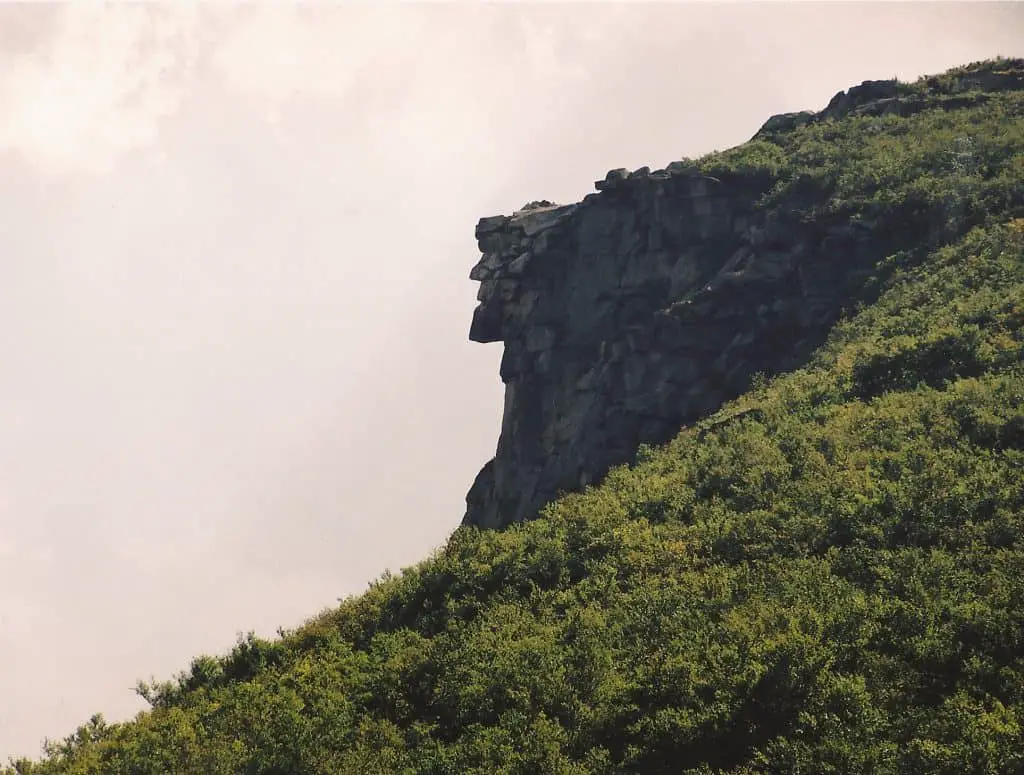 Old Man of the Mountain
The Old Man of the Mountain is another thing that New Hampshire is known for. It is also referred to as the Great Stone Face and the Profile. The rock was a series of five granite cliff ledges situated at Cannon Mountain in Franconia.
The rock's name hails from the fact that it looked like a jagged profile of a human face when people viewed it from the north. The rock was 40 feet tall and 25 feet wide, but it collapsed on May 3, 2003. The Old Man of the Mountain is a symbol of culture for the Abenaki and Mohawk people.
The rock was a cultural icon in New Hampshire. So, after its collapse in 2003, the residents considered making its replica, but this proposition was rejected. Nonetheless, it remains an iconic feature in the state.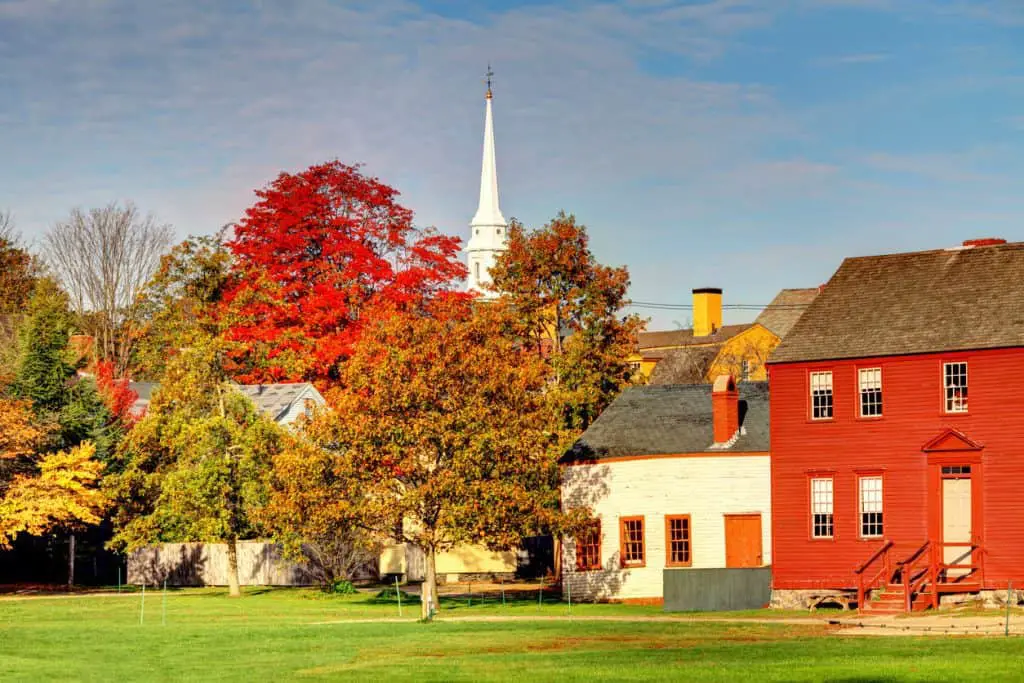 New Hampshire Has Many Historic Buildings
New Hampshire has several remarkable historic buildings. Here are some of those that remain significant.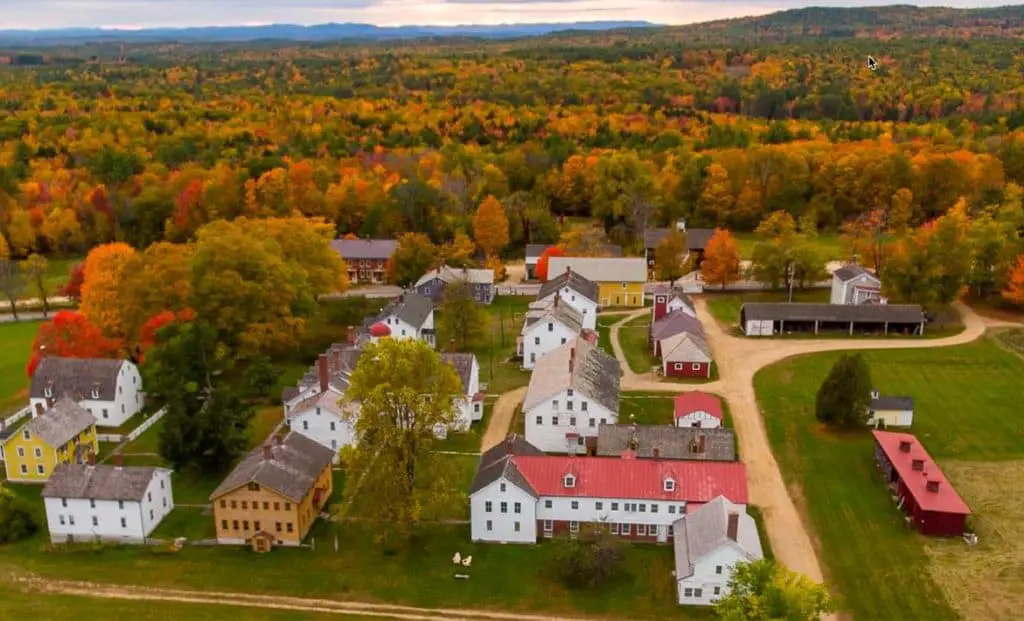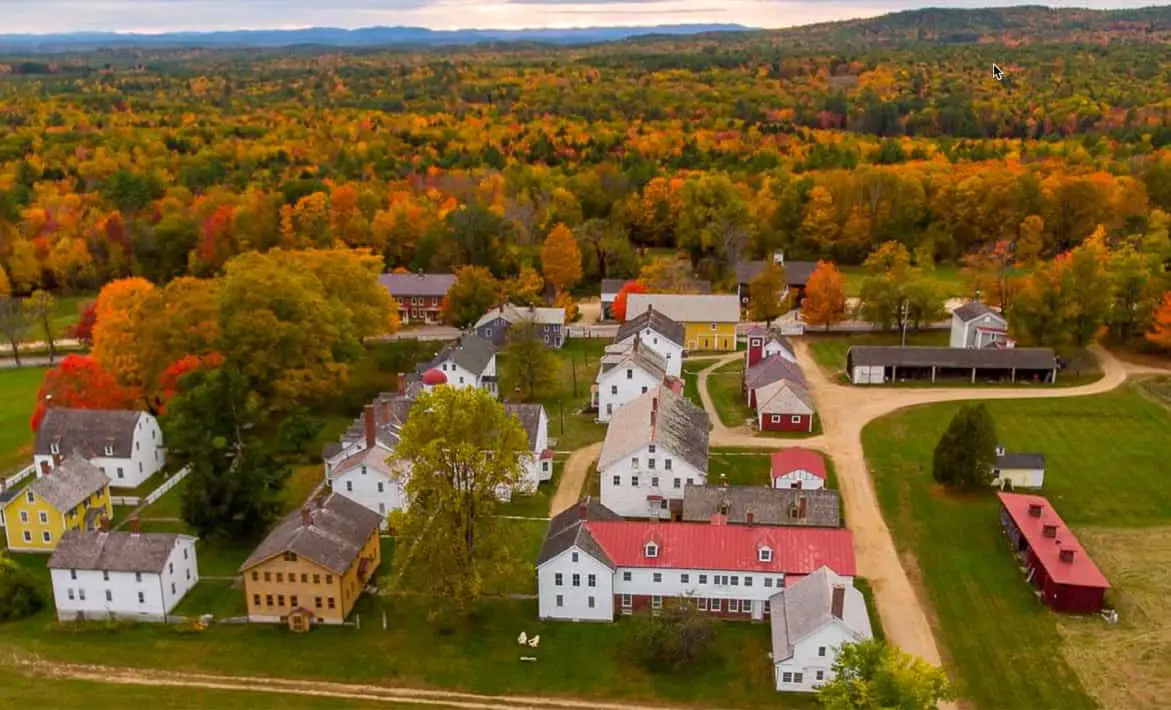 Canterbury Shaker Museum
The Canterbury Shaker Village is a historic site and museum in New Hampshire. It is a renowned non-profit museum that was founded in 1969 to preserve the heritage of the Canterbury Shakers. However, the village was established in 1792. The museum is a National Historic Landmark in the state because of its architectural significance and integrity.
The Village has 694 acres of forest, gardens, fields, mill ponds, and nature trails. That notwithstanding, it has 25 restored original Shaker buildings and four reconstructed Shaker buildings. The Village hosts tours, exhibits, programs, and events to help visitors know more about the community.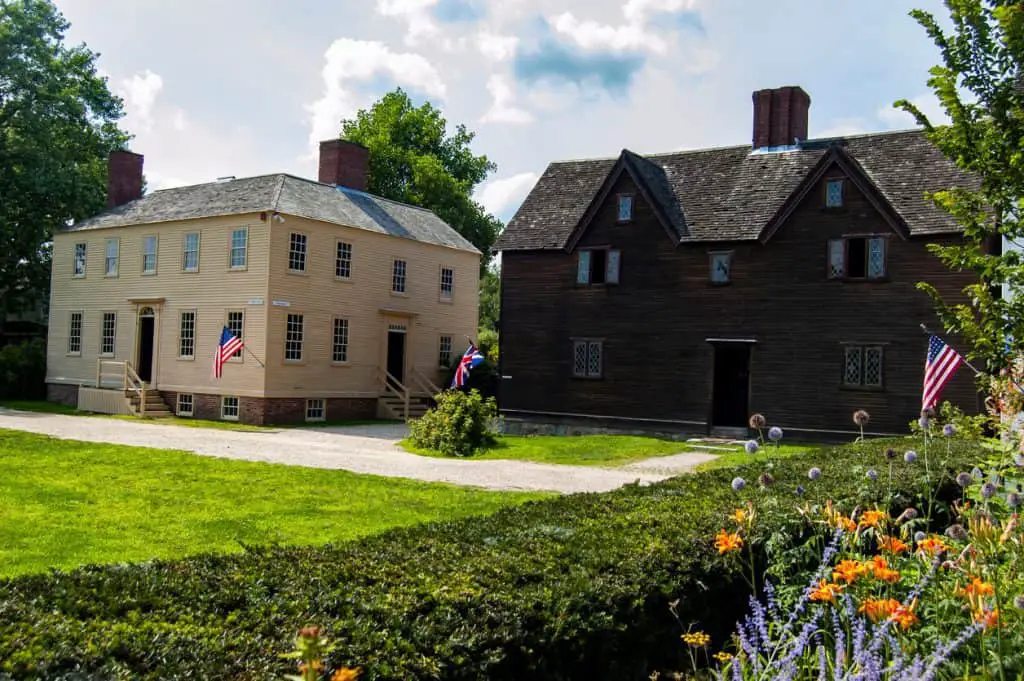 Strawberry Banke
The Strawberry Banke is an outdoor history museum that's situated in Portsmouth, New Hampshire. The museum has more than 37 restored buildings that were built between the 17th and 19th centuries. The buildings feature the Georgian, Colonial, and Federal architectural styles.
What were once buildings clustered around Puddle Dock (a waterway), today appears as a large open space. The museum is dedicated to bringing over 300 years of American history to life in one location. It is an ideal place for children, adults, and families. The museum hosts events, exhibits, programs, hands-on activities, and a lot of fun and discovery.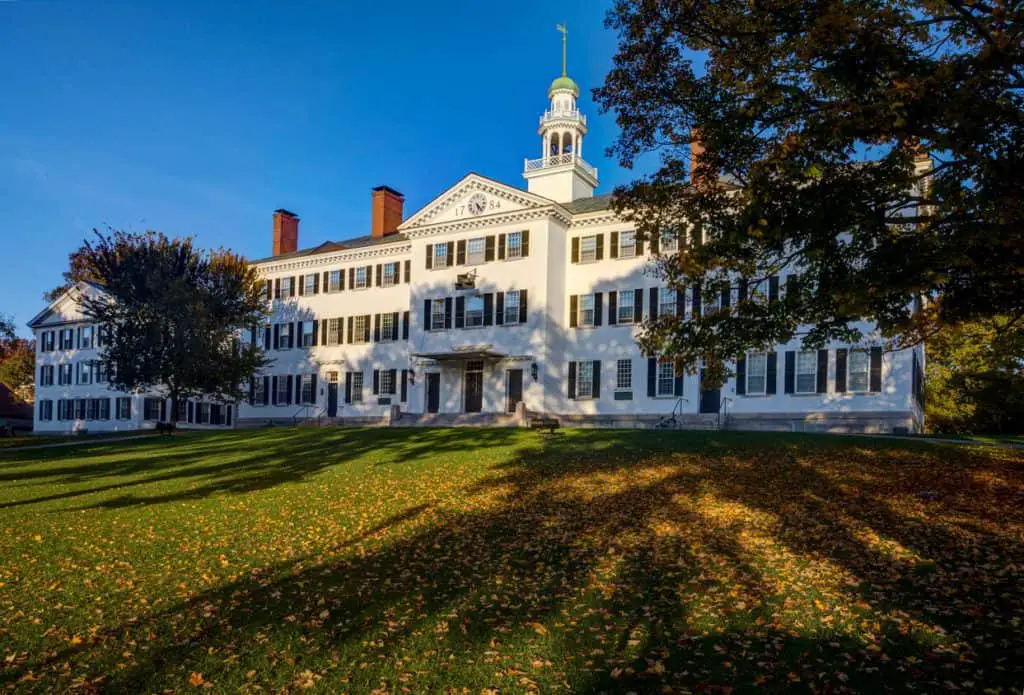 Dartmouth College
Dartmouth College was founded in 1769 and is located in Hanover, NH. The college lies on a 269-acre piece of land and it bridges both arts and science. Moreover, it offers teaching and scholarship, and learning and leading.
The college's charter was signed by John Wentworth, who was the Royal Governor of New Hampshire. Currently, Dartmouth College has more than 40 academic departments and programs. Moreover, it has a 7:1 undergraduate student-to-faculty ratio, implying that the college offers quality education.
However, this is not the only notable higher learning institution in New Hampshire.
The state also has New England College, Colby Sawyer College (my alma matter), Rivier University Plymouth State University, Granite State College, Southern New Hampshire University (also call SNHU), Keene State College, Saint Anselm College, Franklin Pierce University, and Thomas More College of Liberal Arts. Here's a full list of the best colleges in New Hampshire.
Just be careful with those student loans – tuition adds up quickly!
NH Prep Schools / NH Boarding Schools
NH is a wonderful place to go to school and the state boasts many boarding schools and prep schools.  If you are looking for prep schools in New Hampshire that offer quality education, here are some of those you can rely on.
St Paul's School, New Hampton School, Tilton School, Concord Christian School, The Derryfield School, Brewster Academy, Cardigan Mountain School, Dublin School, Holderness School, Phillips Exeter Academy, Proctor Academy, The White Mountain School, and Wolfeboro Camp School.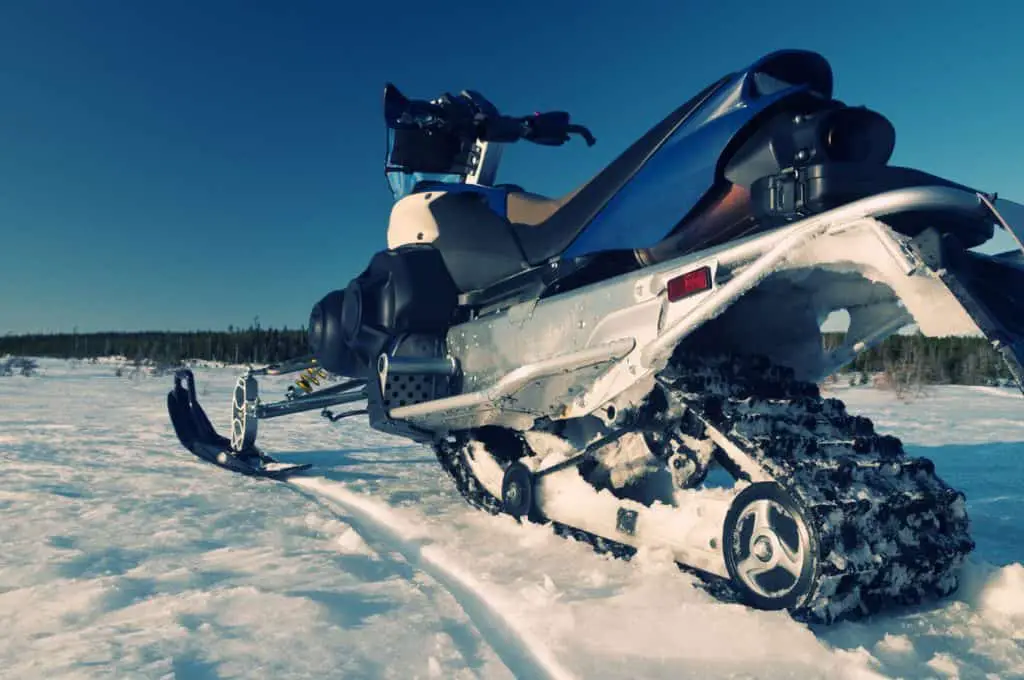 New Hampshire Winter Tourism
If you love winter tourism and sporting activities (see also our favorite winter activities in NH), you'll be glad to know that New Hampshire has plenty to offer. Notably, the state offers skiing and snow boarding adventures.
The state has several places for cross-country skiing, such as Bretton Woods Nordic Center, Nordic Center at Waterville Valley, Gunstock Outdoor Center, and Great Glen Trails, among others.
That notwithstanding, you could take part in downhill skiing in some NH State Parks. Some of the most suitable venues for downhill skiing include Cannon Mountain Ski Area, Mount Prospect Ski Tow, and Mount Sunapee Resort. You can even schedule a NH sleigh ride at one of the beautiful locations throughout the state.
NH's Largest Cities
Here are three of the largest cities in New Hampshire by population in 2022. The list herein is in descending order.
Manchester (113,216)
Nashua (90,807)
Concord (44,215)
NH Has No State Income Tax or Sales Tax
New Hampshire is one of the only states that doesn't have a State income tax or a Sales Tax which makes it a nice place to live and work. Further, many New England residents enjoy shopping here because there is no sales tax.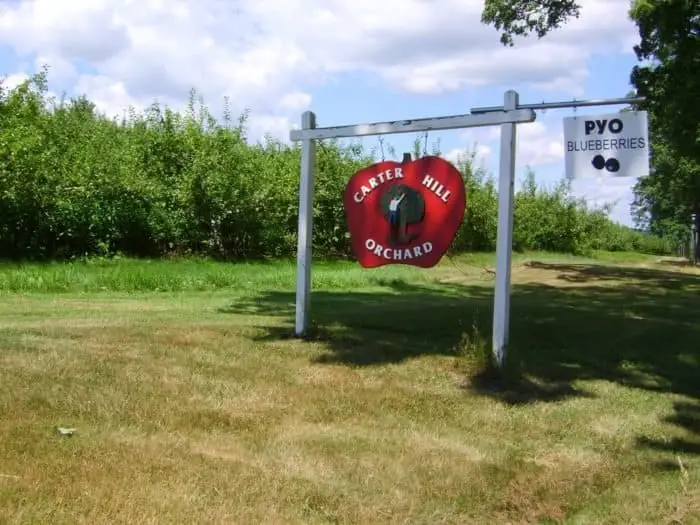 New Hampshire Apple Orchards
NH has a couple of apple orchards, including Applecrest Farm Orchard, Alyson's Orchard, Gould Hill Farm, Carter Hill Orchard, Currier Orchards, and Windy Ridge Orchard.
See our list of some of the best Apple Orchards in New Hampshire.
New Hampshire Native Americans
New Hampshire has a history of many Native American tribes that once lived here.  Generally, Native Americans living in New Hampshire and mainly referred to as Abenaki and Penobscot. New Hampshire also had several smaller tribes such as the Norridgewock Kennebec, Androscoggin, Wawencok, Pequawket, Sokokis, Cowas, Missisquois, and the Pennacook.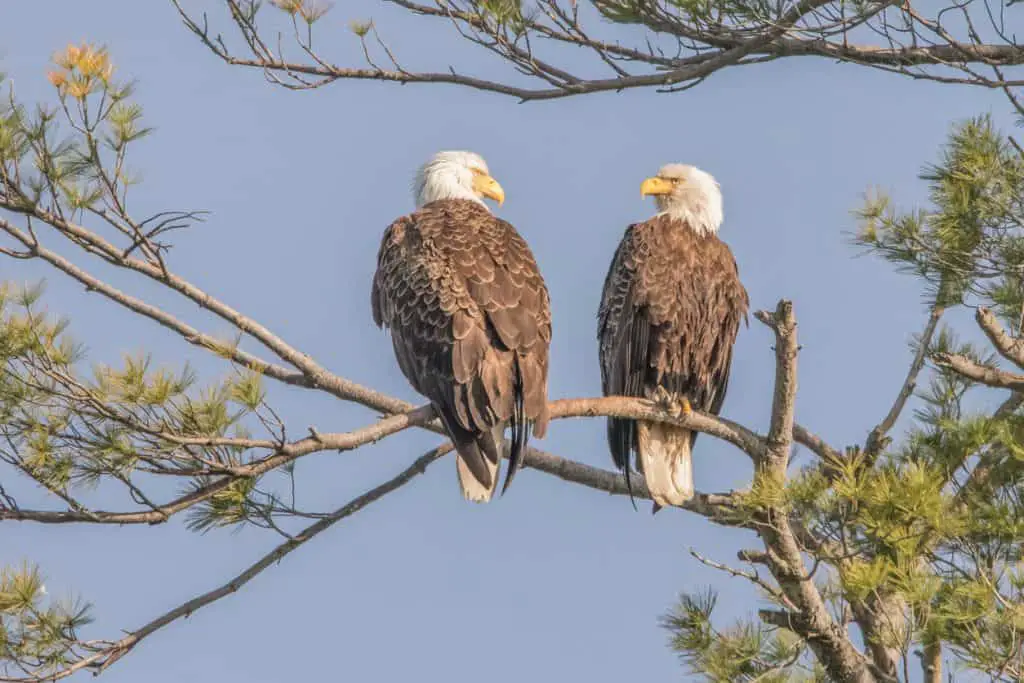 NH Bald Eagle
The Bald eagle is one of the most impressive birds you will ever see and around New Hampshire you may be lucky enough to see one of these majestic creatures.  Bald eagles are legally protected in NH, and they're present all year round in the state. You will notice them in pairs breeding and raising their young during spring or summer. However, most winter in areas with open waters like Great Bay.
My parents have a house on Crystal lake in Enfield New Hampshire and I have seen Bald eagles there on many occasions perched in a tree.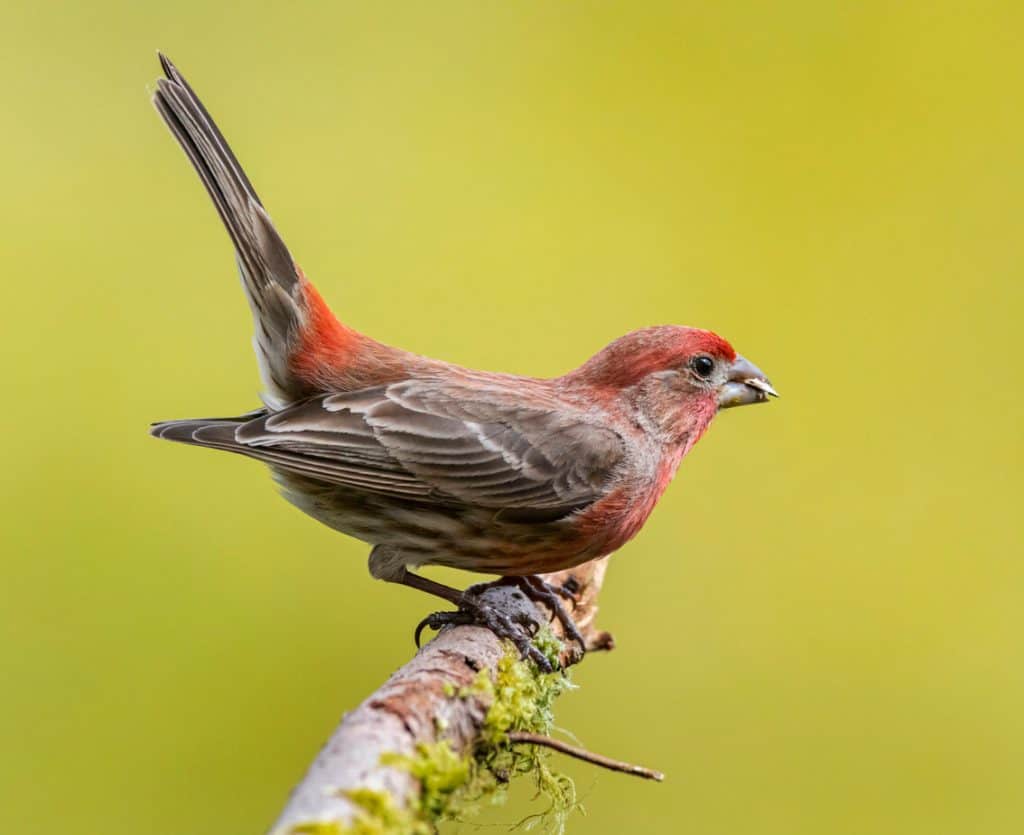 The New Hampshire State Bird
New Hampshire's State Bird is the Purple Finch. NH chose this bird as the state bird in 1957. The birds live in the state through all seasons, except winter.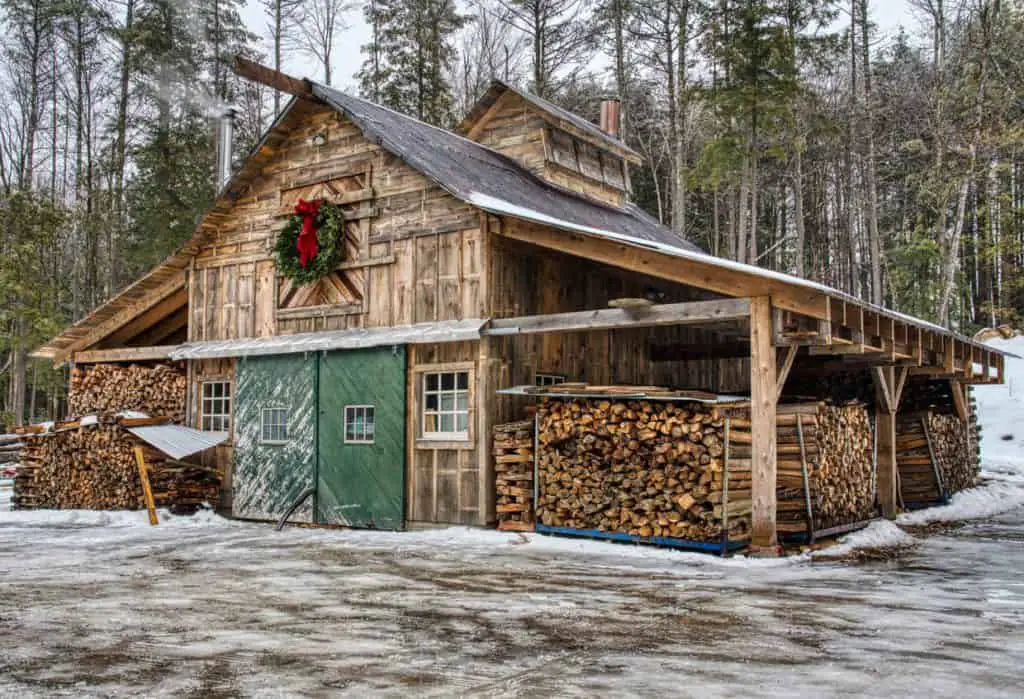 New Hampshire Maple Syrup
While other states are known for other things, New Hampshire is known for maple syrup. There are many "Sugar Houses" through the State of New Hampshire that produce pure maple syrup every Spring.
Some of the places that have maple syrup include Green Acres Farm, Kearsarge Gore Farm, and Trail Side Sugar House.
First Alarm Clock Invented in Concord NH
The first documented mechanical alarm clock was invented in Concord, New Hampshire by an inventor named Levi Hutchins. He invented a personal alarm clock in 1987 because he felt it was very important to wake up before the sun came up. He wanted to wake up at 4 Am every day.
The clock measured 29 x 14 inches, and it featured a cabinet made of pine wood. Its inner mechanism was a large brass clock, which was covered by a mirror on the door. The clock included a bell to ring.
Frank Lloyd Wright
Frank Lloyd Wright was an outstanding American architect, designer, educator, and writer. Over the course of 70 years this amazing architect designed more than 1,000 structures. 
The picture above is one of his most remarkable structures in NH.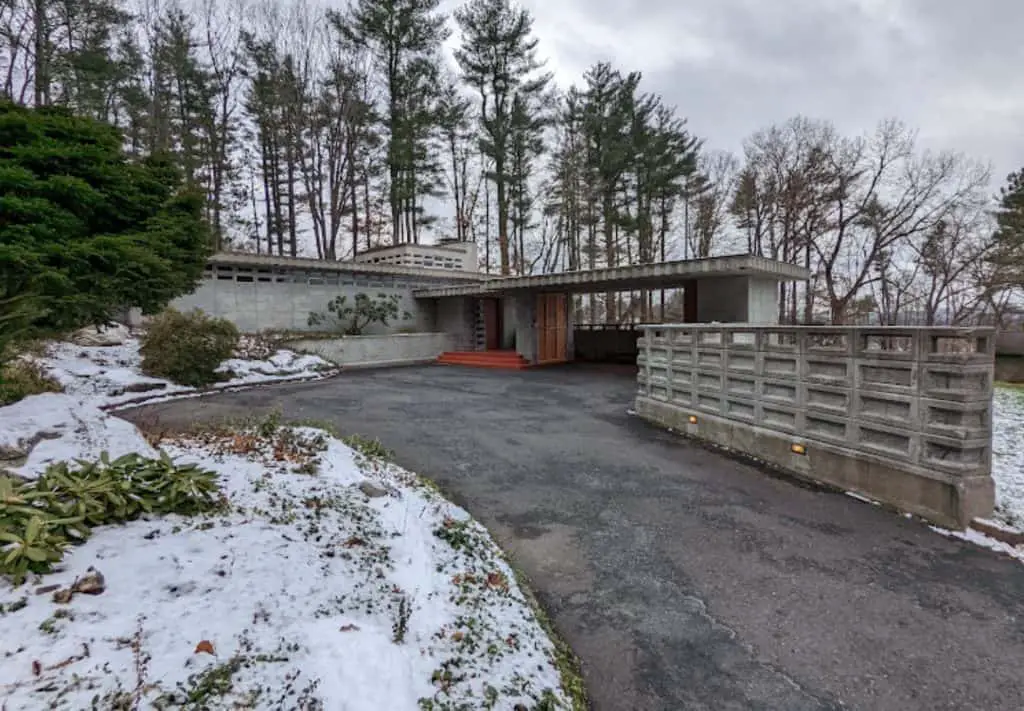 Yet another Frank Lloyd Wright house can be found in Manchester NH and was built in 1955 for Dr. Toufic and Mildred Kalil.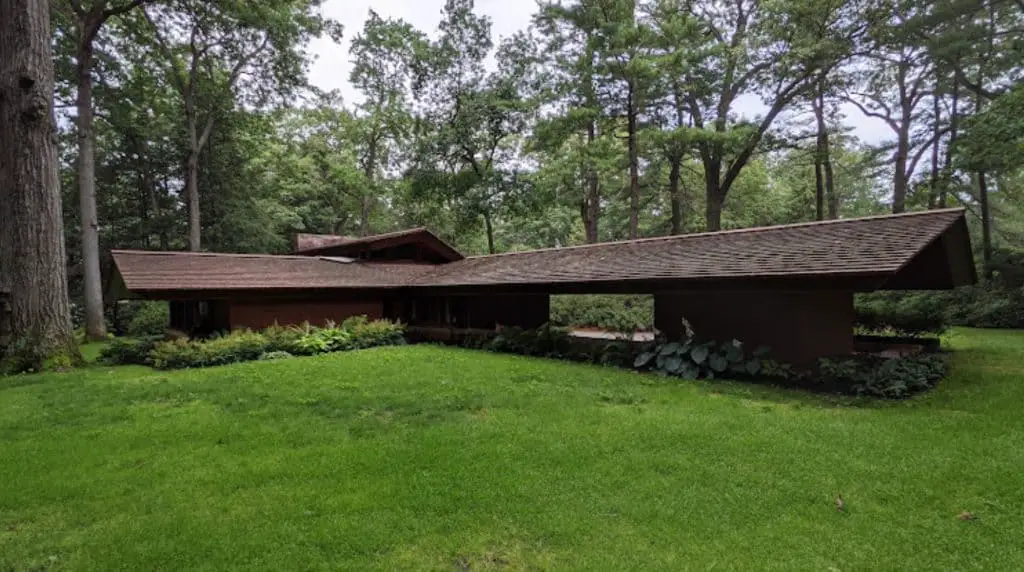 Zimmerman house in Manchester NH
The Zimmerman House is located in Manchester, NH. It was designed by Lloyd and built in 1951. The house was built for Dr. Isadore Zimmerman and his wife Lucille. However, today it is owned by the Currier Museum of Art.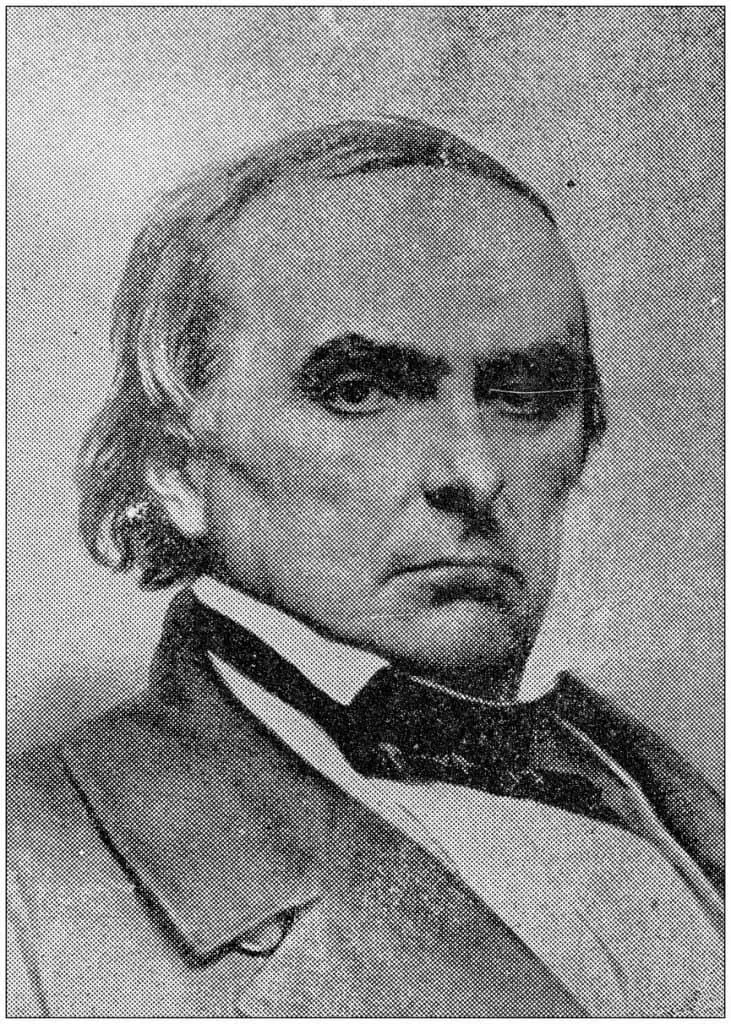 Daniel Webster
Daniel Webster, born in New Hampshire in 1782, was a renowned American lawyer and statesman. Webster graduated from Dartmouth College in 1801, after which he started teaching school and studying law. He joined the Massachusetts bar in 1805. He also established a successful legal practice in Portsmouth, NH after college.
Webster represented NH and Massachusetts in the U.S. Congress. He also served as the U.S. Daniel webster served as the Secretary of State under three different US presidents.  The three US Presidents were William Henry Harrison, John Tyler, and Millard Fillmore. Webster argued more than 200 cases before the U.S. Supreme court between 1814 and his demise in 1852, making him one of the most prominent American attorneys of the 19th century.
General John Stark
General John Stark, a New Hampshire native,  was born on August 28, 1728. General John Stark served as an officer in the British Army during the French and Indian war. He also served as a major general in the Continental Army during the American Revolution.
He was mainly known for leading the war at the Battle of Bunker Hill in 1775 and the Battle of Bennington in 1777. That notwithstanding, he was ordered to the headquarters by George Washington in 1783. There, he was offered personal gratitude of the Commander-in-Chief, and also the rank of Major General by brevet.
General Stark was married to Molly, with whom they had 10 children. After the war, the general retired to his home in Derryfield. John Stark died on May 8, 1822, at 93 years old.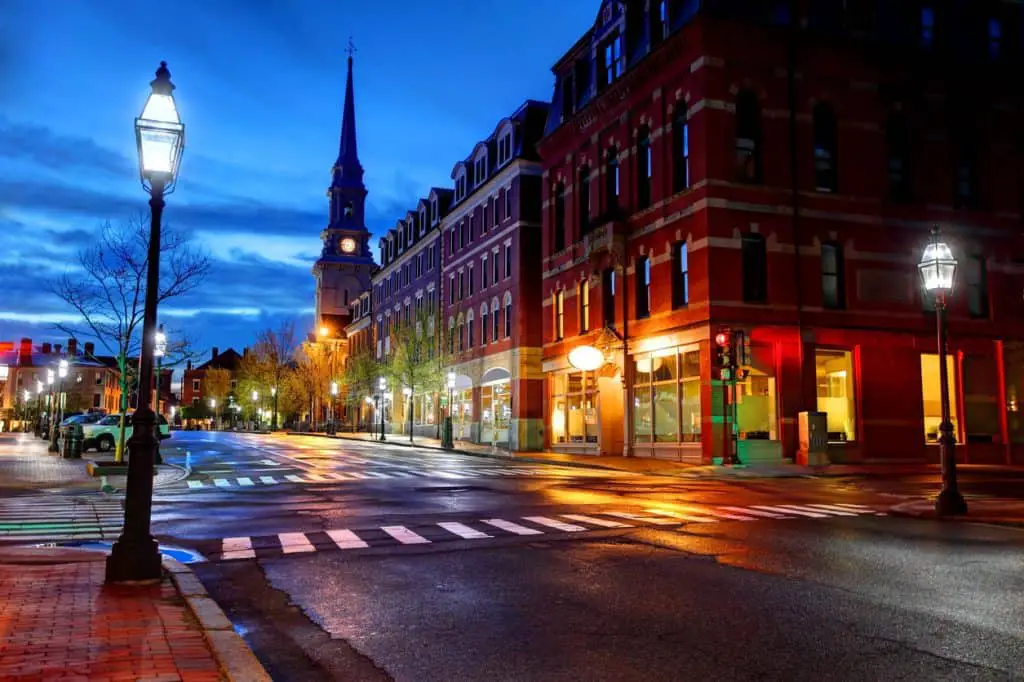 Final Thoughts – What Is New Hampshire Known For?
The state of New Hampshire is known for many things and this list covers many of them! There are definitely more notable things this State is known for but this list is a great start. This little Northeast state has a lot to offer and is a great place to live and visit!
PS – Here's an article on when is the best time to visit New Hampshire