In 2016, there were more than ninety thousand public schools and thirty thousand private schools across the US. This means there's even more choice than ever when it comes to finding the right school for your child.
But finding the best school for them is extremely important. Moving your child around different high schools can have a huge impact on their educational engagement.
At present, roughly 16.8 percent of the 50.8 million public high school students in America won't graduate. This might not sound like a huge number of students, but that's roughly 9 million students that won't graduate from high school.
One of the best ways to keep your child in education is helping them become passionate about their learning. And at Tilton School, NH, that's exactly what they do. 
Want to find out just want Tilton School offers its students? Well, you're in the right place! Read on to find out more.
Here's a Video About The Tilton School Showing How Kids Can Find Their Place There
A Brief History of Tilton School, NH
Tilton School, which you'll find beautifully situated in the Lakes Region, was founded in 1845. Since then it has been serving its students with the best in academic education. 
A group of Methodist Episcopal Church founded the original school and based it in the town of Northfield. Their aim in founding the school was to promote scientific understanding and literary knowledge in young people. It had 130 students and was a co-educational school.
The school relocated following a fire in the original building and between 1939 and 1970 it transformed into the campus we know and love today. During this time, the school acquired 49 acres of land as well as a gymnasium, a chapel, and a library. It also extensively developed its dormitories to accommodate boarding students.
Tilton's Educational Ethos
The school's philosophy is all about the power of each student's potential. This means that the school is unique in the way that it challenges its students. It encourages them to study and develop their learning beyond basic educational standards.
This is a great place if you want your child to expand their learning beyond the standard school stereotypes. At Tilton, it isn't about just being great at a sport or just being artistically inclined. The school encourages children to break out of their comfort zone.
Teachers at Tilton School also recognize that discovering new subjects and experiences is a process. This will present its own challenges to each individual student.
Engaging in this process is what gives Tilton's student a unique grasp of their learning journey. This leaves them feeling confident and allows them to take pride in the progress that they've made. This is what Tilton school calls the Mastery Approach to learning.
In doing so it gives them vital skills for their future life and learning experiences. This is why students from Tilton often go on to do very well at college and in their professional lives. 
A Diverse Student Body from All Over the Country 
Students who find their place at Tilton can at it as a boarding school or as a day school. This means that the student body has a diverse background and the school invites students to embrace this diversity.
The year's intake is roughly two hundred and fifty students. Last year's intake saw 192 students in Tilton boarding school and 51 day students. Boarding students come from twenty different states and sixteen different countries.
Throughout the year, the school encourages its students to create a community. This helps them bring together their cultural backgrounds, just as the Concord Festival does!
Through this students learn an invaluable lesson about meeting and working alongside new people. And they can use this experience to develop their understanding of the world as a whole.
Staff at Tilton are also trained in providing support to students with mild to moderate learning disabilities. The school feels that these students are just as deserving of educational opportunities as any other.
Tilton School Offers Its Student a Varied Arts and Social Sciences Curriculum
The curriculum that Tilton offers its students is vast. It allows students to develop their learning in advanced classes and elective courses.
During the course of their academic career, students will study Tilton's specialist F.I.R.S.T. Literature program. This serves grades nine through twelve and teaches the students about American and World Literature.
They will also have the opportunity to study honors papers and advanced and elective papers in a variety of literary subjects. These include critical reading, ethical essay writing, and creative writing.
Students study a variety of social science topics. These include world history, criminal justice, psychology, and economics. They also look into the history of cultural diversity and use contemporary film to look at historical phenomenon.
While at Tilton, students also have the opportunity to learn French, Spanish, Japanese and Russian. As well as studying these languages, they will learn about each country's history and culture. The independent learning program also invites students to explore additional languages.
To top this all off, Tilton also has an outstanding art department that offers courses in both visual arts and performing arts. This is a great place for students to explore every aspect of the artistic world and really find their niche.
But the arts aren't Tilton's only strength because the school has an outstanding mathematics department. This teaches integrated math, calculus and statistics. As with their other subjects, the school offers further advanced classes for children who want to develop their learning.
Their science department offers courses in: 
Biology and advanced biology
Conceptual physics and advanced physics
Chemistry and advanced chemistry
Computer sciences
Environmental engineering
Anatomy and physiology
Ecology
And on top of this, the school encourages practical learning through exploratory opportunities. Their independent learning program also teaches students how to push their learning under their own steam. 
The Tilton School Mastery Approach
Tilton's Unique Grading System
As well as offering students a rich curriculum, the school has a unique grading system. This is designed to encourage students to engage in their learning, rather than simply ranking their work as good or bad.
In order to do this is, the school gives students two different grades for their work. 
Academic Achievement Grades
Habits of Mind Grades
Academic Achievement Grades focus on more traditional aspects of academic achievement. They look at the quality of the work and the use of academic knowledge.
In this ranking, the school has also eliminated the D and F grades from its system. This isn't to give its students false grading on their work. But using 'F' for 'fail' isn't a constructive part of the learning process.
Instead, the school uses DNMS or 'does not meet the standard yet' for students whose work isn't there yet. This grading system is designed to focus on progress as well as quality in each piece of work.
Habits of Mind grades take into account the amount of effort that a student regularly puts into their work. This is a great way to show students that maintaining a high standard in all of their behavior is as important as academic work. In this way, the school creates students that are all-round good people as well as being academically brilliant.
Habit of Mind grades look at a variety of different qualities including: 
Effort
Time management
Organizational skills
Punctuality
Persistence
Team-work and cooperation
A student's attitude towards their work
How seriously they think about the purpose of their actions
Leadership skills
How a student reacts to and moves on from setbacks
By grading these areas as well, the school teaches its students to treat all of these qualities as important.
Tilton also approaches each school year as an opportunity for pupils to explore a new facet of their education. 9th Grade, for example, focuses on the pupils' self-discovery and what they hope to achieve from their learning. This is known as the Forge Year.
The Ignite Program takes place in 10th Grade and is all about discovering community and the power of having a place in your community. Finally, the Dive program takes place in 11th Grade and encourages students to actively participate in their community. In doing so it teaches students about the importance of ethics and citizenship.
Extracurricular Activities at Tilton School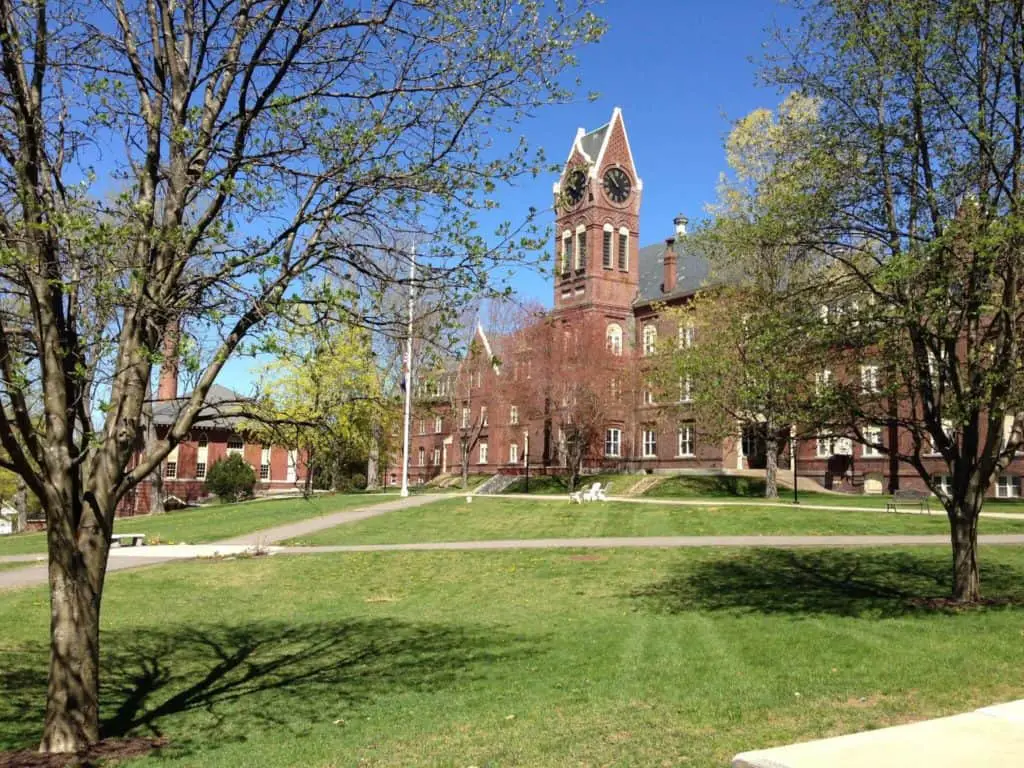 The school encourages its students to get involved in a range of extracurricular activities.
The school timetable runs Monday through Saturday. But Wednesday and Saturdays are half-days for academia. In the afternoon, students play sports or attend extracurricular clubs.
The Tilton sports center and grounds are a hub of sporting activities. Throughout the seasons Tilton students have the opportunity to practice a variety of different sports. These include:
Baseball
Cross Country running
Softball
Lacrosse
Basketball
Field hockey
Ice hockey
Football
Soccer
Tennis
Snowboarding
Golf
Alpine Skiing
But sport isn't the only extracurricular activity that Tilton has to offer. It has an amazing arts center and academic building for the arts.
Students are invited to participate in studio art projects. They can also perform in theatrical or musical productions throughout the year. And the graduating student body is responsible for producing its own Yearbook.
The school is well known for its community service. It runs local programs and offers students the opportunity to help communities abroad as well.
This teaches students about their ethical responsibility. And it shows students that they are capable of creating change in the world around them. This empowering lesson is something they can carry forward into all areas of their work.
Tilton approaches each school year as an opportunity for pupils to explore a new facet of their education. 9th Grade, for example, focuses on self-discovery and what students hope to achieve from their learning. This is known as the Forge Year.
The Ignite Program takes place in 10th Grade and is all about discovering community and the power of having a place in your community. Finally, the Dive program takes place in 11th Grade and encourages active citizenship. In doing so it teaches students about the importance of ethics and citizenship.
State of the Art Facilities
Tilton School has cutting edge facilities to support its student's learning. These include: 
The Davis Lecture Hall
The Center for Academic Achievement
The Knowles Lobby
The Lucian Library
The Helene Grant Daly Art Center
Hamilton Hall
The Fred Andrew Smart Chapel
Burch Field Sports Facility
The Memorial Gymnasium
The John F. MacMorran Field House
Boarding students will also enjoy stunning accommodation. Just a few of the school's historic dormitories include Maloney Hall, Knowles Hall, and Beaumont Hall.
Tilton Delivers Results 
Great opportunities are all well and good but what most parents want to know is do they produce great results? The short answer is, yes.
The average SAT score in America is 1059. Tilton students surpass this by more than 100 points! The school's average SAT school currently sits at 1160.
But test scores aren't the only way to measure success. The school has also provided a great foundation for the list of Tilton School alumni. This boasts some extremely noteworthy names including:
New Hampshire congressman Henry Moore Baker
Reporter, news executive and game show host, John Charles Daly
Stephen Holden Doane who received the Medal of Honor
Basketball player Terance Mann
Pulitzer Prizer-winner, Donald M. Murray
Olympian skier, John Morton
Writer and reviewer, Fanny Huntington Runnells Poole
Art dealer, Jack Tilton
Actor, M. Emmet Walsh
One of the school's most famous alumni, Christopher Burch, openly credits the school with a great deal of his success. He is the founder and CEO of Burch Creative Capital and donated $1.3 million to the school in 2013 as thanks for his time there. This went towards building a brand new astroturf field on the school famous 'Hill'.
Important Administration Information
If you think that this might be the place for your child, then you need to know some important information about the Tilton School Tuition process.
The school has an admissions deadline on February 1st each year for the following September. After this date, all admissions applications will only be considered for the following September. For example, if you submit an application on March 5th, 2020 then this will be for September 2021, not September 2020.
The school aims to achieve a fifty-fifty girl-boy split in its student body. They also have pushed to increase the school's racial diversity.
Tuition fees start from $35,975 per year for day students. Boarding students' tuition fees stand at $62,525 per year. This covers the cost of students' bed and board throughout the year.
Tilton School also has a Summer camp program that has some really great options. If you you are looking for a NH Summer Camp this is a great one to look into.
How To Apply To The Tilton School
If you're looking for an amazing private school for your child then you can't go wrong with Tilton School, NH. This historic school will give your child the best chance of academic success and ignite a lifelong passion for learning.
If that wasn't enough, the school is also nestled in one of the most beautiful parts of the country. So you can enjoy visiting your child amid New Hampshire's leafy landscape. For more ideas on what to do on your visit, check out these events happening in New Hampshire at the moment.