When people think of wine, New Hampshire isn't usually at the top of the list. However, there are many vineyards in New Hampshire producing some fabulous wines. It is no easy feat producing high-quality wines but the vineyards below have used a combination of rugged grapes and true determination to produce some delicious wines.
Vines take many years to produce quality grapes that can then be turned into wine. Many of the vines in NH were planted in the early 1990's so the Granite State is still a young one when it comes to producing quality wines. Even with their short history in wine making, the vineyards below have been producing wonderful wines. The NH wineries in the list below have a lot to offer to visitors. You'll be happy with any of these NH wineries whether you're planning simple day visit for a wine tasting, looking to pick up a couple bottles to go, or are looking for a full day outing.
The Best Wineries In New Hampshire – Our List of NH Wineries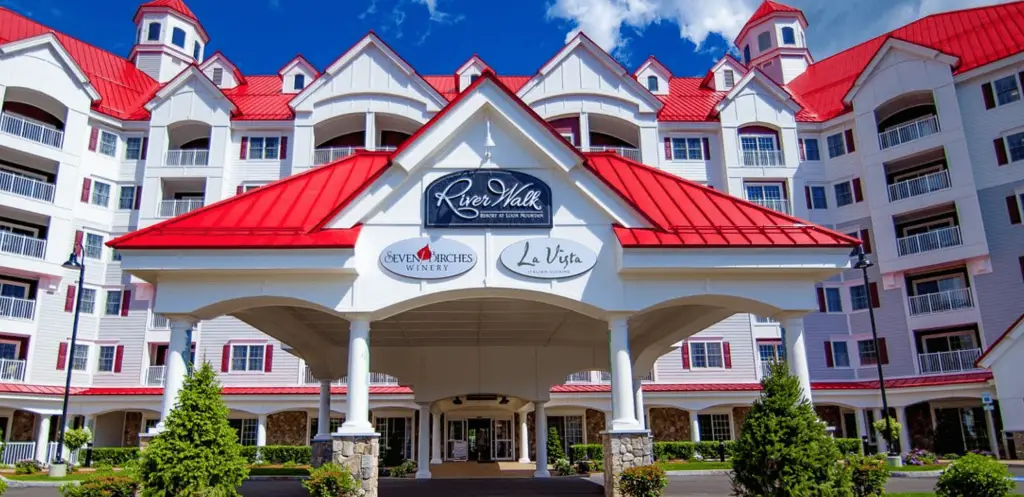 Lincoln NH is a beautiful place to visit and the 5-star Riverwalk Resort that Seven Birches Winery calls home can be found at the base of Loon Mountain. The wine makers at Seven Birches Winery craft wines from locally-grown fruit and classic grape varietals brought in from around the globe. They make all the wine on the resort premises and sell it at the Lincoln Village Shops and within the resort itself.
They have a wide variety of different wines they make like Blueberry, Strawberry, Sauvignon Blanc, and a variety of Reds. Some reviewers that know wine in and out said, "Red wine drinkers don't be deterred by how young the vintages are.They drink better than most wines 5-10 years old!"
This NH winery has more to offer than just wine! They offer private group events, Winery Talks, Winery Tours, and even cater to Bachelorette parties. If you visit and love their wine you can even sign up for their Wine Club where you can have wine from their winery shipped to your doorstep.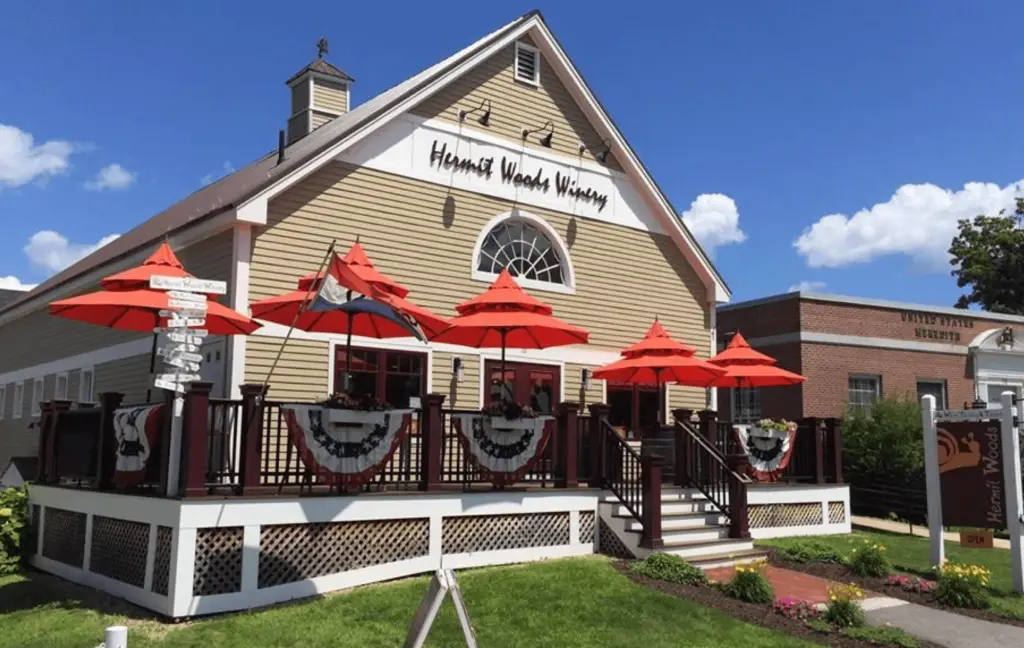 Meredith NH is one of my favorite places in New Hampshire and it became even better with the addition of Hermit Woods Winery back in 2011. Hermit Woods Winery is a small boutique winery and deli in downtown Meredith and they make a wide variety of traditional and non-traditional beverages from local, organic fruits and raw honey. They source their raw ingredients from local forests and they were voted the 4th best tasting room in America by USA Today. Not to mention, they were also voted one of the 500 Best Wineries in America. The reviews online are phenomenal as well! Patrons rave about the wines, the cheeseboard to accompany your wine, and the food in the deli.
The Hermit Woods Winery has a lot more to offer as winery in New Hampshire. You can take a tour of Hermit Woods Winery on the weekend every hour on the hour. Their deli gets rave reviews and they offer a light menu, wine of course, and beer. They have a wonderful set up at the Winery with 65 seats indoors and 45 seats available on their excellent outside deck.
They are also a cidery and meadery as well if you are in the mood for something other than wine. They even have an online store and ship their wine to 38 states.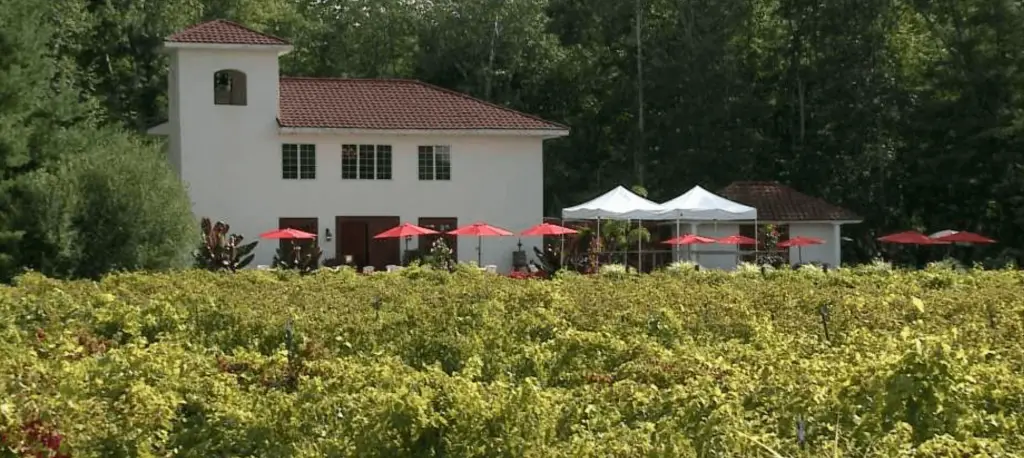 Nestled on 6 acres in Hollis NH you will find Fulchino Vineyards. Owner Al Fulchino is a fourth generation wine maker and constructed the winery himself on some wonderful rich land. The Fulchino family takes great pride on controlling every step in the wine-making process from seedling to bottle. Al and his team have been producing some of the finest wine the East Coast has to offer and their Zinfadel is very popular.
You can make a reservation to visit the Winery by calling them or emailing them. Additionally, they offer many events that you can sign up for through their website, you can purchase gift card, have wine shipped to you, and they even have a Wine Club you can sign up for to get new bottles sent your way on a regular basis.
 Here is a video about Fulchino Vineryards that showcases their history and beautiful winery:
See the latest of what is happening at Fulchino Vineyard at their Facebook page here.
LaBelle Winery is an impressive NH winery that was founded back in 2012 by winemaker Amy LaBelle and her husband Cesar Arboleda. Years of preparation went into bringing LaBelle Winery into existence. It all started at their main Amherst NH location but they have since expanded with a Portsmouth NH wine store and their Derry NH wine market location. You can enjoy wine tastings at any of their locations, wine tours at the Amherst location, and they have a great restaurant in Amherst too. I have been on multiple occasions for wine tasting or a glass or two of wine with a great meal at their bistro.
LaBelle Winery also offers an impressive wedding venue for couples looking for a NH vineyard wedding experience.
LaBelle Winery also offers a wide range of events throughout the year including yoga, live music, lectures, fundraisers, art discussions, professionally-led cooking classes and more!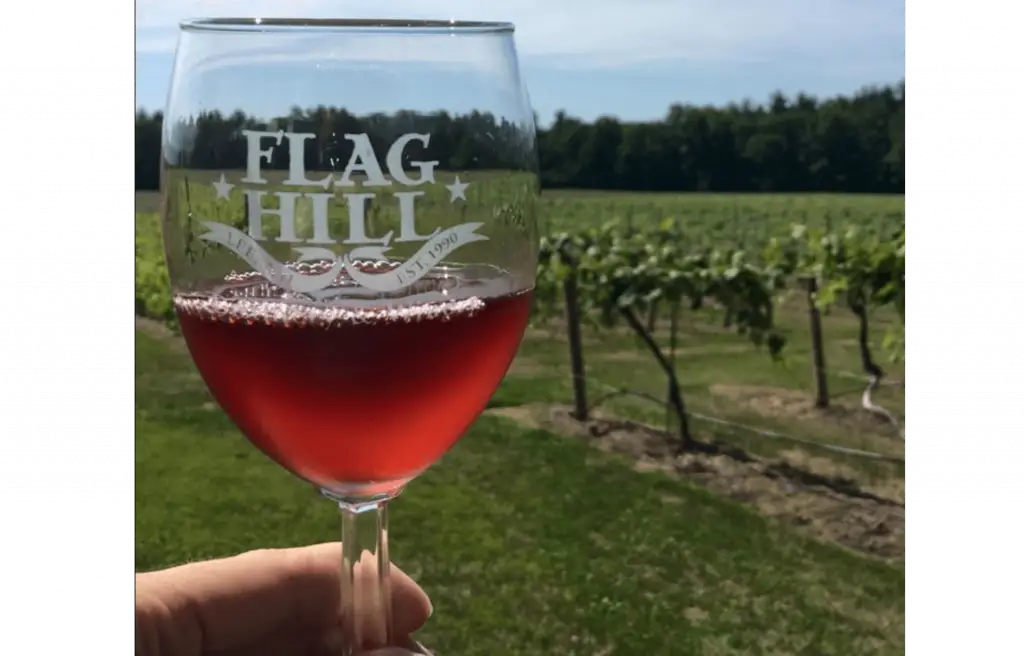 Flag Hill Winery can be found in Lee New Hampshire and resides on a 110 acre conservation easement which preserves the property to focus on agriculture forever. This former farm switched from producing dairy to a vineyard back in 1987. Three years later in 1990 Flag Hill had their first harvest and they haven't looked back since. 
Today, the farm/Winery/Distillery is owned by Brian Ferguson, and his wife Maddie Ferguson. The farm that Flag Hill resides at produces the grapes for their wine and grain for their distillery. Not to mention, it also produces vegetables for their events too! The grounds of Flag Hill are beautiful and it is a wonderful place to visit!
In 2004 the Flag Hill team diversified even further when they became a distillery too, making vodka from delicious New Hampshire apples. Some of the tasty beverages Flag Hill distillery creates include "General John Stark Vodka" and "Josiah Bartlett Barrel Aged Apple Brandy." I have had their Vodka and it is tasty!
Flag Hill Winery has an absolutely stunning venue and they host weddings at their beautiful venue. It of course is just as perfect a place to visit even if it is a special wine tasting visit with some friends or a loved one.
The property also plays host to some of the state's most gorgeous weddings, but is just as pleasant for a casual picnic and tasting for two. 
Flag Hill also offers a special "Brunch & Bubbles" once a month and if you want in on this reservations through their website are required. They only offer this from May through October so be sure to plan it in advance. With this special brunch you get some "bubbles" from Flag Hill Sparkling Cayuga, their Mimosa Bar! Their brunch offers the normal brunch fare along with unique farm inspired brunch fair. Definitely worth a visit for this!
If you are looking for a New Hampshire vineyard wedding you may want to consider Flag Hill's wedding venue. It is a beautiful setting where you will be surrounded by acres of lush grapes vines and picturesque fields. Your wedding guests will love the Flag Hill vineyard. This romantic and elegant setting is sure to make your special day unforgettable!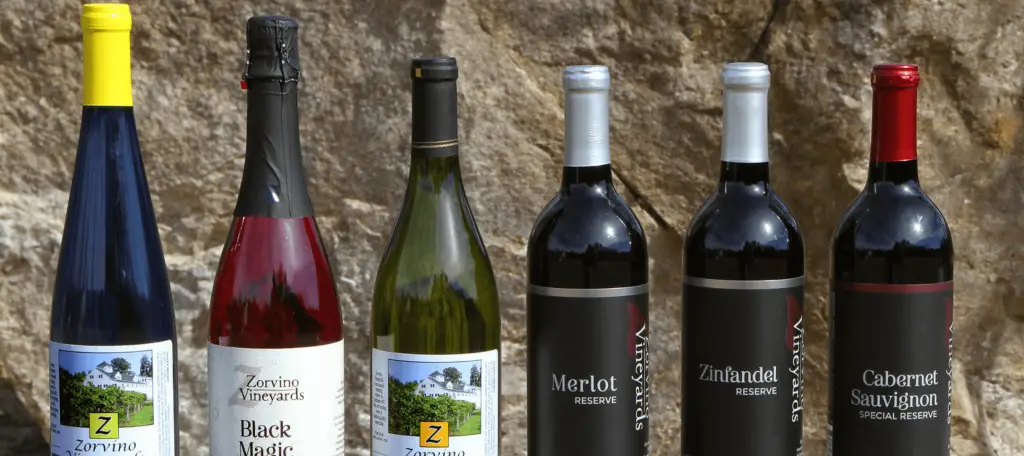 If you're looking for a quality New Hampshire winery then Zorvino Vineyards is a great option. At Zorvino Vineyards in Sandown New Hampshire they grow their own grapes for their own house label. They also import grapes from around the globe for their various special blends. Additionally, they also use local produce to create delicious fruit wines perfect to drink during the Summer months. They have some of my favorite New Hampshire wines that I keep in my basement!
This vineyard features 80 acres of incredible views, sprawling grapes vines, and is a romantic NH vineyard to visit. They also serve as a Wedding venue and a venue for corporate events too. The venue hosts many regular events so be sure to check out their website or Facebook page for more details.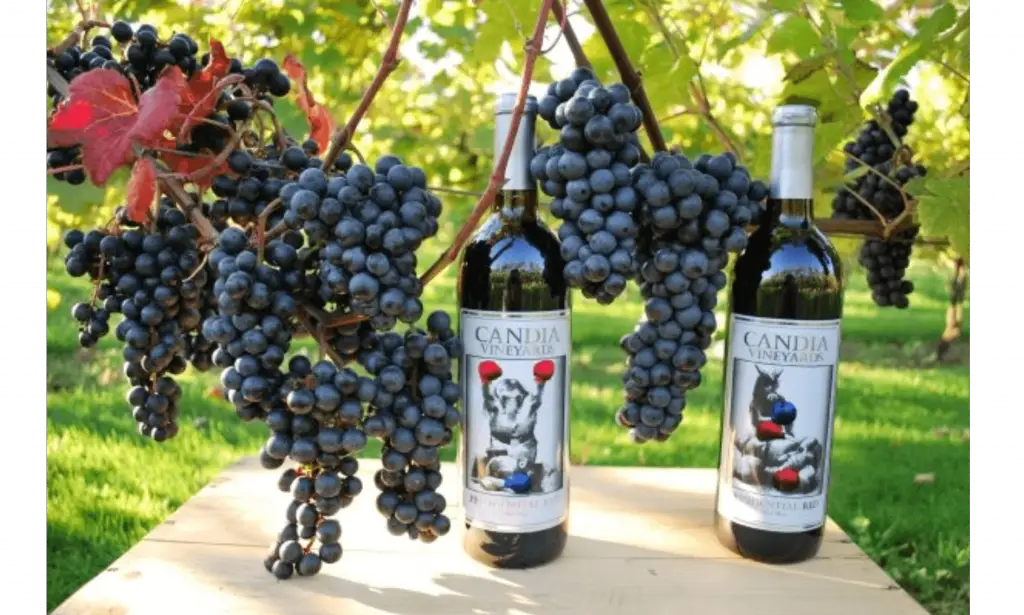 Candia Vineyards is a boutique Candia NH winery specializing in 100% grape wines, unique varietals, and exotic after-dinner wines. The owner and wine maker is Bob Dabrowski and his vineyard is based out of his own private home (doesn't get more New Hampshire than that!).
The reviews of his wines are fabulous with some claiming that "it was the best red wine I have ever had." The wine Bob produces is top notch and he holds many awards and honors that back that up. His desert wines are fabulous and I definitely recommend his Black Ice Dessert Wine.
Just be warned, this venue isn't like some of the bigger venues in the state. You will want to call ahead to schedule your visit with the owner in advance.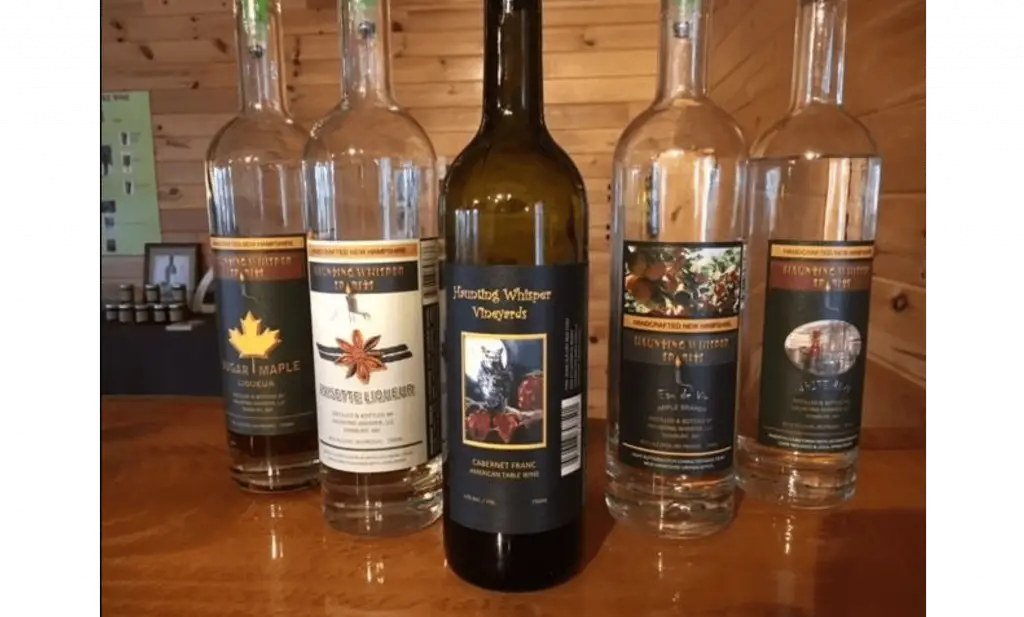 Located in Danbury NH is a wonderful 75-acre vineyard that you can visit on the weekends called Haunting Whisper Vineyard. Established back in 2005, this charming New Hampshire winery is owned by Eric and Erin Wiswall. The couple fell in love with the art of making wine and turned their hobby into a business.
Eric also has a PhD in BioChemistry with full certification from UC Davis in the study of Enology & Viticulture. This background has given him an edge in producing world class wines and spirits. He uses a unique, slow fermentation process dubbed as "elongation." At Haunting Whisper Vineyard they solely use this process to make wines that rely on natural flavors.
The wines that Haunting Whisper Vineyard creates are very interesting. They don't have the oaky flavor and instead have a medium toasty flavor due to the French oaks they use. Wine loves remark that their wines are light-bodied and they highlight their bright, fruity notes. 
They offer a wide variety of wines and spirits including red wines, white wines, fruit wines, desert wines, and distilled spirits like their "Sugar Maple," their "Straight Bourbon," or even their "Hippie Hill Houch!"
You can book a one-hour wine tasting which is free if you purchase some wine during your visit (a move I definitely recommend!). You can find them at 77 Oak Ridge Road, Route 4, Danbury, NH 03230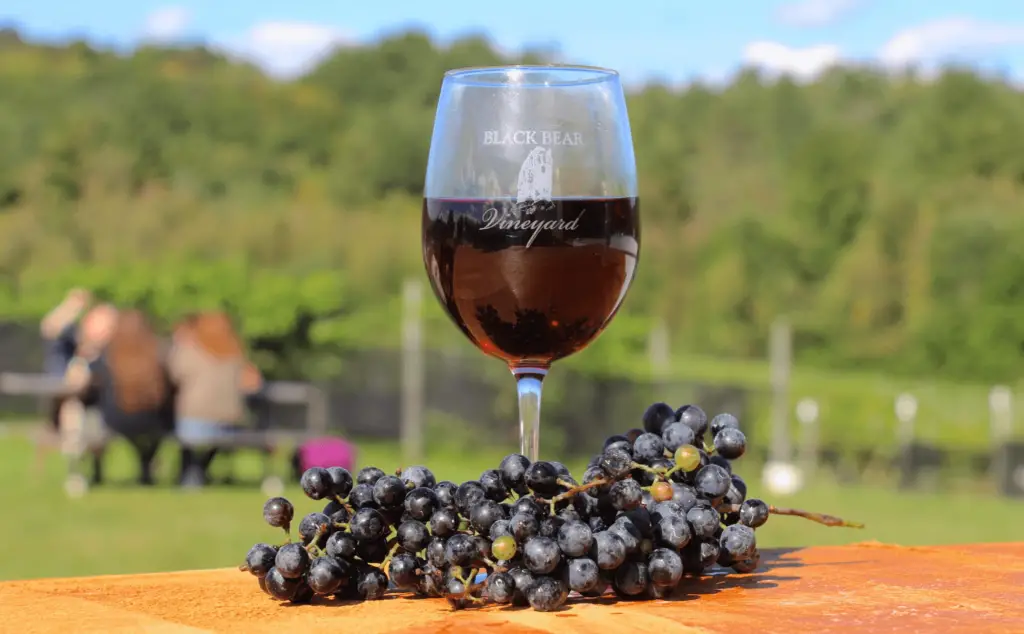 Ted and Kelly Jarvis took over the grounds where Black Bear Vineyard resides now back in in 2007. Back then, there was no vineyard but Ted had a vision he shared with Kelly and she saw it too. As they share on their website, apparently Ted told his wife that this would be the perfect spot for a vineyard and they made that dream a reality.
Today, Black Bear Vineyard sprawls across 18 acres and is one of the largest vineyards in the state of New Hampshire. They grow five different varieties of grapes on their property used to make their 3 red wines and 2 white wines. This beautiful NH vineyard is a wonderful spot to take in some beautiful sights and and sip on some local New Hampshire wine.
Ted, Kelly, and Nick are the family team behind Black Bear Vineyard and they have a beautiful vineyard that offers wine tours, vineyard tours, and offer the perfect space for your special event. The Jarvis family is extremely knowledgeable in all things wine making and love to share their passion with their Salisbury NH vineyard visitors.
This vineyard isn't set up with a restaurant but the Jarvis family are happy to help set you up for a picnic if you bring your own snacks to pair with your wine. They can even provide you with the means to play music too to set the ambiance just right!
The head wine maker Ted Jarvis is a master at his craft and create bold and complex wines that you are sure to enjoy. Some of their delicious wines include La Crescent, Frontenac, Frontenac Gris, Seyval, La Crosse, Marechal Foch, and my personal favorite Leon Millot. Black Bear Vineyard in Salisbury NH is a personal favorite NH winery of mine. They craft quality wine and have a wonderful setting to enjoy it in!
Sweet Baby Vineyard planted its first grapes at their Hampstead NH vineyard back in 2006.  Their vineyard has well over 1000 vines growing delicious NH grapes they use to make their wine. Sweet Baby Vineyard is run by a friendly and passionate team that loves making wine.
At this Hampstead NH vineyard, the Sweet Baby Vineyard team grows six different varieties of grapes. They also procure local NH fruit from area farms! They offer a variety of red wines, white wines, and fruit wines of course. You can make a reservation for an outdoor table right from their website, purchase wine right from their website, and even find their vino in different NH retail locations.
See what the latest news and updates are from Sweet Baby Vineyard on their Facebook page here.

When I was a kid we went on a lot of camping trips in New Hampshire and beyond. I have a fond memory of one particular camping trip in Tamworth NH (see also 'Things To Do In Tamworth NH'). That's why I was excited to learn that the town has a growing winery called Whippletree Winery where the wine makers are crafting innovative flavors.
Whippletree Winery is housed in a 1940's summer cottage that was moved from Ossipee Lake to Tamworth to save the building. There is some interesting history to the building too! The building was originally owned by Virgil D.White who was the man who originally patented the snowmobile back in the year 1917.
One a recent road trip I had the opportunity to stop there with my Fiance' and we thoroughly enjoyed some of their wine and the pleasant atmosphere at their winery. This New Hampshire winery is dubbed as "the winery in the woods" and they take great pride in their premium crafted wines.
You can stop in for a winery tour on the weekends and on our Saturday visit we tried their "Watermelon Wine" and it was absolutely delicious!
You can find Whippletree Winery at 372 Turkey St., in Tamworth, NH. If you are interested in having Whippletree Winery host a special event you can call them at 603-323-7119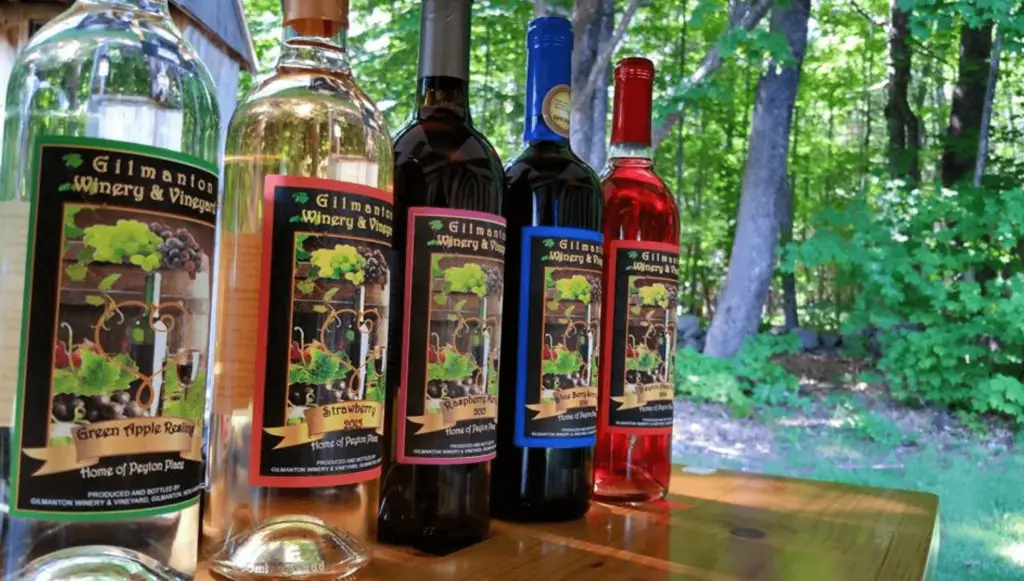 Gilmanton Winery & Vineyard can be found in Gilmanton New Hampshire and is a 9-acre vineyard with over 700 grapevines. They do wine tastings, happy hour Thursday through Saturday, host Brunches, and host weddings and special events at their quaint venue.
They even host special events there too (a recent one being a Murder Mystery event!).
They do offer small plate meals like cheese and crackers to accompany your wine too! For more info visit their Facebook page here.

Located in Derry New Hampshire is the Appolo Vineyards and there will find a lovely atmosphere and some great-tasting dry wines that they have been crafting since 2006.
This vineyard specializes in cold-climate grapes (perfect for New Hampshire), grown in no-spray vineyards and NH vegan wines. The host events there and you can routinely find live music, special wine and food pairing dinners, yoga, and more.
You can find them at 49 Lawrence Rd, Derry NH 03038. Learn more at their Facebook page.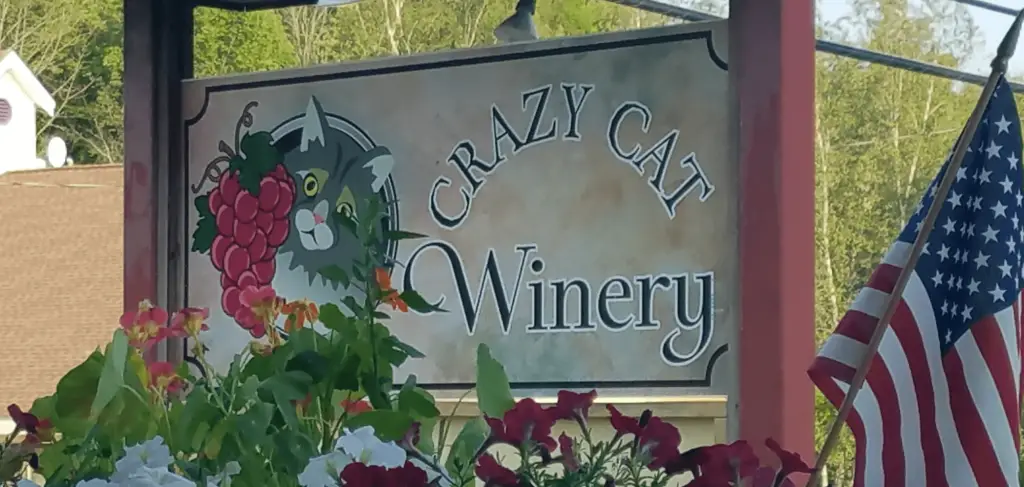 The owners of Crazy Cat Winery located in Bristol said "Fate and Grandchildren" brought them to New Hampshire. 
They are a small, boutique winery located in the beautiful Lakes Region of New Hampshire. Their winery is minutes from Newfound Lake and their tasting room is located in an old 1880 carriage house their Victorian home.
The winery gets its name from their rescue cat named "Jinx." They produce all of their wines on site relying on locally sourced fruits and a wide variety of grapes from around the globe. They offer red wines, white wines, specialty blends, semi-sweet wines, and even dessert wines.
If you find yourself in the Lakes region of New Hampshire be sure to add this winery to your list of places to visit!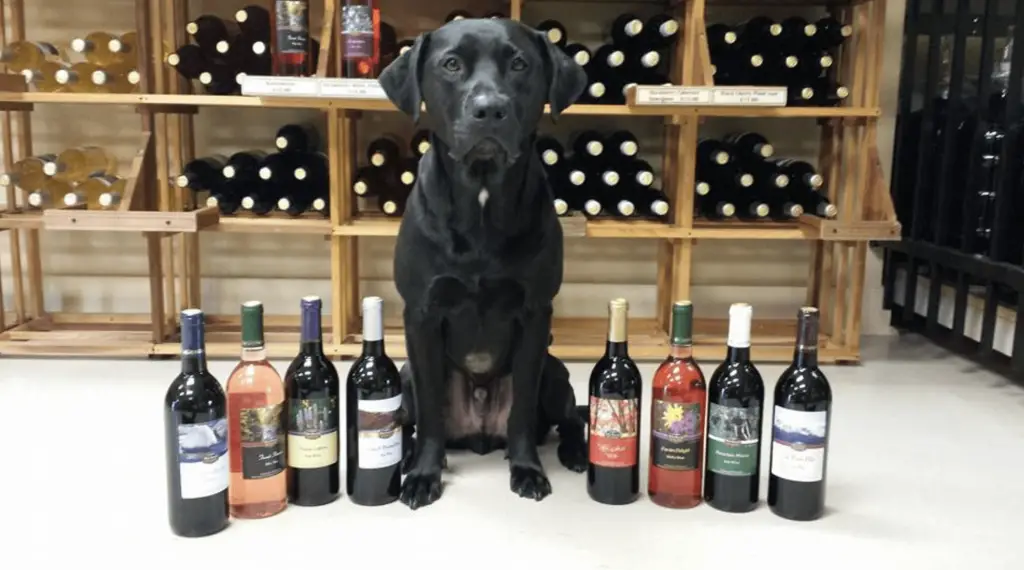 White Mountain Winery is a North Country NH winery that has raving fans from all over New England. The wine makers at White Mountain Winery create all of their fine quality wines in their North Conway store. They offer many different varieties that will appeal to any wine lover!
If you are a dog lover then you will appreciate the "winery dogs" present in their shop at all times!
Their wines are made with 60% less sulfites and no added tannins. This helps their wines have a much smoother finish bursting with flavor!
Take a look at their Facebook page for more info.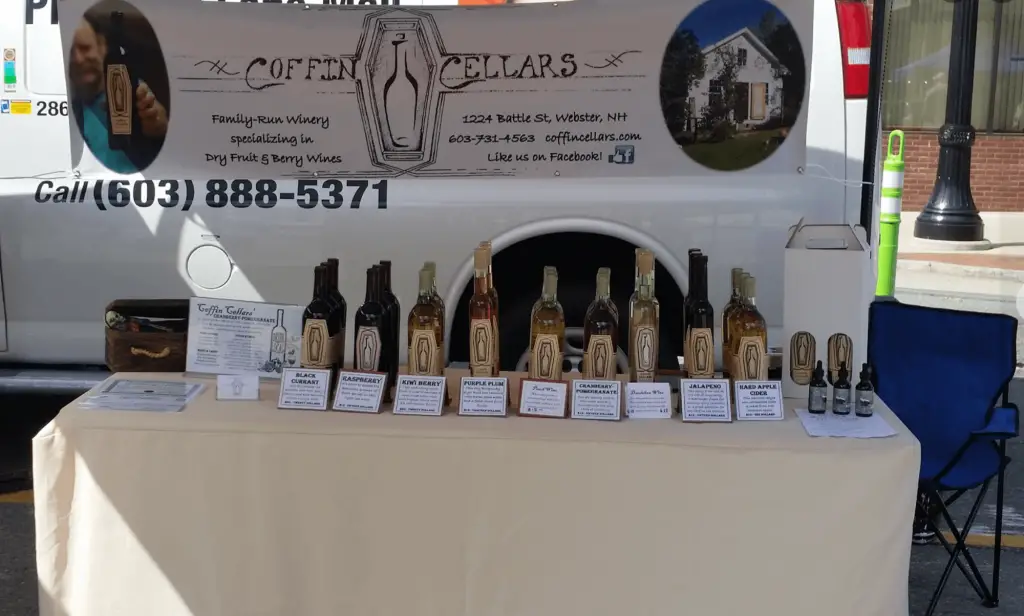 I met the owners of Coffin Cellars years ago and I remember the first time I had their Jalapeño Wine vividly (I love it and it is the perfect addition to a Bloody Mary!) This small NH winer maker located in Webster NH creates a lot of innovative and non-traditional wines. They create some tasty organic berry and fruit wines and you are sure to enjoy!
They have a tasting room that resides in a pre-Civil War building that served as a Boot manufacturing area for Union troops during the Civil War. Plenty of history in this building!
Wine tasting are by reservation only so be sure to visit their site to book that ahead of time!

Westmoreland NH is located in the southwestern part of New Hampshire sandwiched between Keene on the East and Vermont on the West. There you will find a winery called Poochom Hill. Their vines grow in gravel and clay deposited from a historic lake in NH 10,000 years old.
The antique barn the winery resides in was built in the 1800's. The wine makers craft delicious wines from their own grapes grown on the property. They grow grapes there such as Marquette, Foch, La Crescent, Frontenac, Seyval, LaCrosse, St. Croix, Frontenac Gris. The team at Poochom Hill Winery hand harvests all their grapes and transforms them into flavorful vinos.
They have a beautiful yet remote winery that visitors rave about while enjoying their tasty wines. Many who have visited state that it is well worth the drive!
The tasting room at Poochom Hill Winery is open between June and October from 12-5 but you can purchase wine to get shipped to you directly right from their website.

18. Squamscott Vineyard & Winery, Newfields NH
If you are in the Seacoast area of New Hampshire be sure to visit Squamscott Vineyard & Winery and try their line of wine called Blue Heron Wines in Newfields NH. This winery was founded in 2011 with 28 vines and has grown to have more than 2,400 vines today. This vineyard resides on 12 acres of beautiful and lush fields along the shore of the Squamscott River. They offer unique local New Hampshire wines produced with care from the grapes grown on their own property.
This New Hampshire winery crafts various Reds, Whites, and Specialty wines (like their Seacoast Rose' and Seacoast Cranberry). You can book public and private events at their beautiful vineyard and can learn more about that here.
You can learn more about the latest on their Facebook page here.
Best Wineries In New Hampshire FAQ
Does New Hampshire Have Wineries?
New Hampshire has been producing wine since the 1990's and is home to more than 30 wineries. There are a variety of wineries from small operations to large elaborate ones. Whether you are new to the wine scene or a true wine lover the wineries in New Hampshire have a lot to offer. Some have great food options while others allow you to bring your own snacks to accompany your wine tasting experience.
How Many Wineries In NH?
In the state of New Hampshire there are more than 30 wineries with a lot to offer people new to wine as well as seasoned wine-lovers.
Final Thoughts – Best Wineries In New Hampshire
There are many wineries in New Hampshire producing some delicious wines and offering great accommodations to visitors looking for a NH wine tasting experience. It is not easy to grow wine in New Hampshire but the wine makers listed above overcome the harsh NH winters and have found a way to produce high-quality wines.
If there is a winery in New Hampshire you feel we should include in this list please contact us here.