Enfield NH – Crystal Lake is a small lake located in Enfield New Hampshire.  It is 1.6 Mile long and .7 miles at its maximum width.  It is 401-acre lake and is located in Grafton County which is part of western New Hampshire.  The water of Crystal Lake is, as the name implies, crystal clear.  Crystal Lake Enfield New Hampshire is one of many small lakes in NH.  Also located in Enfield is its bigger sister lake Mascoma Lake.  Below is a picture looking out at the lake from my Parent's boat launch.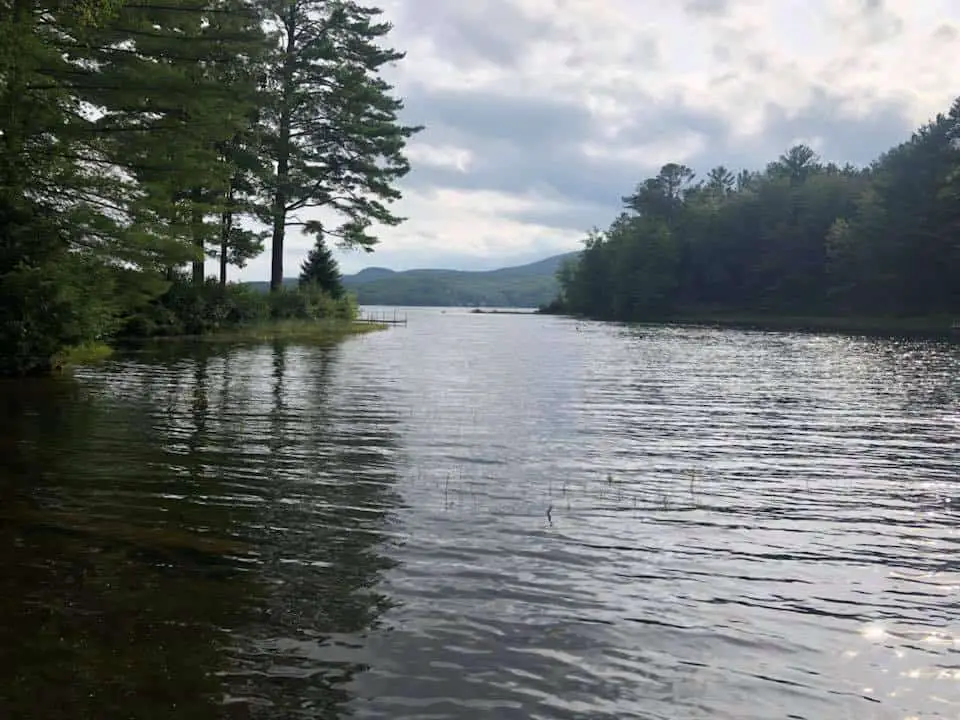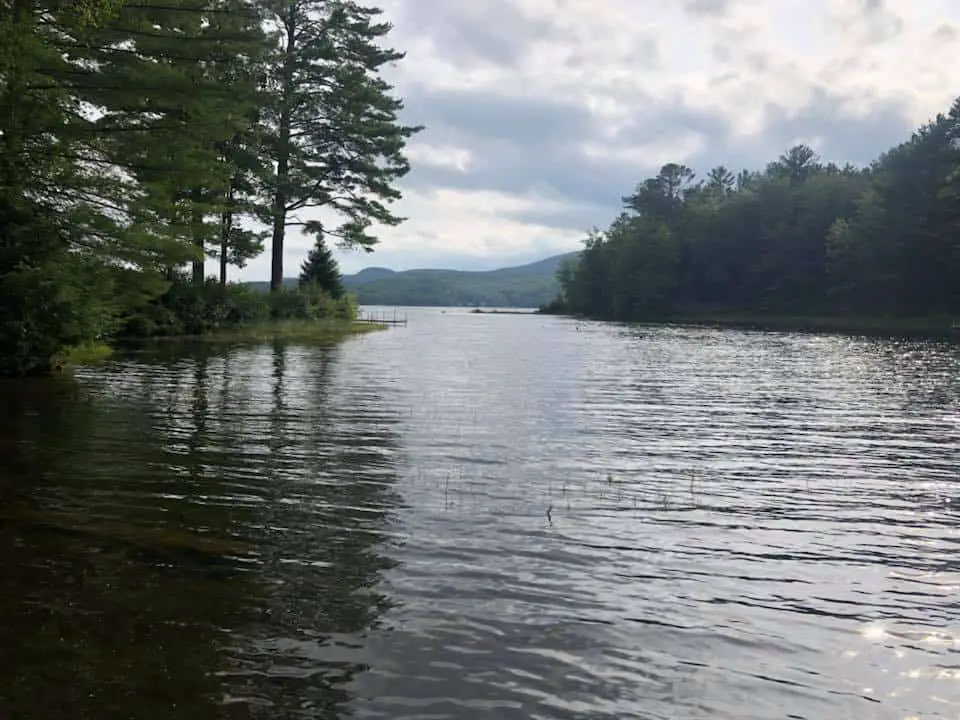 Crystal Lake Enfield New Hampshire Swimming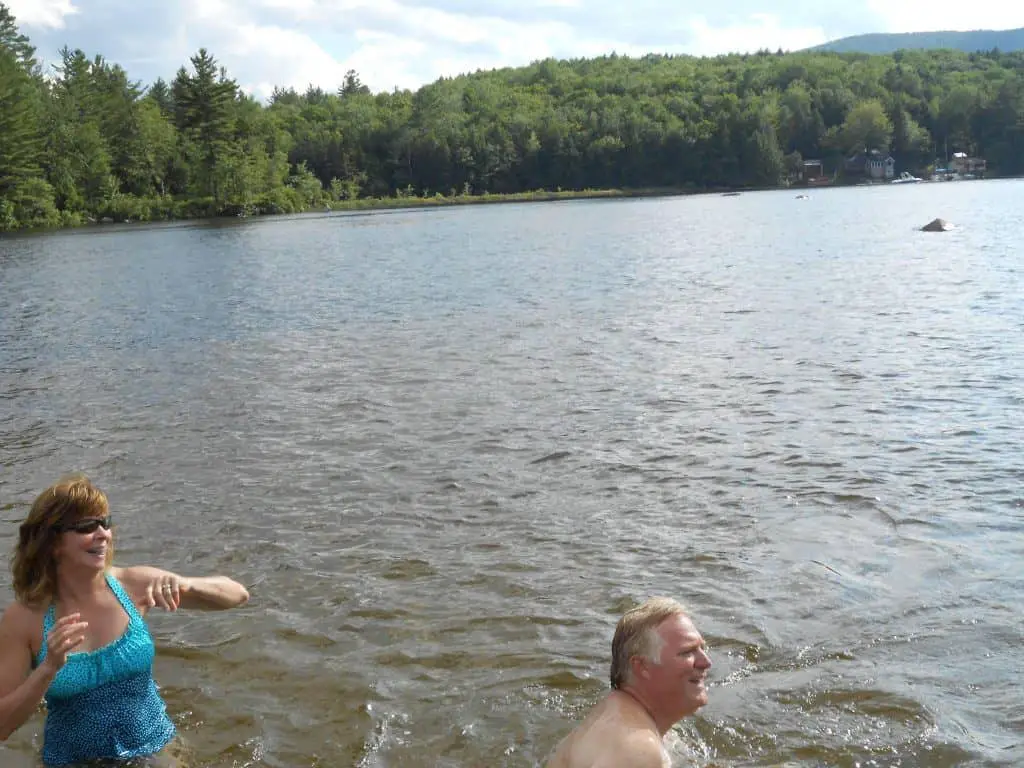 Crystal Lake is a great little lake to swim in during the Summer Months.  You can swim anywhere on the lake and you will see many people swimming from shore or jumping off their boats in the middle of the lake.  There is a sand bar at the far end of the lake that is a perfect spot to anchor your boat, hop out into crystal clear water that is only 3-4 feet deep and cool off.  You will see many boats anchored there on a warm day enjoying the warmer shallow water.  
Crystal Lake's Oliver Island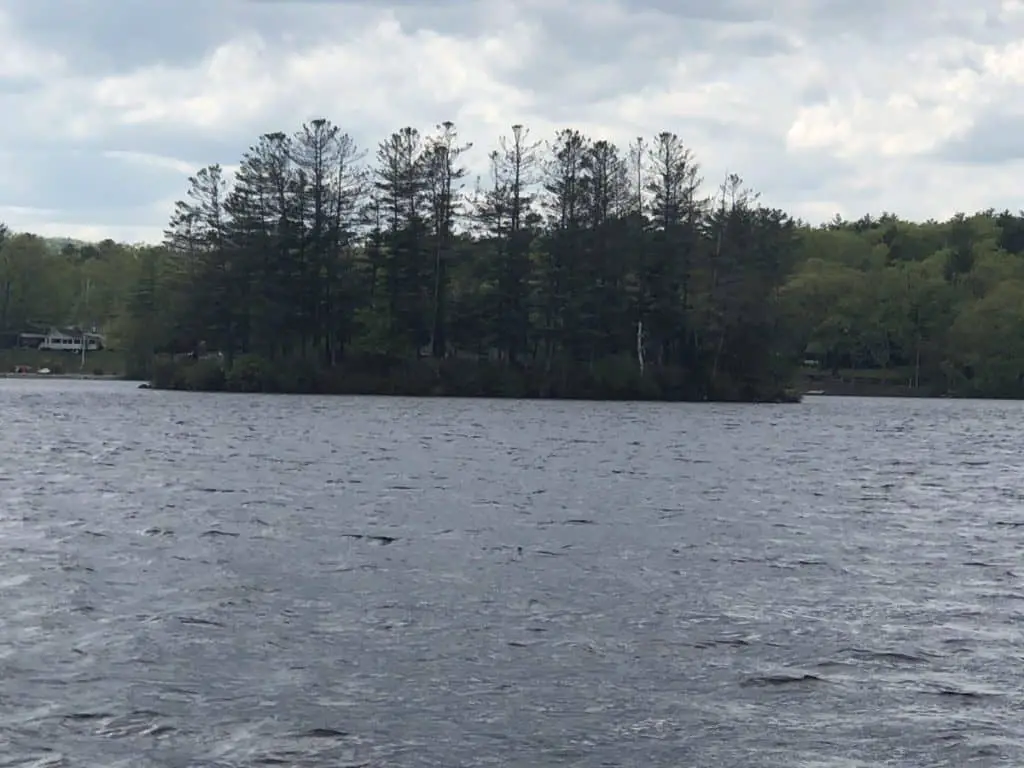 The lake contains one small island named Oliver Island.  It's a cute little island with no structure built on it. There is an old fireplace on the island and often times in the Summer local kids will boat over and camp out overnight. This also happens to be the name of my young nephew.  His Dad has trained him to recite, "It's MY Island every time we boat past it." Another fun fact, my cousin Regina got married on this adorable little island. Here is a shot of the handmade Arbor my Dad and I built for the wedding looking out onto Crystal Lake.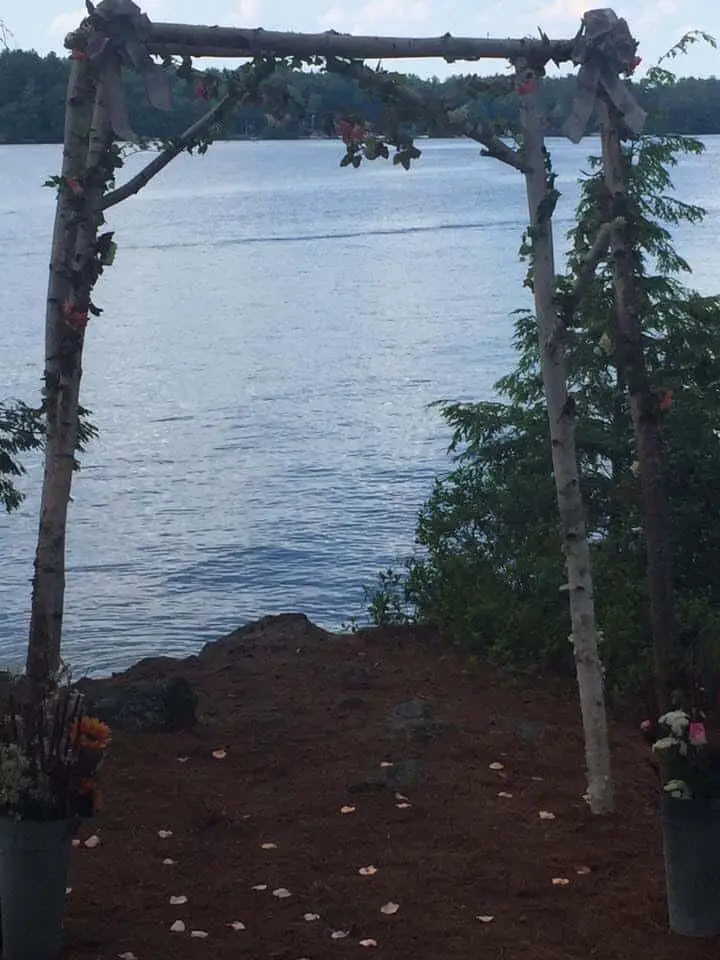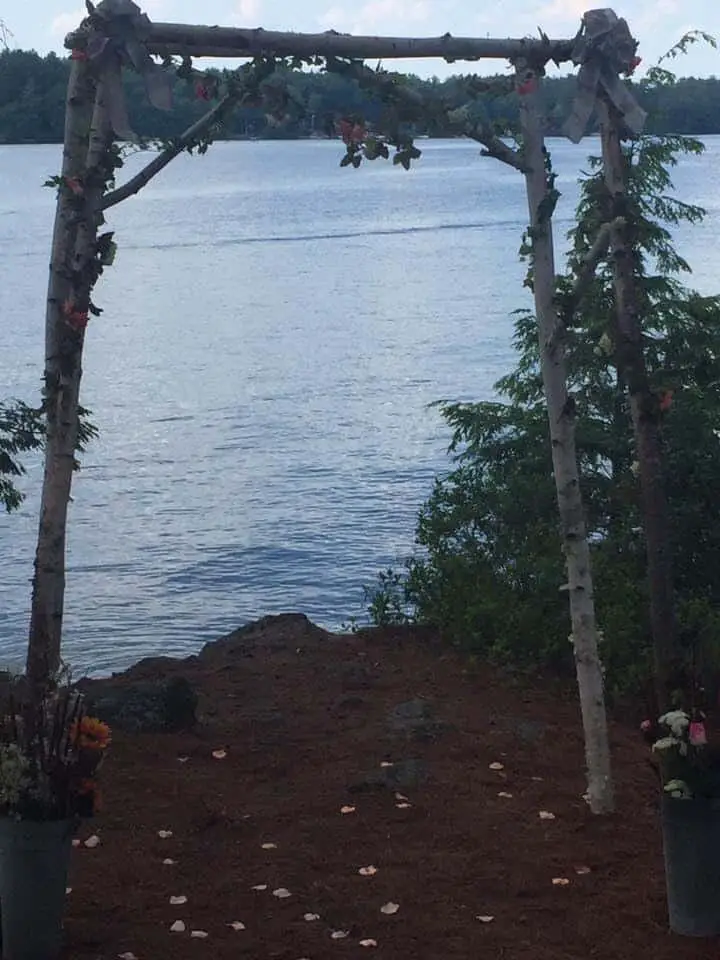 Crystal Lake Enfield NH Boat Launch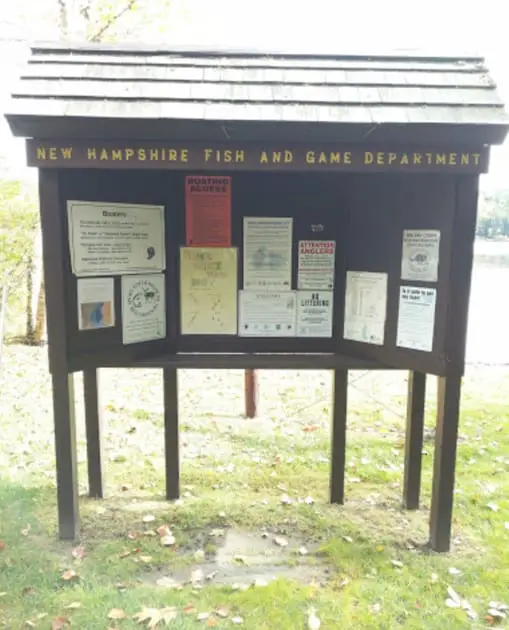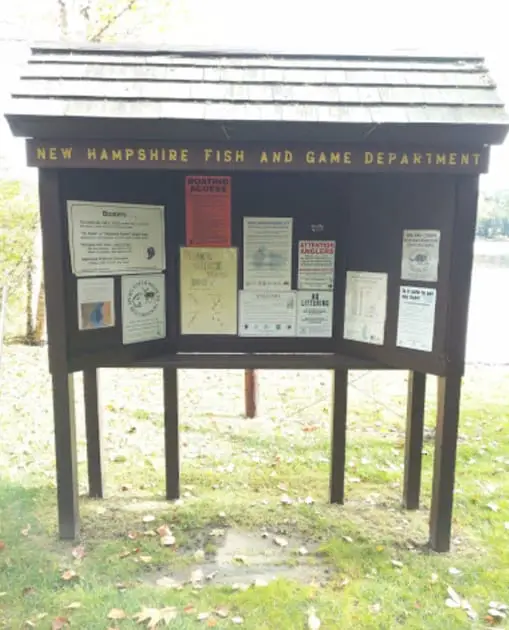 Crystal Lake has a small boat launch you can launch your boat at and offers easy access to this small NH lake.  Crystal Lake allows power boats, Jet Skis, and you will also see paddle boarders and kayakers. There is ample parking for your truck and your boat trailer after you launch your boat into the water from the Boat ramp on Algonquin road. Also, most of the Summer days there is a 'Lake Host" who will examine your boat for Milfoil to protect the crystal clear water from this invasive plant.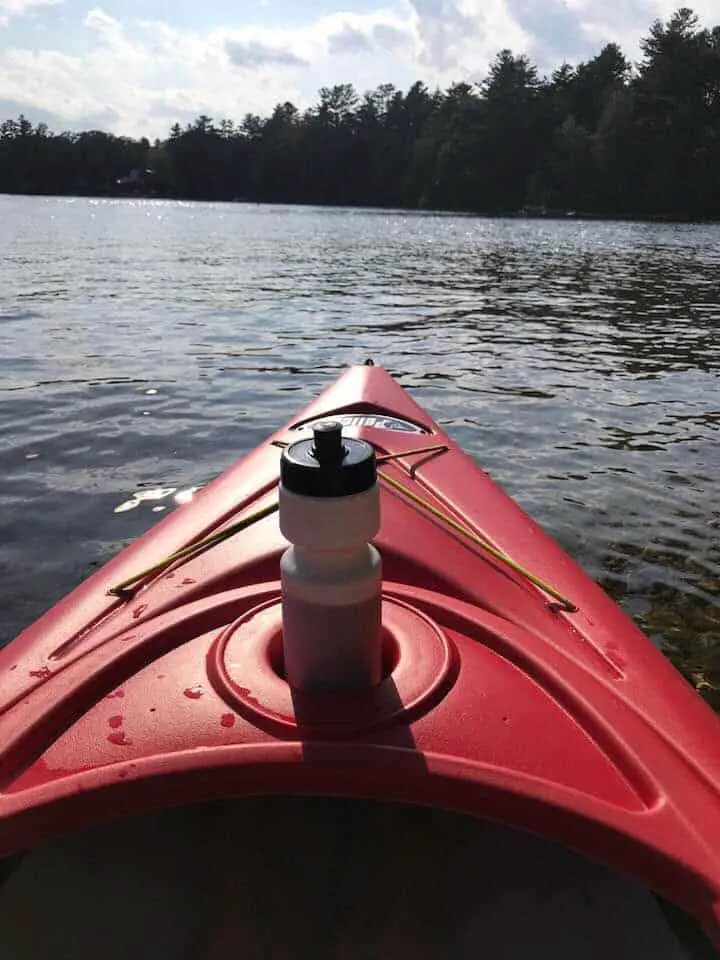 Fishing at Crystal Lake Enfield NH
You may be wondering what fish are in Crystal Lake Enfield NH.  According the NH Fish and Game, Crystal lake is classified as a cold and warm water place to fish, with observed species including brown trout, rainbow trout, smallmouth bass, chain pickerel, horned pout, black crappie, and rock bass.  I always see Bass fisherman fishing on the lake near the rocks. Many people ice fish here in the Winter as well.  After the ice is thick enough, you will see bob houses spring up and weekend ice fishers drilling holes trying to catch an elusive fish.
Loons Call Crystal Lake Home

One thing I love about Crystal Lake is that there are often Loons found living on this beautiful little lake. It's a perfect habitat for Loons and you will often see multiple Loons swimming, fishing, and raising their young on Crystal Lake. Here's a video a resident of Enfield NH took while on Crystal Lake showing these majestic birds.
Crystal Lake NH Bridge
Growing up in Enfield New Hampshire, like many children, I would drive to the Crystal Lake Bridge, park by the Crystal Lake Dam, and then go jump off the bridge into the clear water of Crystal Lake to cool off.  Now that my parents live near the Dam, I see this tradition continues and year after year kids arrive and jump off the small bridge to cool off from the Summer sun.
Crystal Lake Enfield New Hampshire Map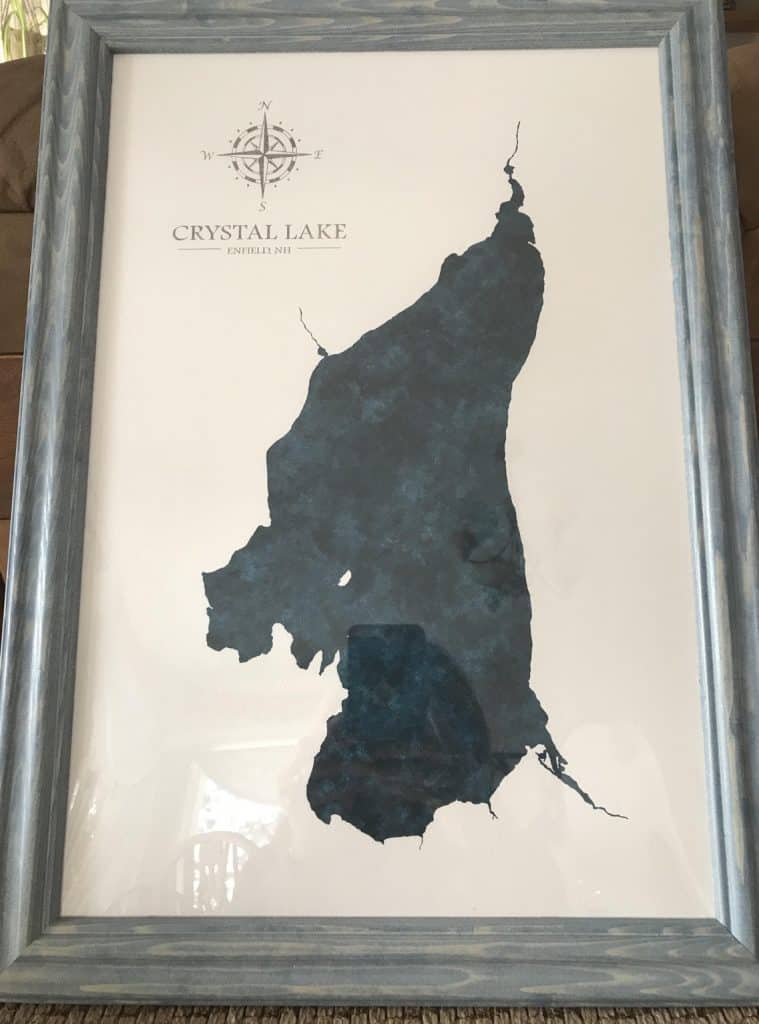 One final thing to share about Crystal Lake. This past Christmas I was looking for a unique gift for my parents and I learned about an artist who hand draws maps of Lakes and I asked him if he could do one of Crystal Lake in Enfield New Hampshire. He said, "Sure, no problem." Above is the map the artist from Rowland Studios in Concord, NH created. My parents loved it and I too was very happy with how it came out.
Interesting History Tid-Bit About Crystal Lake
Apparently Crystal Lake had its share of name changes throughout history.  It was known as Deep Lake, Johnson's Pond, East Pond, and then Crystal Lake.  I discovered this from book entitled Enfield New Hampshire 1761-2000 The History of a Town Influenced by the Shakers
I hope you found this page about Crystal Lake helpful!