I recently took a NH deep sea fishing charter with my family. When I started researching deep sea fishing NH guided trips, I didn't find many resources online.That motivated me to pen this guide to give you insight into what to expect when you go deep sea fishing out of New Hampshire. I will also share tips on how to to prepare for the trip.
Deep Sea Fishing NH Charter Options
For Father's Day this year my two brothers and I wanted to take our Dad out for a deep sea fishing charter to celebrate him. We researched the options of NH charter fishing trips we could take and these are the options we looked into.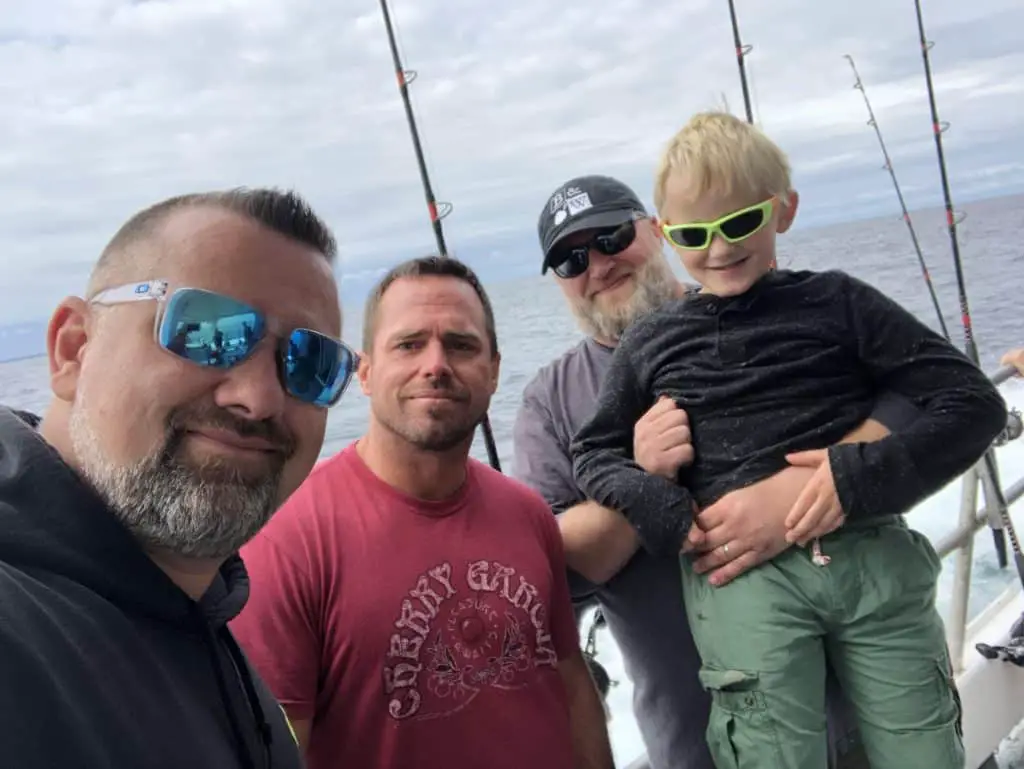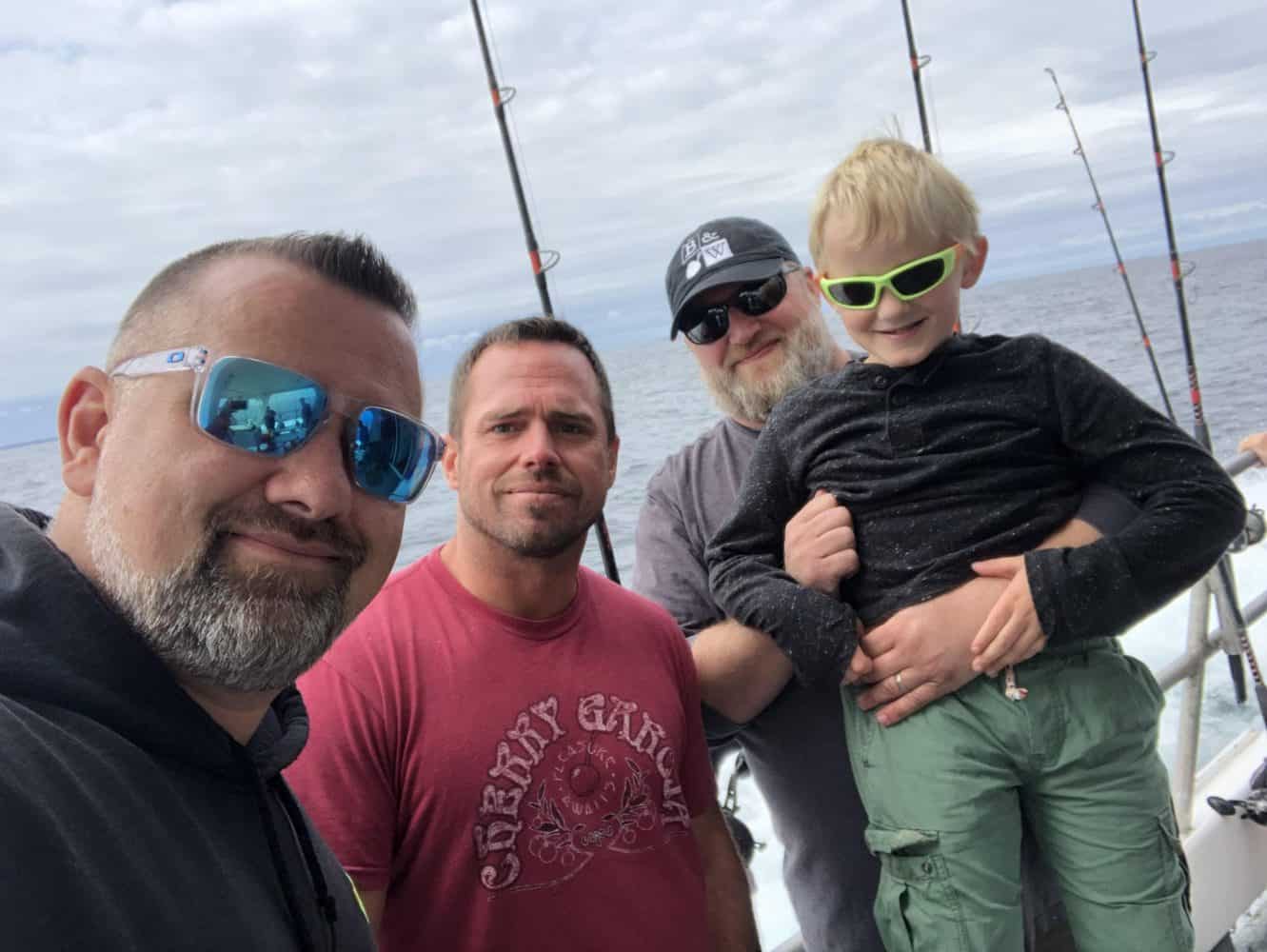 Al Gauron Deep Sea Fishing and Whale Watching
Located in Hampton NH is Al Gauron Deep Sea Fishing charters. This NH fishing charter company has been operational since 1934 and you can make reservations online. They do also accept walk ons but I wouldn't recommend trying that. Booking ahead is the way to go for sure. Al Gauron Charters offers different fishing charters, specialty cruises and even private charters.
With the fishing trips and NH whale watching charters you are basically part of a bigger group on the group. If you want to do a private fishing charter you will certainly pay more but you will have the private attention of the captain and crew.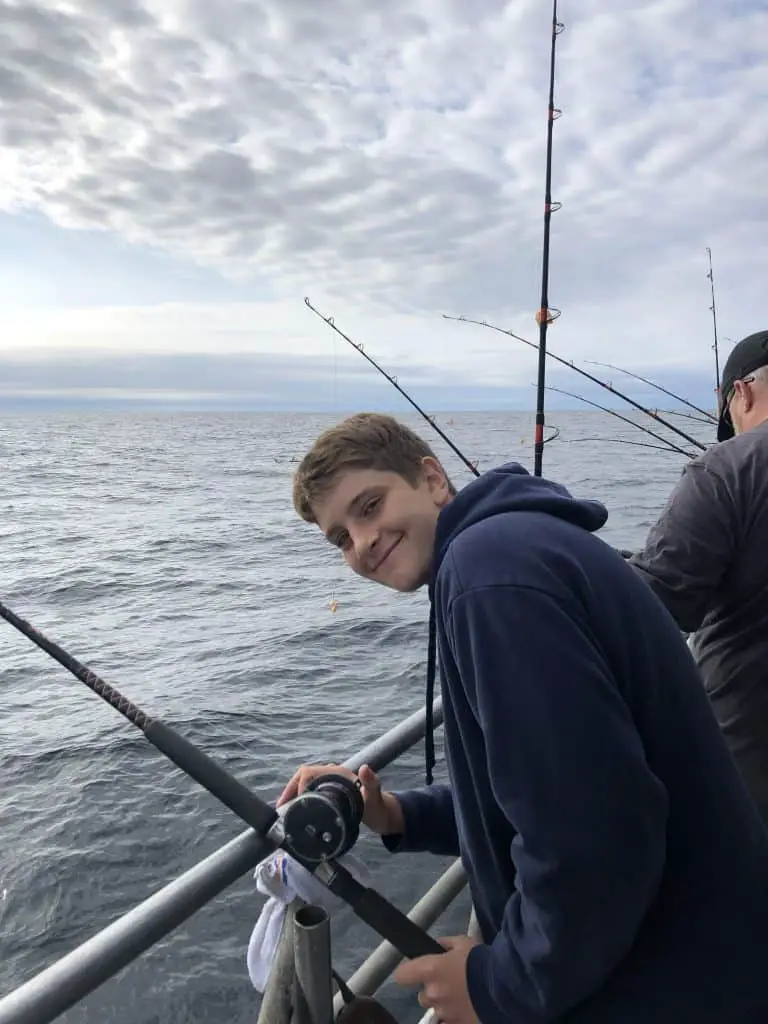 Al Gauron Deep Sea Fishing Charter Was The NH Fishing Charter We Chose
The Al Gauron fishing charter was the one we researched and booked. My Dad likes Haddock so we went with the half day chartered fishing trip. It was easy to choose and pick the charter we wanted right from their website
We choose the "Extended 1/2 day Haddock/Bottom Fishing" trip they offer. They offer full day options and other charters to fish for bigger fish like Tuna too but we didn't choose that option on this particular trip. (We have done a Tuna trip before but got skunked so decided to go with the sure thing this time).
The staff on the boat were great and helped us with tips on how to have a successful charter. We got their bright and early the day of our Charter ready to go. They supplied all the fishing poles, tackle and bait and we didn't bring anything except our cooler and layers of clothing. When everyone was ready, we departed the dock and motored out to the NH deep waters for about an hour of boating time.
Al Gauron Fishing Charter Contact Information
Here is where you can learn more about the Al Guaron fishing charter:
Al Guaron Website: https://algauron.com/
Their phone: 603-926-2469
Their address: 1 Ocean Boulevard, Hampton NH 03842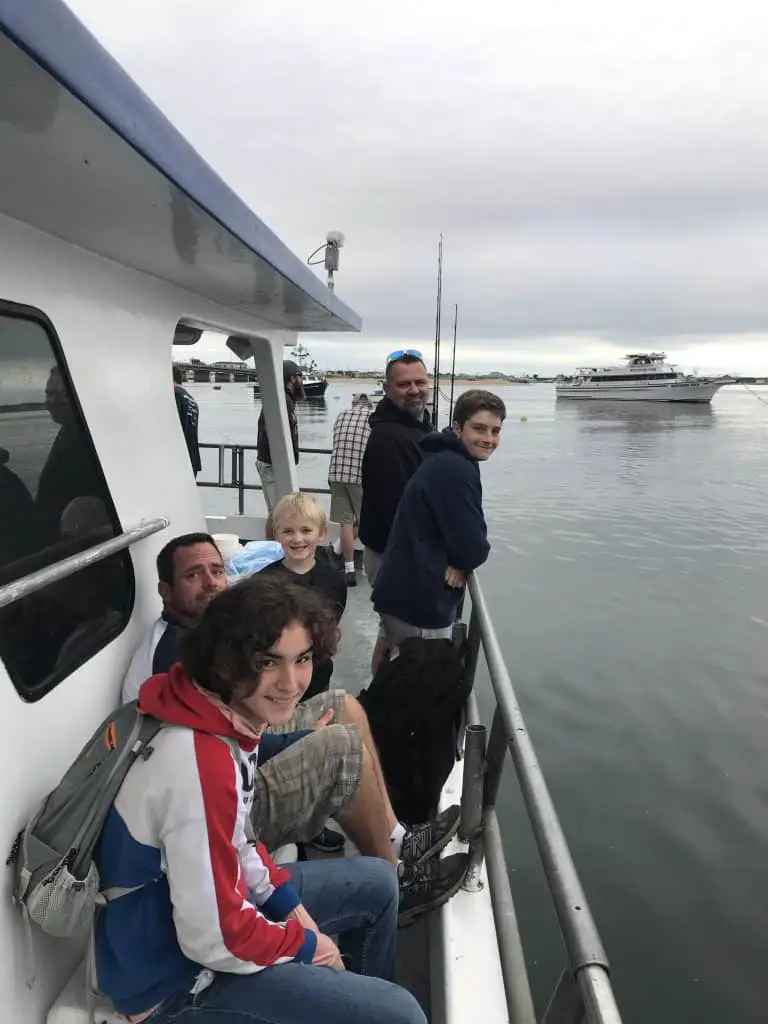 Their deep sea fishing trip paid off as we each got multiple fish
We had a fully stocked cooler of Haddock, Hake, and New England Reds when the day was done. The 2nd mate to the Captain cleaned all our fish for us as we boated back from our fishing location and put them in plastic bags for us so we could easily transport them home. I would definitely recommend this fishing charter as we had a great time!
When we got home we had a big "Fish Fry" dinner. We cooked up some of the fish in our Air Fryer and then we also made a wonderful Fish Chowder with more of the fish. Everyone enjoyed the meal!!
Other NH Deep Sea Fishing Trip Charter Options
While we ultimately chose Al Gauron as our fishing charter there are other options for deep sea fishing trips. Here are some other alternate options to consider.
Eastman's Docks – Fishing Fleet
This is a NH fishing charter based of Seabrook NH, has over 660 online reviews and is another option to consider. Their website is http://www.eastmansdocks.com/
Yellow Bird Deep Sea Fishing
This is another NH fishing charter option based out of Hampton NH. Their phone number is 603-929-1995 and their website is: http://www.yellowbirdfishing.com/
What Is Deep Sea Fishing?
Novice anglers have a hard time differentiating ordinary fishing from deep-sea fishing. Deep sea fishing starts when you hit the open ocean.
You need to have at least thirty meters of depth to pursue the bigger fish. Sport fishers also refer to it as big game fishing or sportfishing.
Others use the term interchangeably with "offshore fishing." However, I would like to point out that these two aren't the same.
Although you can head offshore when you want to practice deep-sea fishing, the kind of fishing you'll take part in will depend on the water depths attained.
What am I trying to say here? Deep-sea describes the distance from the boat to the seafloor, while offshore refers to the distance from your present location to the nearby dock.
Deep sea fishing occurs in open blue waters, in spots where there are no visible shorelines. I have found myself fishing in places that have a depth of up to 100 feet!
These are the best grounds for deep sea fishing as they tend to hold structures such as oil rigs, wrecks, and reefs. All these serve as great swimming spots for the big fish.
What Fish Species Should You Target When Deep Sea Fishing Rye NH
As an angler, taking part in deep sea fishing Portsmouth NH is all about hunting the big game species. Fish that fall under this category will fight hard when hooked.
Large saltwater fish have an aggressive attitude.
Their aggressiveness makes them an ideal target, as they provide me with an adrenaline rush every time I hook one. It's a rush that can only come from battling a large deep-sea creature.
Although most of us mainly do it for recreational purposes, no one's stopping you from plumbing the New Hampshire deep-sea waters in search of bottom fish.
Deep sea fishing offers a rare opportunity to test your skills against brutish reef fish. So, what are people catching deep sea fishing NH? The following are some of the popular targets:
• Billfish: It's the most popular species with anglers from New Hampshire. They have a tough-fighting spirit and iconic appearance, which makes them an ambitious target for professional anglers.
• Reef Species: Barracuda, Cobia, Amberjack etc. You can trust me when I tell you these are not the first names that will cross your mind when sailing out. But, I like them because they offer excellent angling action. They primarily reside in waters that have a depth of around 250.
• Tuna: If the reason you want to try deep-sea fishing is to get some Tuna, train your focus on the Bluefins and Yellowfins. Yellowfins are among the strongest fighters in the open ocean waters and will go pound for pound with you. Bluefins can grow to enormous sizes and routinely take aggressive deep dives when hooked.
• Snapper: We anglers love them, as they offer excellent fishing action. Additionally, the Red Snapper tastes great and no other species comes close to it.
• Other Pelagics: Wahoo and Mahi Mahi top the list of deep-sea fishing targets among both professional and sports anglers, and for a good reason. Pelagics grow to impressive sizes, offer a fun chase, and will put up one hell of a battle at the end of the fishing line once hooked.
Most deep sea fishing charter NH targets comprise big game species known to inhabit different waters. They have a migratory nature and appear in various locations around the year.
The migratory patterns of the big game species make deep sea fishing a seasonal sport. You'll need to familiarize yourself with the fish movements to know when to head out to the open sea.
What Techniques Will I Use When Deep Sea Fishing Hampton NH?
By now, I hope you know that deep sea fishing often results in larger catches compared to shallow water fishing.
Depending on what you want to catch, you can try deploying the following fishing methods:
Trolling
Trolling is the go-to fishing method for any angler looking to hunt big game species such as Tunas and Billfish. It involves dragging hooked bait through a chosen fishing area using a boat.
The size of the vehicle will determine the number of rods you need to set up. I have seen anglers setting up between two to six rods.
Such a setup means they will troll two to six weighted lines. The technique makes it easier to cover a larger ground and even greater depths.
Your captain will do this by using both downriggers and outriggers. What are these, you ask? Well:
• Downriggers allow you to lower the bait attached to a clip to deeper levels. The clip detaches when the fish bites.
• Outriggers extend out from your boat and enable you to run more lines in the ocean. They also make it easier to put more distance between the bait.
Bottom fishing is another option for deep sea fishing and with this approach you can catch fish like Haddock, Hake, and New England reds.
If you're on a deep sea fishing charter NH, the boat captain will typically have a broad selection of tackle, reels, and rods set up on the board.
They can help you to select the right gear. The bait you will use will depend on the target. Popular bait choices include mullet, ballyhoo, and squid.
Bottom Fishing
If you want to catch the large delicious fish known to lurk around wrecks and deep-water reefs, you will need to consider the bottom fishing technique.
It's a technique commonly applied in nearshore waters. Considering the depth of the grounds you want to explore during your trip, you may want to make a few adjustments.
Bottom fishing occurs when you anchor the boat or let it drift in spots where fish like to lurk. It doesn't require much effort on your end.
Simply place your bait on top or close to the seafloor and wait for the fish to bite. I would recommend implementing movements such as bottom bouncing to mimic baitfish.
The setup for bottom fishing requires live bait, a hook, sinker, and a line. Bottom fishing can mean broken lines and fish escaping due to the ruggedness of the terrain where it occurs.
But worry not, as this is the case with most other known fishing techniques.
Deep Dropping
Deep dropping, as the name suggests, involves dropping baits very deep into the open ocean waters. You should only use this technique in waters having a depth of at least 300 feet.
Such waters will enable you to encounter various deep-sea species such as the Swordfish. I have seen deep sea fishing Rye NH anglers use the technique to catch Groupers and Snappers.
Although this technique shares some similarities with bottom fishing, the water depths involved vary significantly. You'll also need different and much more complicated equipment.
For charters, the captain will need to use special electric deep-dropping reels. They're reels that can easily hit the ocean floor and help bring any fish that has bitten the bait back to the top.
When choosing the bait, I advise you to focus on two highly crucial factors: staying power and scent.
You need bait that can withstand depths of up to 300 feet and still attract your target fish. For this, consider going with bonito chunks, barracuda, and squid as your bait options.
How Should I Prepare for A Deep Sea Fishing Portsmouth NH Trip?
Every fishing expedition calls for adequate preparation. Remember that deep-sea fishing excursions will involve travelling tens of kilometres into the open waters.
And this means that the weather conditions can change in a matter of minutes. Keep the following tips in mind when preparing for your next deep-sea fishing trip:
• Pack Your Seasickness Pills: Pack your medication if you think you'll get seasick during your trip. Taking a boat ride on choppy waters can make even the most resilient man or woman get seasick. Make sure you have brought along anti-motion medication such as Dramamine.
• Choose Your Clothing Carefully: The weather conditions will influence what you'll wear when going deep sea fishing. In summer, consider a long-sleeved shirt paired with a breathable base layer shirt. During the cold season, consider pairing your outfit with a water-proof cold-weather coat or fleece jacket.
o In terms of shoes, I recommend rubber-soled shoes to prevent slipping. Confirm they're non-skid.
o Lastly, you should only wear clothes you don't mind ruining or dirtying. Blood, fish slime, and saltwater will at one point end up on your outfit.
• Bring Drinking Water: You can never have too much water with you when on a fishing trip! This is something I learned from my early fishing days. Deep sea fishing involves a lot of hard work, and it's a good idea to remain hydrated throughout the trip.
• Check the Weather Beforehand: Bad weather can quickly ruin a fishing trip, more so if you hadn't prepared well. Make it a point to check the weather forecast beforehand. If it's sunny, bring your sunglasses, sunscreen, and a buff.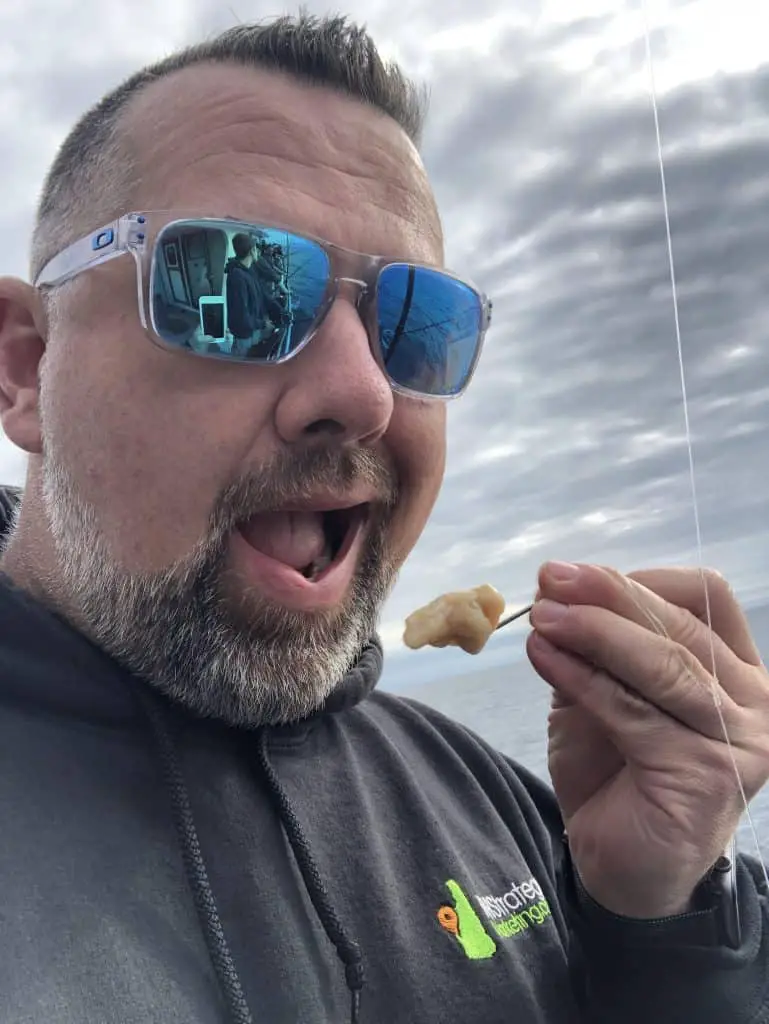 Summary – Deep Sea Fishing NH
I like deep sea fishing because it's a spectacular experience. Anyone, and I mean absolutely anyone, can try it regardless of whether they have cast a fishing line before or not.
While most trips will typically end up with a trophy catch and tired arms and muscles, they allow you to learn valuable fishing techniques and to have fun while at it.
What's more, it's a chance to swap sea tales with your fellow anglers and boat captain as you stare into the expansive open blue ocean waters!
PS – Looking for a different kind of tour? Check out these New Hampshire Helicopter tour options.
PPS – For more guides on things to do in New Hampshire check these out.