The charm of New Hampshire is well known and its towns and cities are among some of the most picturesque and desirable places to live or even just to visit. The state is well known for its excellent quality of life, strong economy and beautiful scenery.
Choosing the best New Hampshire towns is almost an impossible task, but we've given it a go, and we think you'll agree with our choices.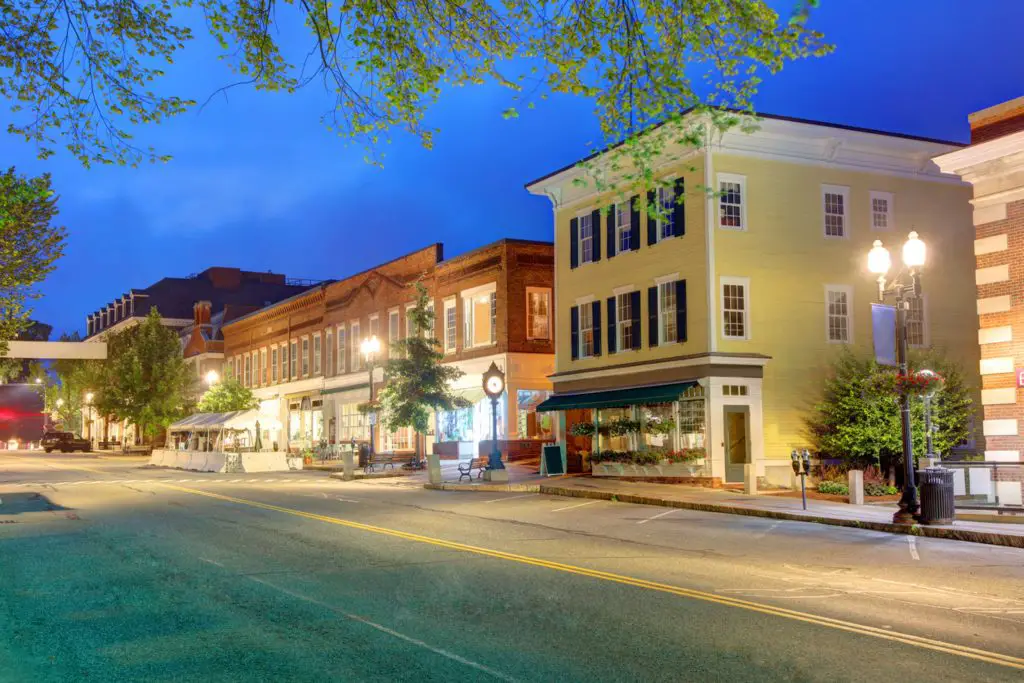 Hanover
Situated in the Upper Valley along the Connecticut river, Hanover has been called one of America's prettiest towns by Forbes magazine.
It has the classic appeal of a New England town but with an active community experience due to the presence of Dartmouth College.
The beautiful scenery and cultural vibe make Hanover a great place to get away for the weekend. And there is no shortage of things to do.
If you love the great outdoors and have plenty of energy you can ski on the Dartmouth Skiway or the Suicide Six Ski Area.
If hiking is your thing, the Appalachian Trail is on the doorstep, just strap on your walking boots and head out. You can often see hikers stopping in town for a meal before getting back on the trail.
For those who prefer a gentler pace there are galleries and museums, cafés and pretty shops to wile away the hours.
Go in the spring to enjoy maple sugaring and the RiverFest for a kayaking adventure, or in the fall for beautiful leaf changes and apple picking.
Some great restaurants in Hanover NH include Pine inside the Hanover Inn, Molly's Balloon, or even Murphy's on The Green.
A pretty New Hampshire town not to be missed.
Exeter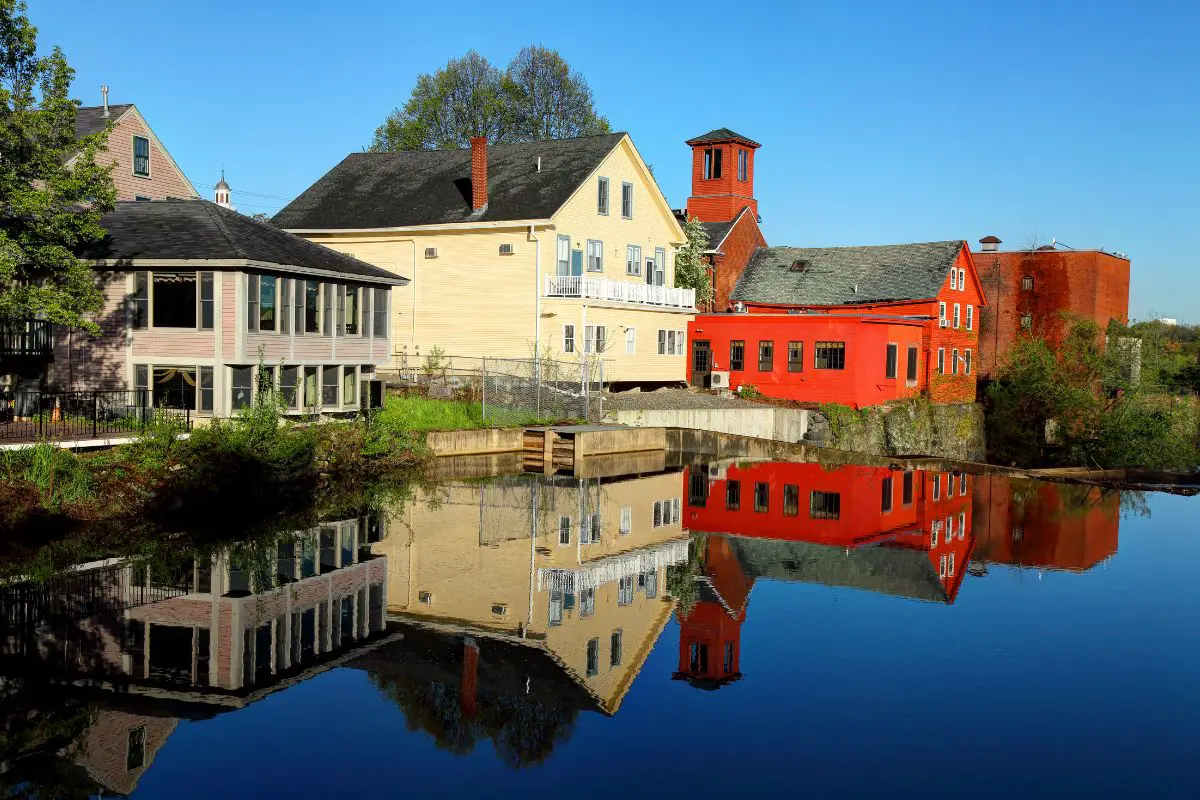 Exeter is a town where you could spend endless hours just walking around.
The main street is lined with interesting shops, restaurants and art galleries. The antique brick buildings and tree lined streets are picturesque and brimming with colonial charm.
The town was the capital of New Hampshire's Revolutionary War as attested to by the American Independence Museum on Governors Lane. Take a tour to relive the historic moments that lead to the foundation of a nation.
Phillips Exeter Academy, one of the oldest and most prestigious boarding schools in the United States, can be found here. (John P. Hale, a famous NH politician went to school here
For outdoor activities there is biking, water sports or hiking part of the Appalachian Trail. If you are a keen photographer there is an abundance of opportunities for taking incredible pictures here.
When the snow falls you can enjoy sledding, snow-shoeing, cross country skiing, or perhaps you'd like to build a snowman! Alternatively you could cozy up in one of the many cafés with a good book and enjoy the snow from inside.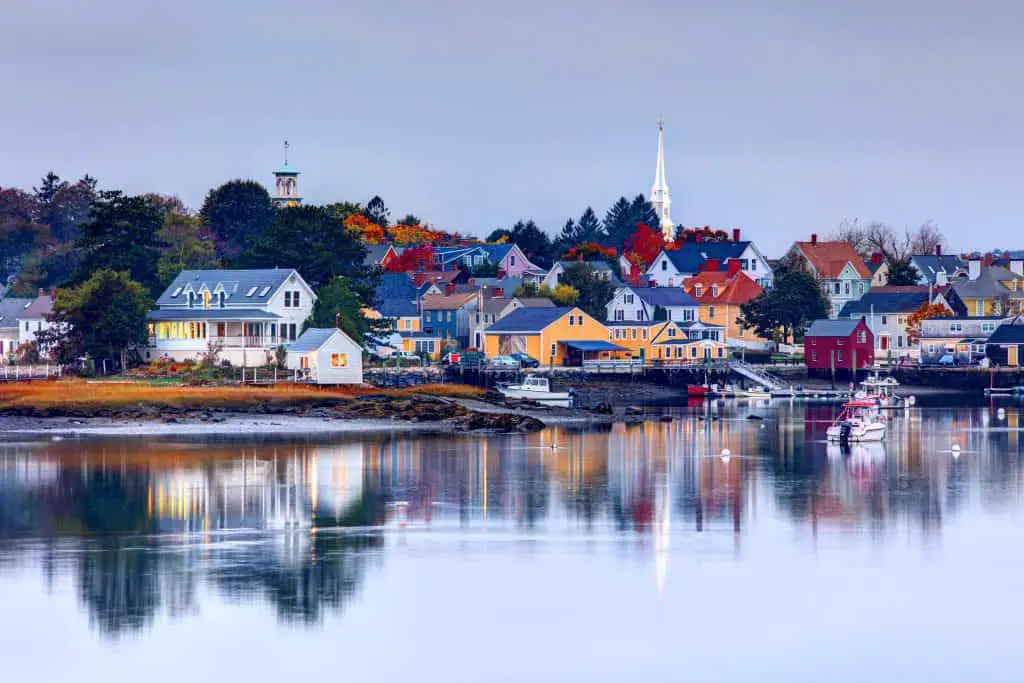 Portsmouth
The city of Portsmouth is one of the most sought after in New Hampshire and also voted one of the prettiest towns in the US by Forbes magazine.
Situated on the Piscataqua River it is steeped in history, beautifully reflected in the brick buildings of downtown Portsmouth.
Founded in 1623 the town is one of the oldest in America and The Strawbery Banke Museum is where you can learn all about its history. This outdoor living history museum has participants who re-enact the past among restored houses, gardens, and shops.
For beautiful scenery Portsmouth offers the Atlantic coast, and you can take a ride on a full size replica of a colonial sail ship.
Stroll through downtown's Market Square and you will find all the best restaurants served by this fishing city's ocean fare. There are plenty of cafés, breweries, shops and live events to keep everyone entertained. See this article detailing all the things to do in Portsmouth.
Portsmouth's charm is enhanced by the relaxed atmosphere in its pedestrian only streets making it a joy to meander around this coastal town.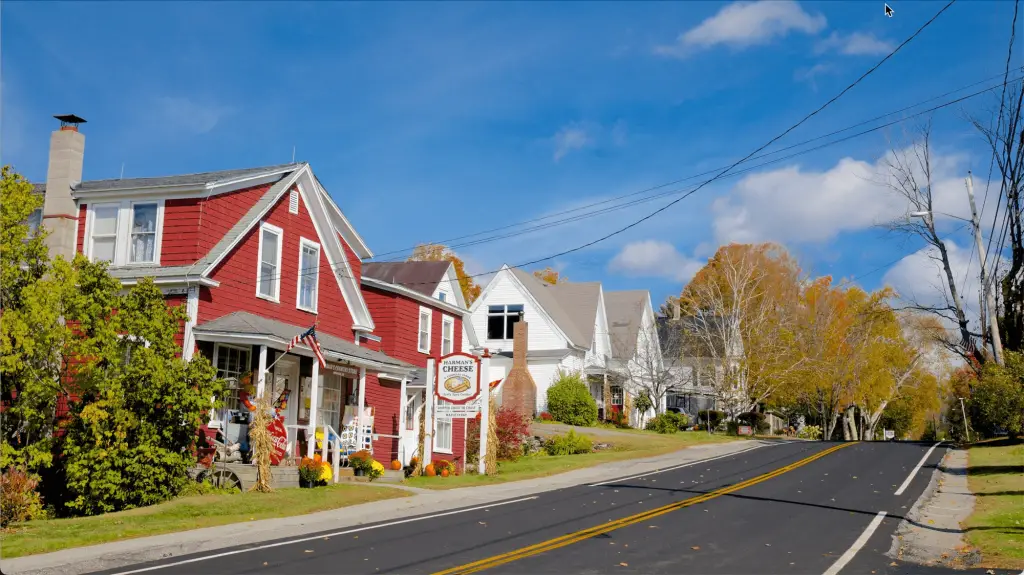 Sugar Hill
This sweetly named town is a recent addition to New Hampshire's listings. They call themselves the "newest town in New Hampshire." It was incorporated in 1962 and sits as a little jewel among some of this state's most picturesque attractions.
From this beautifully elevated town you can hike up Mount Washington, travel along the scenic Kancamagus Highway or be wowed by the Flume Gorge. There are hundreds of waterfalls which are well worth a visit.
Regardless of the season there is always something to do in Sugar Hill, wildflower picking in spring or cross country skiing in winter. For the more adventurous there is zip lining or hang-gliding or for a quieter pace, hiking in the White Mountain National Forest.
Despite its youth the town has a museum open May to October where you can learn all about the region's history from 1780 to the present. The museum includes two barns holding a carriage and a sleigh museum.
Sugar Hill derived its name from the groves of sugar maple trees that grow within the town limits.
Be sure to stop at Polly's Pancakes while passing through!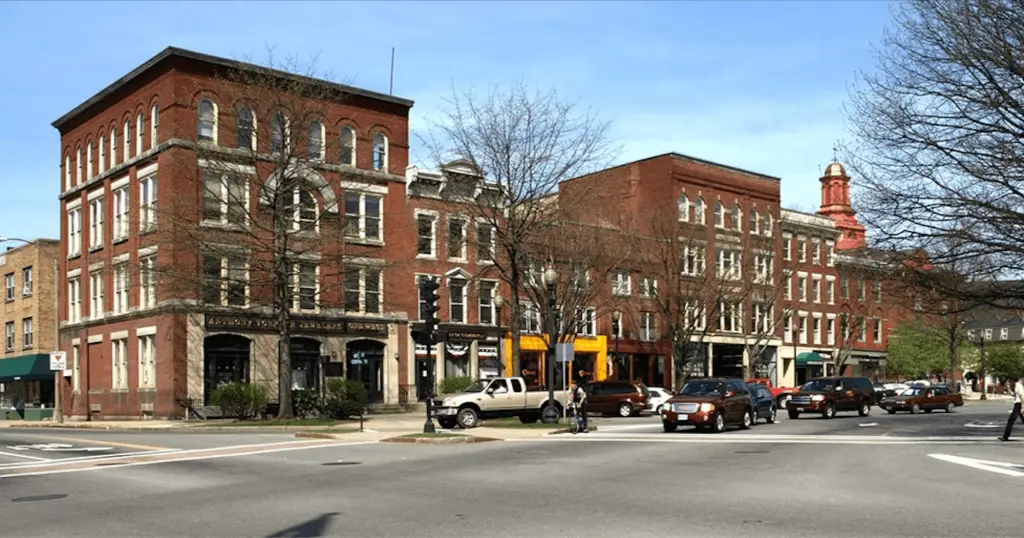 Keene
Keene is in the Monadnock Region with a population of just over 23,000 people. This small gem of a town has some of the best weather in the region. Perfect for all season outdoor activities and pursuits. It is bordered to the West by Brattleboro Vermont (a lovely little town in its own right).
The area has one of the best hiking trails in New Hampshire, the Ashuelot Trail.
This is a 22-mile flat trail that follows former railroad tracks. But it is far from industrial and passes over lots of pretty covered bridges and crosses numerous small streams.
As well as catering beautifully to hikers of all abilities this picturesque area is covered in lush pastures during the summer and features snowy peaks in the winter.
For art lovers there are plenty of art galleries downtown and an annual Art Walk features every kind of art you can imagine including pastels, oils, quilting, photography and mixed media. Keene loves to celebrate its local artists.
Acknowledging local history the Horatio Colony House Museum is tucked inside an 1806 Federal House featuring displays of historic furniture and art.
Keene also has some great mountain biking – check out the Keene Bike Park.
Keene is also the home to Keene State College, a great state college with a strong tradition dating back to 1909.
Some restaurants to check out in Keene include Luca's Mediterranean Cafe, The Stage, and Fireworks.
The Perfect Place – Best New Hampshire Towns
The best New Hampshire town will be a purely subjective choice and what is perfect for one person may not be right for another. Whether you are looking for somewhere to live or just a weekend away there are a lot of great towns to choose from.
One thing that they all have in common though is the beautiful backdrop of the wonderful state of New Hampshire.
Other guides to check out: