New Hampshire offers fantastic vacation opportunities. Wonderful sights and epic excursions draw visitors from all around the world. 
New Hampshire is a holiday location adored by families, couples, individuals, and groups of friends for its outdoor recreation, mountains, beaches, and exciting family attractions, from the lakes and the glorious White Mountains to the golden seaside beaches. 
Outdoor activities are available in the White Mountains area and the Seacoast throughout the year. It's a vacation paradise for everyone. 
If you're completely sold on planning your next vacation in New Hampshire, our comprehensive guide has a charmingly unique accommodation experience for all tastes. 
Keep reading to discover the best hotels in New Hampshire to make your vacation the best one yet.
Best Hotels For Historical Stays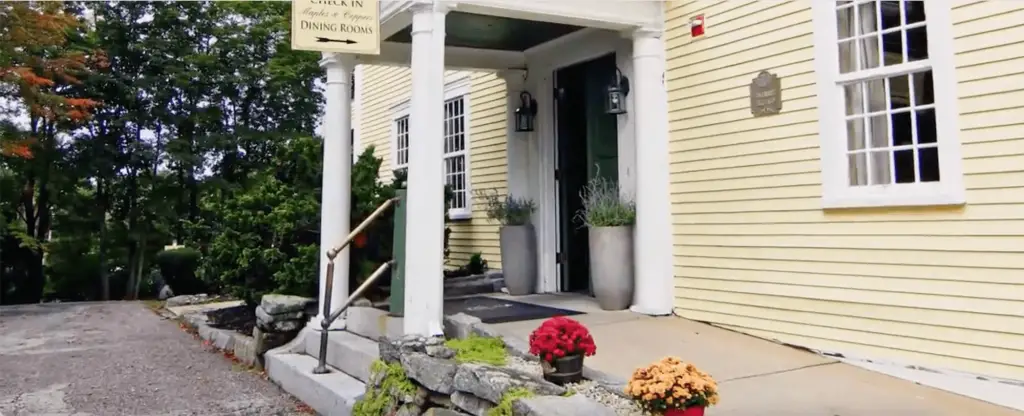 This charming hotel, founded in 1649, is ideal for history buffs visiting Durham's little coastal town. At the Sawyer Tavern, expect four-poster beds and fireplace, as well as farm-to-table cuisine. Families are invited.
Wakefield Inn & Restaurant is a heritage building in Wakefield Corner with only five wonderful bedrooms. This classic New England getaway, listed as a national history treasure, is ideal for honeymooners and history buffs looking for a relaxing getaway.
This is a cheerful tiny motel in an 1809 Federal-style home with only eight beds. Expect luxurious historical interiors and a fantastic setting in Exeter's historic quarter, only steps away from the river. It's charming and cosy, making it ideal for lovers and culture buffs.
The oldest inn in New Hampshire. The fourteen-room establishment has been attracting tourists since 1789 and has unique historical design, delicious locally sourced meals, and  warm hospitality for romantic couples. 
Near Mount Monadnock, a famous hiking destination. Also appropriate for weddings.
Best Hotels For Staying Downtown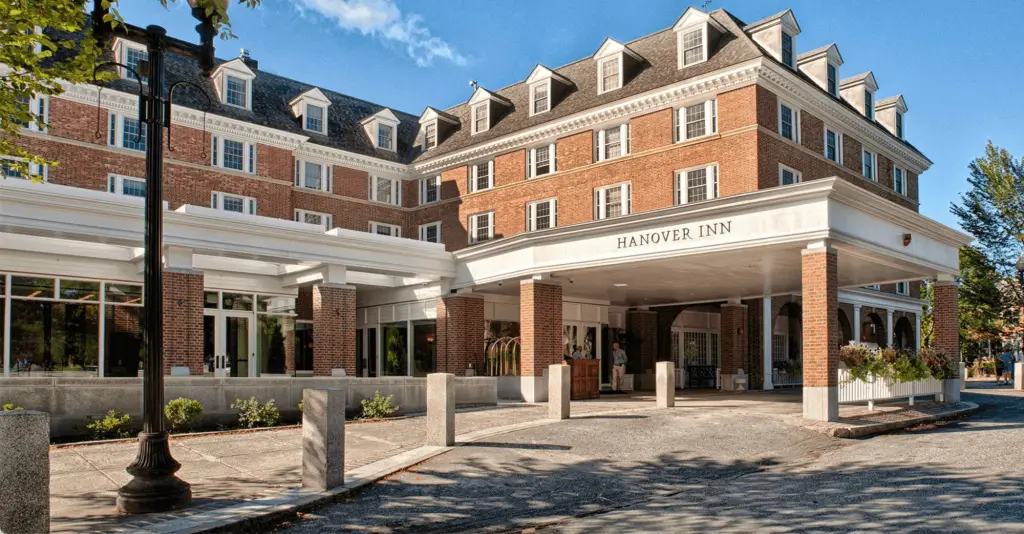 This elegant inn is located in the middle of Dartmouth College's campus, making it a popular destination for visitors and potential students. 
Leather couches and checkered designs adorn the spacious rooms. The restaurant specialises in farm-to-table cuisine, and there is a gym on campus. Historic and charming.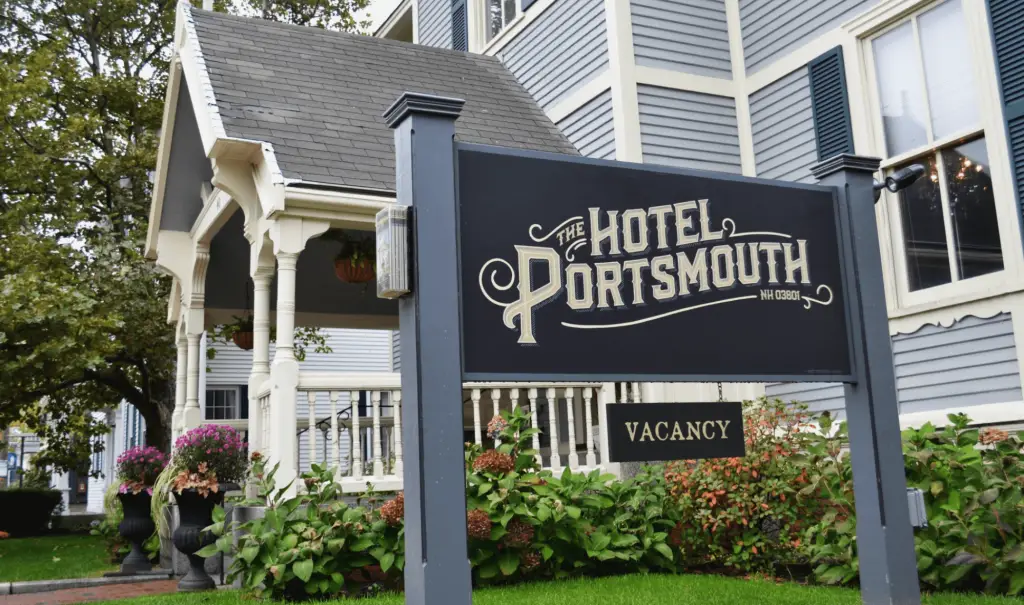 In a superbly restored Queen Anne structure, the Hotel Portsmouth boasts 32 luxurious rooms with traditional furnishings and a relaxing colour scheme. 
The large meals, downtown Portsmouth setting, and tasteful allusions to the building's history make this B&B a good choice. The friendly personnel can provide local gastronomic recommendations.

In downtown Concord, this hotel is a stylish, modern establishment. The hotel has contemporary furnishings in soothing tones, and a terrific gym and fireside lounge, making it ideal for both work and pleasure travelers. The building also houses a beautiful café and a movie theatre with Free popcorn!
If you stay on the top floor there are balconies with some wonderful views of downtown Concord NH.
There are also some great restaurants like Revival Kitchen & Bar in walking distance of the Hotel.
Best Hotels For Nature & Relaxation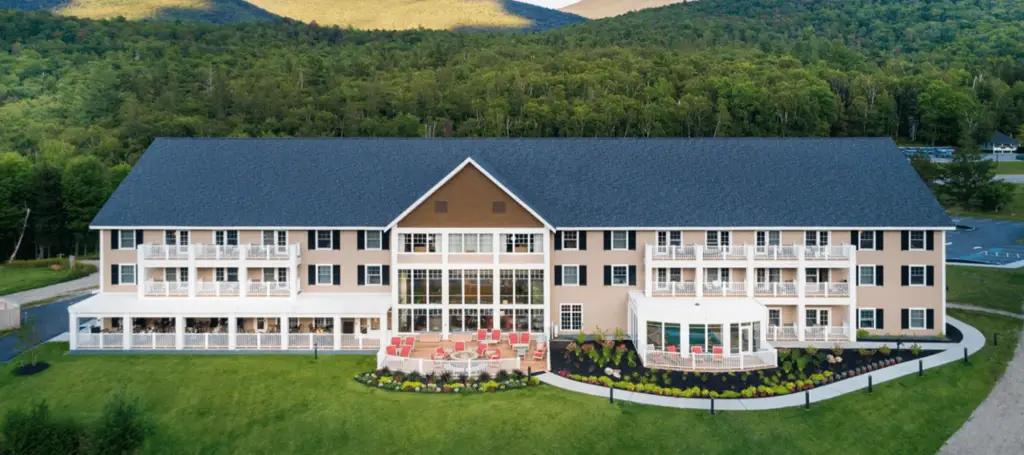 This hotel is a sleek, contemporary take on a traditional lodge. There are beautiful rooms which cater for couples, groups, and families, as well as plenty of activities such as kayaking, swimming, mountain biking, and winter skiing. 
Visit The Glen House for a bright, friendly atmosphere and breathtaking views of Mount Washington.

On 13 acres of land amid the White Mountains, The Manor on Golden Pond provides magnificent suites, some with a fireplace and whirlpool bath. 
This hotel features modern dining, sports, croquet, culinary classes, and a superb spa. A charming hideaway for the discerning tourist seeking solitude.
This is a quaint, rustic inn nestled in the White Mountain Forest's stunning surroundings. There's much to do outside for active travellers, and the five-course meals are a wonderful treat. This is a small rural retreat with only 12 rooms. It's ideal for couples.
Best Hotels For Food Lovers In New Hampshire
I will fully admit that I am a Foodie so I loved researching these options below!
A hidden gem in New England, located near the tranquil town of Bethlehem. There are plenty of outdoor activities and the nine rooms are designed in a classic country house manner. 
The food, however, is the main attraction; expect flavorful regional delicacies like authentic grilled filet mignon. A favorite with foodies like myself.

The award-winning food at Sugar Hill Inn is made with locally sourced ingredients, featuring herbs from the property garden and syrup from Sugar Hill. 
Wine aficionados can complement their meals with a variety of 100+ top wines from the United States. After a fantastic meal, retire to a lovely collection of vintage suites and cottages.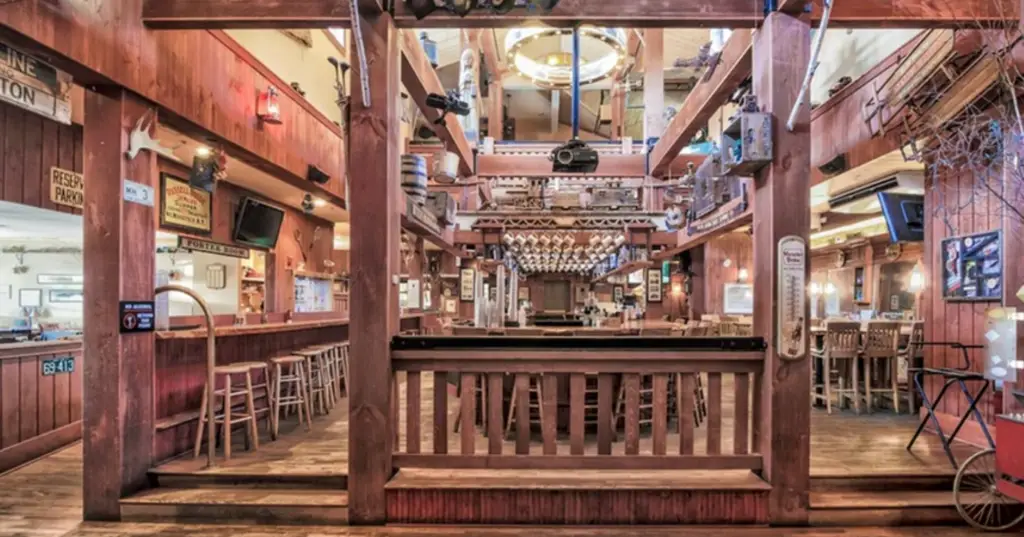 In a disused railway station, this is a unique pub and restaurant with rooms. Come for the unique decor – colorful textiles and carved wood, and stay for the delicious food, locally brewed craft brews, and live music nights. This Inn also happens to be a fully operating New Hampshire brewery. Eat, drink, and have a good time.
Best Hotels For Groups In New Hampshire
This pleasant inn has 46 bedrooms, making it ideal for families and groups. 
This hotel, which is a quick stroll from downtown Exeter, is a terrific choice for work or pleasure, with a gourmet café, excellent conference facilities, and a small gym. The lush gardens and large event areas are ideal for weddings and family gatherings.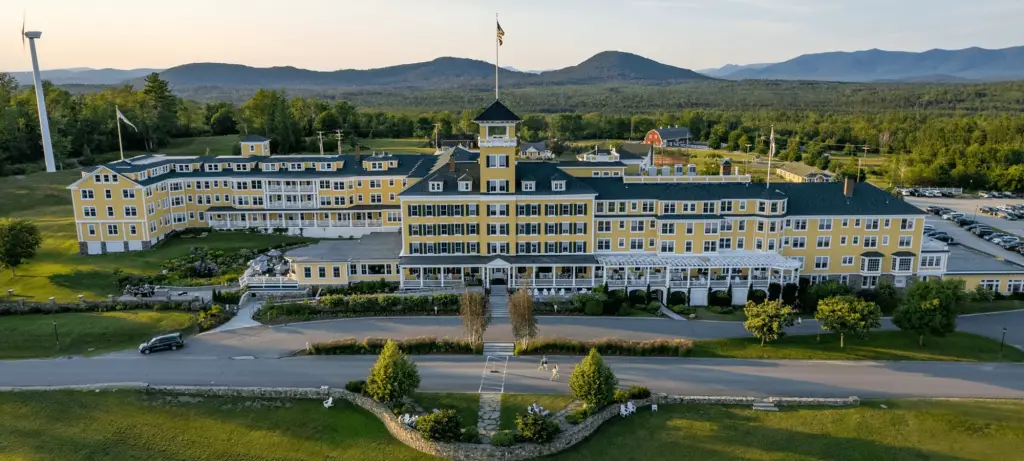 On a huge estate, this luxurious resort boasts a wealth of facilities for both children and adults. 
Little ones will enjoy visiting the working farm's sheep, rabbits, goats, and llamas, as well as enjoying snow tubing and eating s'mores in the night. There's also a spa for grownups! Elegant and charming. This is a wonderful NH romantic getaway too!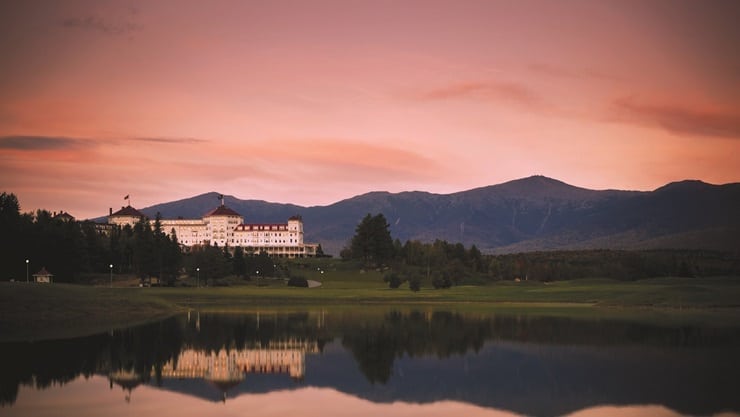 With a spa, numerous swimming pools, golf, tennis courts, and stables, this is a fantastic family-friendly option. There are plenty of activities for visitors, the White Mountain scenery is stunning, and the hotel is historically significant. The ideal family vacation.
Final Thoughts on the Best Hotels In New Hampshire
Whichever hotel you choose for your stay in New Hampshire, you're bound to have a fantastic time. Whether you're travelling solo, with friends, or bringing along the whole family, there's something for everyone in New Hampshire.
Review this list for ideas on things to do while you stat at your New Hampshire hotel:
Try some NH craft beer at one of these breweries
Indoor Water Parks to Keep The Kids Entertained