New Hamshire is home to a variety of ski resorts that will be the star of the show for your winter vacation. Choosing the right ski resort for you and your family is important as you want the vacation to run smoothly and to grant you access to incredible views and slopes for you to enjoy. 
As choosing the right ski resort is important, you can find the best ski resorts that New Hampshire has to offer below! You can find out more about what the ski resorts offer to see if they would be suitable for you and your family on your vacation. 
This article will show you the best New Hampshire ski resorts to choose from to create the perfect winter vacation for yourself, your friends, and your family. You can find out more about the best ski resorts in New Hampshire below!
Best New Hampshire Ski Resorts
As New Hampshire offers lots of great ski resorts, you need to look at them in detail to decide which resort is right for you. Below you will find a list of the best ski resorts that New Hampshire has to offer to create the perfect skiing vacation for you and your family.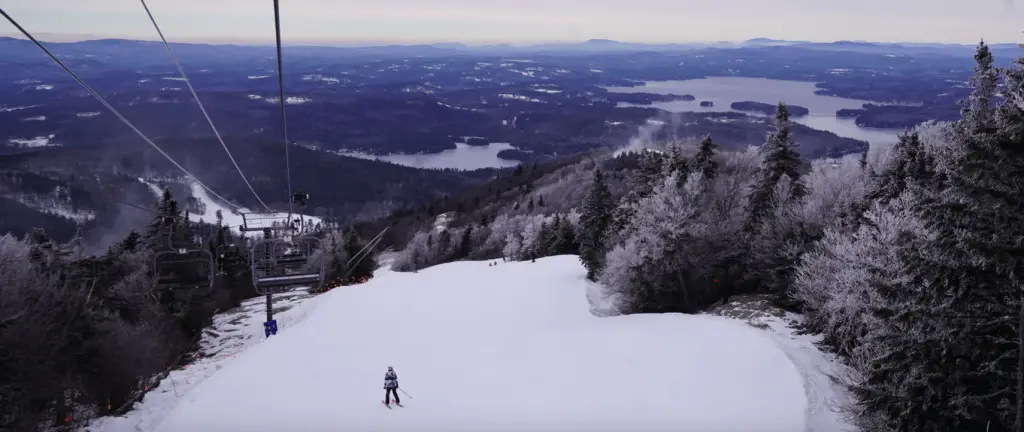 Mount Sunapee
Mount Sunapee is a great ski resort for both beginners and more experienced skiers and snowboarders. Different slopes cater to all different levels that allow you to progress during your time at the resort. The summit is 2,743ft and it allows skiers of all levels to participate. 
There are restaurants, museums, and shops a short drive away, and even lodgings that can keep you happy and comfortable during your stay. There is also a view of Lake Sunapee and the woodland. It is further away compared to other resorts, but incredibly popular for skiers of all abilities.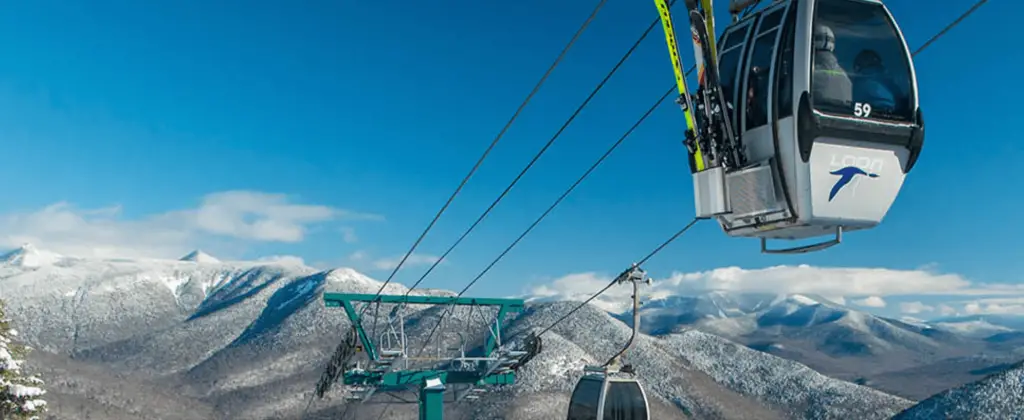 Loon Mountain
Loon Mountain is easy to access as it is a 10-minute drive away from Interstate 93 and is perfect for families. Your stay will be free from hassle as Loon Mountain resort provides everything you need to keep you and your family entertained for the duration of your stay. 
There is a pool and spa available to use and lots of different slopes for different skiing abilities. There is also the opportunity to go ice skating, zip-lining, and snow tubing for an action-packed stay. There are bars and restaurants on-site to help you relax and wind down after a fun-filled day. 
Cranmore Mountain
North Conway NH is where you will find another great ski resort called Cranmore Mountain. Cranmore has been a long-time ski resort for people in New England and this little ski town has a lot to offer visitors.
Cranmore Mountain has 56 trails and nine different ski lifts that give skiers and snowboarders access to over 200 acres. The majority of the Cranmore trails face in the Western direction so that means long sun-filled afternoons of skiing or snowboarding! This mountain is in close proximity to other ski mountains so if you want to plan ski trip where you visit multiple mountains on your visit this could be a great one to include.
Whether you are a beginner, intermediate, or advanced skier or snowboarder Cranmore has trails suited to all levels. For the beginners, Cranmore is a great "learning mountain" perfect for your children to learn to ski. They also have snow tubing too if you are looking for another winter activity in New Hampshire.
On top of the amenities Cranmore Mountain offers the little ski town it resides in offers even more to visitors. There are great lodging options like the Cranmore Inn, the White Mountain Hotel & Resort, or even the Kearsarge Inn. There are also some great restaurants and bars for within driving distance of the mountain to relax after a day on the slopes.
You can find Cranmore Mountain at 1 Skimobile Road, North Conway, New Hampshire
Learn more about this New Hampshire ski mountain here: https://www.cranmore.com
Wildcat Mountain Ski Resort
Wildcat Mountain Ski Resort allows you to experience an old-fashioned ski resort that has beautiful views of the mountains. It is suitable for people who are confident skiers, but there are different trails for people to use based on their abilities. Each trail allows people to ski down the mountain, enjoying the view, before skiing back down. 
A short distance away is the town of North Conway, which is home to lots of fun bars that you can enjoy after a day of skiing. You can improve your skiing during your time at Wildcat Mountain Ski Resort and enjoy the 6,288ft high peaks.
Waterville Valley
Waterville Valley is a ski resort in New Hampshire and is the perfect getaway for families to enjoy skiing. The resort is perfect for intermediate skiers as there are lots of trails down the mountain that are suitable for skiers with this ability. 
As well as skiing, there are lots of activities to take part in at Waterville Valley. You can ice skate, go tubing, visit the spa, or explore the town. Some great restaurants and bars serve delicious food to help you relax and feed your appetite after a day filled with exciting activities.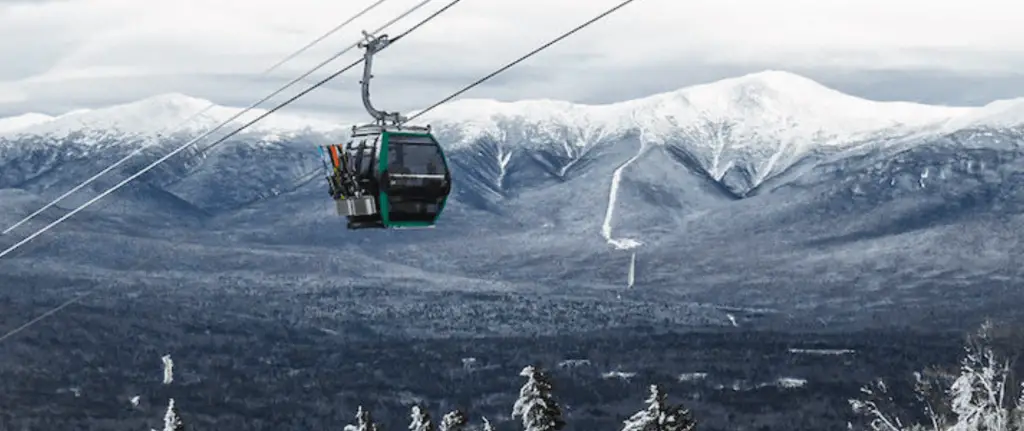 Bretton Woods
Bretton Woods is the biggest ski resort in New Hampshire and has 98 trails over 3 mountains. These trails are categorized based on their difficulty level, so you can choose the right trail for you based on your skiing abilities. You can then work to improve your skiing during your stay at Bretton Woods, but stay on trails that you are comfortable on. 
There are lodges close by in the form of townhouses, luxurious resorts, and condos that are a short distance away from the slopes. It is great for families and friends for larger group holidays, and you can even enjoy night skiing on the slopes!
Attitash Mountain
Attitiash Mountain is only a short drive from North Conway and this charming NH ski mountain features 67 trails that span across two different connected mountains. With the abundance of trails across the two mountains and limited tickets sold every day reasonable wait lines for the lifts. The trails at Attitash Mountain offer a lot of terrain and complexity for all levels of skiers and snowboarders.
Attitash is a beginner friendly mountain and they have special deals for new skiers. Be sure to check out their website for more details on that.
Attitash Mountain was purchased by Vail Resorts in 2019 so it is eligible for the "Epic Pass system." Epic Pass holders can even ski other New Hampshire ski mountains as part of this.
There are many lodging options in and around Attitash Mountain including hotels like the Attitash Mountain Village, condos, and private Inns like the Bernerhof Inn. 
You can find Attitash Mountain at Route 302, Bartlett, New Hampshire
Official site: https://www.attitash.com/
Cannon Mountain
Cannon Mountain is a family-friendly ski resort in New Hampshire that is perfect for beginners. There is an area that is dedicated to beginners to help them feel more comfortable on the slopes, whereas intermediate and advanced skiers can ski on more suitable slopes for their abilities.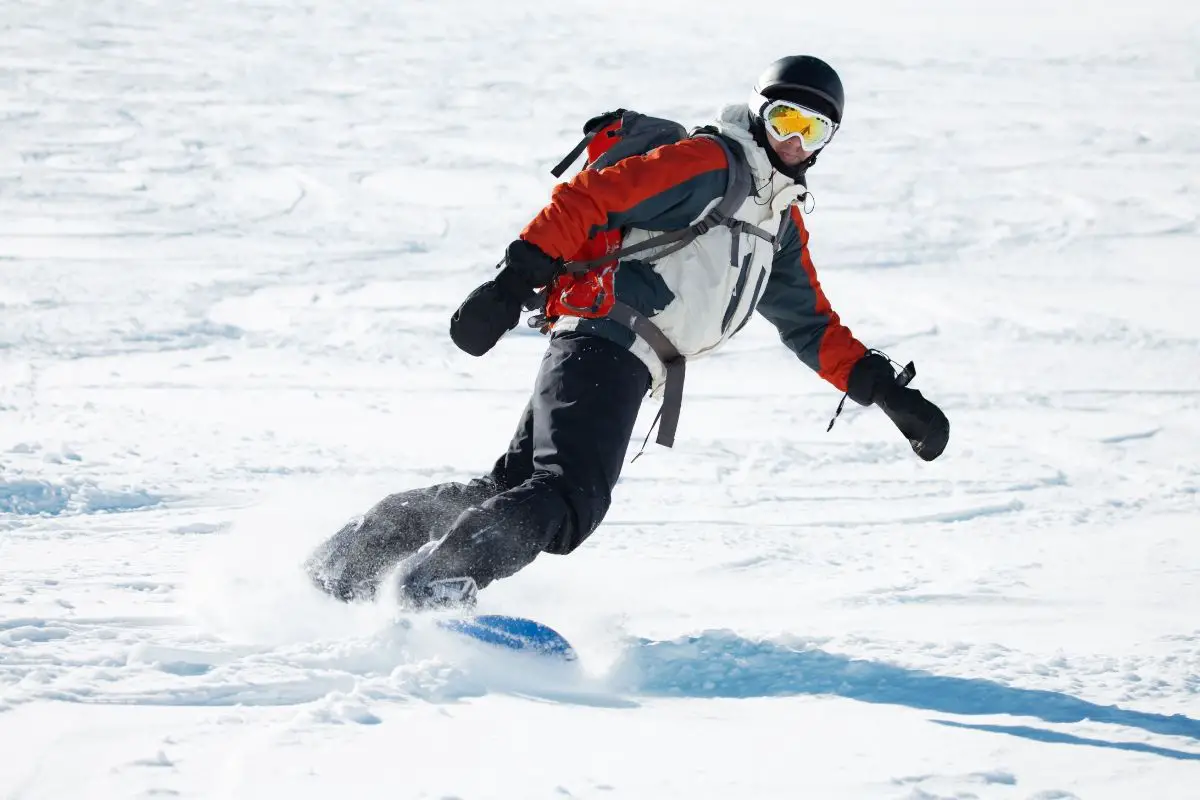 There are lots of interesting sites a short distance away from the resort, like museums and restaurants. There are no resort amenities found at Cannon Mountain as they focus entirely on skiing, but there are lots to see in towns near the resort in Littleton and Lincoln. 
Gunstock Mountain Resort
Gunstock Mountain Resort offers a great winter vacation for family and friends as it is a quieter resort that gives people room to ski in a smaller area, but there are lots of trails to suit all abilities. There is a clear view of Lake Winnipesaukee that you can see when skiing down the slopes. 
There is lots of accommodation near the slopes like hotels, B&Bs, and inns, so there is something that caters to everyone. There are also restaurants nearby that serve delicious food and shops to explore in Tilton, which is only a short drive away. 
Crotched Mountain
Crotched Mountain began operating in 1964 with only two trails and a T-bar. It has since evolved into one of the most sophisticated snowmaking mountains in the Northeast. Crotched Mountain is located in Bennington New Hampshire and is the most Southern of the New Hampshire ski mountains so they need to be proficient at making their own snow.
Today Crotched Mountain has a come a long way from its humble beginnings and now has 25 trails in operation. They have a good mix of trails for all ability levels. The majority of their trails are intermediate level but they have plenty of beginner and expert-level trails too. In fact, the mountain features a 900 foot drop that many expert skiers and snowboarders challenge themselves on.
Crotched Mountain is a popular night skiing option. Every single one of their trails are illuminated at night extending the skiing time. Crotched Mountain also features three different freestyle terrain parks for skiers and snowboarders at all levels.
Like Attitash, Crotched Mountain was acquired by Vail Resorts and this makes it part of the Epic Pass system.
Crotched Mountain doesn't offer any on-site lodging but there are number of great places to stay nearby such as The Hancock Inn, the Blue Bear Inn, the Jack Daniels Motor Inn, or the Crotched Mountain Resort in Francestown NH.
Crotched Mountain features a pub and a full restaurant on premises.
You can find Crotched Mountain at 615 Francestown Road, Bennington, New Hampshire.
You can learn all about this NH ski mountain here: https://www.crotchedmtn.com/
Ragged Mountain
Ragged Mountain holds a special place in my heart. When I was a college student in New London NH at Colby Sawyer my friends and I would ski at Ragged Mountain often. Ragged is a great ski mountain and they have a six-person high speed chair lift to speed you to the top of the mountain. The mountain has 57 trails spanning 250 acres of skiable terrain. For those that like to ski or snowboard through the trees, Ragged delivers with 17 glades. Ragged Mountain also has three terrain parks to hone your skills at!
Ragged Mountain is a friendly and inviting ski mountain in NH and offers great options for those learning to ski and snowboard. The mountain has some easy to manage novice trails for newbies.
There are some great black diamond and double back diamond expert-level trails at Ragged (along with some double-black glade trails too!). Like most ski mountains in New Hampshire you can of course rent equipment at the pro shop, get your skis or snowboard waxed, and even buy new equipment.
Take a break at the Ragged Mountain Harvest Cafe to refuel for lunch or stop in for an adult beverage at the end of a fun day of skiing. The mountain also features their Cardigan Cabins right at the mountain for lodging. Check out the New Hampshire Mountain Inn for more details here.
You can find Ragged Mountain at 620 Ragged Mountain Road, Danbury, New Hampshire
Check out their website here: https://raggedmountainresort.com/
King Pine
Another small but absolutely charming ski mountain in New Hampshire is King Pine Mountain. King Pine is located in East Madison NH and is it is a small ski mountain featuring short but beautiful runs. The biggest vertical at King Pine is a mere 500 feet but their double black diamond trail named Jack Pine does offer a nice challenge. If you are looking for an abundance of challenging trails this mountain likely isn't the one for you. For skiers and snowboards looking for a small, low-key atmosphere mountain however, King Pine is a local treasure.
King Pine has a terrain park they affectionately named "Twisted Pine" to challenge snowboarders and skiers. They also have some glade skiing options for the adventurous.
King Pine has plenty of snowmaking capabilities and they are able to make snow for 100% of their trails.
While King Pine is a small mountain but a key benefit is that you won't have to wait in long lines like you would at bigger mountains. They of course offer on-site dining options, lodging, ice skating, a tubing hills for some other winter fun, and even cross country skiing.
You can find King Pine at 1251 Eaton Road, Route 153, Madison, NH  03849
Official site: https://www.kingpine.com/
Pat's Peak
As a Concord NH resident, Pat's Peak has been our family resort of choice! It is a short drive to beautiful Henniker New Hampshire and this is the mountain our children learned to snowboard and ski at. We love it because it is a family-friendly ski mountain and it is only about 24 minutes away from our home. This is a favorite mountain for people coming up from Boston MA as it is only about a 90 minute drive.
Pat's Peak is a family-owned mountain and it has been in the family for over 50 years. The mountain offers up a friendly atmosphere and it does so at reasonable prices. (We usually get the season pass for our kids as it offers the best deal!). The mountain features 14 beginner level trails, a handful of intermediate level trails, five expert level trails, nine glade trails, and three advanced level trails.
Pat's Peak is adept at snow making and they have plenty of snow throughout the season for their valued visitors. The mountain has some a fair portion of the trails illuminated at night for both people riding the trails and on their tubing hill (which has it's own lift!).
Pat's Peak has two lodges and lots of amenities for guests. They have a snack bar downstairs and their Sled Pub at Pat's Peak bar and restaurant upstairs. They have many beers on tap, a full bar, and some tasty food to refuel after a hard day on the slopes! Pat's Peak even has outdoor seating with heaters if you prefer to eat your lunch outside.
The mountain even has a large Rental shop and pro shop to rent equipment for the day and even get your skis or snowboard waxed.
Pat's Peak is only 30 minutes from Concord NH and about 90 minutes from Boston so it is a popular NH ski mountain for many! You can learn more about Pat's Peak at:  https://www.patspeak.com
Wondering Where To Do Cross Country Skiing In New Hampshire?
If you are interested in cross country skiing in New Hampshire there are some great options for this too!
Gunstock Nordic Center
A wonderful cross country skiing location can be found at Gunstock Nordic Center in Gilford New Hampshire. They make snow, have well-groomed trails, and have over 16 miles of cross country skiing trails to enjoy. They even offer cross country skiing lessons there! On top of that, you can go snow shoeing too!
You can find the Gunstock Nordic Center at 719 Cherry Valley Rd, Gilford, NH 03249
Learn more about what the Gunstock Nordic Center has to offer here.
Jackson XC Center
In Jackson New Hampshire you will find one of the the largest cross-country and snowshoe centers in the North East. Jackson XC Center is a 93 mile trail system that is managed by the Jackson Ski Touring Foundation. You can't go wrong visiting this Jackson NH cross country skiing mecca! It is nestled in the beautiful White Mountains, is found in a wonderful New Hampshire town, and you have a view of the mountains surrounding you while hitting the trails.
There are plenty of beginner-friendly trails but also have plenty to offer for intermediate cross country skiers looking for a challenge. There are some impressive hills for those up to the task combined with gentle trails taking you through the forest.
If you fancy yourself as more of an advanced skier, you can even ski down the back side of Wildcat Mountain which features a 3,245 vertical drop! Some trails even bring you right to lodging options like the Christmas Farm Inn & Spa!
Those seeking a real challenge can ski down the back side of rugged Wildcat Mountain, with a vertical drop of 3,245 feet. Cross-country trails connect right from your door at the family-friendly Christmas Farm Inn & Spa.
You can find this cross country skiing location at: 153 Main Street, Jackson, New Hampshire
See what they have to offer at: https://www.jacksonxc.org/
Final Thoughts – Best New Hampshire Ski Resorts
To conclude, there are lots of ski resorts to choose from in New Hampshire. It is important to choose the right ski resort for you, your family, and your friends to ensure that you enjoy your stay and make the most of your skiing vacation. 
One of the most important things to look for when choosing a ski resort is that they cater to all abilities. This means that beginners can safely practice their skiing on separate trails and more advanced skiers can enjoy slopes catered to their abilities.