Snow tubing is probably one of the easiest and most fun activities you can do with your friends or family. Unlike skiing or snowboarding, you don't need to practice or pay for any expensive lessons, you can just hit the slopes and have fun right away!
It shouldn't come as much of a surprise that snow tubing, an activity that serves as an alternative to skiing, has been gaining in popularity in New England in recent years.
This isn't because it is so easy to do though, it is also very cheap! When compared to the price of a lift ticket, the cost of a tubing pass is significantly more affordable at even the most wallet-friendly ski resorts in the area.
If you are in the New Hampshire area and want to try snow tubing then you are spoilt for choice with so many places that you can go to.
To make choosing the best spot easier for you, we have rounded up this list of the very best snow tubing locations in New Hampshire that you must visit on your next trip.
Let's get into the list!
Great Glen Trails
This leisure destination is great for families since it offers activities like snow tubing and hiking trails.
At the Great Glen Trails Outdoor Center, you may engage in activities such as snowshoeing, snow tubing, and cross-country (Nordic) skiing in either the classic or skate skiing style. 
The establishment is happy to accommodate families with small children, though people should know before visiting that the snow tubing hill does not have any lifts or towing services accessible for its guests. 
Adults and children aged 5 and older must pay $20 for a permit that allows them to tube for two hours; smaller children may participate without charge. At 9:00, 11:30, and 2:00, there will be three sessions of tubing.
To participate in tubing, you need to fill out a waiver in advance, which may be done so electronically or in person when you get there.
Snowcoach rides are offered on Mount Washington and may take visitors up to the tree line. The eating area of the Glen View Café offers customers a varied range of mouthwatering menu items as well as breathtaking views of the surrounding region.
Learn more here http://greatglentrails.com/
Gunstock Mountain Resort
A tubing track that is 1,068 feet long can be found at the Thrill Hill Tubing Park in Gunstock. The park offers four separate chutes that are tons of fun for all the family.
Because this amusement park is outfitted with a handle-tow lift, riders may remain seated in their tubes while being carried up the hill by the lift. It is advised that the tube be erected at a height that is at least 42 inches in total.
In general, the tubing hill is accessible from the beginning of the holiday season until around the middle of March. You may go tubing on Tuesdays through Fridays in the evenings, Saturdays and Sundays all day, and for extended durations during the holidays.
Examine the times when the business is open. It is essential to perform research on the current weather conditions before making any travel arrangements.
There is a charge, and tubing tickets may be purchased in increments of two hours at a time. You have the option of buying tickets to go tubing in person, or you may do it online. A session that lasts for two hours will cost $20 for anyone of any age to participate. 
Learn more here https://www.gunstock.com/on-snow/tubing/
McIntyre Ski Area
There is an artificial snowmaking system at this attraction, as well as eight lanes of tubing, each of which has its lift service, and night tubing is offered on Saturdays.
There are eight individual lanes of tubing that can be serviced by a carpet elevator. The retail establishment is accessible on Thursdays and Fridays between the hours of 4 and 8 p.m., from 11 a.m. to 9 p.m. on Saturdays, and from 11 a.m. to 6 p.m. on Sundays. 
Students will have access to several additional hours of study time during school vacations, holidays, and days off due to snow or other inclement weather. 
A session that is two hours long and costs $19 for each participant is priced at this level. It is required that visitors to the tubing park be at least 5 years old and 44 inches tall to access the park. Take note that during periods of heavy activity, there is a possibility that the sessions will reach capacity and become inaccessible.
Learn more at https://www.mcintyreskiarea.com/
Pats Peak 
Pats Peak is a lovely little ski mountain in the one and only Henniker New Hampshire. My family has frequented this mountain for skiing, snow boarding, and of course, tubing.
Snow tubing is available at this ski area that has downhill skiing on the weekends and holidays, and there is even some night tubing available.
This Alpine ski resort has a snow tubing park that is open for business on Fridays from 3 to 9 p.m., Saturdays from 9 a.m. to 10 p.m. (POP tubing from 5 to 10 p.m.), Sundays from 9 a.m. to 5 p.m., and on holidays from 9 a.m. to 9 p.m. during the day. 
You may find out whether there are any snow tubing tickets available by checking the company's website.
Cranmore Mountain Resort
This resort in North Conway is the holy grail of winter activities in the state of New Hampshire. The resort has a mountain coaster, swing rides, and a zip line that is 700 feet long.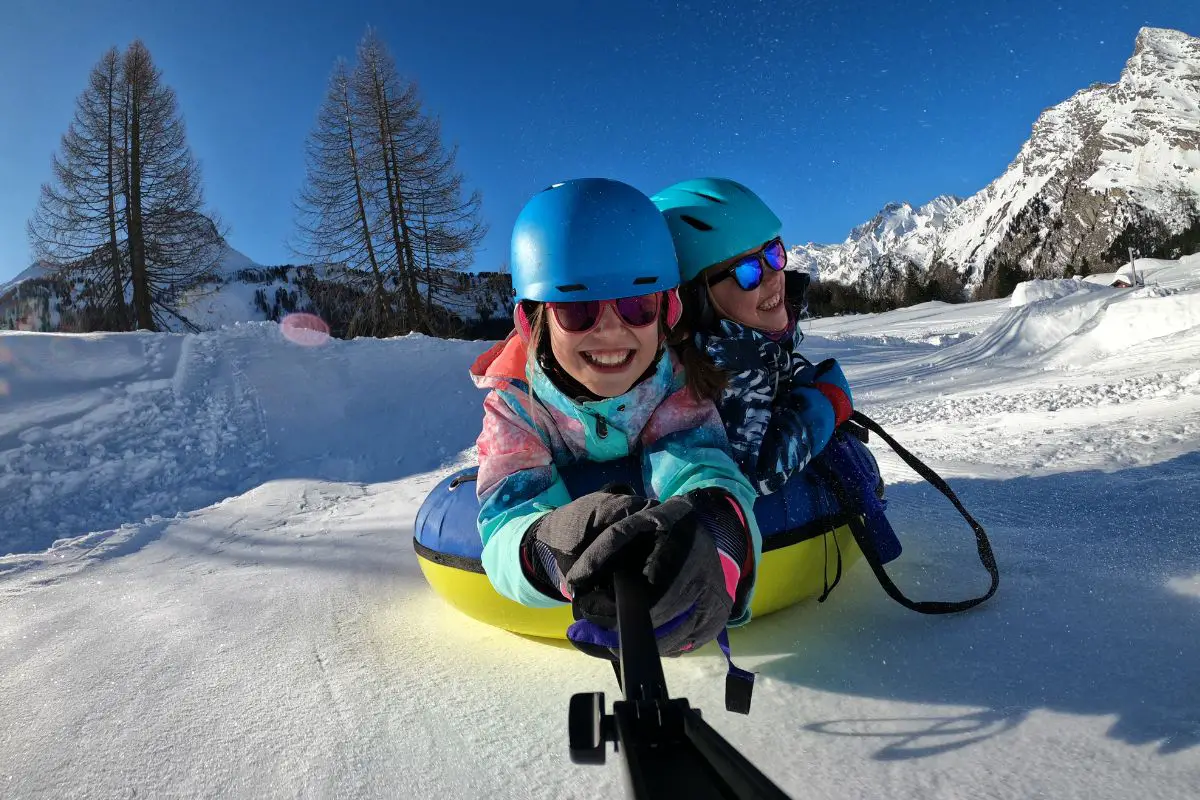 There are ten tubing courses, two lifts, artificial snow, and lights at this facility. There is no minimum age requirement for passengers, but you must be at least 4 feet tall to ride by yourself. Passengers of any age are welcome.
Learn more at their website here https://www.cranmore.com/
Summary
New Hampshire is one of the best places in the United States to go snow tubing. There are several locations for you and your family and friends to try out on a cold snowy day. Snow tubing is an excellent activity for people of all ages to try out, so go have fun on the slopes!
Looking for more Winter activities in New Hampshire? Check out this comprehensive list of New Hampshire Ski resorts!