While New Hampshire has rivers, ponds, lakes and beaches to cool down at during the Summer months, there are also many outdoor and indoor water parks to enjoy as well!  If you are a busy parent and looking for an activity you can do with the kids one of these New Hampshire water parks might be just what you are looking for!  
5 Outdoor Water Parks In New Hampshire
Throughout the state of New Hampshire there are many outdoor water parks you and your family will love!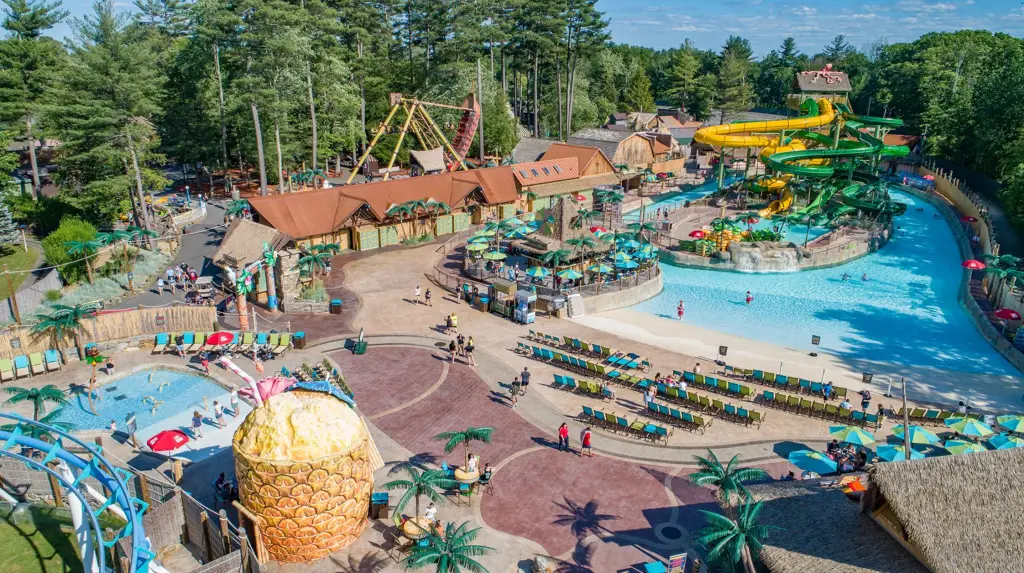 At Canoe Lake Park in Salem NH they have a wonderful outdoor water park the kids will love called "Castaway Island."  This water park typically opens around Memorial Day and it has a lot to offer including a tidal river (it is like a lazy river but it has steady flow of waves!).  It also has a 60 foot water tower with three different water slides to keep the kids busy!  They have a Lil' Squirts Lagoon for smaller children.  
This water park also features a Rain Fortress, private cabanas so Mom and Dad can relax in style, an on-premises restaurant, a tiki bar for drinks, clean changing facilities and more!  This water park is a great family-friendly option you'll love!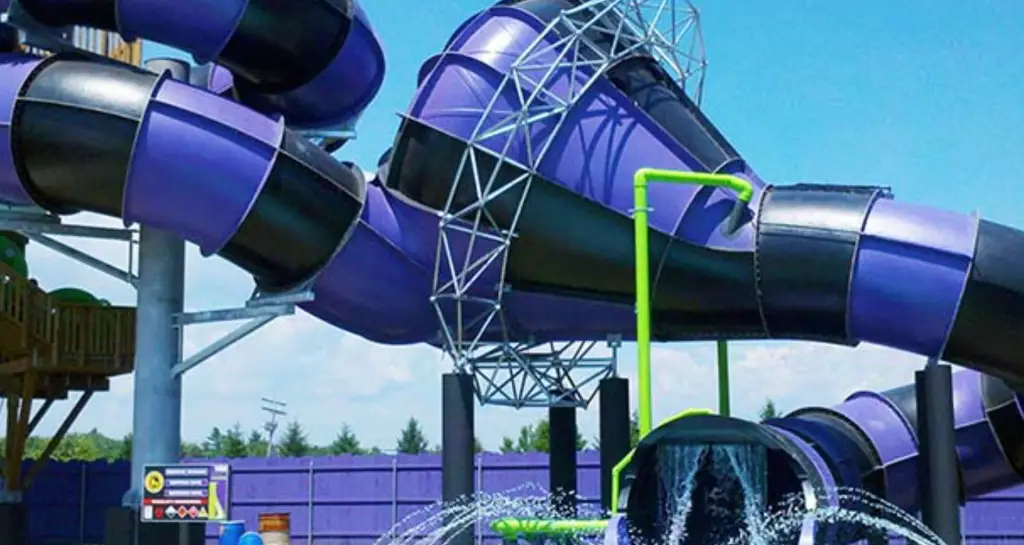 Portsmouth NH is a great city with lots to do. Water Country in Portsmouth New Hampshire is another outdoor popular water park that families have been visiting for years.  This outdoor water park features their popular 'Adventure River," their Dragon's Den, racing rapids water slide, and Dr. Van Dark's Tunnel of Terror!  
There is a restaurant as part of the water park, changing rooms, bathrooms and other amenities offered as well!  This park usually opens around Memorial Day so NH families can cool off in the Summer!  After you visit the park, you can even go drive to get ice cream in Portsmouth.
Touted as "New England's Favorite Waterpark," you can't go wrong planning a family visit to Whales Tale Waterpark in Lincoln New Hampshire!  You can find this waterpark in the heart of the White Mountains and has been helping families beat the Summer heat for nearly 40 years!
This NH outdoor water park has pools, water slides, and other industry-leading water attractions including their Akua Beach attraction where you can surf the waves!  This water park usually opens around mid-June every season has great food available through their Harborside Cafe dining option.  You can even get a private cabana for you and your family to enjoy your day at the water park in comfort!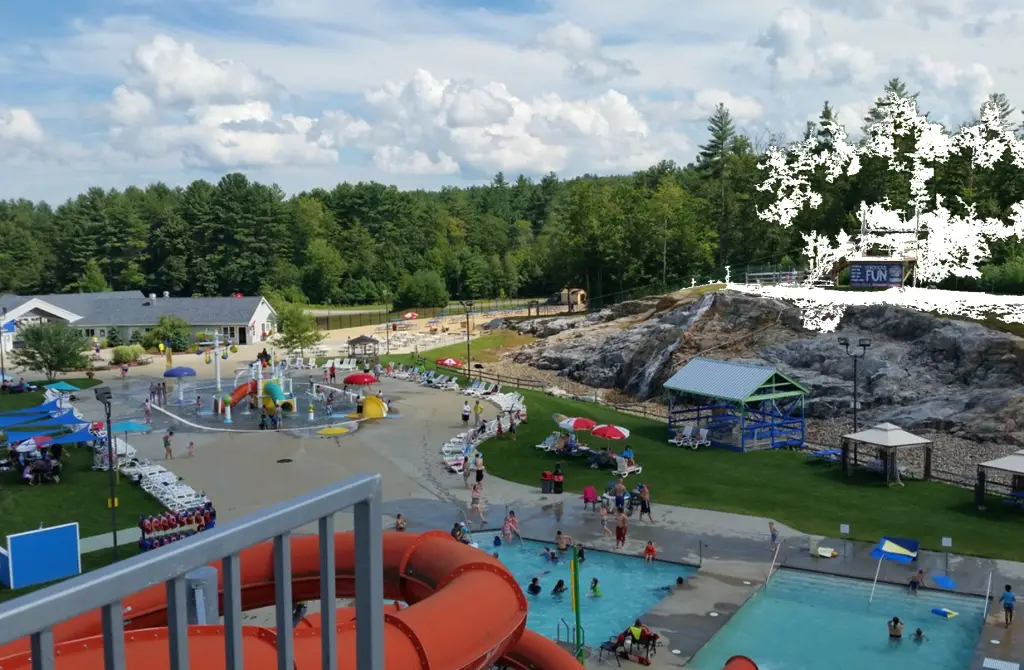 Also opening around the middle of June is the Candia Springs Adventure Park!  This outdoor water park has two different 40 foot water slides!  They also have the Twister water attraction, the Vortex blackout body slide, a large tidal pool as well.  At this park you will also find other adventures you may consider like Zip lines and ropes courses!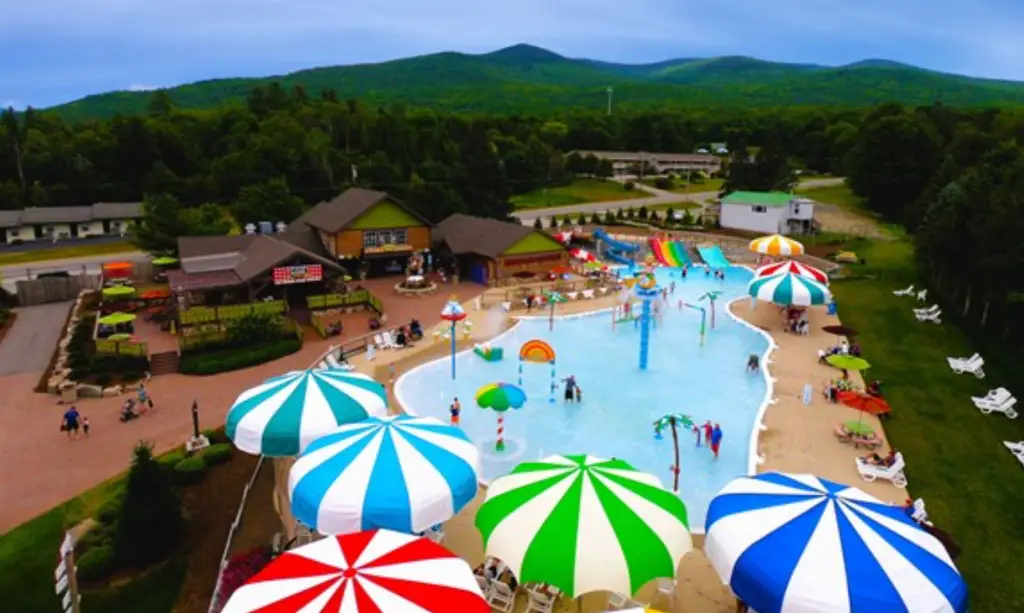 Santa's Village has long been a NH summer tourist destination that families have been enjoying for years.  This water park is geared towards younger children and boasts it "Ho Ho H20". Polar Paradise, and Santas Cabanas (themed water side cabanas for privacy).  
Santas Village in Jefferson NH has thousands of rave reviews and is a great waterpark to consider!    
4 Indoor Water Park New Hampshire
The weather doesn't always cooperate here in New Hampshire so having access to one of these NH indoor water parks is a perk!  Indoor water parks and pools are a great option when you want to keep the kids entertained even on the rainiest of days!  
At SkyVenture is a unique entertainment facility located in Nashua NH.  At SkyVenture you can not only try indoor skydiving but many other activities at this facility.  One of the most notable attractions is the indoor surfing at Surf's Up, which is the largest indoor surfing facility in North America!  If you want to try surfing without driving to the beach and waiting for just the right wave then indoor surfing might be just what you're looking for!  
They also have a unique water adventure called the "Fishpipe" which features the world's first rotating barrel ride!  You will be put inside one of those inflatable bubbles and brave the water safely inside.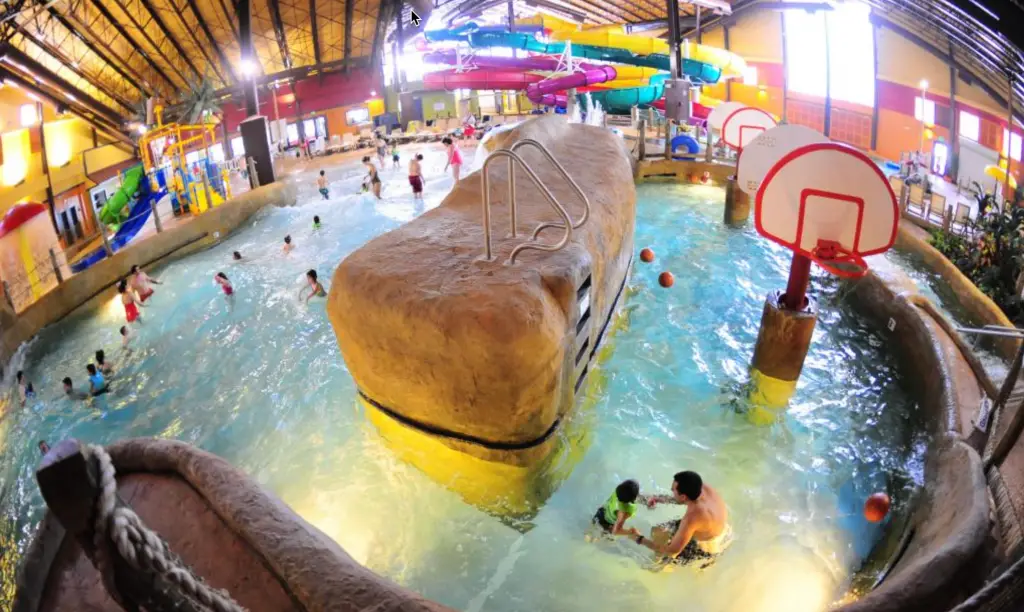 Kahuna Laguna Indoor Water Park North Conway, NH
New Hampshire's largest indoor water park is the Kahuna Laguna located in North Conway.  It is part of the Red Jacket Resorts and it is a very popular attraction in North Conway.  This NH indoor water park boasts four different water slides, a wave pool, a basketball court, and a massive 25 person hot tub!  
It also has an adventure tower with water slides, water cannons and it's famous "Tipping Bucket" that to cool off the kids thoroughly!  Your smaller children will enjoy the "Little Kahuna" with their shallow pool and smaller slides.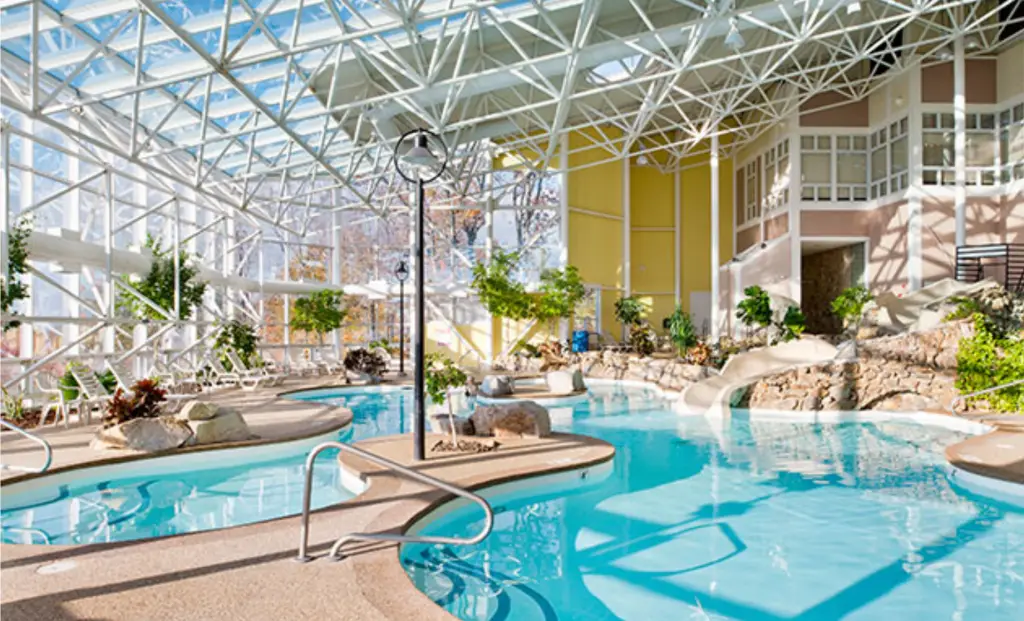 Located in Sanbornton NH is the beautiful Steel Hill Resorts.  Steel Hill offers not only wonderful accommodations but they also have an indoor pool to entertain your children even on the rainiest of days!  I have personally visited Steele Hill Resorts and spent some time at the pool keeping the kids entertained on a rainy day.  Parents can relax poolside and there are dining and beverage options available too.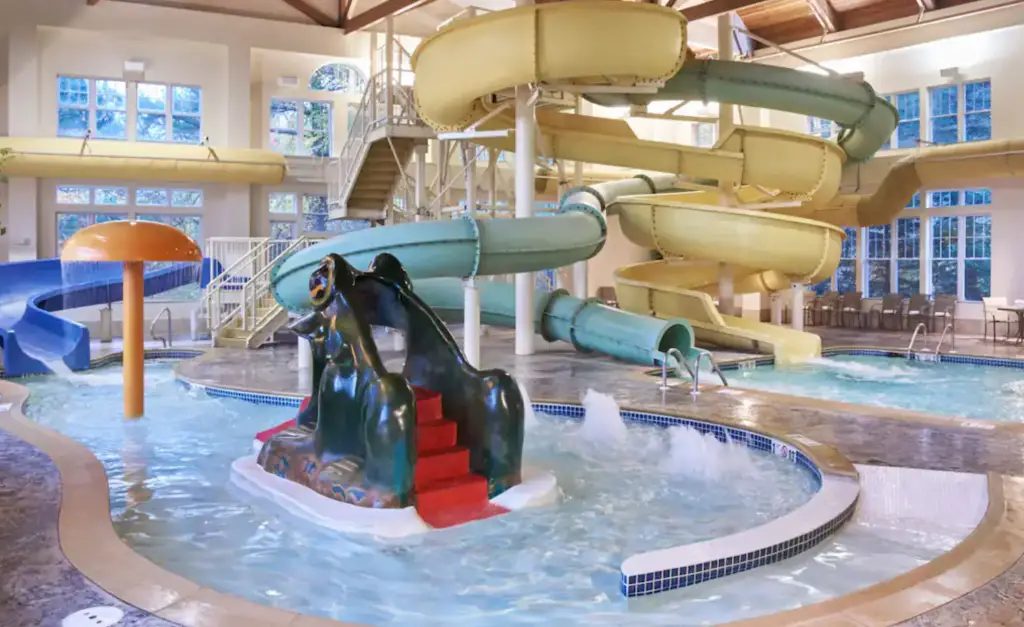 If you are in the North Conway NH area another option you have is the indoor pool at the Hampton Inn & Suites pool!  It has an impressive indoor water slide system and other water features to keep the kids entertained!  It is a truly impressive indoor water park that is sure to entrain your kiddos!  
Final Thoughts on NH Water Parks
New Hampshire is a beautiful state to visit and has many attractions and things to do but having these water parks is a bonus!  At these NH outdoor and indoor water parks you can cool off and enjoy endless entertainment!  If you are looking to cool off outside check out these NH beaches.