Up until recently, I only had memories of Santa's Village from the 80's.  And what I remembered was really just the basics…lots of Christmas stuff, great photo opportunities in igloos, and being totally scared of the huge log flume. 
Cut to about 30 years later and our visits to Santa's Village NH today make me feel like the kid I was back in the 80's!  I'll admit that the log flume isn't nearly as big as I remember it seeming when I was younger, but I do scream on it like I'm still that child! 
Santa's Village in Jefferson NH Is a Great Family-Friendly Park For Kids Of All Ages
To think we have this awesome theme park right in New Hampshire, that's been around for what feels like forever, is so awesome. It's still family owned and they continue to add to the park evolving it into a must-see destination for any family!  Not only is it close to us and we can make it a day trip, we could also spend two full days there because there's so much to see and do.  Our kids absolutely love it and we absolutely love seeing them this happy.
Here's Some Highlights From Santa's Village in Case It's Been a While Since You've Visited
The Yule Log Flume
It's a classic!  Yes, I was terrified of it when I was younger but I was (and to some point still am) a wimp when it comes to the "bigger" rides.  I love that it's still here, you can see it from the road, and the only thing that has changed is that it takes your picture on the way down now.  Super cool!
Elf University
Our kids LOVE this game!  Begin at Elf University to get their playing cards.  Hunt for elves with different letters all over the park.  When they find the elves, they insert the playing card to get a stamp on the lettered Christmas tree (see also 'The 4 Best Christmas Tree Farms In New Hampshire').  Find all the elves and bring your completed card back to the University for a prize!  From A to Z, the Elfabet game is a hit for all kids.
The Santa's Village Rides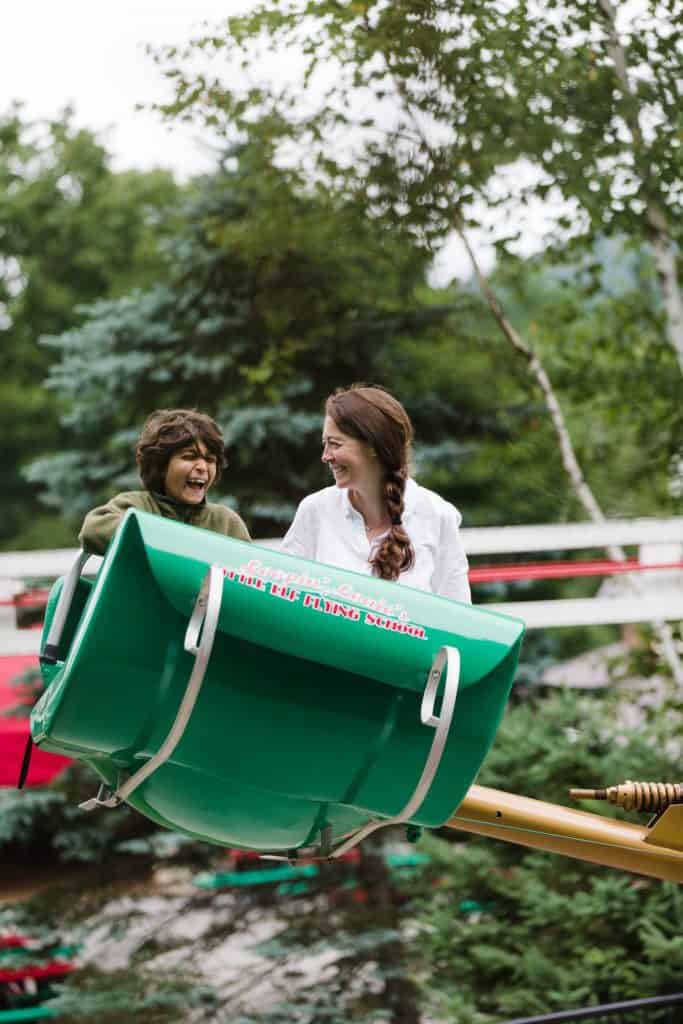 There are SO many new rides and I can't name them all here.  But Poogee Penguin's Spin Out, The Chimney Drop, and Rudy's Rapid Transit Roller Coaster are some of our favorites.  Other classics like the Reindeer Carousel and Santa's Express Train are perfect for families to ride together.  Probably the best family ride is the Skyway Sleigh…you must say the magic words to start the sleigh and then sit back and enjoy your aerial views of the park.
The Water Park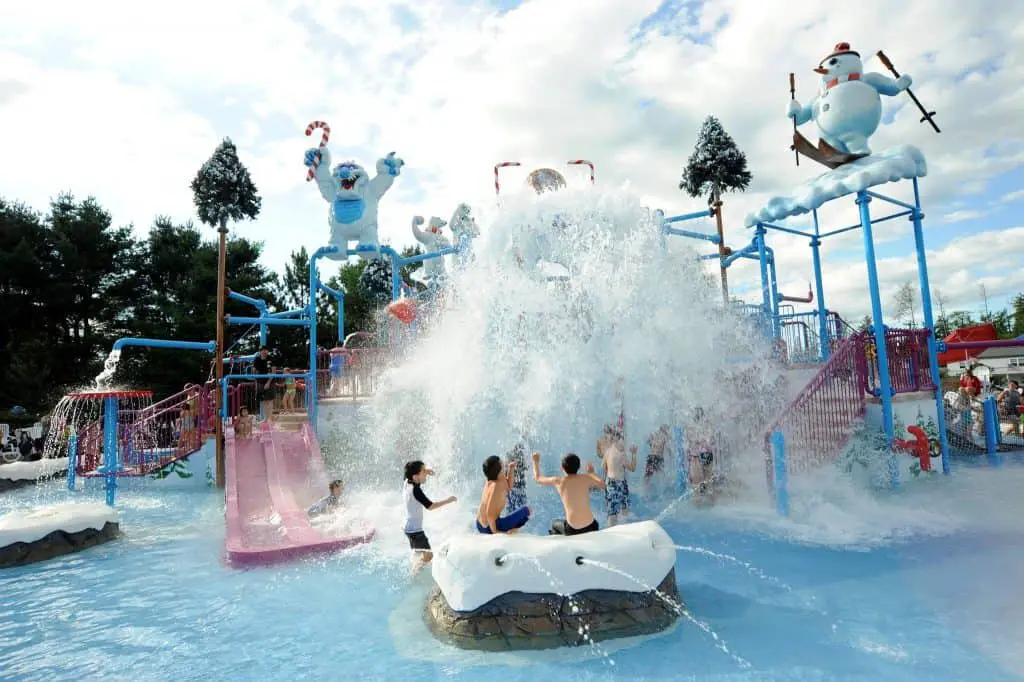 A huge and fun addition to the park is their water park! At their water park you to it will help you feel refreshingly Polar in the heat of summer.  This park is no joke and it's perfect for kids of all ages.  We loved being able to ride the slides and cool off in the shallow areas with our young kids. 
Where Else Can You Visit and Feed Santa's Reindeer?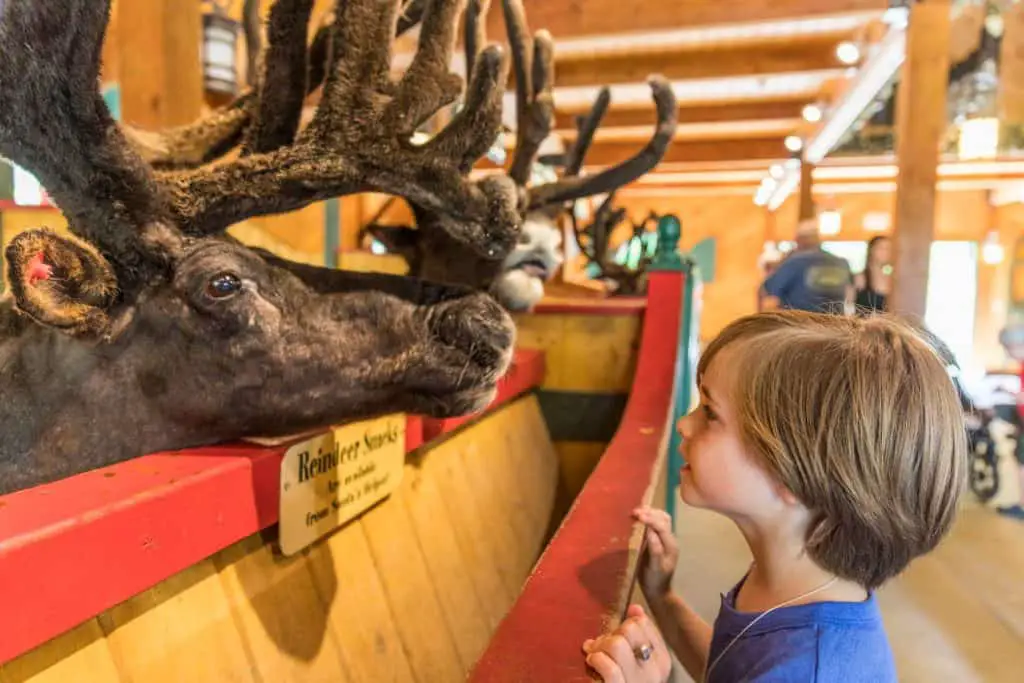 I think this is one of the most unique elements of the park.  The kids can see, pet and even feed Santa's reindeer.  This is a memory that will stay with them forever!  Christmas magic is evident all over the park, but more so right here in the barn!
All throughout the park you'll find classic structures that have been there for years plus so many updated rides and play areas.  Whether you visited as a kid or not, you can't help but feel like one again at Santa's Village!  If you're looking for some last minute summer fun before the kids go back to school, make a day (or two) at Santa's Village!
Where To Stay Near Santa's Village?
Hotels near Santa's village:
There are plenty of places to stay near Santa's Village depending on what town you want to stay in. There are hotels in Jefferson, Lancaster, Whitefield, Gotham, Shelburne, North Conway, Bartlett, Littleton, Franconia, Lincoln, Woodstock and Jackson NH. The Santa's Village website has a full list of Hotels here: https://www.santasvillage.com/places-to-stay/
Campground's near Santa's Village NH – Wondering what campgrounds are near Santa's Village? Take a look at our guide to campgrounds in NH. We have a full breakdown of campgrounds in NH some of which are close to Santa's Village in Jefferson NH.
More About Santa's Village:
Santa's Village was opened in 1953 by Normand and Cecile Dubois. As the story is told, they were driving down US Route 2 when a deer jumped in front of their car. Their daughter, Elaine, in the back seat asked if the deer was one of Santa's reindeer. Of course, her dad responded with a resounding, "Yes!" Since opening day, the theme of Santa's Village has always been the enjoyment of families. Currently, Santa's Village is in our third generation of family ownership and the fourth generation is working inside the park.

Santa's Village Jefferson NH can be found at:

528 Presidential Hwy,
Jefferson, NH 03583

You can find their website here:
https://www.santasvillage.com