Tucked away on a curvy back road in the tranquil hamlet of Warner is Pumpkin Blossom Farm, which owners Missy and Mike Biagiotti and their three children have called home since 2007.
The ambitious young couple knew they wanted to do something else – something different – to bring their 14 acres of rolling, hillside land to life. But it wasn't until a cancer diagnosis for Missy's sister in 2012 that their vision came sharply into focus. They'd fill a void and create a place for respite – a relaxing, healing sanctuary planted with one of the most famous aromatherapy ingredients in the world: heavenly scented lavandula.
Better known to you and me as lavender.
Any gardener will tell you that successfully growing this finicky flower in New England's harsh climate is no easy feat. So, it took some research to find the perfect variety that could withstand our famously frosty winters. Upon discovering the hardy French hybrid "Lavender Phenomenal," they began to plant their fields in earnest.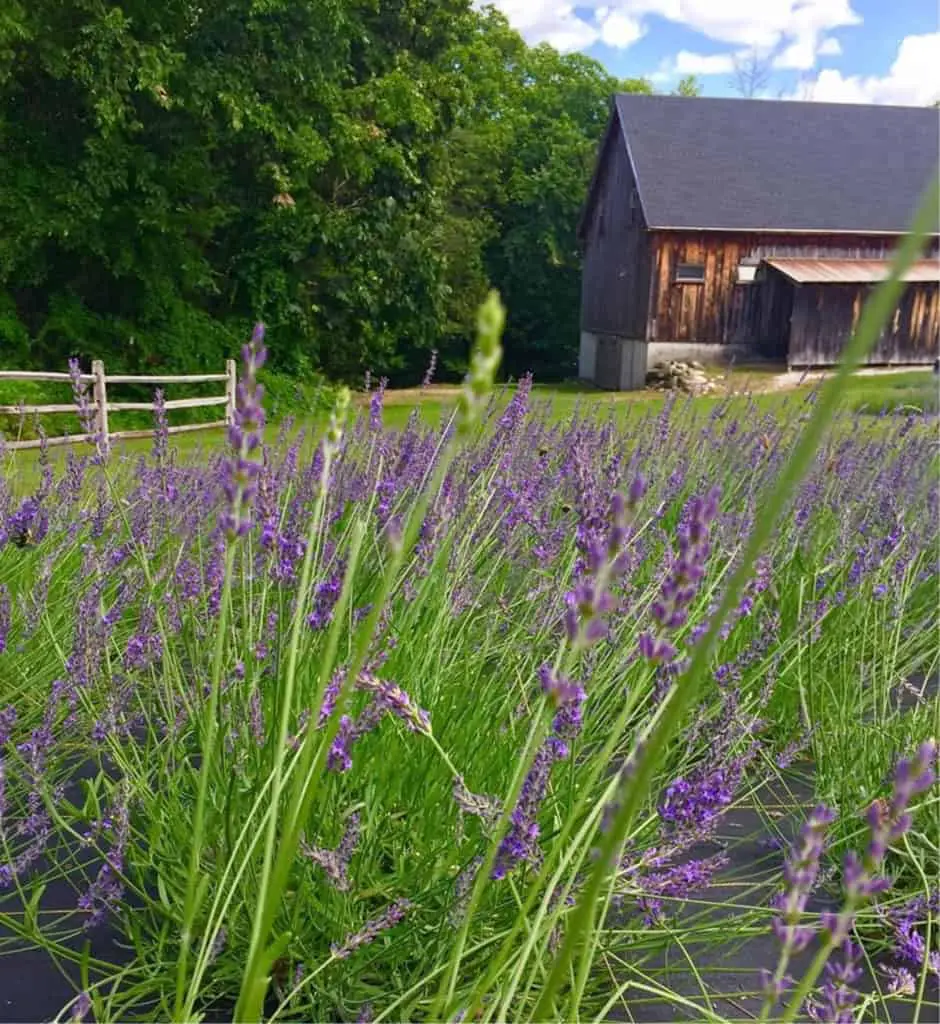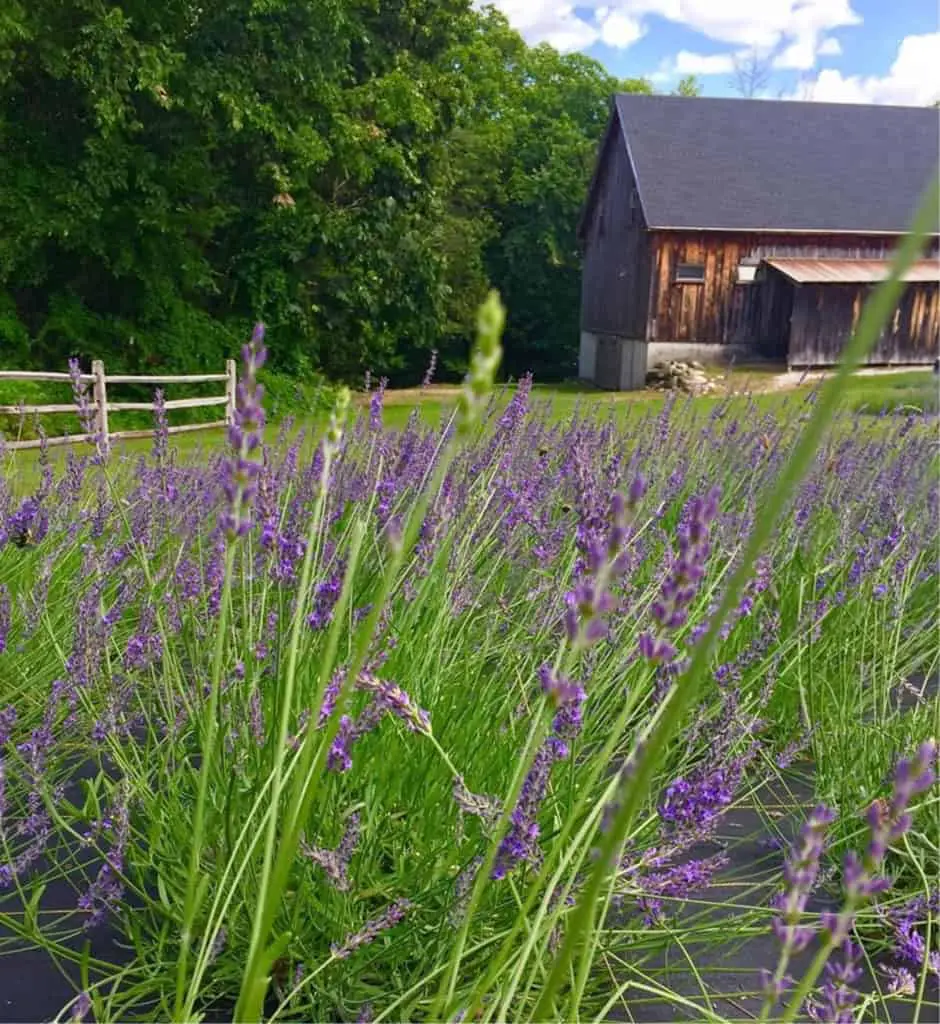 A Rustic Refuge at Pumpkin Blossom Farm
The Biagiottis decided to open up their property to public visits, wanting to share the serenity of the space with others who may be convalescing from difficult illnesses. Or, anyone seeking a space to simply breathe and relax. Which, in the era of COVID-19 and tense political landscapes, turned out to be fortuitous timing. 
"We wanted to create an experience at the farm, and lavender certainly creates a unique environment that deeply affects the senses – sights, smells, touch and even taste," says Mike.  "The goal was to create a retreat that our guests could enjoy."
And so, "Lavender Fields" at Pumpkin Blossom Farm was born.
Today, with over 3,000 plants thriving (and plans to double that number with additional varieties, all of which bloom at different times), the Biagiottis are turning their fragrant fields into a must-see attraction, both for Granite Staters and tourists alike.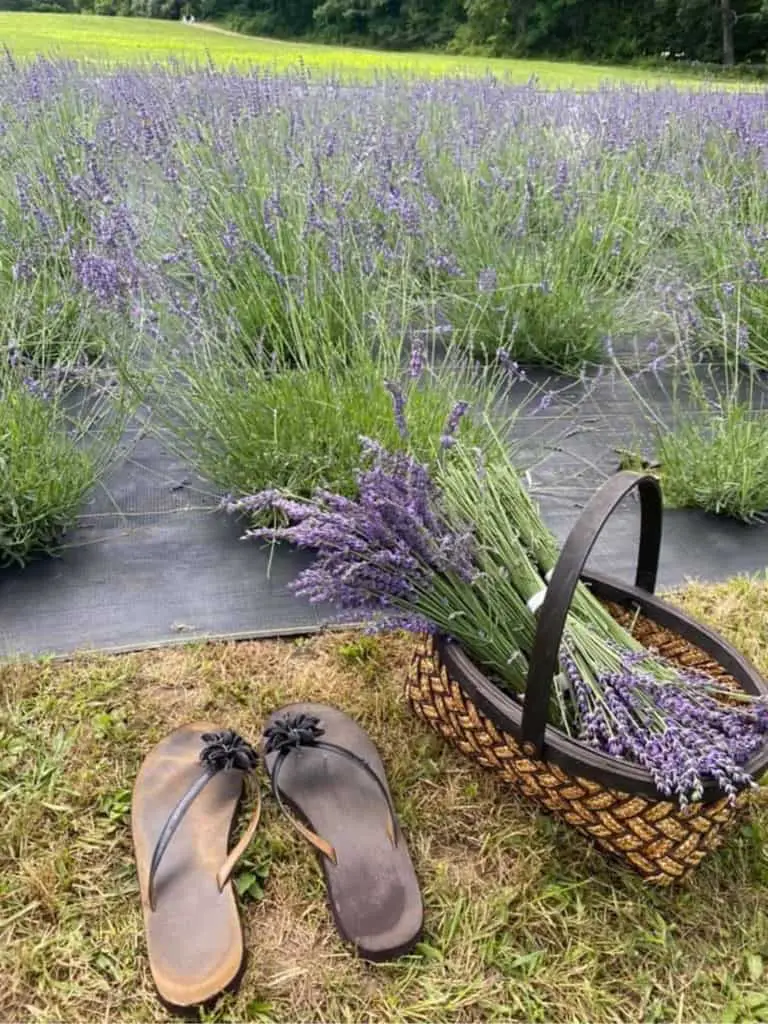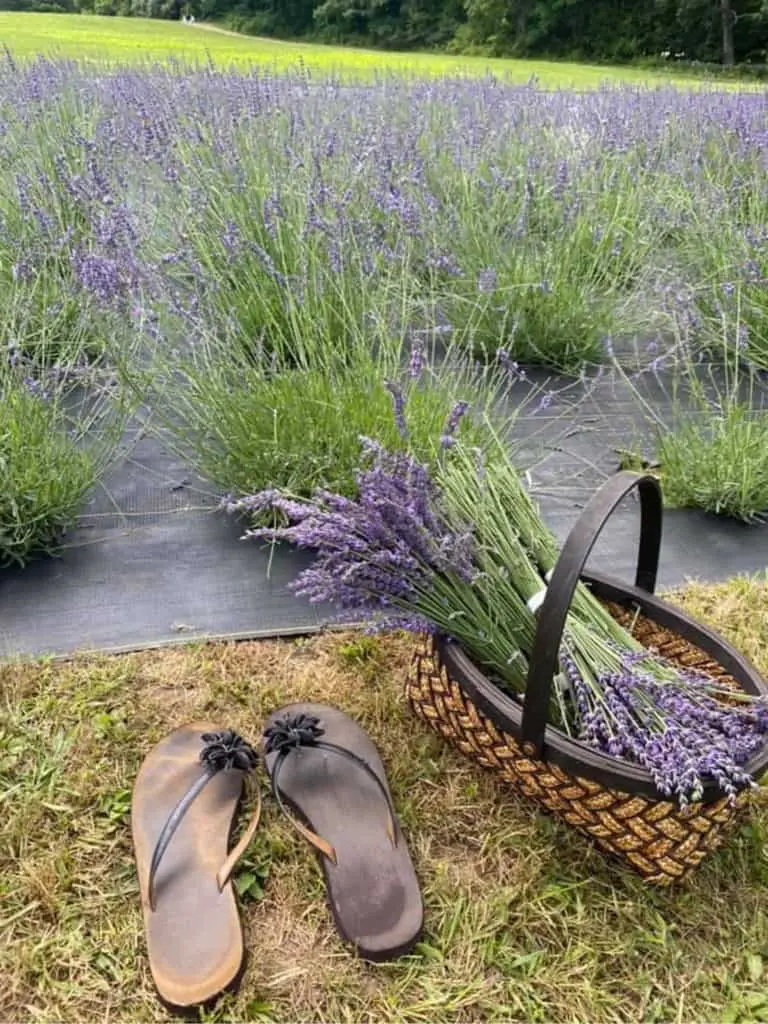 Bumper Crop Buzz

Helped along by the drier than normal summer, 2020's harvest was a blockbuster – so Missy decided to "farm out" the harvesting work by launching a pick-your-own event, promoted via social media. It was so wildly successful, they extended it from a single weekend in July through the rest of the season.
Guests get to choose from two bouquet sizes, are given a basket, and their own pair of small clippers, along with instructions for how to cut the stems properly. (There's a technique!) Then, you're free to roam.
But even if you're the only person there, you're definitely not alone.
To help ensure the natural pollination of their plants, the Biagiottis also don their apiarist hats and keep a colony of honeybees. With two large hives and nearly 100,000 bees, they're also able to make ample amounts of their own, delicious lavender honey (check out their simple syrup recipe below).  
The bees quietly bumble about with you as you explore the fields – their soft but busy buzzing creates a natural, white noise that has a calming effect all its own. Look up from your basket and clippers to take in the view of the family's lovely farmhouse and their restored 1955 Ford F-250 (nicknamed Ellie) parked just over the knoll.
It's a challenge to not feel yourself relaxing in this idyllic setting.
Once you've gathered your lavender lot, you return to the cool and spacious barn to get your bundle wrapped and peruse some of the many lavender-themed gifts they offer.
The barn – which stands as the gateway to their fields – is a destination in its own right. Festooned with drying lavender bundles, strings of dainty fairy lights, and vintage chandeliers, it's crying out to be used for small-scale events.
Like an intimate wedding.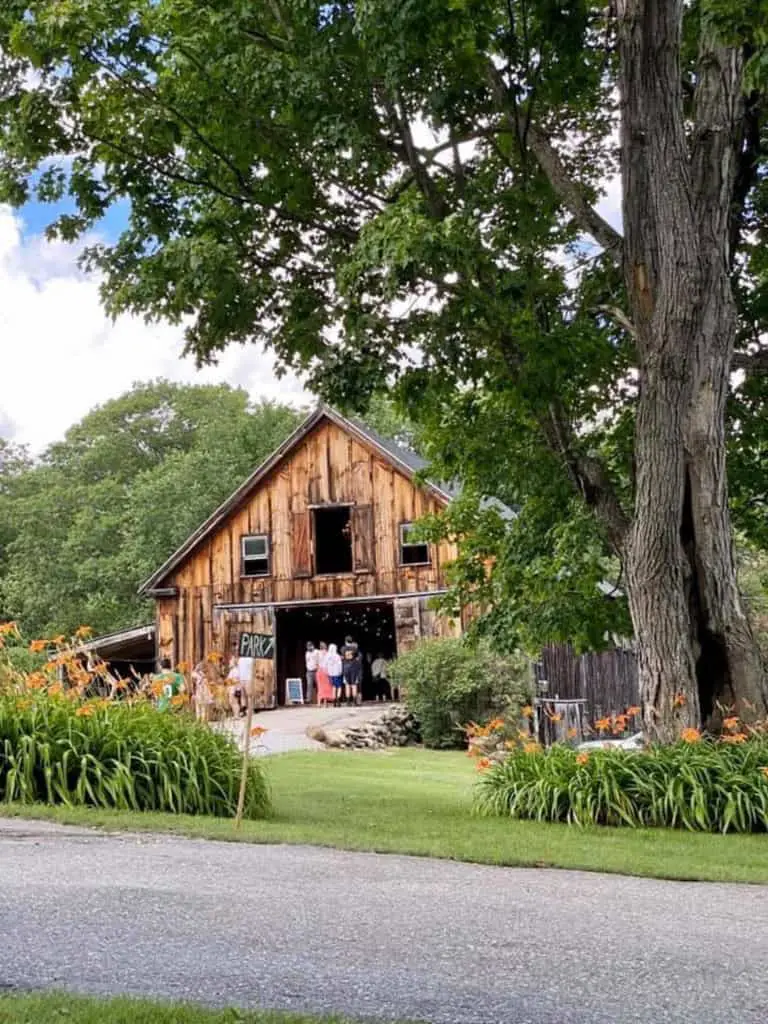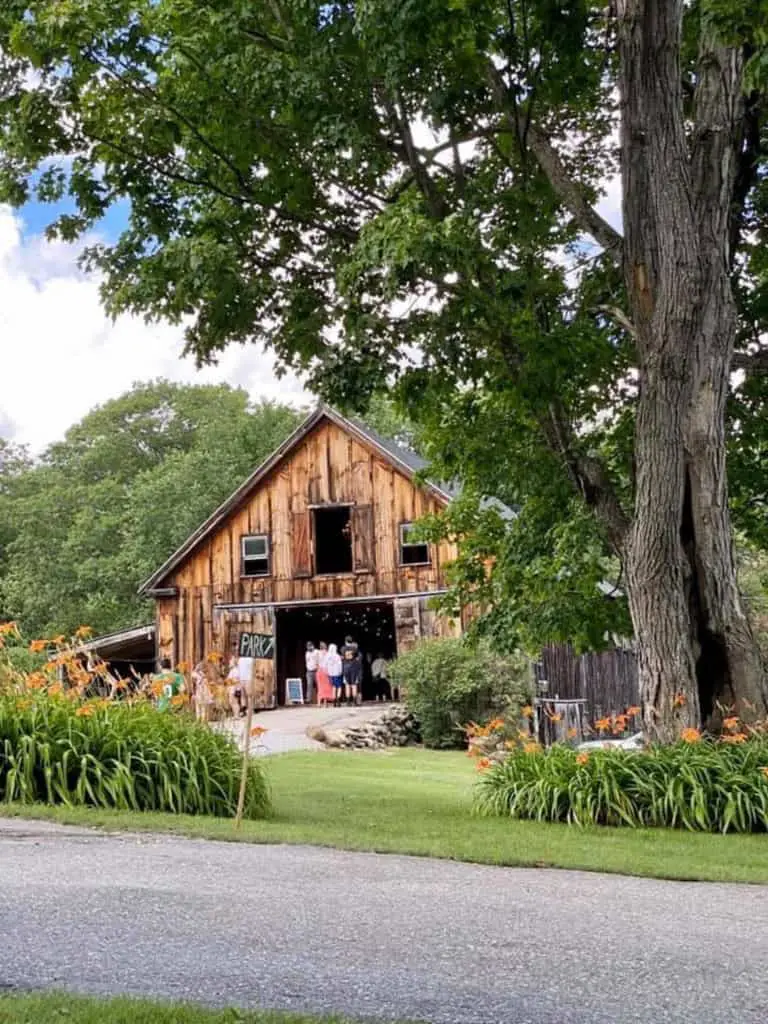 'Happily Ever After' Smells So Sweet

With such a lovely space at the ready, it seemed a natural decision to start renting out their barn for small-scale events like anniversaries, birthdays … and of course, weddings.
In fact, in September 2020, the couple were so touched by the growing number of nuptials that had been derailed due to the pandemic, they once again turned to social media to offer a chance at a dream wedding location for one lucky Granite State couple.
As soon as the Facebook post announcing the sweepstakes went live, responses poured in. But not just from eager couples hoping to see their Big Day come alive after all. Local vendors and friends of the Biagiottis lined up to help round out the event – including a photographer, an officiant, a bakery, bartenders, a DJ, and even another bride, who donated a wedding dress. (Out of 26 entrants, the lucky winners were later announced via a live Facebook video.)
"[It was] everyone working together to make someone's dreams come true – it's what New Hampshire does best," says Missy.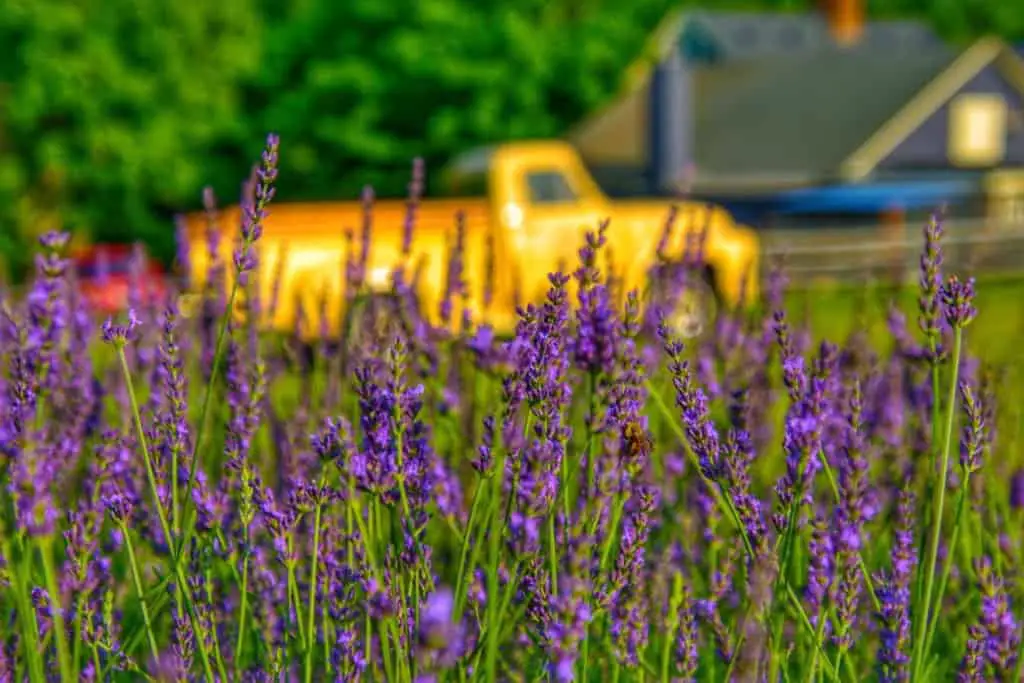 Future in Full Bloom
What started as a small-scale passion project for Missy and Mike Biagiotti has turned into a hugely successful destination Here In New Hampshire. With plans to launch wreath-making workshops, yoga in the fields, "art & sip" classes, sunset cocktail events, and more, Lavender Fields at Pumpkin Blossom Farm is just getting started, bringing Granite Staters a much-needed dose of peace and goodwill.
Lavender Fields at Pumpkin Blossom Farm is open between Memorial Day and Columbus Day; please visit their Facebook page for updates and more details.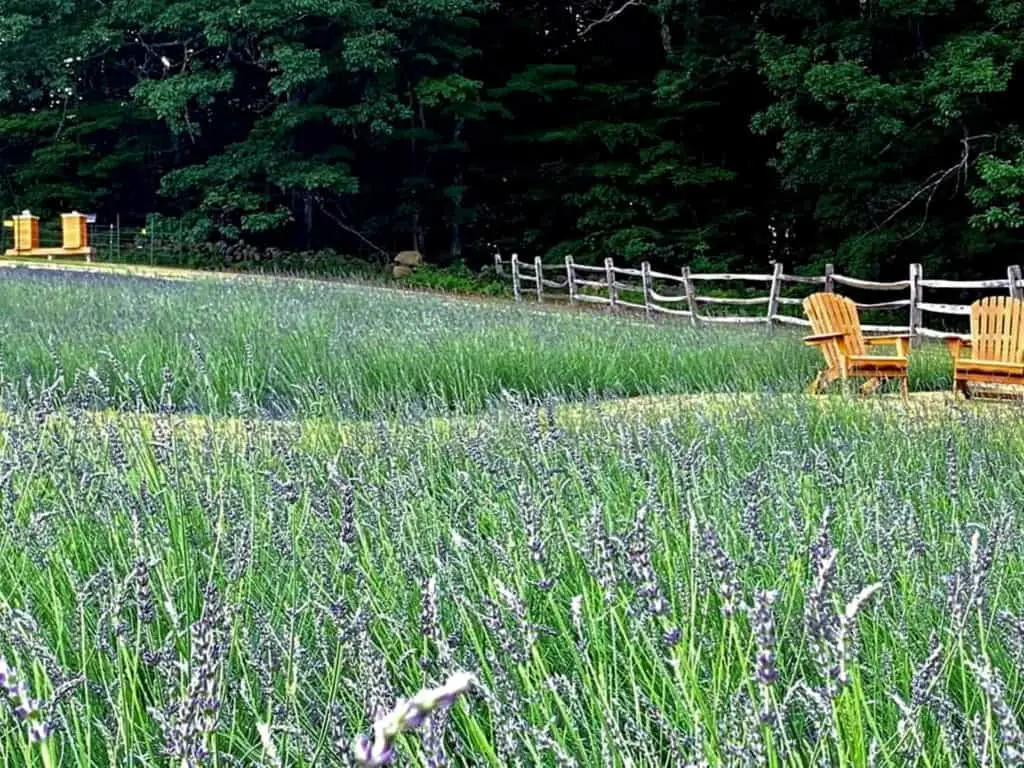 Bonus Recipe, Courtesy Lavender Fields at Pumpkin Blossom Farm
Honey Lavender Simple Syrup
• 1 cup of filtered water
• ½ cup of pure honey
• 1 tablespoon dried lavender
Place ingredients in a small saucepan on med/high heat.  Bring to a boil, the reduce to simmer for 5 minutes until honey dissolves. Turn off heat and allow to cool.  Strain lavender buds and refrigerate for up to a week. A delicious addition to teas or cocktails (or, drizzled over vanilla ice cream).
To Learn More About Pumpkin Blossom Farm Visit Their Facebook Page here
393 Pumpkin Hill Rd,
Warner, NH 03278