Concord NH has a pizza place called New Hampshire Pizza Company and if you love a good slice you should add this to your short list of pizza places to visit. The New Hampshire Pizza Co is a family-friendly, sit down, artisan pizza restaurant. Joel Harris, a Portsmouth NH resident, is the restaurateur responsible for bringing the New Hampshire Pizza Co to life here in Concord NH.  Joel is no stranger to the NH restaurant scene as he is the creator of Dos Amigos Burritos also located in Concord (and other locations throughout NH!).  
What I Learned From New Hampshire Pizza Co Owner Joel Harris
I had the pleasure of speaking with Joel about the New Hampshire Pizza Co and he described the concept of it as "a family-friendly sit down artisan pizza restaurant." Joel mentioned that when he was planning on what the restaurant would look like, he really wanted to bring something new to Concord NH that wasn't being offered.  While there are plenty of pizza take out options in Concord NH, Joel and his team wanted to bring something different with their family-friendly sit down artisan pizza restaurant.  
They will be offering brick oven artisan pizza with a focus on local ingredients via their farm to table focus.  Joel says he "really wants to make it a show place for the state of NH" since this new restaurant will be located in the capital city. 
The New Hampshire Pizza Co will be a 'farm to table" concept using as many local ingredients as possible (NH fruit, NH local produce, NH ingredients, NH draft beer, and even NH liquor).  "Anything made or grown in NH" they will try to work into their menu.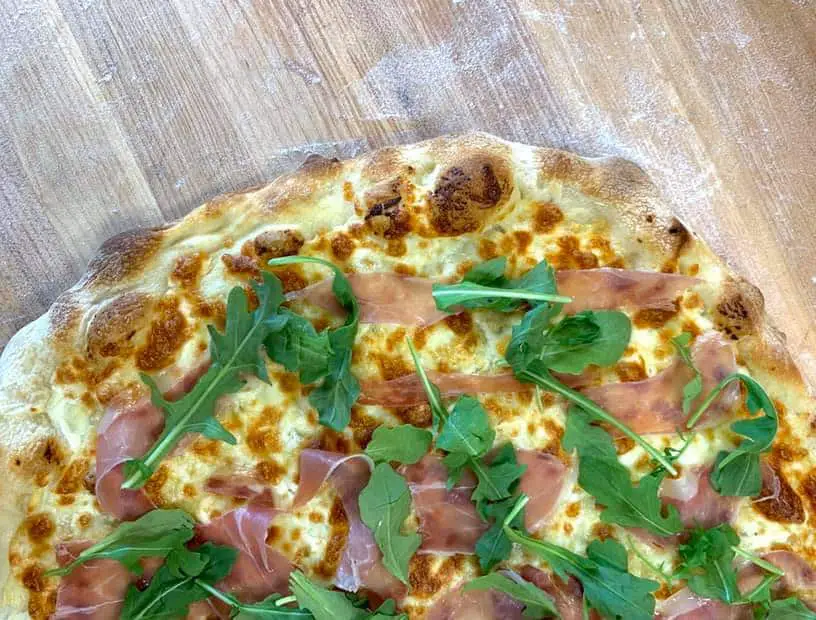 What Kind of Food and Beverage Options Will The New Hampshire Pizza Co Offer?  
The menu at the New Hampshire Pizza Co will be fairly simple, focused on the artisan brick oven pizza of course.  They will be making their own house made dough, house made sauce, and their own house made cheese blend.  
They plan on starting with 8 draft lines featuring New Hampshire beers with a large assortment of local canned beers as well.  The New Hampshire Pizza Co will feature a full bar as well and a full cocktail menu so they can deliver whatever cocktails your heart desires.  
Their sister restaurant in Portsmouth NH is called Luigi's West End Pizza and when they were coming up with the concept of that restaurant, the team had the chef's go down to Brooklyn NY and West Haven CT to learn from the masters.  Both locations are well-known brick oven pizza meccas and their aim was to bring back to NH the art of making traditional thin crust pizzas.  Judging by the rave reviews of Luigi's in Portsmouth they hit the mark and I'm excited to try the pizza at the new Concord NH eating establishment.   
Now with the New Hampshire Pizza Co coming to Concord NH they will be bringing classic NY/New Haven pizza to NH (just like they did at Luigi's in Portsmouth NH).  
New Hampshire Pizza Co Will Has About 12 Pizzas on The Menu With a Weekly Rotating Speciality Pizza 
Joel mentioned they will have about a dozen pizzas regularly on the menu but that they will also feature a weekly speciality pizza featuring some great local ingredients.  
They will also feature some great appetizers including Buffalo Wings 3 Ways (Buffalo Chicken wings, Buffalo Pork shank "wings", and Buffalo Cauliflower wings).  They will also have individual and family salads, fresh fried Mozzarella, Charcuterie boards, and more!
Not to mention they will have their own feature deserts!   
They will be making their own Gelato in-house featuring some unique flavors (perhaps even a basil ice cream!).  Can't wait to try that!  
For More Information About The New Hampshire Pizza Co
For more information visit their website:  https://www.newhampshirepizzaco.com/
You can also learn more and keep up to date at their Facebook page:  https://www.facebook.com/nhpizzaco/