Whether you're preparing for a wedding, a work meeting or even just a social gathering with friends you haven't seen in a few years, with so many aspects to worry about such as the decorations and the table layout, the offering of food and drink can often easily slip our minds.
That's why it's becoming increasingly more common as time goes by for people to approach a professional catering service that will serve up some of the most delicious snacks and beverages for your guests to enjoy.
Luckily, there are some fantastic catering companies around the New Hampshire area to choose from. Here are a few you should definitely consider next time you're preparing for a social event. 
If you're looking to add an element of class to your event, you really can't go far wrong with Magic Foods Catering who, for over 30 years, have been passionately preparing and serving the most exceptional food and cocktails out there. 
With full catering available along with expert culinary expertise, amazing appetizers and a choice of either a plated, buffet or family style layout, Magic Foods Catering really does offer incredibly high-quality service. 
Location: 882 Whittier Highway Moultonborough, NH 
If you know you're going to have a decent amount of guests who are seafood lovers, Littleneck Clambake might just be the catering service for you with 15 years of experience and dedicated to serving the very best and most delicious seafood options possible.
Littleneck gives you a choice of either their clambake or barbeque menu depending on what sort of food you want to serve your guests, but with delicious options including a New England Clam Styled Chowder and Grilled Veggie Burgers, there's never any harm in browsing their multiple plans to surprise your guests with a feast they'll never forget. 
Location: 920 Lafayette Rd, Seabrook, NH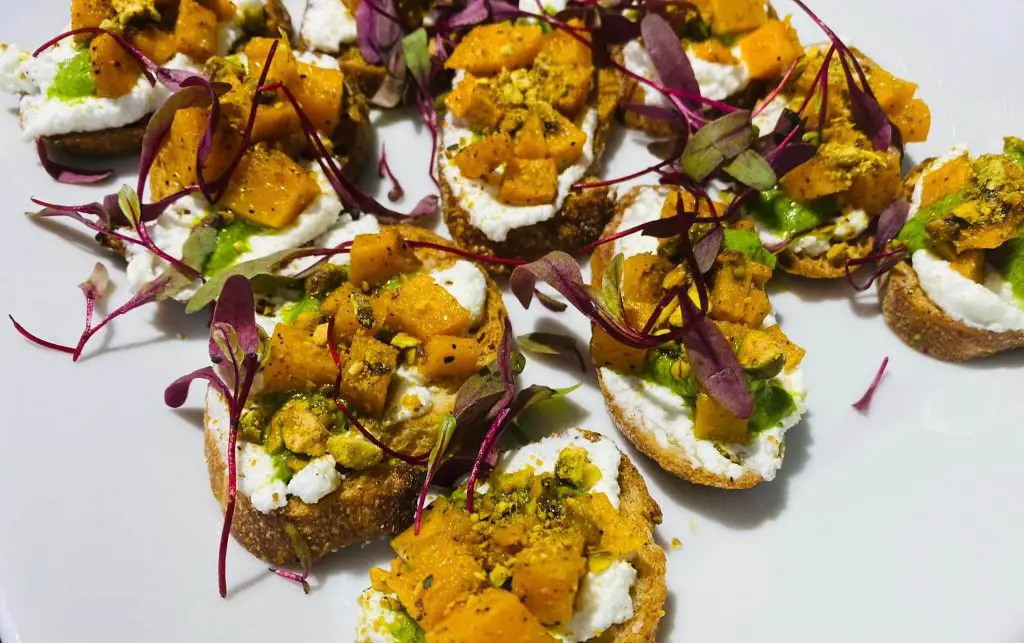 This particular catering company is a special one to me since it was founded by my very talented brother Brent Battis and his amazing Wife Whitney. I have had the distinct pleasure of enjoying their amazing cuisine on many occasions. While B & W Catering Company is based right over the border in Vermont, they do a lot of their catering events in the Upper Valley area of New Hampshire, especially in Hanover NH.
B & W Catering does many catering events for Dartmouth College and businesses in the Upper Valley such as Hypertherm. They not only do NH business function catering but they do a lot of Wedding catering along with special event catering. B & W Catering specialize in a variety of "World Cuisine" that is sourced locally. When Chef Battis takes on an event he strives to purchase local ingredients as close to your event as possible. All of their finely-crafted dishes are made from scratch and they aim to customize the menu to fit the needs of your specific event. This wonderful catering company can handle anything weddings, business lunches to small cocktail parties.
You can learn more about B & W Catering Company at their website here: http://www.bwcateringcompany.com/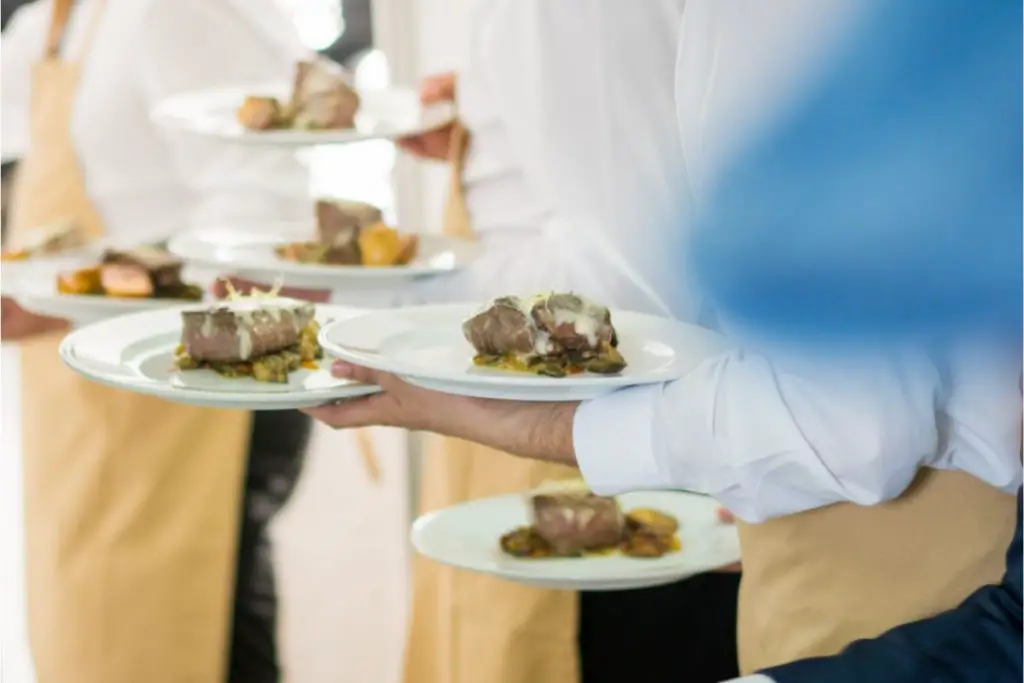 Brussel's tagline 'Reimagining Catering' really couldn't relate to any other catering service other than The Brussel with their fantastic variety of foods that are custom made and have been pleasing customers and guests at social events for years.
Located just 20 minutes from downtown Concord, as soon as you contact The Brussel you will be granted a few different buffet options to choose from including a wedding weekend proposal, a business lunch proposal, a large wedding buffet, or even a baby shower. 
With their delicious mixture of unique snacks and treats, if you're looking for a catering service that will surprise your guests with a few flavors they are sure to have never tasted before, and want to make the event as memorable as possible, The Brussel is an excellent choice. 
Location: 633 Maple Street, Contoocook, NH
Fiddleheads have long advertised themselves as providing the very best catering service in New Hampshire, and we certainly can't rule them out of being up there, specifically due to just how varied their delicious menu options are.
Whether it's their scrumptious iced cakes for guests to enjoy as a light appetizer later in the day, or a few mixed salads covered in flavorful sauces, all the way to a few slices of their incredible tasting garlic bread and meat options, for a service that will ensure each and every guest is satisfied after the event ends, you won't want to pass up on Fiddleheads Catering. 
Location: 28 Main St, Hancock, NH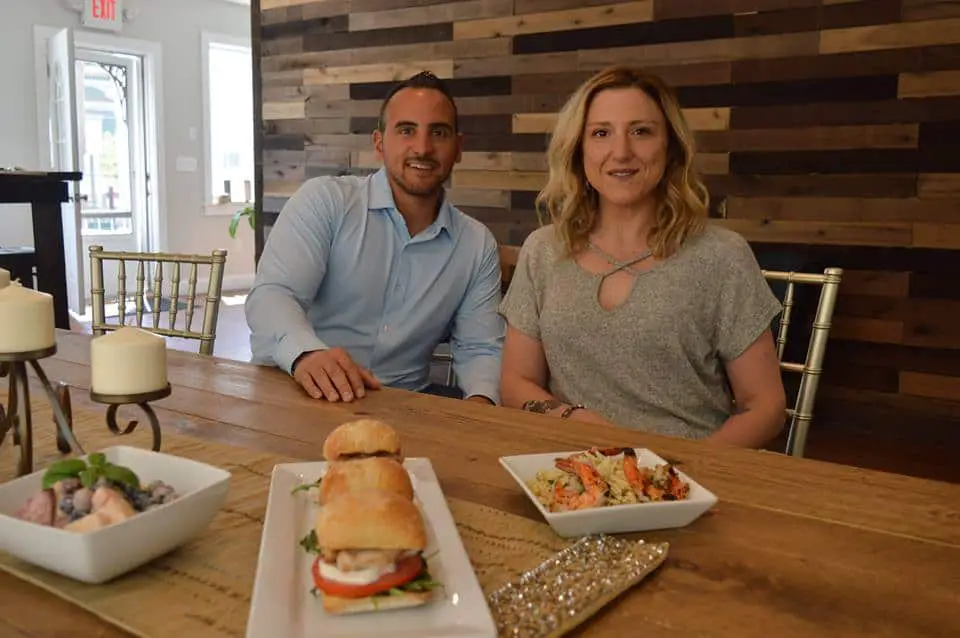 For over 20 years now, Twelve 31 has provided only the best quality buffets for wedding ceremonies time after time with their 5-star guaranteed service.
With several unique menus to choose from to fit your style and price range, while they do only tend to provide food and drink for weddings, you can be sure that they won't let you or your guests down with a delightful mixture of fruits, baked snacks and meaty main options that make Twelve 31 one of the best caterers you can find in the Tilton area.
Twelve 31 Events also has a Cafe located in downtown Concord New Hampshire where you can grab a finely-crafted sandwich, gourmet New England Clam Chowder, or even take and bake meals! You can find the Twelve 31 Café & Catering at 100 N Main St Suite 101, Concord, NH 03301.
Their main location can be found at: 261 Main St, Tilton, NH
Learn more about the NH Catering company here.
Based in Manchester, Celebrations Distinctive are as passionate about the presentation as they are about the food and drink options themselves. As a result, you can guarantee that no matter which of their multiple plans you choose from, you won't be let down.
From the regular Wedding Buffet option that includes a great selection of appetizers, salads along with coffee and even an entire wedding cake, all the way to the Italian Wedding Feast which features classic Italian dishes as part of the buffet along with China dinner plates and stainless steel silverware, feel free to have a browse of their menu options to see which plan suits your wedding style the most. 
Location: 1017 Second St, Manchester, NH
Sonny's Tavern started out as a restaurant before branching out into the catering industry, and with how well prepared and delicious their food options are, you can definitely tell this is the case as soon as you take a bite out of one of their expertly prepared dishes. 
Alongside providing some incredible customer service, Sonny's Tavern also gives their clients a huge amount of customization options so that they can tweak the menu just as they would like it for the big day.
While their food options are second to none in terms of flavor and variety, Sonny's is also known for their selection of elegant cocktails that always make the wedding celebrations even more memorable. 
Location: 328 Central Ave, Dover, NH
Summary
Preparing a buffet for your guests at a wedding, or really any large social gathering can be extremely stressful when you have so many other things on your mind, however it really doesn't need to be which is why it's always a good idea to contact a catering service.
Try out a few of these reputable New Hampshire caterers who are guaranteed to give you the very best service possible, making the big day even more memorable.
For more NH Businesses to look at check out these Guides:
NH Wedding and Business Branding Videographer
Best Window Replacement Company in NH