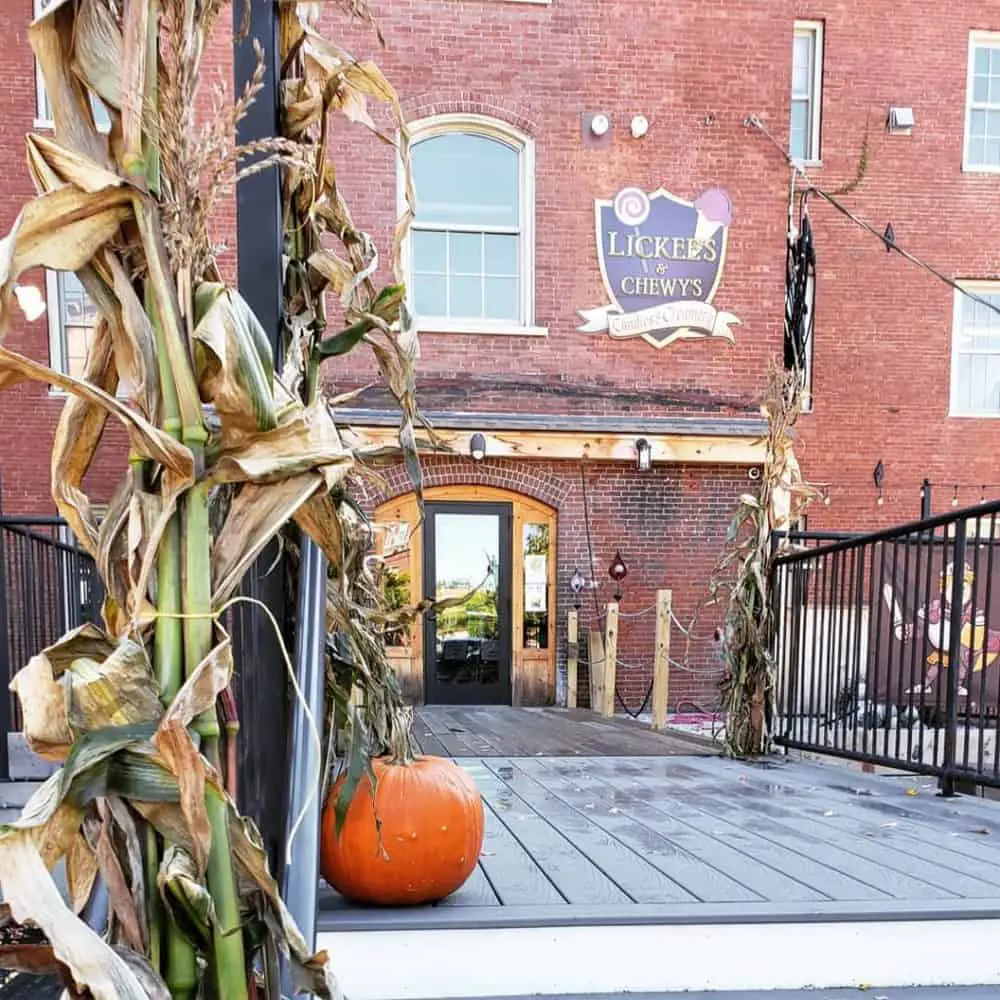 The Story Of Lickey's & Chewy's Candies & Creamery.
This fantastic candy store has a very cool back story. The owner had been deployed in Afghanistan in 2008/2009 and after Christmas the unit had a table covered in a huge pile of cookies, candies, baked goods, and chips. One of the soldiers said "That's a lot of lickies and chewies!" That was the day the owner of the future Lickey's & Chewy's named his store. Apparently it is an old military term used to refer to all of the snacks, candies, and small items that would be brought by new soldiers to field training. 
In 2014 after retiring from the military a small candy store went up for sale and Lickey's & Chewy's was born. The candy store grew over a three year period and quickly outgrew its space. The owner was looking for a larger space where he could make more of his chocolates and open a creamery to add to his candy creations. In the three years that the candy store had been open Lickey's & Chewy's had become more than a name but they had become characters. Lickey is a Knight and Chewy is a dragon that lives in The Kingdom Of Caramelot!  
In downtown Dover a 200 year old mill building had a location that would fit the growing Lickey's & Chewy's Candies & Creamery. The move was a great one for the company and they have been growing ever since.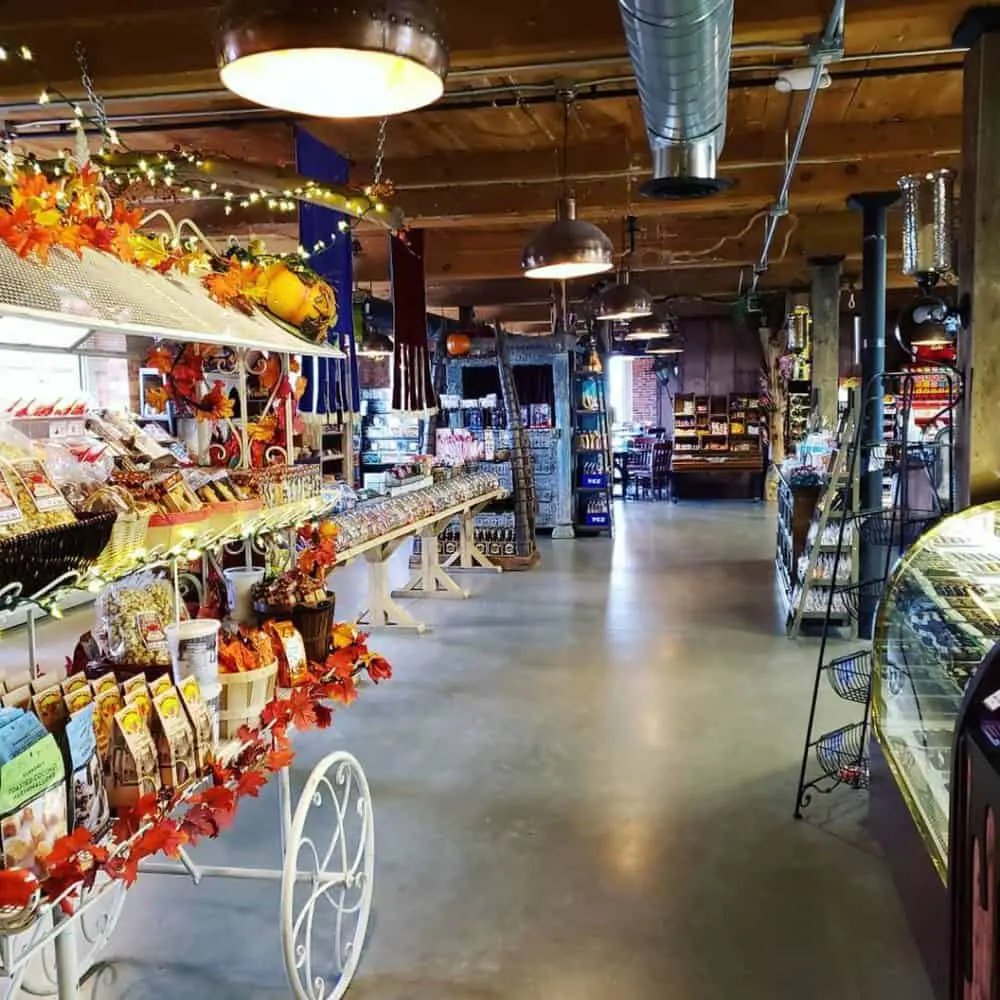 What Does Lickey's & Chewy's Candies & Creamery Have To Offer?
The Kingdom of Caramelot is home to the giant Kingshake, which is what got the attention of me and my friend and why we took the trip! The Kingshake is an extra large themed ice cream shake that is loaded with so many matching themed candies and cookies that it is truly fit for a King (or Queen). 
The creamery offers 28 locally made ice creams and sorbets, sundaes, soft serve with handmade chocolate dips, custom shakes, chocolate covered ice cream sandwiches, shaved ice, macarons, cheesecakes and so much more.
They offer many handmade chocolates, caramels, bars, toffees, fudge, cookies, truffles, and chocolate bars. This time of year they offer their famous caramel apples made with handpicked honeycrisp apples which they cover with their own handmade caramel. Many of the caramel apples are also themed and the choices are amazing!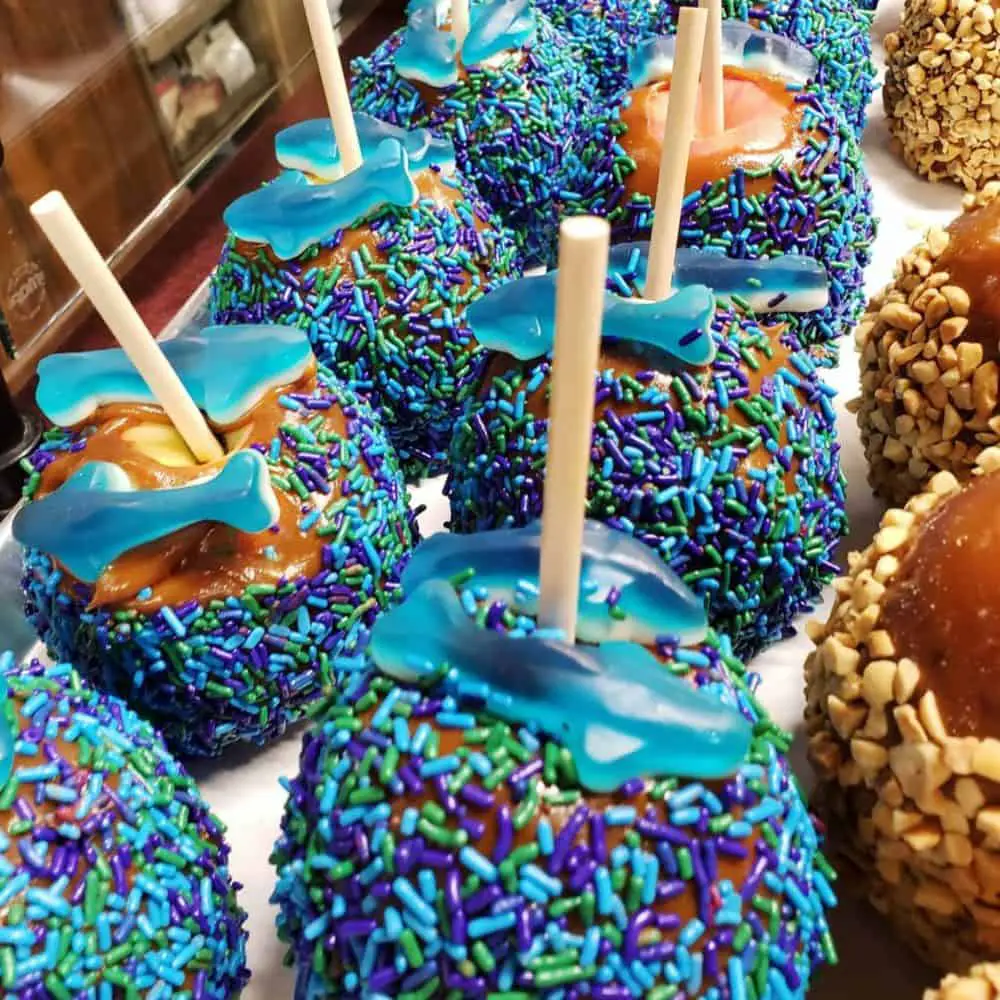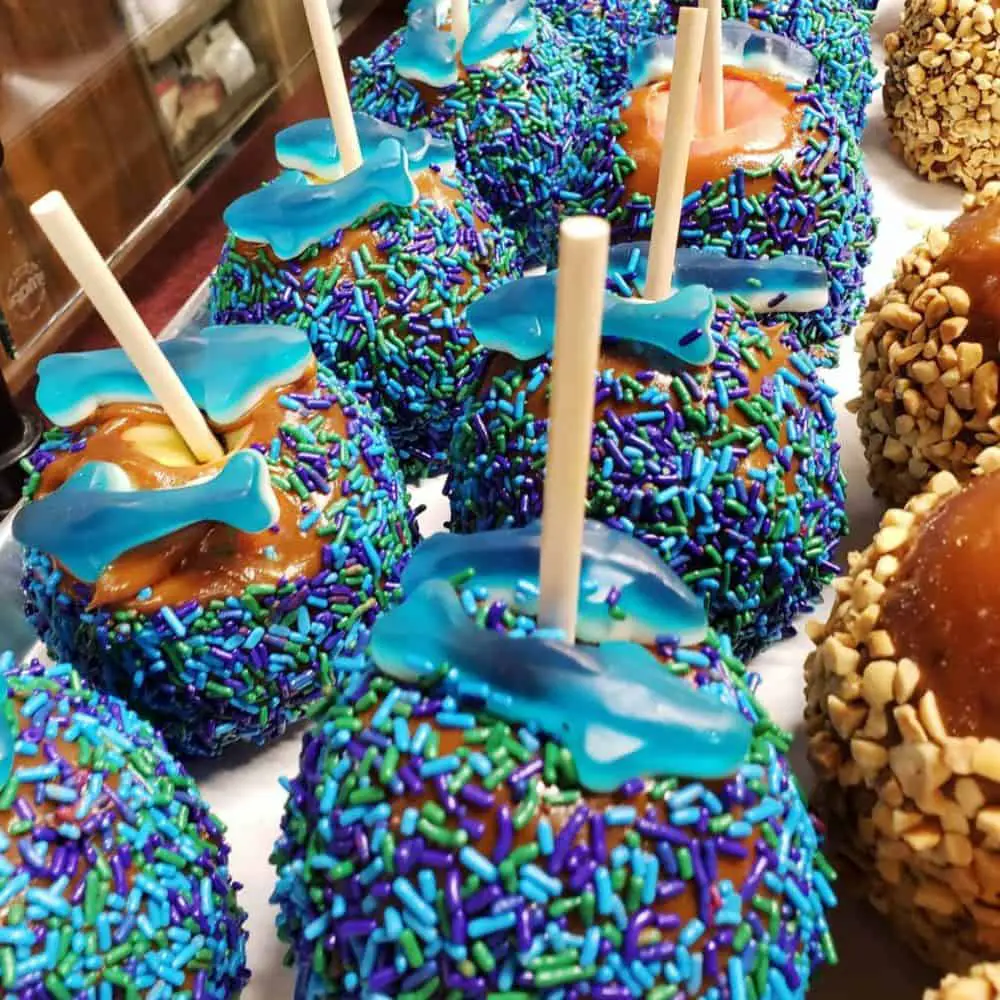 Lickey's & Chewy's has one of the largest cand selections in New England. They have over 200 bulk candies, Jelly Belly jelly beans, gummies, Swedish gummies, Harry Potter candies, classic nostalgic candies, British and European chocolates, British, French and German hard candies, 100's of PEZ and so much more that I can't even list them all.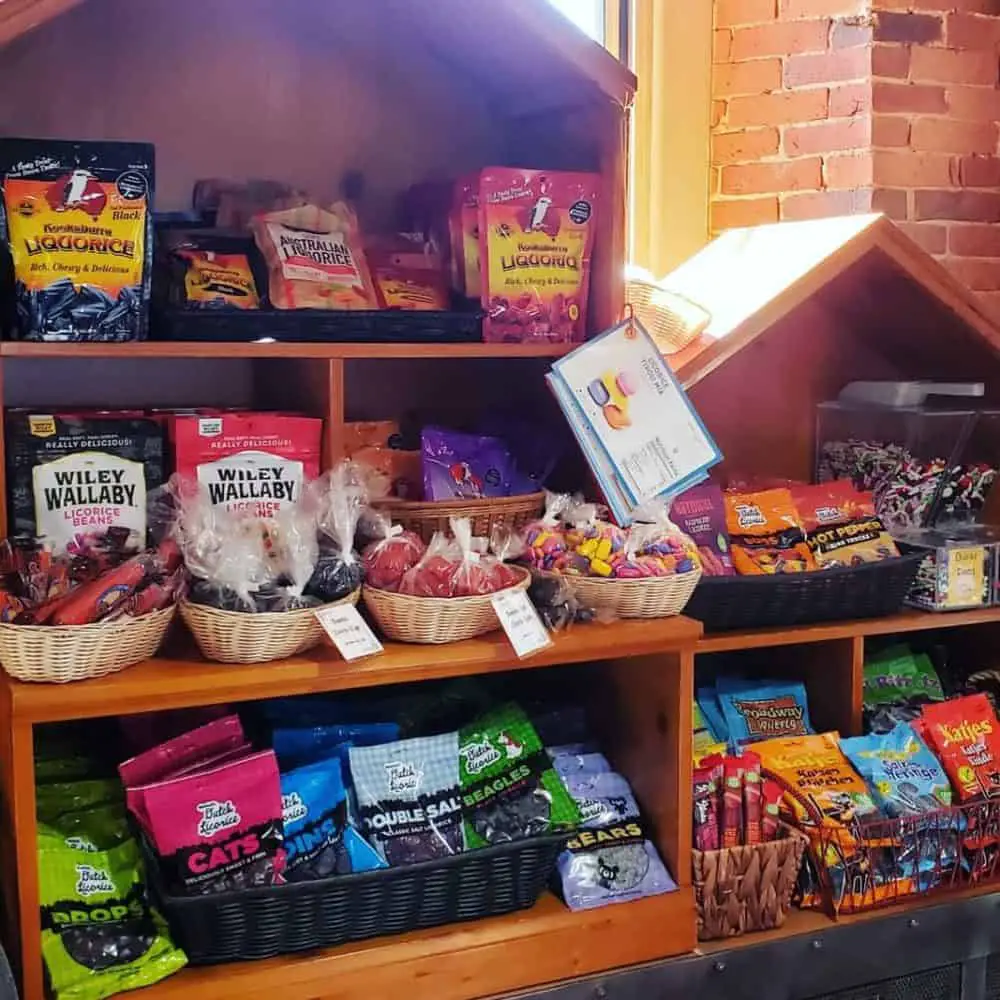 We went for the Kingshakes which there are 44 to choose from with an additional 6 seasonal Kingshakes! They also have lots of ice cream sundae options, ice cream cones or bowls and regular milk shakes.
My kids all got different Kingshakes, My oldest got a Fields Of Gold (Reeses Pieces) Kingshake and it was chocolate ice cream with chocolate sauce, reeses pieces, and snack cakes sitting on top just inside them with all the whip cream and chocolate goodness.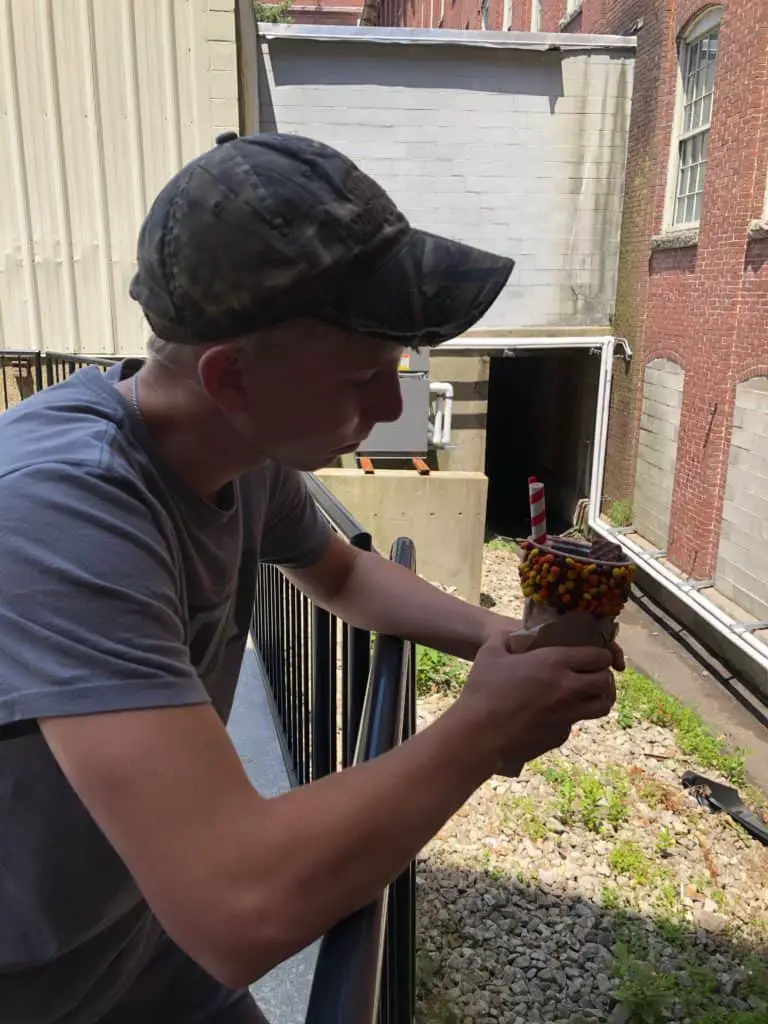 One of my daughters got Chocolate Lovers. Again it was full of chocolate ice cream ring dings, swiss rolls and chocolate chunks attached to the cup.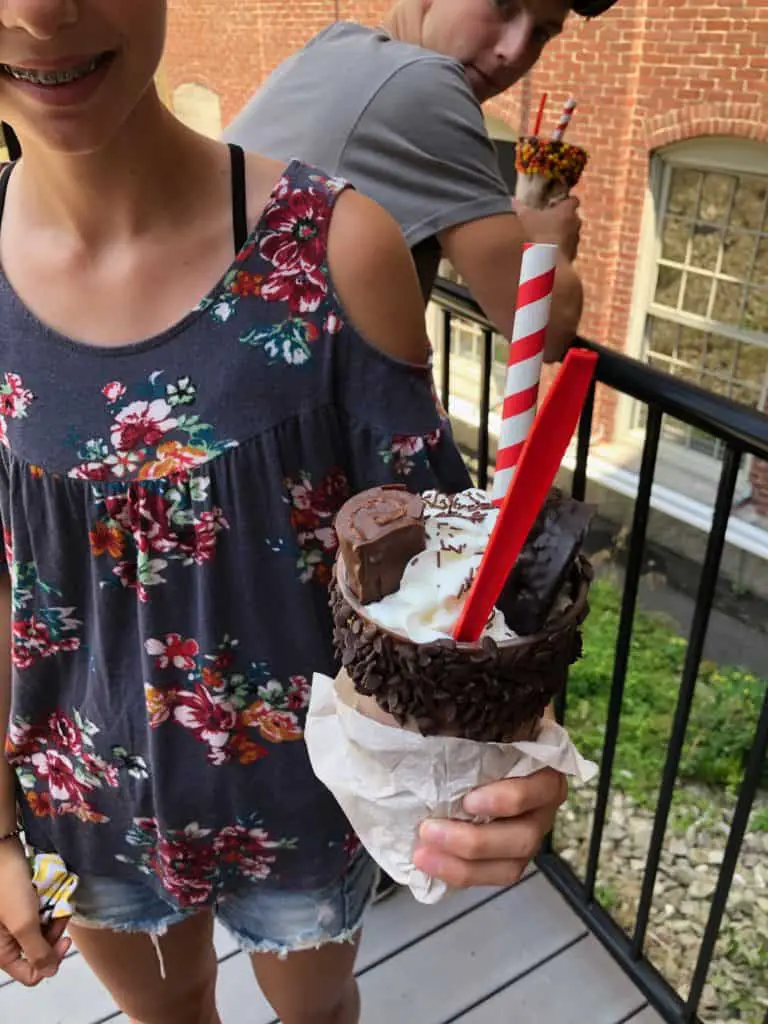 My favorite was my youngest's choice, the Coral Reef (mermaid) Kingshake! This Kingshake was loaded with blue mermaid ice cream, mermaid colored sprinkles, starfish gummies, seaweed sour stips, and a white and blue cake snack.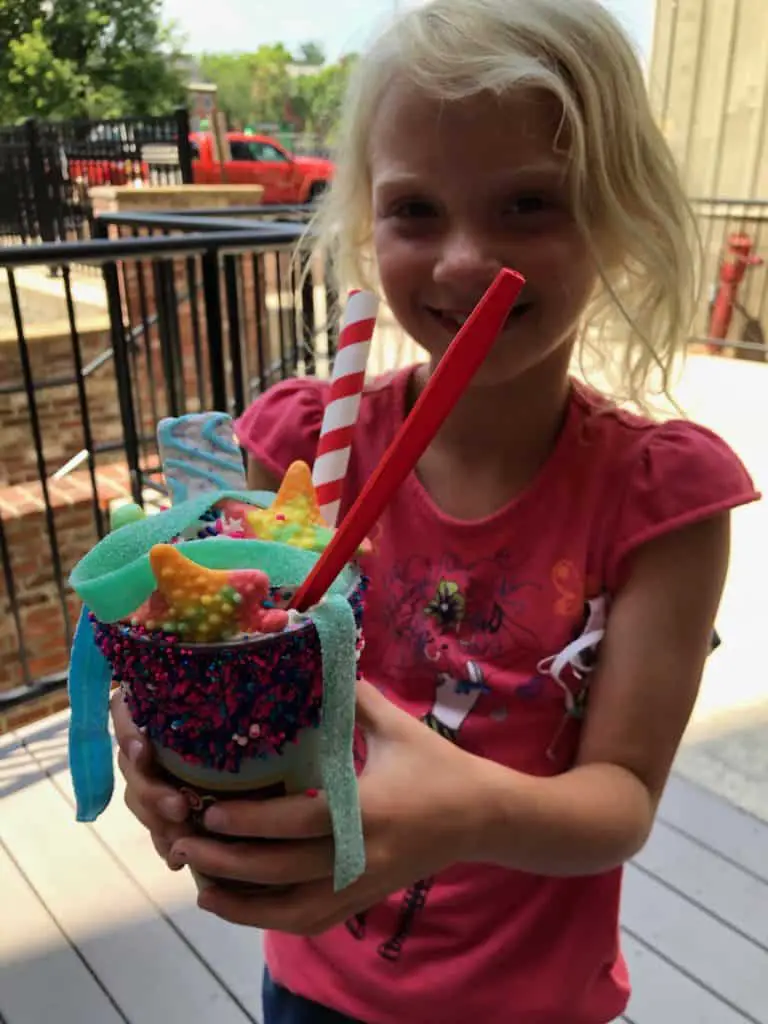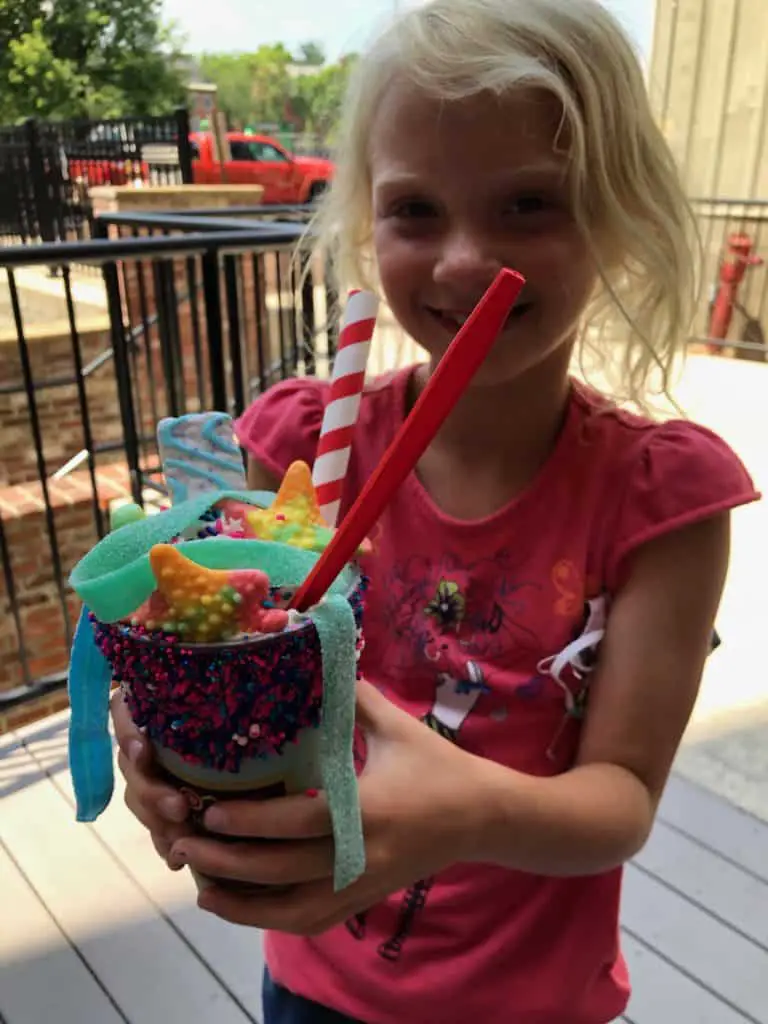 For those of us who know we can't eat a Kingshake they do have specialty small shakes as well. We ordered one of the Reeses Pieces small shakes and it was still more than my 10 year old could finish. He loved that there was still candy on and in the shake with whipped cream, chocolate sauce and a snack cake.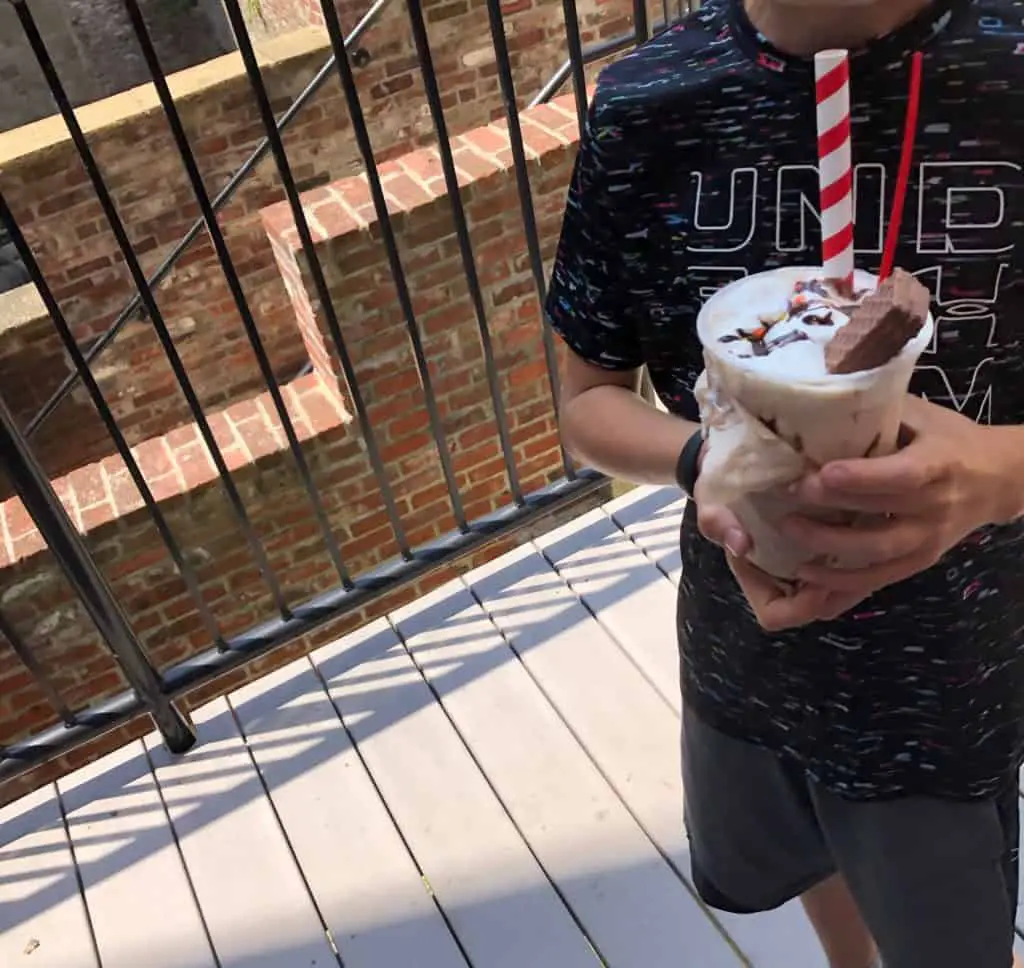 As the mom I decided to just take a few bites of each shake getting the best deal out of this!
Not only do they have the option to come into their amazing store but you can also place orders online for pick up or to be shipped.
You Should Definitely Check Out Lickey's & Chewy's Candies & Creamery!
I know I have told you all about Lickey's & Chewy's and I have shared our amazing photos of our Kingshakes, however you need to visit this place to really appreciate this article. The kids had a great time eating their shakes and picking out candies in the store. I am looking to make a trip back down this month to check out their specialty candy apples as they look just as amazing as their Kingshakes. I am pretty sure that I will not have a hard time convincing my kids to join me for the ride again!