In 2022 Teatotaller opened its second location on Main Street in Concord New Hampshire. The new Cafe immediately added a splash of color (pink to be precise) to downtown Concord and some quirky variety to the bustling Main Street. Teatotaller is the LGBTQ-friendly cafe that originally started in Somersworth NH back in 2016 and has been going strong ever since. The Teatotaller offers up a fun and open environment combined with tasty beverages and delicious food. Don't forget about the unique events and community-focused activities the Teatotaller fosters in their spacious and fun environment.
Teatotaller's Concord NH Main Street Location
It is hard to miss Teatotaller's Concord NH location with its vibrant colors. This is a shot of the front of the Teatotaller storefront from the Main Street sidewalk.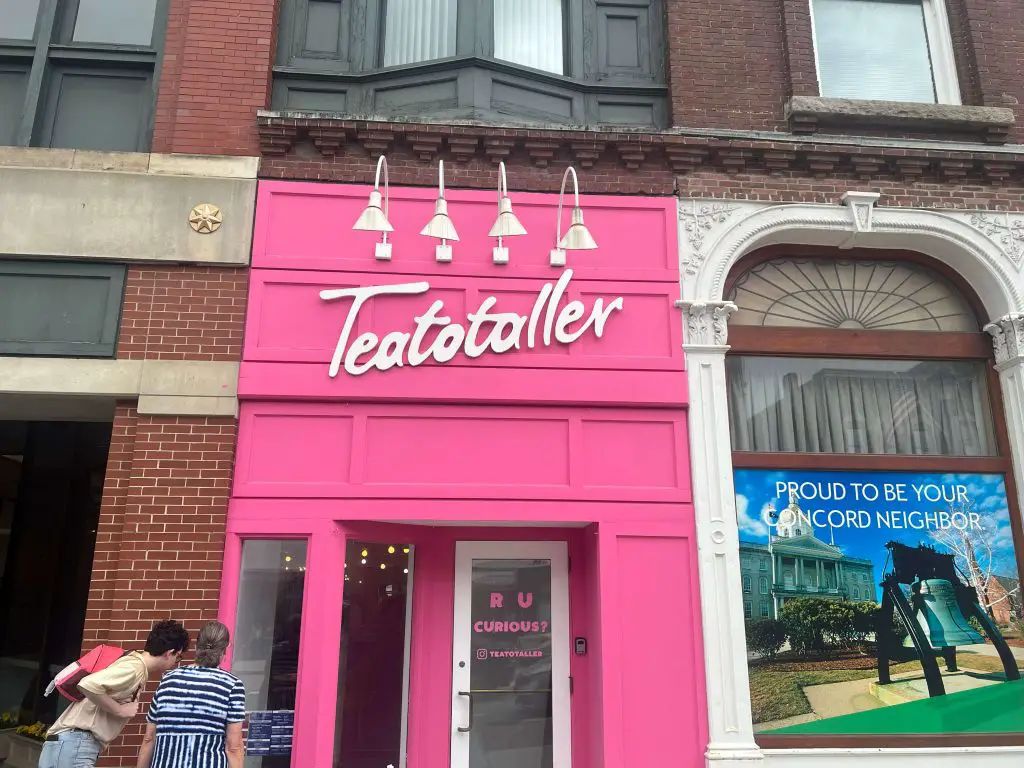 About Teatotaller and Their Concord New Hampshire Cafe
Teatotaller describes their Cafe as "An oasis of queer, hipster, tea, coffee, and pastry goodness." Teatotaller was founded by owner Emmett Soldati and his team. While their original located was in Somersworth this location is in Concord New Hampshire. The Teatotaller has a wonderful space in downtown Concord and it resides where Edible Arrangements used to be. The space has ample seating space spanning two floors, offers counter service, takeout, and even has outdoor seating too!
Here's a Photo I Took of Teatotaller in Concord On Their Opening Day

Teatoaller's Concord NH Menu
The menu at the Concord NH location is similar to that of the Somersworth NH location. They have their "Pick Me Up" and "Folded Leaf" breakfast sandwiches, a variety of Build Your Own Breakfast Sandwiches, Waffles with real Maple Syrup and more.
For beverages at the Cafe, they have Coffee, Tea, Lemonades, and their famous Bubble Teas! Don't forget to ask about their seasonal specials too.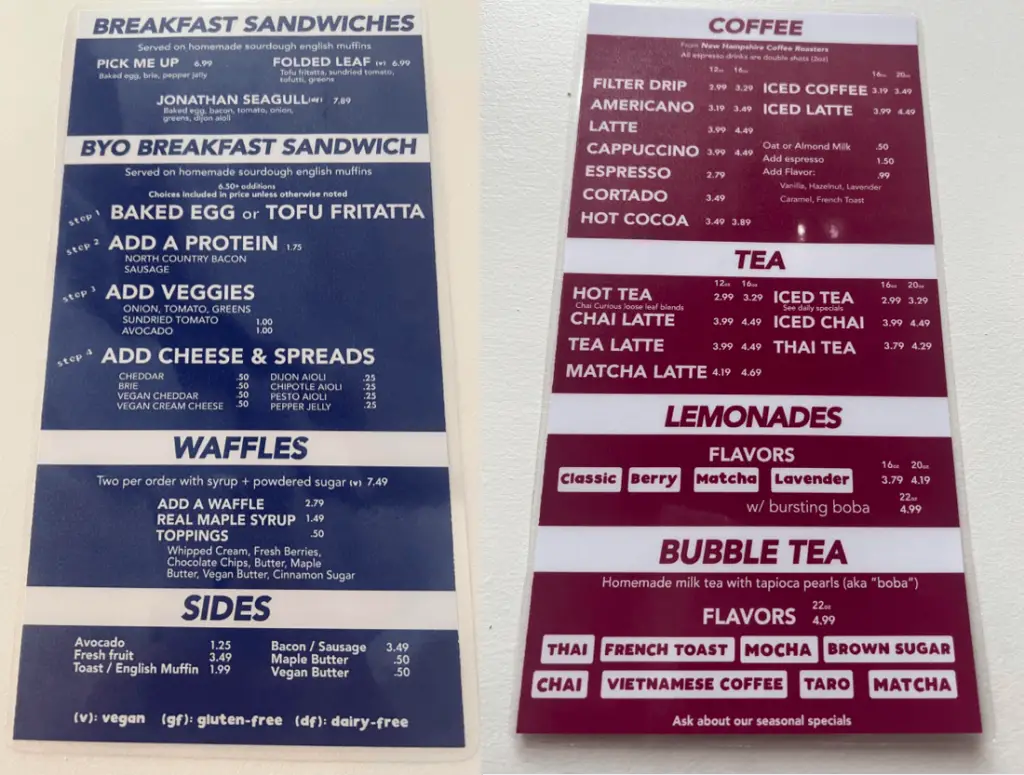 A View From The Teatotaller Looking Out Onto Main Street Concord NH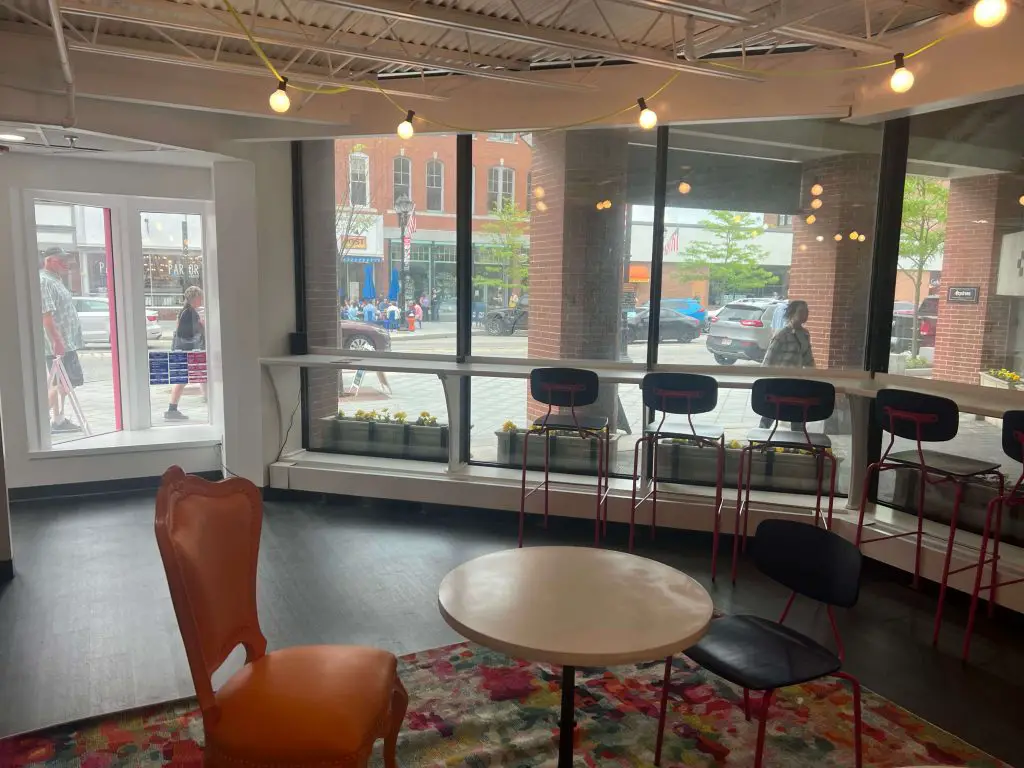 The Teatotaller Has a Colorful Location With Multiple Murals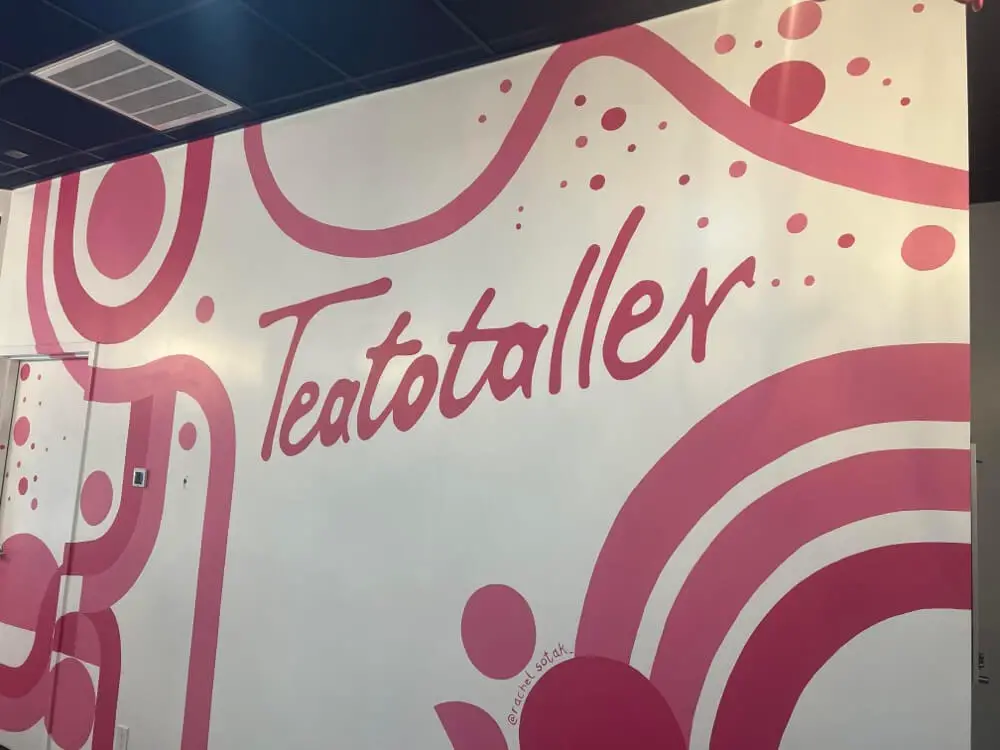 Here Is a View Of The Mural At The Top Of The Stairs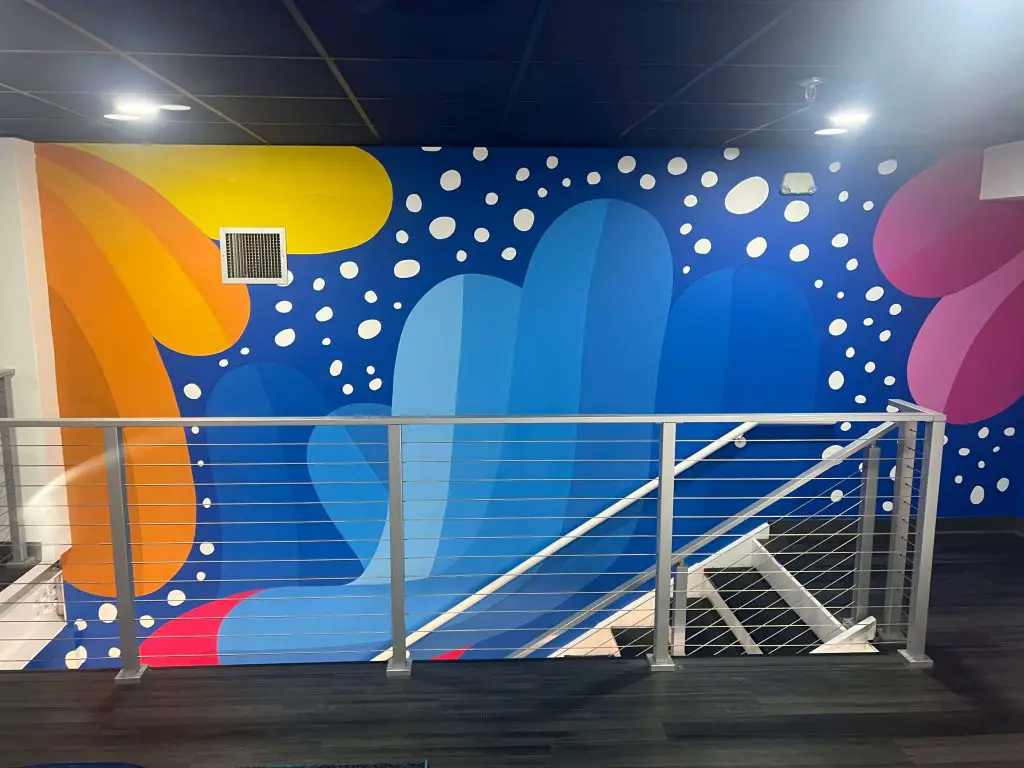 A View From The Back Alley Outside The Teatotaller Concord NH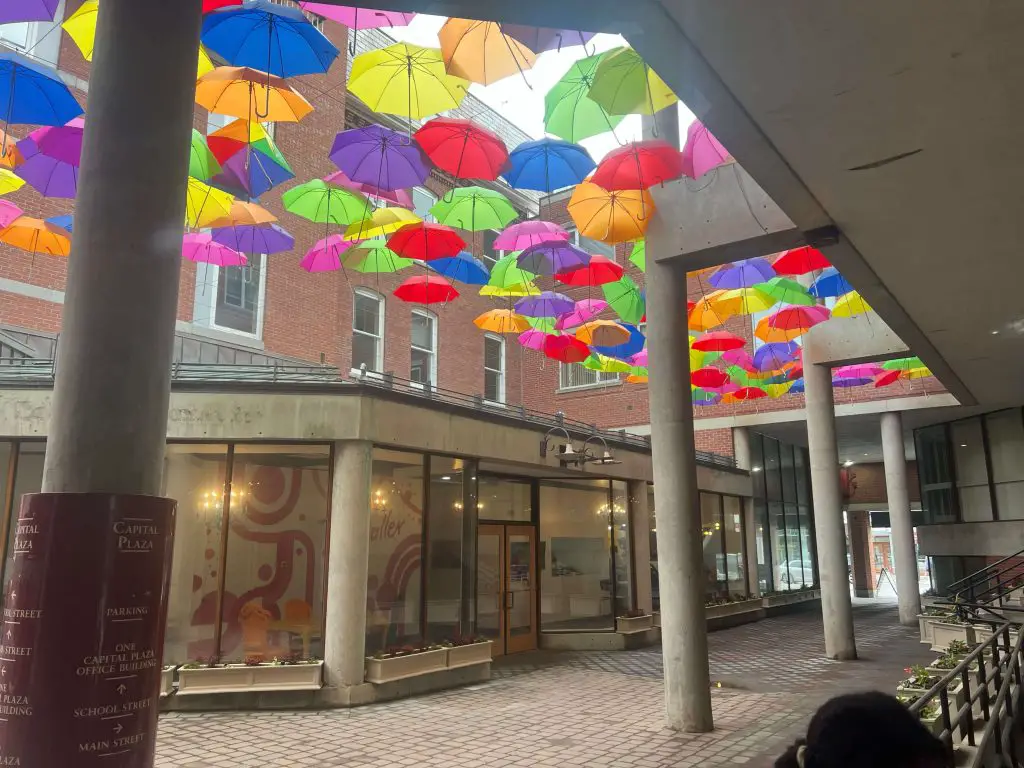 A Post From Owner Emmet Soldati About His Concord NH Location:
"Do you ever have a quick, fleeting thought like "wouldn't it be funny/cool/neat if I did ____." That's exactly how Teatotaller started. 11 years ago as I was wrapping up my dissertation in London and had just learned the meaning of "teetotaller" (having given up alcohol a few months prior), I literally told someone "wouldn't it be neat if there was a cafe that had programs and vibrancy and connected the community, but didn't serve alcohol? You could even call it Teatotaller."
Well folks, that random thought has come a long way since then. So proud of how this cafe has blossomed and grateful for the journey. Can't wait to see what comes next in Concord. 
And of course, Teatotaller really has blossomed because of the community that surrounds it — our staff and neighbors and patrons and artists and drag queens and my family who have all made it what it is. Teatotaller is yours.
Next time you have a small thought like I did, I would definitely encourage you to give it go…….."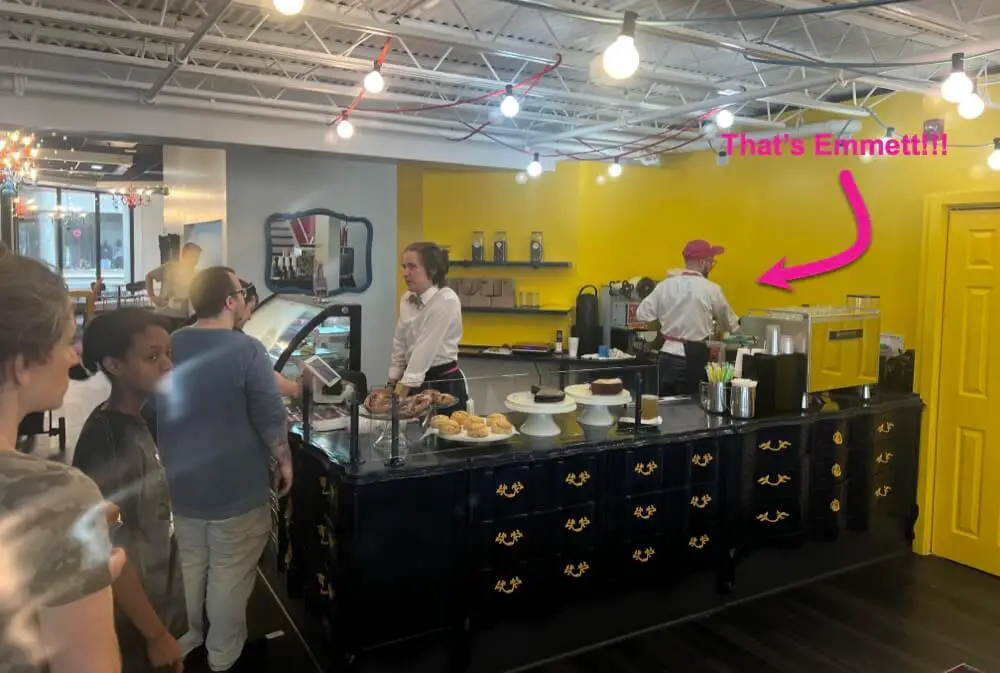 Video Emmet Created To Raise Funds For The Concord NH Teatotaller Location Before It Opened
When I saw this video in my Facebook Newsfeed it caught my attention! I think the video does a fabulous job encapsulating what the Teatotaller is all about!
Where To Find The Teatotaller in Concord NH
You can find the Teatotaller Concord NH at 57 N Main St #2, Concord, NH 03301
You can find the original Teatotaller location at 69 High St, Somersworth, NH 03878
You can find the Teatotaller online at their website https://teatotallercafe.com/
For more things to do in Concord NH check this out.