Exeter, New Hampshire is blessed to serve as the home of the Word Barn, an intimate venue that hosts concerts, poetry readings, writing workshops and a number of other cultural offerings. On a couple of recent occasions, my wife and I have enjoyed an evening out at the Word Barn, which provided a welcome respite from our busy lives in Southern New Hampshire.
During the summer, performances are held outside in the meadow, where attendees spread out in their own lawn chairs or blankets, while, in the winter, things shift inside to a rustic barn that holds just shy of 100 people situated in folding chairs. Either way, you are assured of being within almost whispering distance of exceedingly talented artists with a national reputation.
The Word Barn – The Venue and Recent Performances
The Word Barn sits slightly above the main road in a rural area outside of Exeter (see also 'Things To Do In Exeter NH'). It's an unassuming property and you kind of circle around the barn until someone directs you to a grassy parking lot. It's truly a family business, as Ben and Sarah Anderson, not to mention their children, all have a role to play; from directing traffic, to serving lemonade, to introducing the performers.
The scene has the warmth and immediacy of a house concert, albeit one that is overseen with a professional touch. I was not surprised to learn that Ben has experience running music festivals and Sarah is a poet that holds writing workshops. The first performance we caught was a slideshow by Jay Blakesburg, the renowned Grateful Dead photographer. Jay's photos have appeared on the cover of Rolling Stone and other national publications, as well as been featured in best selling books, such as the recent memoir by Bill Kreutzmann, the Grateful Dead drummer. As we relaxed in the meadow during a gorgeous June evening, Jay told one riveting story after another, including a hilarious tale about Neil Young.
Jay recounted how he spent hours trying to motivate Neil to pose for a photo by his vintage car, including waiting patiently for several hours while Neil rested among the nearby wildflowers. Ultimately, Jay was successful, as he proved to be in capturing iconic shots of Jerry Garcia, Robert Plant and countless other legends.
More recently, we also attended a concert by The Samples. Despite it being overcast and slightly damp, the band was in good form and thrilled to be performing outside in New Hampshire. We also enjoyed the opening act, Ambulate as Tolerated, which consists of faculty members from Berwick Academy in Maine. They were a high energy act that performed a number of covers, including a gem by Gillian Welch.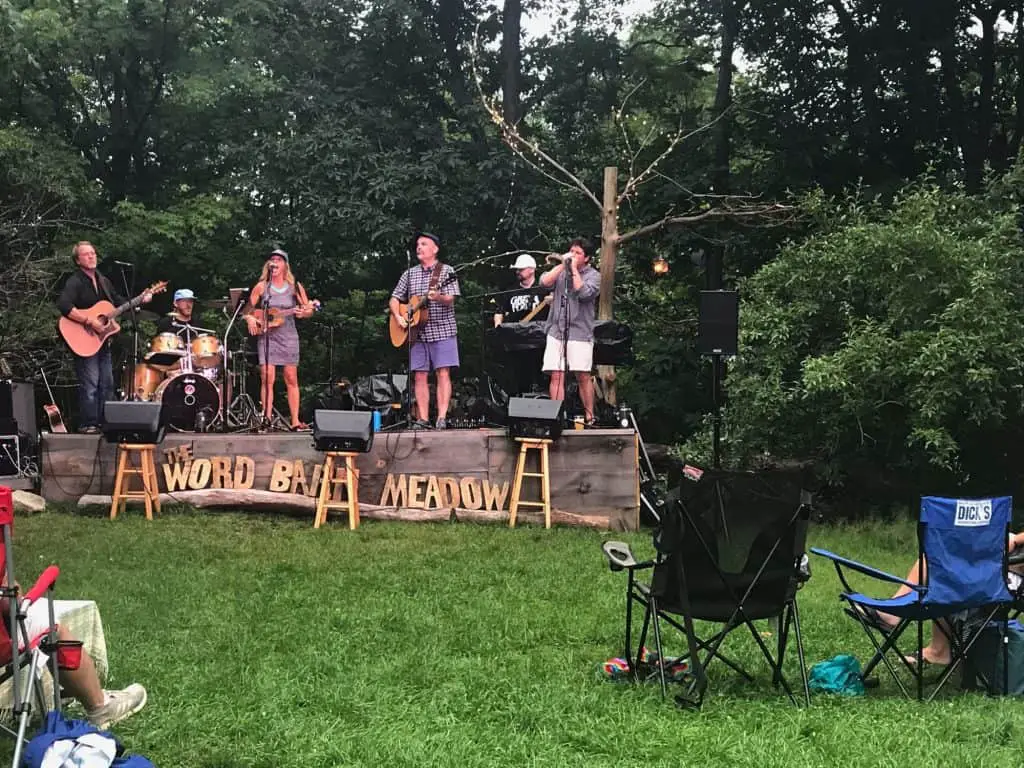 Food and Beverages at The Word Barn
Fortunately, during some of its events, the Word Barn hosts the Up Street Food Truck, which specializes in New England comfort food. "Doors' open one hour before show time so that attendees have an opportunity to grab a bite before performances. Before the recent show by The Samples, my wife and I each had a burger; mine was a specialty "NH Cowboy Burger" with bacon, cheese, bbq sauce and an onion ring on top, while my wife's burger was topped with some fresh vegetables. To each their own I suppose!
The food truck also offers chicken tenders, hot dogs, specialty fries, seafood and other delicious fare depending on the particular day. The Word Barn also offers a number of New England craft beers, hard cider, wine, seltzers and non-alcoholic beverages, including sodas and tasty lemonade. Finally, there is an option to order a poke bowl from Ohana Kitchen in advance of the show and have it waiting for you at the bar.
Upcoming Shows at The Word Barn
The Word Barn has an exciting lineup planned for the Summer and Fall of 2021, including a performance by the Adam Ezra Group on August 15th, Barnstar! on September 17th and Damien Jurado on October 8th. For additional shows, check out the lineup at thewordbarn.com
Getting To The Word Barn in Exeter NH
The Word Barn is located at 66 Newfields Road in Exeter, across from a giant red barn. There are two parking areas; once you enter the main driveway, one of the family members will direct you to the appropriate spot.