New Hampshire is a New England State which is rich in history, as it is one of the 13 original states of America. New Hampshire is home to the White Mountain National Forest. It has a small coastline, but it is also home to some stunning lakes. The Lakes in New Hampshire are one of the many things NH is known for!
Whether you enjoy walking or cycling to take in the scenery of the lake, or you want to get out onto the water to swim or kayak, there are plenty of lakes in New Hampshire that are worth a visit. 
If you want to take a trip to a New Hampshire lake but you aren't sure where to go then don't worry. We have put together this list of the best lakes in New Hampshire to guide you. Keep reading to plan your next lake trip. 
The Best Lakes In New Hampshire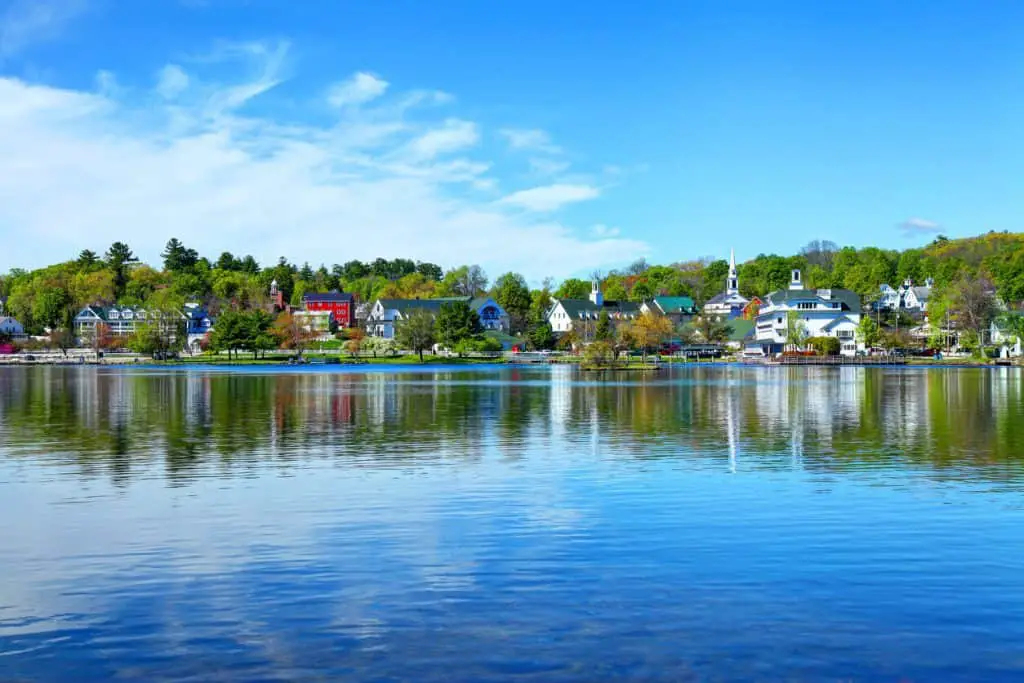 Lake Winnipesaukee 
This is the largest lake in the state of New Hampshire. Its surface area is 180 square kilometers and it has 463 kilometers of shoreline. At its deepest point the lake is 180 feet deep. The lake can be found in central New Hampshire and is a popular holiday spot for families. 
If you are looking for a developed area of the lake to enjoy with your family then head to the Western shoreline. Here you will find Weirs Beach.
There are playgrounds, picnic tables, a boat launch and a big area of shoreline that is covered by a lifeguard. This is the perfect place to enjoy the scenery if you have small children and get out onto the water in a safe way. Parents love Weirs Beach as there are a lot of family-friendly activities like the Arcade & food on the boardwalk, the Winnipesaukee Scenic Railroad, book a cruise on the M/S Mount Washington, or catch a movie at the old-fashioned Weirs Drive-In.
If you are looking for something a bit more peaceful, perhaps a couple's getaway, try Meredith. It boasts some fantastic hotels like Church Landing at Mill Falls with lakeside restaurants, perfect for a romantic date. Some of my favorite restaurants include the Lakehouse Grille, Lago, and late-night pizza at Giuseppe's Pizzeria & Ristorante.
There is also a winery in Meredith I love with a wonderful outside deck called Hermit Woods Winery & Deli. If you enjoy wine and want to explore Meredith definitely plan a visit! If you are a beer enthusiast check out Twin Barns Brewery in Meredith right up the hill
There are also upmarket shops and art galleries to explore. 
If swimming is your priority then the best place to go is Wolfeboro. There are fewer facilities, but plenty of ideal swimming spots to enjoy.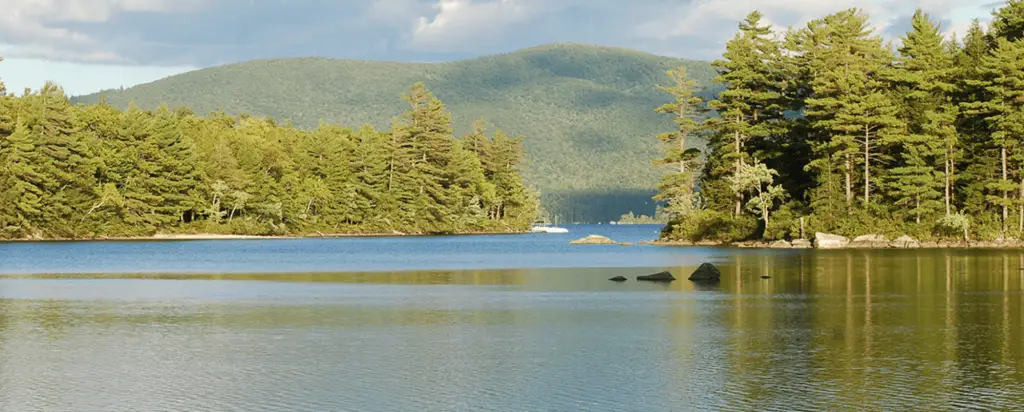 Squam Lake 
Squam Lake is also in the central region of New Hampshire, South of the White Mountains. It is 27.48 kilometers squared in surface area, and it is much quieter than Lake Winnipesaukee. The cottages that line that shore are tucked away, nestled in the trees, so from the water the area looks almost uninhabited. 
There are plenty of excellent hiking trails which allow you to see the lake from lots of different angles and enjoy the fantastic scenery.
One of the trails takes you up to the summit of Mount Fayal, giving you an aerial view of the lake. If you want to learn more about the local wildlife, book yourself onto the naturalist cruise which is operated by the science center. You could also visit the Kirkwood gardens where you will be able to spot lots of different species of butterflies and birds.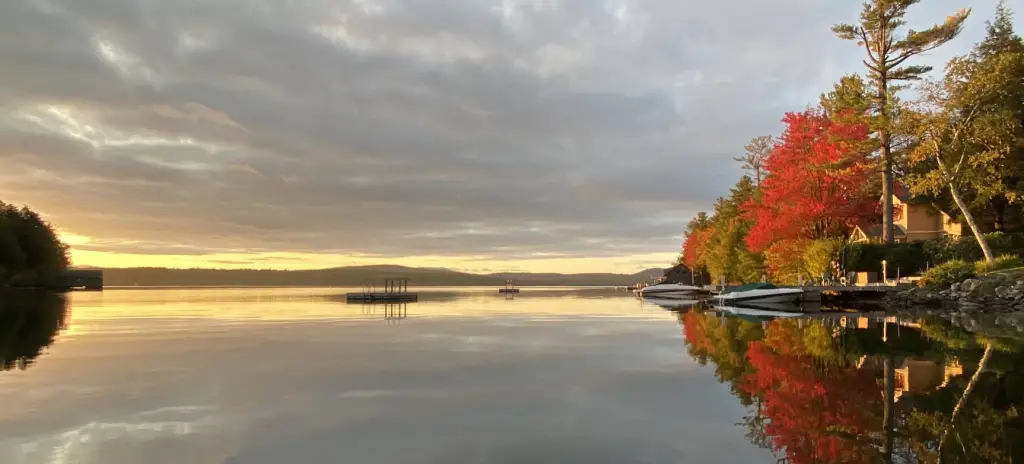 Lake Sunapee 
Lake Sunapee is the fifth largest lake in New Hampshire and is located in the West of the state beneath Mount Sunapee. It is a large lake and at its deepest point it is 112 feet deep.
The shoreline is 110 kilometers long and boasts picturesque white sandy beaches. You can settle down on a picnic table to enjoy the view, or rent a kayak and get out onto the water. 
If you want to stay by the lake there are a range of camping grounds to choose from, a selection of exclusive cottages, or some resort hotels.
If you want to see Lake Sunapee from the water and don't have your own boat you can book a cruise on the M.V. Mount Sunapee. They have dinner boat cruises, 4th of July fireworks cruises, and you can even book it for a private event (like the Wedding engagement cruise I went on with some friends that got married in New London NH).
If you love gardens, make sure you visit The Fells Estate. This summer mansion is surrounded by beautiful walled gardens and a Japanese rock garden. You could also book a sunset cruise of the lake on a replica Victorian steam boat to take in some of the stunning scenery. 
If you are looking for some food and drinks stop by The Anchorage right on Lake Sunapee for great food and live entertainment too.
Lake Sunapee is in close proximity to New London NH so when I was a student at Colby Sawyer College my friends and I would go visit this beautiful lake as often as we could!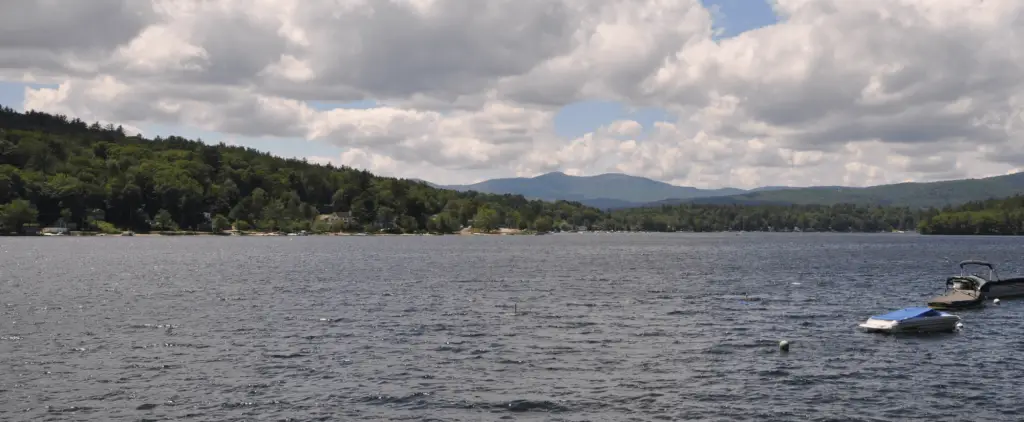 Newfound Lake 
Newfound Lake in central New Hampshire is known for its beautifully clean water. The lake is fed by 8 natural springs and some have claimed it is one of the cleanest lakes in New Hampshire, possibly even the world. Although it is not the largest lake in the state it is certainly one of the deepest with its max depth being 183 feet. It has over 35 kilometers of shoreline, but there is very little development which makes it the perfect spot for nature lovers. 
On the Southern shore of Newfound Lake is the Wellington State Park with a stunning beach. The sand is shaded by tall pine trees, and from the shore you have fantastic views across the water.
You swim there, launch your boat, enjoy a picnic, or use the bathouse to take a hot shower. There is also a lifeguard on duty throughout the summer so it is a good place for families to enjoy the water. 
If you want to learn more about the local wildlife and maybe rent a kayak or canoe to get out onto the water, then head to the Northern shoreline. Here you will find the Newfound Audubon Center which offers guided nature trails with ecologists both on and off the water. 
If you are looking for a great meal check out The Big Catch for a lobster roll or a steak at the Ledge Water Steakhouse.
Lake Umbagog 
Lake Umbagog is located North of the White Mountains and it stretches across into Maine. If you love water sports like paddle boarding, canoeing and kayaking then this is the ideal spot for you.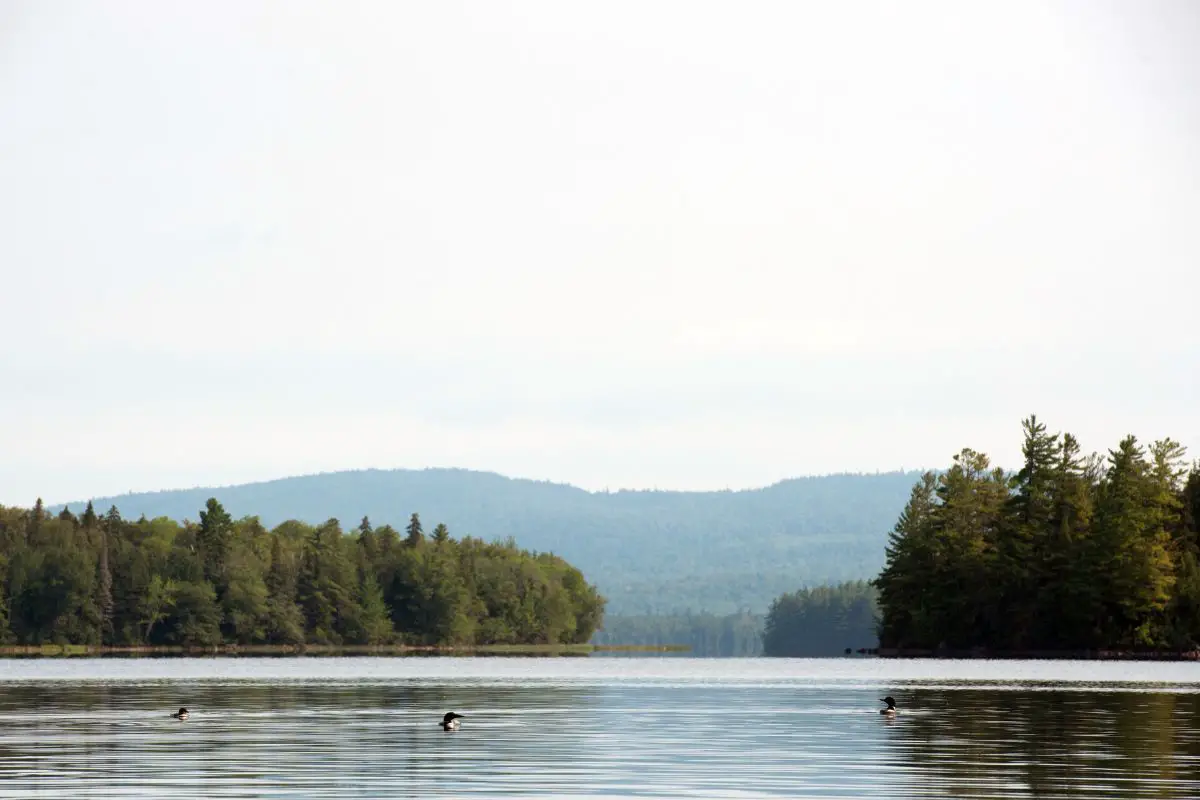 There are multiple camp grounds along the shoreline, some of which you can paddle right up to. 
The campsites are spread out so it still feels remote and peaceful. Aside from the camping grounds there is little development on the shoreline of the lake so you can expect to see a lot of wildlife.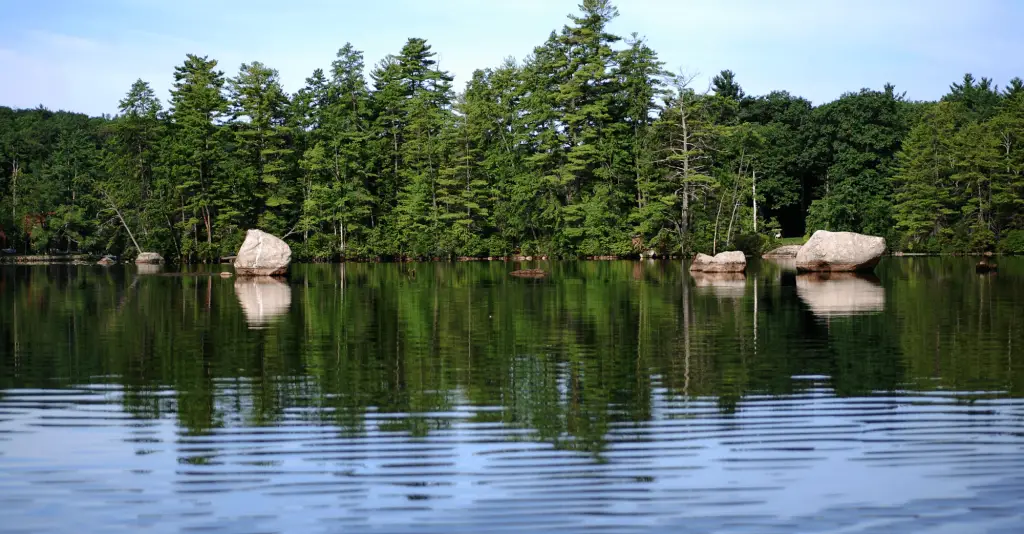 Pawtuckaway Lake 
This is a small lake in Rockingham County about 22 miles Northeast of Manchester NH.This lake in the South East of New Hampshire began as a natural pond, but it was made much bigger when dams were installed. It was officially known as a pond until it was dammed up and enlarged into a lake.  Even though it is much larger than the original Pawtuckaway Pond it still is only has a depth of 50 feet.  This body of water makes up the entire west end of Pawtuckaway State Park.   This lake is part of a 784 acre reservoir and is located in Nottingham NH.
It is right next to a very impressive boulder field which you might like to visit. There are plenty of places to rent kayaks and canoes so you can get out onto the water and explore. Keep an eye out for beavers and herons, and other local wildlife. There is a selection of campsites to choose from which overlook the lake.  Pawtuckaway Lake is a very popular spot for fishing, boating, and camping.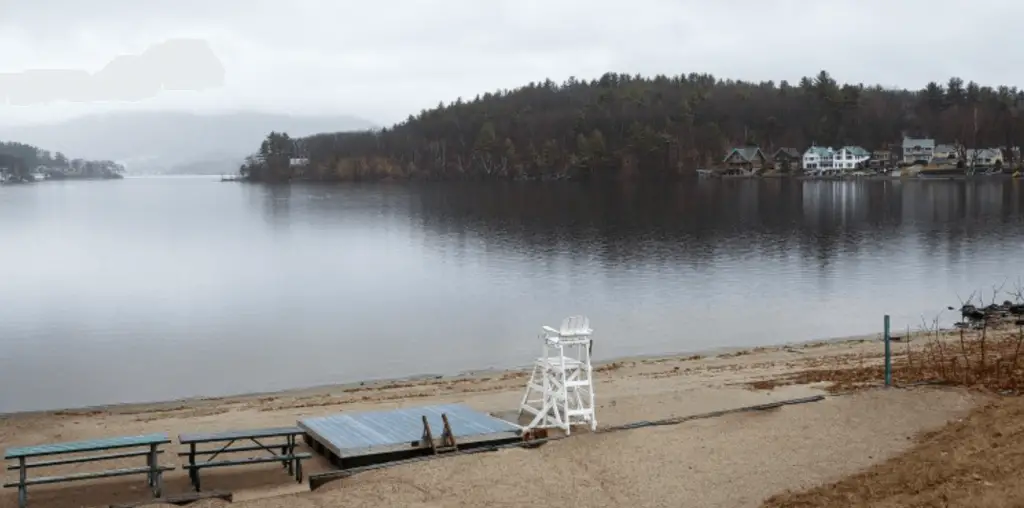 Mascoma Lake
In Western New Hampshire many enjoy spending time at Mascoma Lake. Most of the lake resides in Enfield NH but a small portion is in neighboring Lebanon NH. Mascoma Lake is 1,158-acre lake and a favorite destination for boaters, fisherman, and some NH sailing clubs too. There is a beach with public parking that many residents looking to cool off in the Summer take advantage of (fun fact, when I was a high school student I used to Life guard at that beach!).
Mascoma Lake isn't as busy as a Lake Sunapee or Lake Winnipesauke but it has plenty to offer your family for a day of entertainment. The boat launch at Mascoma on a sunny Summer day is usually pretty busy but there is ample parking to park your vehicle and trailer after unloading your boat.
There is also the Baited Hook restaurant which serves up great food and drinks with their lakeside restaurant.

Lake Francis
If you enjoy fishing, kayaking, and the beauty of nature, then take a long road trip to northern New Hampshire and visit Lake Francis in Pittsburg New Hampshire. There is a Lake Francis state park that many visit ever Summer to enjoy a quieter time on the water. This is a 2,000 acre lake and it has a boat launch where you can put your boat in.
On occasions I have driven by this beautiful lake I have seen kayakers and many avid anglers dropping a line in the water to try to catch Trout, Bass, and other fish that populate these waters.
You may be lucky enough to see a Moose or some other wildlife on your trip to
How Many Lakes In New Hampshire?
New Hampshire has 944 lakes in the state that thousands of people enjoy. Many of these lakes are smaller lakes like Echo Lake in North Conway or Crystal Lake in Enfield NH but these adorable quiet lakes are perfect for them. Echo Lake is a popular lake for people driving through Northern New Hampshire and looking to take in some of its natural beauty.
Lakeside houses throughout the state rarely become available but when they do they are sold very quickly so act fast if you are in the market.
Final Thoughts – The Best Lakes In New Hampshire
There are plenty of amazing lakes to explore in New Hampshire, but these are some of the best. Whether you want a family holiday, a romantic break, water sports or nature trails, there is something for everyone.
Looking for more things to do in New Hampshire? Check out these guides below:
New Hampshire Breweries to visit
New Hampshire Vineyards to visit
Great restaurants in New Hampshire