You know what? There are so many great things to see and do in Lincoln, that it can be pretty hard to whittle it down to just a few if you only get to be there for a short length of time.
And for that reason, I've done the hard work for you of isolating the best activities to really make the most of your stay. I'm going to give you a quick run through of the best things you can get up to while you're there, and I'll leave you to cherry-pick your favorites.
Please feel free to scroll ahead to any section that jumps out at you. Here goes!
(The following places and activities are not listed in any particular order.)
No matter what time of year you travel to Lincoln, you will always find something fun to do at Loon Mountain Resort.
In the spring and summer you've got zipline thrills, mountain bike trails, beautiful glacial lakes and rushing waterfalls. And there's New Hampshire's longest scenic gondola sky ride, as well as wall climbing and a bungee trampoline.
You can find out more about their summer activities on this link.
While in the winter months, you can take advantage of over 60 different ski and snowboarding trails, with its large 370 ski-able acres, offering snow tubing, snowshoeing, and more.
You can find out more about their winter activities on this link.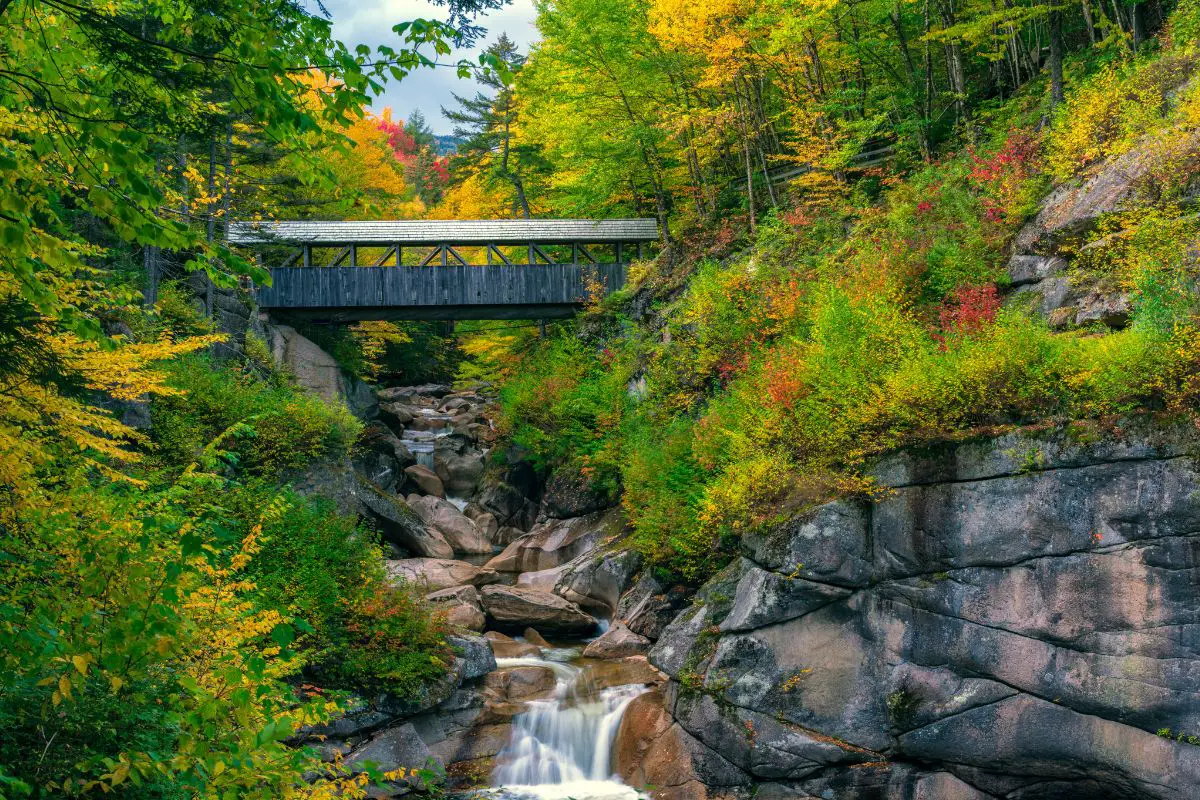 In the steep-cut slopes of Franconia Notch State Park, there's a huge 80-foot deep canyon carved into the rock known as Flume Gorge. And it's such a great sight!
Flume Gorge forms part of a two-mile walk that starts and finishes at the Flume Building. It does require some uphill walking and stairs, but most people should be able to manage it, though the ground can be slippery in places.
It's a really pretty area, with the likes of Avalanche Falls and a beautiful cascading mountain stream known as the Liberty Gorge Cascade.
And the family can even take part in a fun Flume Gorge Scavenger hunt (provided you bring your own pen).
If you decide to go, you can save money by buying your tickets in advance through the park's website, just click on the link provided. And the website also lays out the Gorge's long and detailed history.
There are few sights as awe-inspiring as Lincoln's Ice Castles – a magical wonderland of an attraction, built with literally hundreds of thousands of icicles by professional ice artists.
There you will see breathtaking LED-lit sculptures, frozen thrones and fountains, ice-carved crawl tunnels, and even exhilarating ice slides to whiz down! There's a beautiful mystic forest light walk, snow tubing through a wooded trail, and even sleigh rides, too.
The only drawback to this attraction is that it's only available in winter time, and it's very much weather dependent.
You will find directions to the attraction on the link provided, and access answers to the attraction's most frequently asked questions.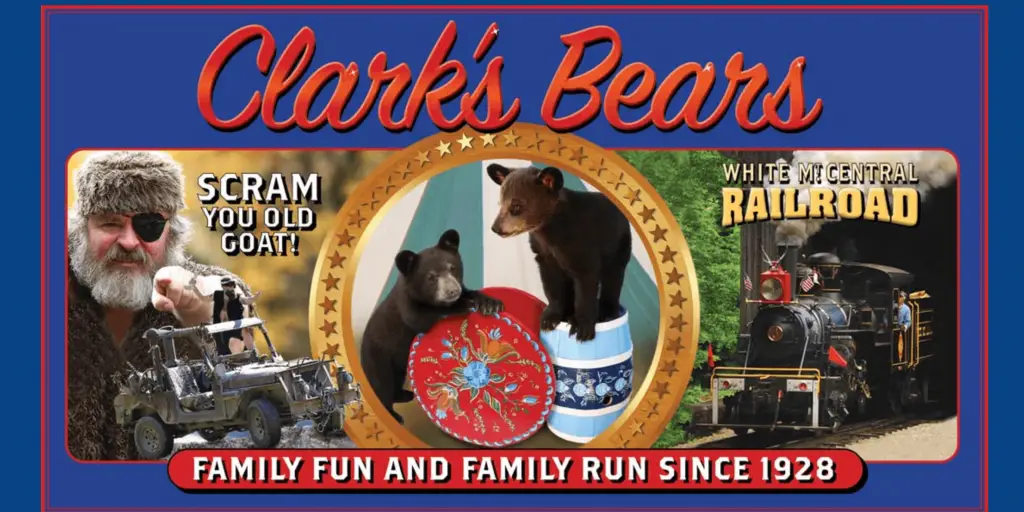 Clark's Bears (formerly known as Clark's Trading Post) is a wonderful family attraction where you can see real bears, and even feed them! It's also home to the White Mountain Central Railroad, where you may get chased by the Infamous Wolfman!
There are water blaster boats, a climbing tower, and a huge speedy water raft ride with 300 feet of twists and turns.
There's also a string of museums to check out on main street, and kids get the chance to make their very own candles, stuffed animals, and Christmas ornaments. And they get to mine for fossils and gemstones while they're there.
And if you come at the right time of year, you may even get to check out the Yandong Chinese Acrobats in all their glory.
You can check out admission prices and hours on their website using the link provided.
In the winter, Cannon Mountain is a firm favorite among skiers, thanks to its 97 ski trails and slopes for all levels of ability.
And the mountain's very own aerial tramway allows you to take in all the sights and scenery as you ascend to the summit, which reaches its peak at a very high 4,080 feet.
And in addition to the tram ride itself, you can also enjoy walking the trail to the summit observation tower or other walking paths. As well as checking out the New England Ski Museum, located near the base of the tramway.

Kids just love a good old water park, and many adults do too, and Whale's Tale has everything you could want in a water park.
There are of course some exhilarating twirling slides to enjoy, and a beach-like wave pool for splashing around in. But it's also home to the steepest vertical drop in the industry with its ride Poseidon's Voyage.
Another very unique attraction there is a ride called The Eye of the Storm. After traveling down a dark, enclosed tube at an angle, riders are thrust into the light as they enter the "Eye of the Storm" at speeds of up to 35mph.
Riders are then rotated around the sloped bowl until an inevitable 4-foot drop is taken into the pool below.
There's also Shipwreck Island, which is kinda an adventure playground on water.
You could even go surfing! Or if you just want to chill, why not head over to Jonah's Escape, which is their lazy river, passing under a bridge and past pretty waterfalls.
What's more, the park allows you to bring your own coolers and offers free parking. You can book your tickets via their website, using the link provided. And from there you can also get directions.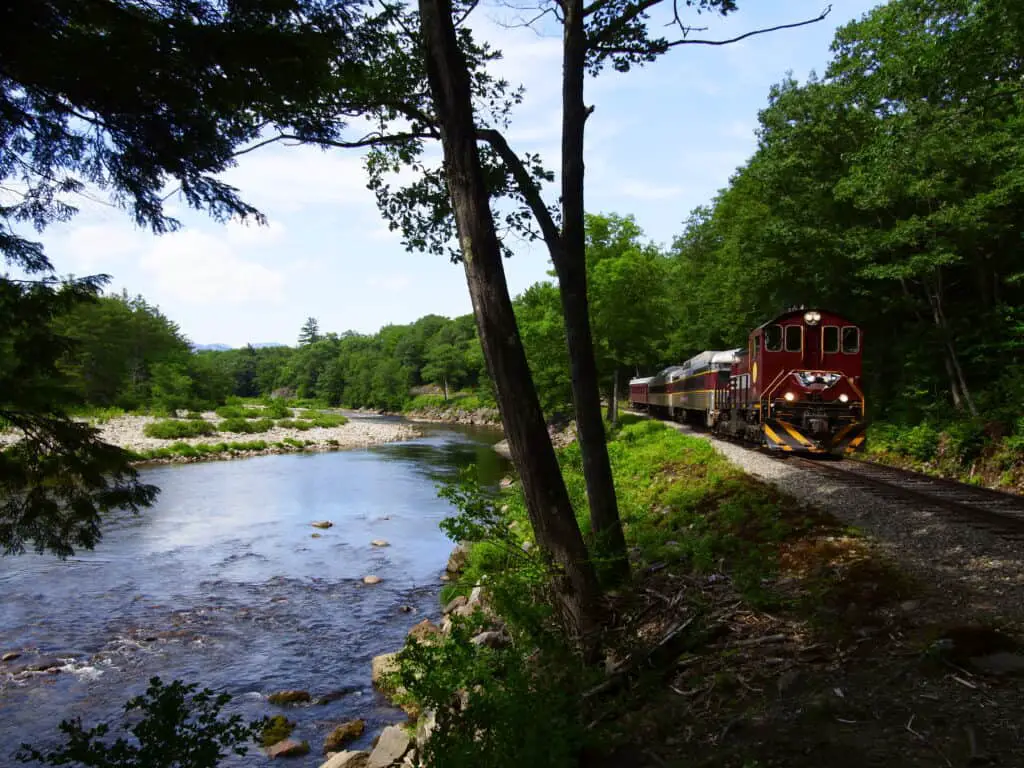 A wonderful family attraction to also consider is the Hobo Railroad in Lincoln NH. They offer seasonal train rides from their station in Lincoln. I have visited the Hobo Railroad on many occasions and loved it every time. It is especially wonderful to visit during the Fall season in New Hampshire.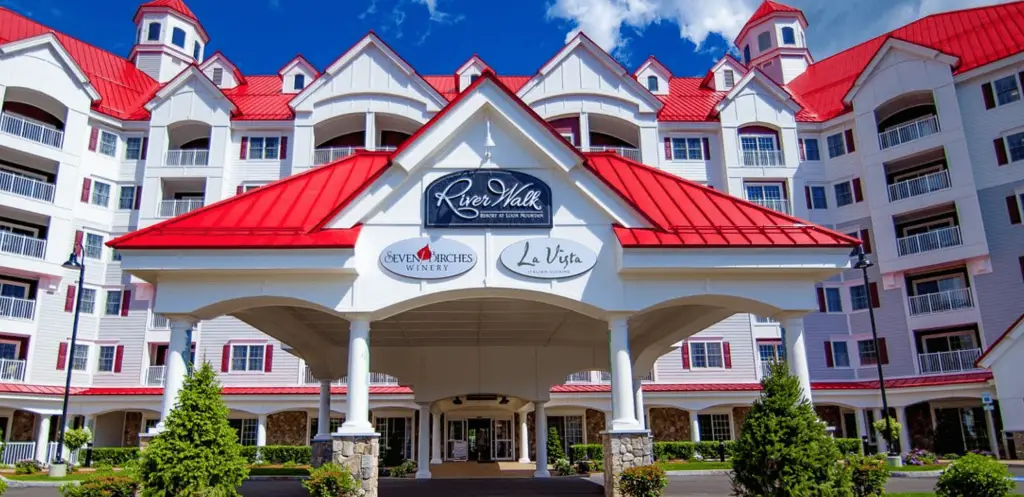 Another great thing to do in Lincoln NH is to visit the Seven Birches Winery in Lincoln NH. The wine makers at Seven Birches makes some wonderful local New Hampshire wines you simply must try!
Wrap Up – What to do in Lincoln NH
I hope you've enjoyed reading through my favorite things to do at Lincoln, and I bet that you've spotted something that's taken your fancy. With all this available, you cannot say no to a trip to Lincoln!