Are you looking to tour New Hampshire with a bird's eye view from a Helicopter? Here are some of the helicopter companies where you can book a chartered flight to see New Hampshire from a new perspective.  My family and I recently booked a NH helicopter flight with CR Helicopter out of Nashua NH and it was a fun experience I highly recommend!  
Whether you are looking for a scenic White Mountain helicopter tour to see the NH Fall Foliage or just go for a sky bound adventure somewhere else in the state these companies can help make that happen.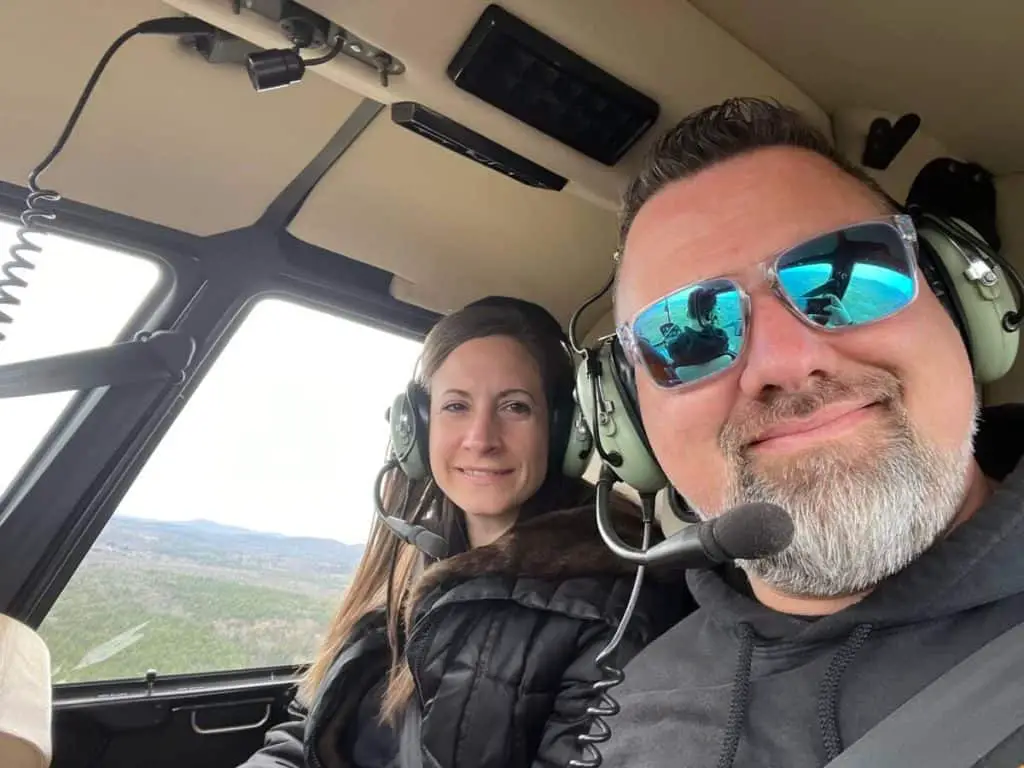 Below you will find some of the helicopter companies in NH:
Vertical Ventures Aviation
Prepare yourself for an unforgettable thrill when you book a NH helicopter tour with Vertical Ventures Aviation. You can book a chartered flight with their team of experienced helicopters pilots and and take in the beautiful views of the Granite state from the cab of a helicopter.  
You can book a helicopter ride over the White Mountains of NH, soar over the Presidential Mountain Range, or even take in an amazing view of Franconia Notch.  Your chartered helicopter flight is something you will never forget and will become a treasured memory for you and your loved ones! 
You can learn more about Vertical Ventures Aviation here:  
https://flyvva.com/
5 Airport Road
Whitefield, NH 03598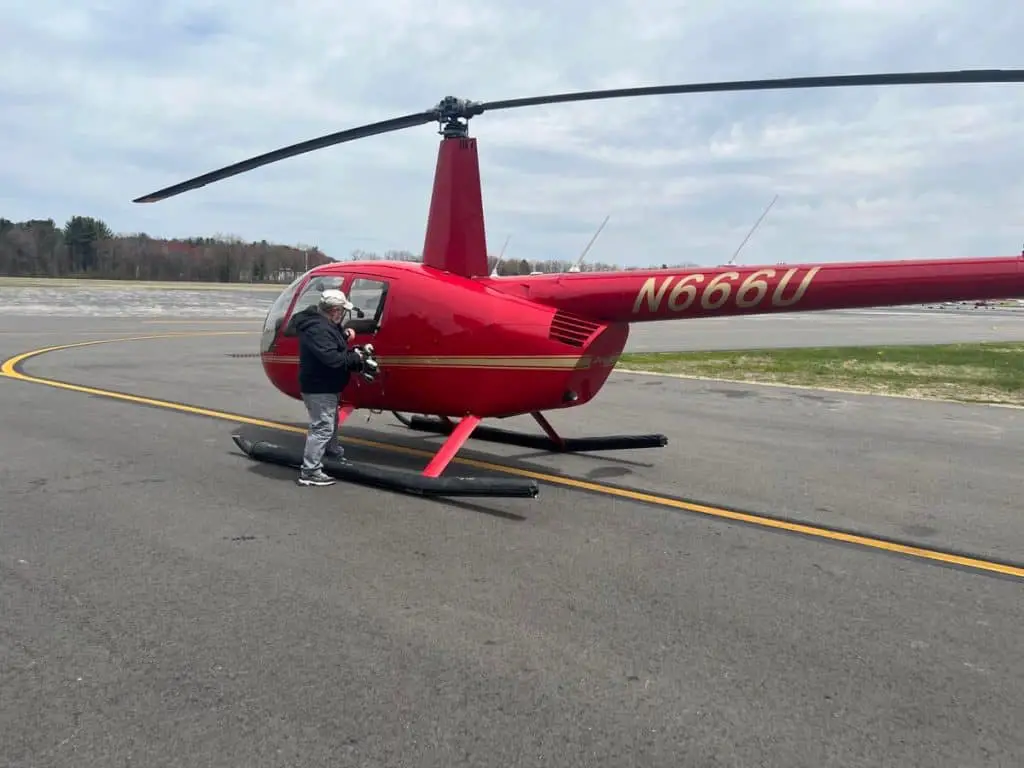 C-R Helicopters
My Fiancé treated me to a Father's Day surprise with a chartered trip with helicopter pilot Bob Cloudier of C-R helicopters.  We took off from Nashua Airport and spent 30 minutes flying around Southern New Hampshire seeing our beautiful state from a bird's eye view!  It was an awesome experience and Bob was a great tour guide sharing stories and pointing out landmarks below.  I would definitely recommend flying with CR Helicopters!  
You can learn more about C-R Helicopters below:  
https://crhelicopters.com
111 Perimeter Rd G, 
Nashua, NH 03063
Monadnock Aviation
With Monadnock Aviation helicopter tours you can experience the beauty of New England from the cab of a helicopter with one of their "Photo Rides." These are especially wonderful to experience during Fall Foliage season when the trees in New Hampshire are ablaze with an array of bright colors.  They offer shorter flights over Keene NH or longer helicopter flights over the entire region of NH.  
It could be a great opportunity to take a picture of your house from up above, see the NH Mountains from a new perspective, and tour the many lakes and rivers NH has to offer.  
You can learn more about Monadnock Aviation here:
https://www.monadnockaviation.com/
80 Airport Road
Keene, NH 03431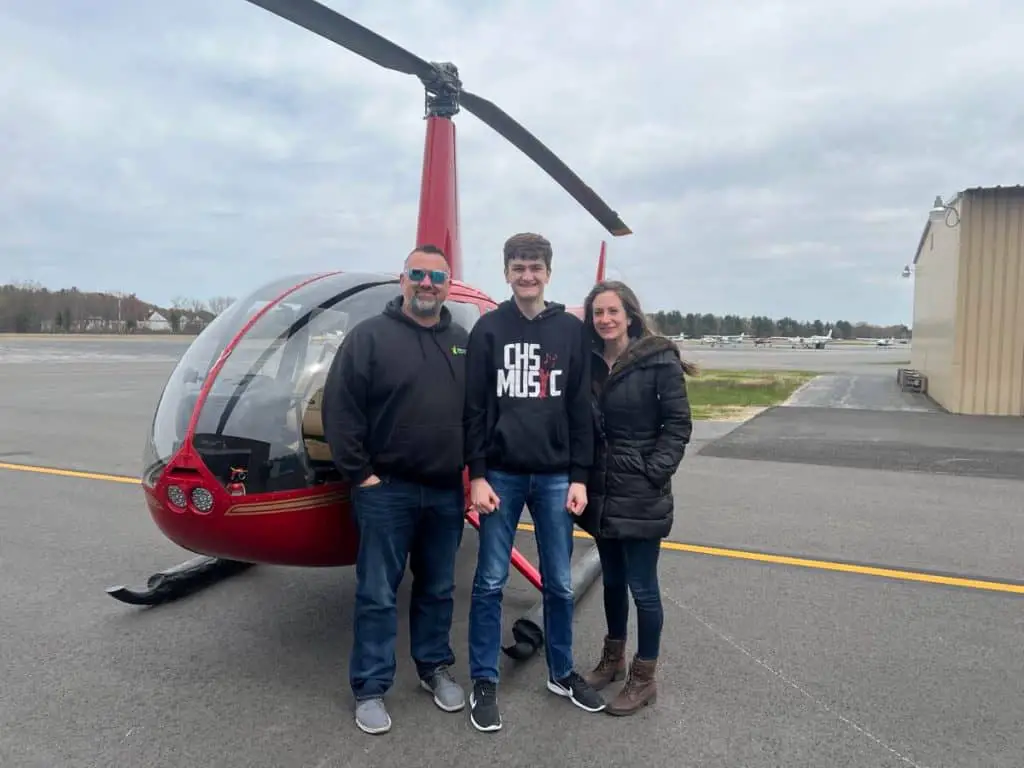 Final Thoughts – NH Helicopter Tours
I will never forget the helicopter tour my family treated me too and I recommend adding this to your bucket list!  It is a fun experience taking off in a helicopter and seeing the Granite State from a new perspective.  Safe flying!  
For more things to do in New Hampshire visit here!