Lincoln NH – For almost 40 years I've loved visiting Franconia Notch.  And for almost 40 years, I've never been to The Basin.  I didn't think there would be much to look at so we've always prioritized The Flume, The Old Man viewing areas, and hanging out at Echo Lake.  But recently we decided to pay The Basin a visit with our friends and had an awesome time!  We parked in the lot specifically for the Basin and planned to spend about an hour there.  With younger kids, it was perfect.  The trails are all accessible so the stroller our friends needed was able to get around easily.  The older kids (age range 3-7) were able to hike a little way past the Basin and splash around in another pool of water.  It was icy cold, but some people were swimming in it! 
We Were Pleasantly Surprised With Our Visit To The Basin and Put Together a Quick Highlight Video
Here is a video of the tour of the Basin in Franconia Notch.
More About The Basin In Franconia Notch
For hundreds of years adventurous explorers and outdoor lovers have hiked through New Hampshire's White Mountains. The have been rewarded with beautiful waterfalls winding their way through the green canopy of the NH forests. Throughout the years there has been one water feature that has attracted the attention of many.
So What Exactly Is The Basin
The Basin is a 30-foot-wide and 15-foot-deep bowl that has been cut into the rock from the fast-moving water. As simple as that sounds the Basin is a sight to behold. For hundreds of years the Basin has been forming and is constantly churning with cool NH water pouring into it. Looking into the Basin is an impressive sight to see.
Famous Author Henry David Thoreau About The Basin
When Henry David Thoreau saw the Basin for the first time in 1839 he is known to have stated, "perhaps the most remarkable curiosity of its kind in New England." We agree completely!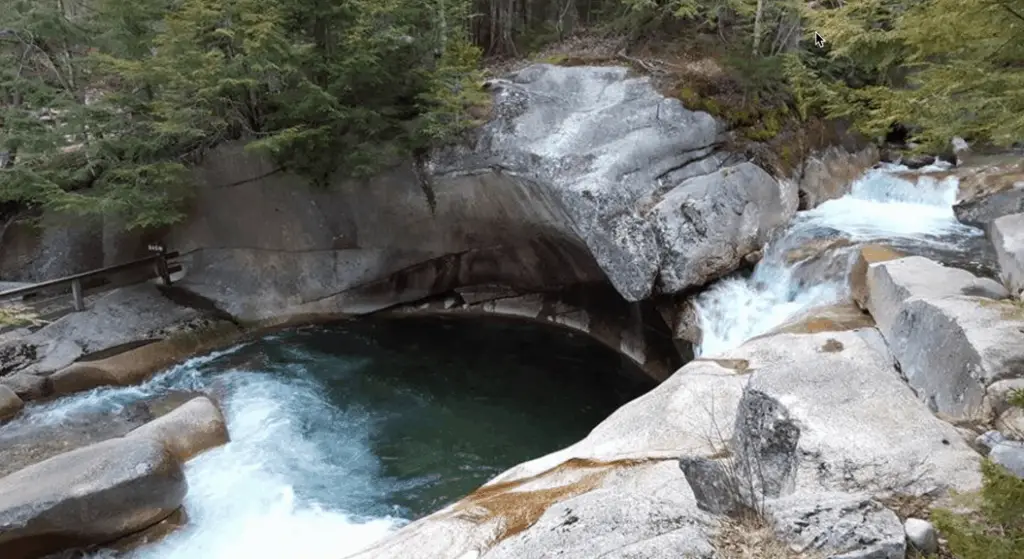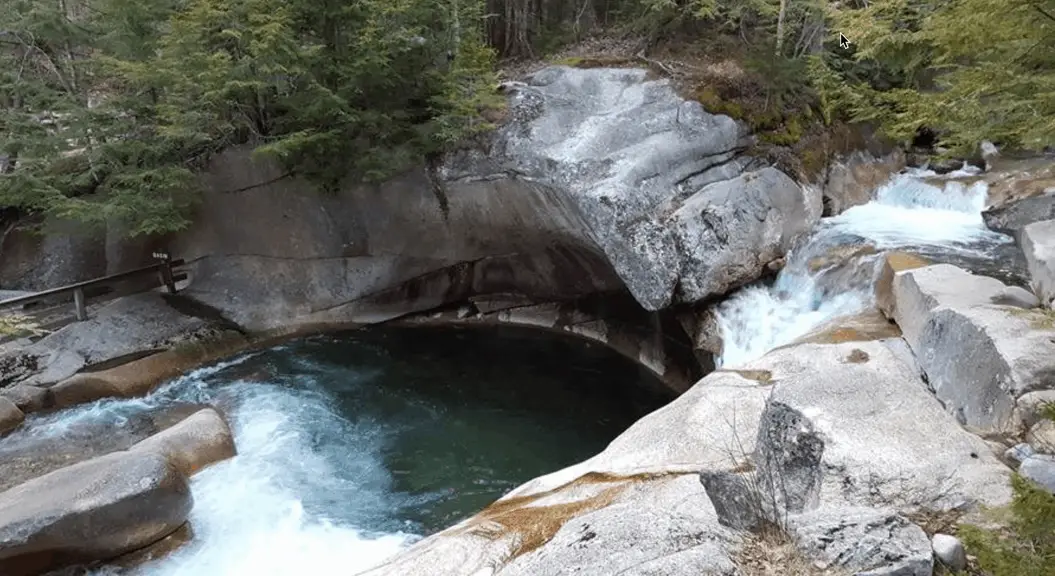 Here's Another Video Of The Basin Showing The Beauty Of This Natural Treasure
Where To Find The Basin
Parking is accessible in both directions via exit 34A off I-93. A gentle, paved hike leads from the parking lot to The Basin itself. The Basin hike is in fact Dog friendly so bring your four-legged companion along if you would like! There are two different viewing areas and one is handicap accessible. The entire hike time to The Basin is only 10 minutes and there is plenty of parking available.
You can find The Basin at:

The Basin
Lincoln, NH 03251