If you are hoping to see a Moose in New Hampshire then Moose Alley in Pittsburg NH is where you need to visit.  Moose Alley NH is one of the best places to see Moose in NH.  It certainly isn't the only place in NH to see a Moose (I have seen them in Enfield NH, Boscawen NH, and some other towns too). 
Many New Hampshire residents and visitors to the State share the desire to see one of these massive animals up close. Moose Alley has been a frequent spot to see these rare sights. If Moose watching in New Hampshire is on your bucket list, then the Moose Alley trail in Pittsburg NH is where you will want to be.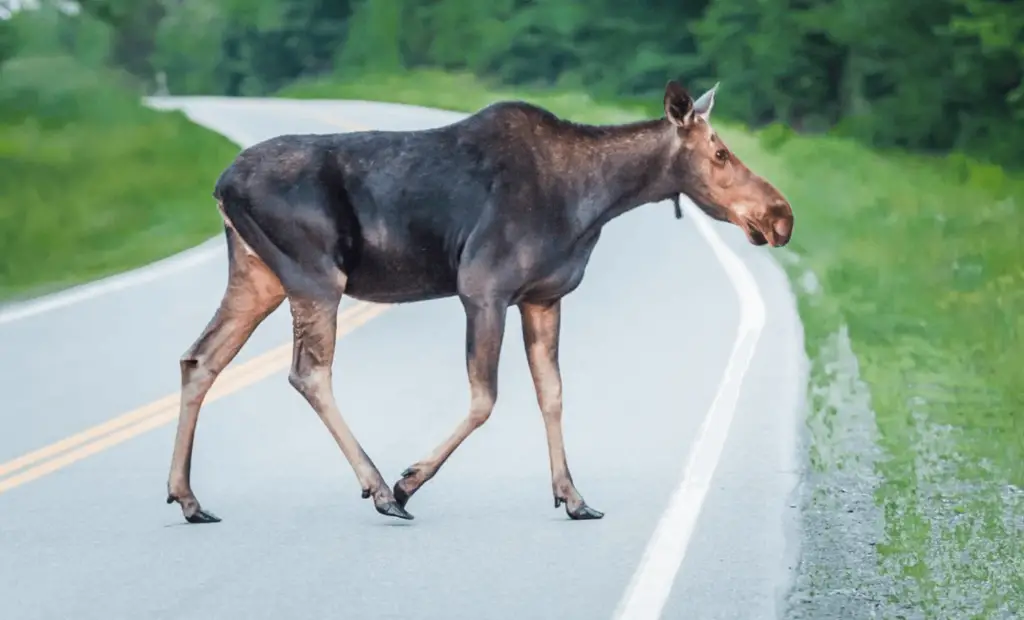 The Best Place To See Moose In New Hampshire – Introducing Moose Alley NH
Moose Alley NH in Pittsburg is your best bet to see a Moose in New Hampshire. The highest concentration of Moose in New Hampshire is in the Great North Woods and Moose Alley is a popular spot to see these massive creatures.   
This part of New Hampshire is the least populated by people, has miles of thick forest, lush marshes, and beautiful rivers.  This makes it a perfect spot for Moose to live and eat.  Along the Route 3 where Moose Alley is located there are roadside marshes, ponds, and rivers which are popular spots for Moose to eat in.  
My family does an annual camping trip in this area of the state and I remember the first time I saw a Moose on this stretch of road.  We were driving down the twisting road of Route 3 in Pittsburg and I saw one of these amazing animals as we came around the bend in the road.  
This giant male bull Moose was in the middle of a pond dipping its head into the water and coming up with a mouth full of vegetation.  The Moose just sat there, content as could be, chewing its meal and staring back at the handful of cars stopped by the side of the road watching this large animal eat.  
Since then, I have seen countless Moose here and it is one of my favorite parts of visiting the North Country of New Hampshire.
What To Know If You Visit Moose Alley NH
Before you make the long road trip to visit Moose Alley there are some things you should know and be aware.  
1. Be Sure To "Brake For Moose"
The average Moose weighs in at 1,000 pounds so you definitely don't want to hit one. Due to their dark colors they are difficult to see at night so if driving at dusk or later at night you will want to use great caution. Moose have very poor eyesight so don't count on them seeing you and choosing to stop and wait patiently by the side of the road as you zoom by.
The eyes of a Moose also don't reflect light at night so you will not see them shining like you will with some animals.
Wear your seatbelt, drive slow through this stretch of road, and be sure to scan the sides of the roads looking for them.
There was one time I was driving at dusk on Moose Alley on the way back from a camping trip and all of a sudden I had a Moose trotting alongside my Jeep Wrangler! The massive beast almost veered right into the passenger side of my vehicle. It was only at the last minute that the Moose realized there was a vehicle there and changed direction.
2. Know The Best Time Of Day To Visit
You are most likely to see a Moose at dawn and dusk as this is when they are most active. As far as the best time of year, between April and November Moose are most active. In the Fall they are very active too as it is mating season for Moose so be sure to use caution when navigating the roads during peak foliage in NH.
3. Don't Get Too Close If You Do See a Moose
Moose are not naturally aggressive animals but when they have young with them or feel trapped. I have seen less than intelligent tourists get up close to a Moose and that is not a wise move. Don't be that person.
The safe bet is to appreciate Moose from a safe distance and to never get too close.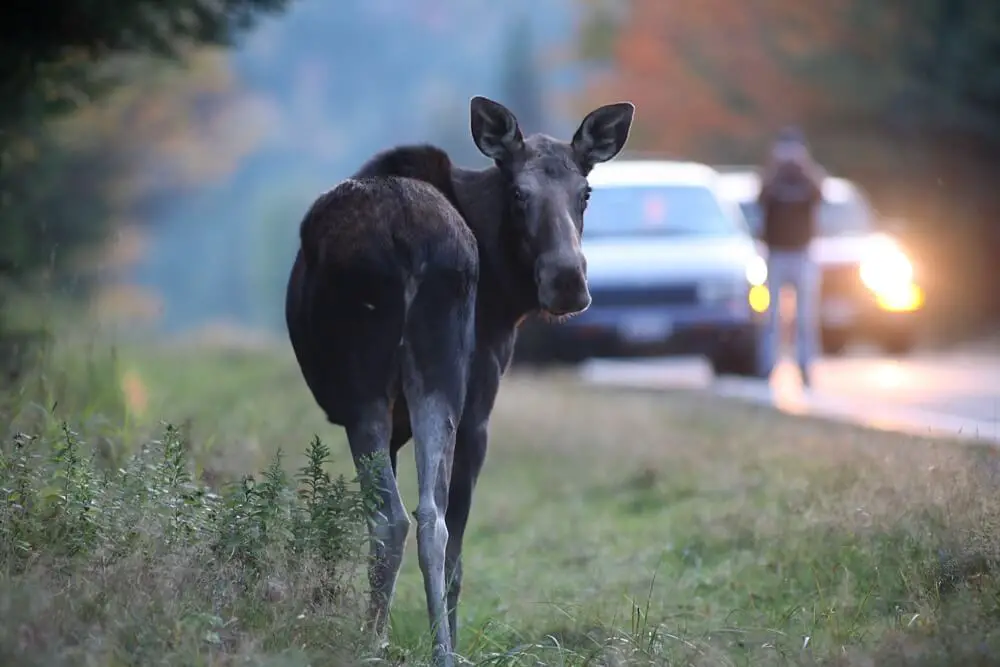 4.  Beware of Traffic and Other Vehicles
When a Moose is seen in Moose Alley NH or anywhere in the state for that matter, a fairly predictable thing will happen. Many passerby's will pull their car over (or stop in the middle of the road), get out of their vehicles, and snap photos or with their phone or cameras.
This can be a dangerous situation so be sure to take caution and keep your whits about you. It only takes one person not paying attention to cause an accident or worse because their eyes are glued to the rare Moose sighting.
Especially be aware of Logging trucks. Logging is a huge industry in Northern NH and the logging trucks pass through that area at all hours of the day and you can imagine the drivers get pretty tired of delays in delivering their cargo because tourists have blocked the road (especially when they experience this day after day).
5.  Understand Your May

Not

See a Moose
For the number of times I have seen a Moose on Moose Alley there have been many more where I didn't see any. Understand Moose are not caged animals waiting for you to drive by and snap a photo of them. They are reclusive and rare animals and your odds of seeing a Moose, even on Moose Alley, are still low so try not to be disappointed.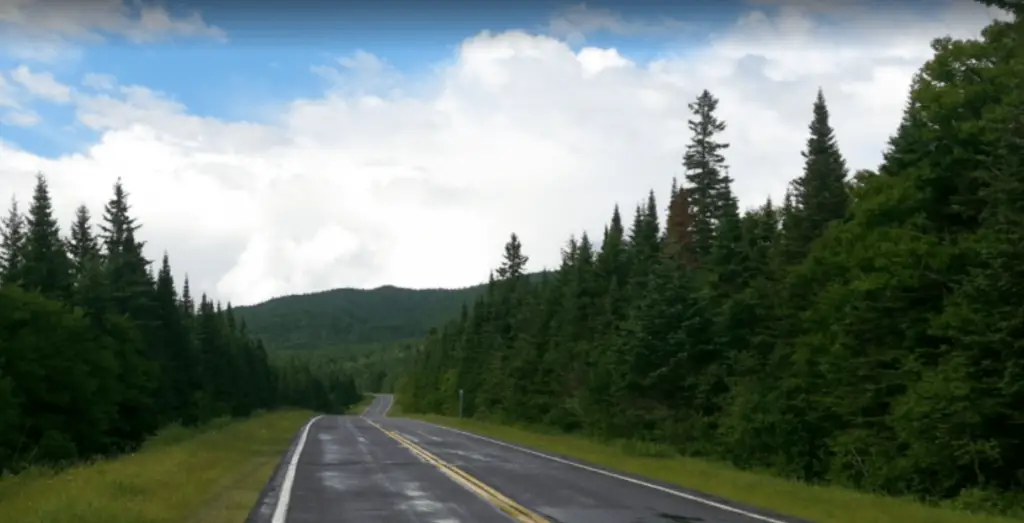 Where To Find Moose Alley In Pittsburg New Hampshire
You can find Moose Alley NH on Route 3 in Pittsburg New Hampshire towards the Canadian border (yes, it's that far North!).  The section of road affectionately named "Moose Alley" covers the last Northern 12 miles of Route 3 in Pittsburg NH.  It is bordered by thick forests, rivers, ponds and swampy areas which are perfect areas for Moose to inhabit.
It is a twisting and winding road so be sure to keep your eyes open as you navigate the road as you never know when you may see some Deer, other wildlife, or even a Moose.
About Moose In New Hampshire
According to New Hampshire Fish and Game, there are approximately 3,300 Moose in the State of New Hampshire. The highest population density of Moose is in the Connecticut Lakes Region (the Northern-most part of New Hampshire). In that area the Moose population density is 1.62 Moose per square mile.
Moose in NH typically stand over six feet tall and weigh anywhere between 600 and well over 1,000 pounds.  Moose are the largest land animals in New Hampshire. Male Moose (called Bulls) can grow impressive antlers and Cows (female Moose) can be identified with the white patch of fur seen under their tail.  
Moose can run up to 35 miles an hour, they are very good swimmers, and can even stay submerged under water for up to 30 seconds.  They can often be seen swimming across lakes and submerging under the surface to scoop up some vegetation for a meal.
Moose are known to have very bad eyesight and are color blind too.  This can be a contributing factor as to why there are so many Moose and Motor Vehicle accidents in New Hampshire.
Moose do have very good hearing however and a great sense of smell to boot.  
Moose are herbivores and only eat vegetation.  According to NH Fish and Game professionals, Moose can eat 25-45 pounds of veggies on a daily basis.  Moose will eat up to 9 times a day to get their daily fill and then spend the rest of their time resting and watching out for predators.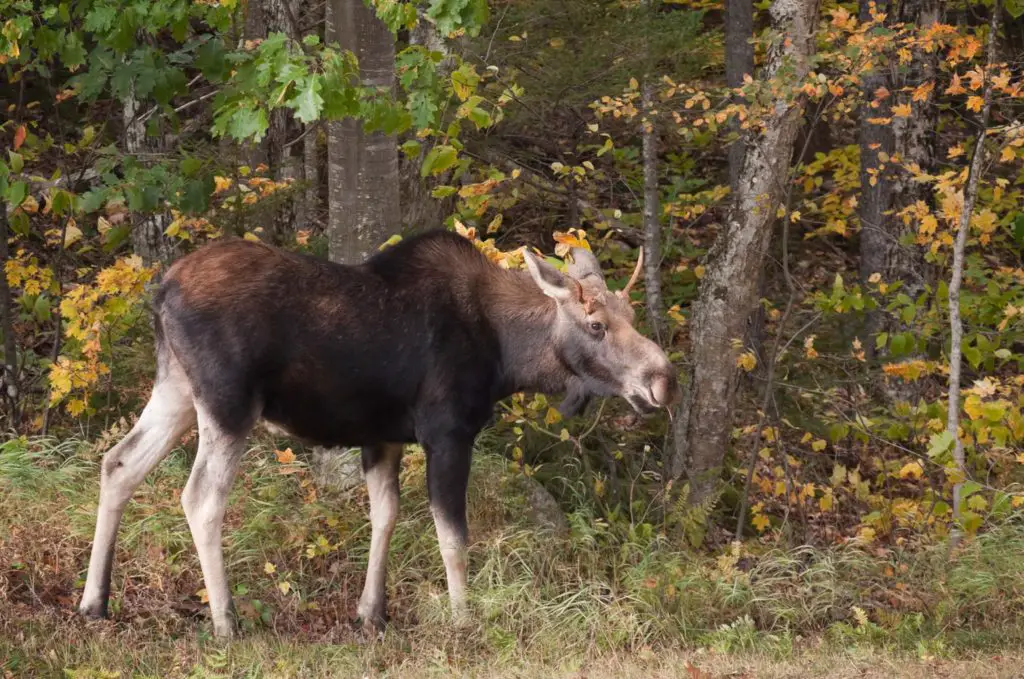 Moose Alley NH FAQ's
Are there Moose in New Hampshire?
Yes, there are 3,300 Moose in New Hampshire. The vast majority of Moose inhabit the Northern part of New Hampshire with the most dense population in the northern-most part of the state.
Where to see Moose in New Hampshire?
Your best chance of seeing a Moose in New Hampshire is in the Northern part of the state and between April and November.
What Is The Best Time of Day To See a Moose in New Hampshire?
The best times of day to see moose are early in the morning or at dusk, while the best time of year is from mid-spring through late June. Moose prefer shady, wet areas such as bogs and marshes so you are most likely to see them in those locations at those times of day.  
Final Thoughts – Moose Alley New Hampshire
Moose watching in New Hampshire is a popular attraction that brings thousands of people to the Northern part of New Hampshire every year. I have seen many Moose on Rt. 3 on Moose Alley in Pittsburg and if you are lucky, time it right, you just might see one too!
While you on Route 3 you may consider stopping in at Moose Alley Cones or Murphy's Steak House for a great meal. Best of luck!  
Other Guides To Look At: