Candy stores aren't just for kids! Adults can have a sweet tooth too, which is much more dangerous as it's less likely someone is keeping an eye on what we're eating.
Whether you're just in New Hampshire for a visit, or you've recently moved to the area there are a number of candy stores that you simply must check out. This handy list features all the information you need to know before heading out. 
Hold on to your hats (and belts) because you'll likely be rushing to the kitchen in search of snacks when you've finished reading this list. Enjoy!
1. Chutters
Chutters is the home to the world's longest candy counter, measuring 112 feet long and containing over 500 different pieces of candy.
Stepping inside this store will make you feel like a little kid again, with so much to look at and take in you won't know where to start. 
As well as candy, Chutters has homemade fudge that is made onsite in dozens of delicious flavors. We all know a friend or family member who gets grumpy when you tell them about some incredible-looking fudge you saw but didn't bring any back for them. Whoops!
If you can't be tempted with a variety of candy or creamy fudge, perhaps you'd prefer some chocolate. Chutters also has a range of homemade chocolates on offer at their store. The selection includes everything you can think of, from caramel-filled pretzels to cappuccino truffles. 
There are three Chutters locations, in Littleton, Bretton Woods and Loon Mountain. However, the Littleton store is the only one open year-round. 
Address: 264 Main Street, Littleton, New Hampshire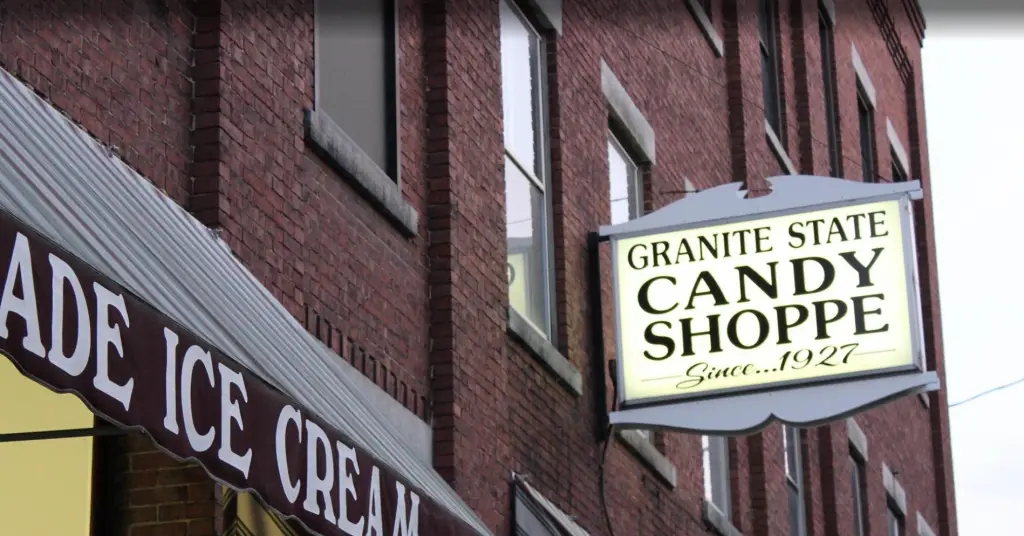 2. Granite State Candy Shoppe
With a striped canopy outside, it's hard to miss this traditional candy store. Granite State Candy Shoppe was established in 1927 and has been run by the same family ever since! Using traditional recipes, it's not hard to see why the store is so popular. 
Today the impressive family business is much more than just candy. Homemade chocolates, nuts and ice cream are available at the store as well as online. Many of their items are seasonal, so calling ahead is advised to ensure you don't miss out on your favorite flavors. 
Whilst tradition is very much maintained at Granite State Candy Shoppe, there are a few modern twists that have found their way onto the menus such as a coffee float. 
Whether you fancy chocolate, candy or a hot waffle cone, taking a trip to this store will never leave you feeling hungry or disappointed. If you want to extend that wonderful vacation feeling, treat yourself to ordering some of their delicacies online!
Address: 13 Warren Street, Concord, New Hampshire
3. Van Otis Chocolates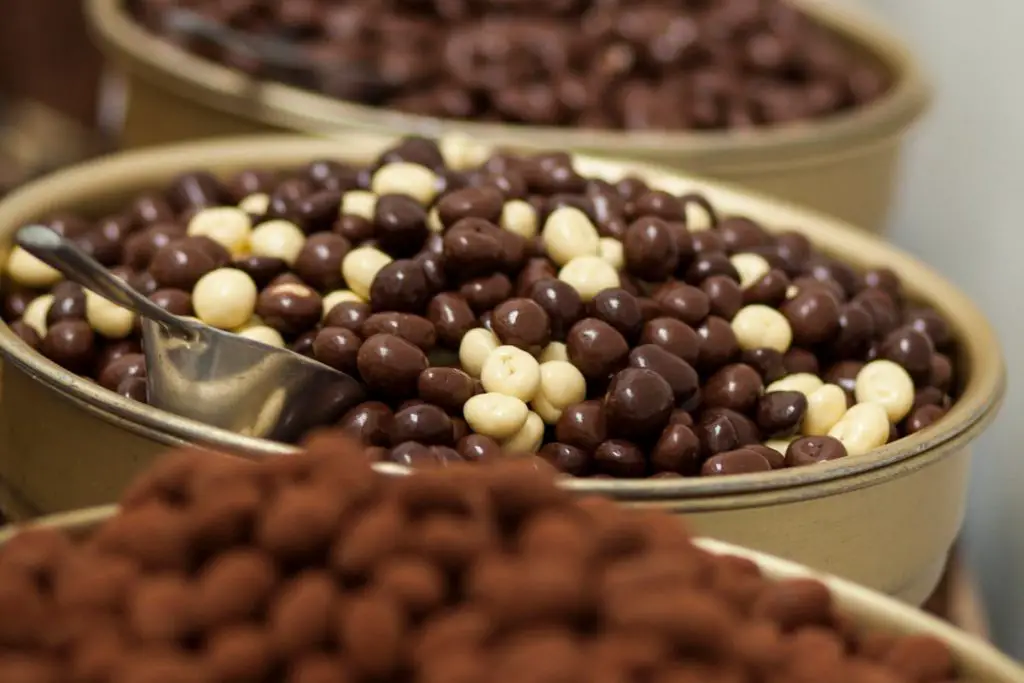 Famous for their iconic handmade Swiss Fudge, Van Otis Chocolates is a must-visit when you're in New Hampshire. The legendary Van Otis Swiss Fudge was created by Evangeline Hasiotis, the founder of the store in 1959; she dedicated her life to perfecting this tasty treat. 
Alongside their incredible fudge, there are a number of chocolate and nut delicacies to choose from. Who doesn't love a seasonal speciality?
Holidays and celebrations are a great excuse to visit Van Otis, as they stock a range of whimsical candies and chocolates that are perfect for gift giving. 
Seasonal products include their famous 'Van Apples' that come in five incredible flavors. These are only available from September through November, so you'll have to time your trip just right to get your hands on these delicious, crunchy apples. 
As their focus is primarily on chocolates and fudge, this is the majority of what to expect when visiting the store. If you're looking for a wider range of candies, there are other stores on the list that are better suited. 
Address: 341 Elm Street, Manchester, New Hampshire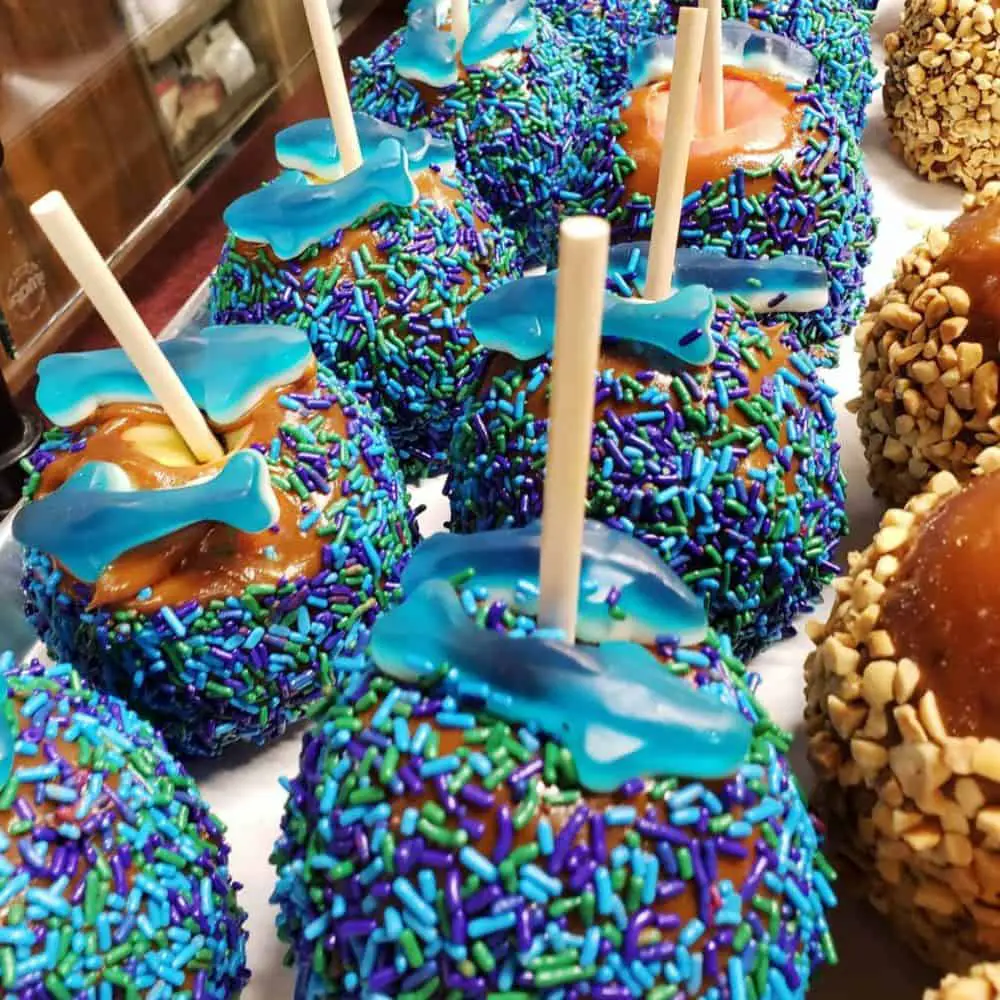 4. Lickee's & Chewy's Candies & Creamery
Are you ready for a trip to the dentist after this? Lickee's and Chewy's is an absolute haven for sweet-toothed visitors. Based in Dover, the name came from military slang which essentially means snacks.
Walking into the Medieval candy kingdom, any adult or child will feel an overwhelming sense of excitement. 
In terms of variety, this store really has it all. From the most incredible milkshakes to outrageous cream pies, there are a number of ice cream and dessert options that are perfect for parties or sharing. 
'Ogre Chocolates' are their signature handmade chocolates made freshly in their store. These include classic peanut butter cups and a Millenium Falcon Oreo. Yes, you read that correctly. 
Anything else you could possibly think of can also be found at Lickee's & Chewy's, from candies to gift baskets. It's the best place in New Hampshire to find something for the whole family. 
Address: 53 Washington Street, Dover, New Hampshire

5. Life Is Sweet Candy Store And Cupcake Store
The owner Tracy started Life Is Sweet Candy Store and Cupcake Store in January or 2007. The sweet treat haven is located in downtown Keene NH. Tracy and the Life Is Sweet team aspire to be that special place you bring friends for a special treat…time and time again. Whether you shop local or online! (Yes, they do online ordering so you don't even need to leave your home to enjoy some tasty treats from this NH candy store!).
You can learn more about this sweet spot here
6. Kellerhaus
Kellerhaus is thought to be the oldest candy and ice cream maker in New Hampshire, originating in 1906. Another previously family-run business, Kellerhaus is most famously known for its ice cream.
Developed by the founder Otto Keller in the 1920s, the recipe has remained unchanged ever since and is a must-try if you're in the area. 
Along with the delicious ice cream, the store has an extensive list of other treats such as chocolates, fudge, candies and nuts that keep people coming back time after time. These recipes have also remained largely unchanged over the past hundred years. 
If you're looking for an edible souvenir to take home with you, why not pick up one of the Kellerhus gift baskets with all of their famous treats inside? Some of their signature items include chocolate nonpareils and peanut brittle. However, these can be fully customized to suit your tastes. 
Address: 259 Endicott Street North, Laconia, New Hampshire
The Bottom Line
Candy lovers everywhere will find something to satisfy their cravings with one of these iconic New Hampshire stores. For the best variety of products, Lickee's & Chewy's is the best option and for the most authentic visit Granite State Candy Shoppe.
More NH Guides That May Be of Interest: