Fall is many people's favorite season because of all the fun activities you can do, the excitement of the holidays right around the corner, and the delicious comforting foods that leave you feeling warm and cozy. 
Going to your local farm for some pumpkin picking or to wind your way through a corn maze is a great way to spend a Sunday afternoon.
Plus, many of the farms also sell delicious fresh produce which means you can go home and cook up a storm afterwards. 
Here are the five best corn mazes in New Hampshire that are perfect for the whole family. 
Sherman Farm Market
Sherman Farms corn maze has been rated as one of the best corn mazes in New England by Yankee Magazine. It was also the WMUR Viewers' Choice for the Best Corn Maze in New Hampshire for four years, so it's safe to say you won't be disappointed with this option. 
Each year the corn maze takes on a new design, making it impossible to remember the previous year's routes! To make the task a little harder, you can play Farm Scene Treasure Hunt and Cornundrums which are a variety of riddles to solve. 
When you've solved the riddles you receive an indication of the direction you need to head to help you get out of the maze. With three different difficulty levels, there is something for every age and ability. 
Other than the corn maze, there are animals to pet, play areas, a pumpkin patch, a mini maze for those that don't fancy the larger one and more. With so much to keep the family entertained, you'll be returning to Sherman Farm every year. 
General admission tickets are $15, which applies to anyone over the age of 3 years. 
Location: 2679 East Conway Road, Center Conway, New Hampshire
Coppal House Farm
The Coppal House Farm corn maze takes on a fantastic theme each year, usually something that you'd expect to see in your own backyard. With signs and trivia questions with a corn theme, you'll be able to navigate your way through the maze with ease. 
For a real challenge, the farm suggests entering the maze through the exit where you will receive no help at all! Don't panic, there are different levels of difficulty to help big kids and little kids alike. 
Once you've made your way successfully through the maze, you can purchase a range of delicious fall vegetables from the barn as well as meat, eggs, decorations, and other locally sourced products. 
General admission is $9 with cheaper prices for seniors, military personnel and children.
Location: 118 North River Road, Lee, New Hampshire 
Beans & Greens Farm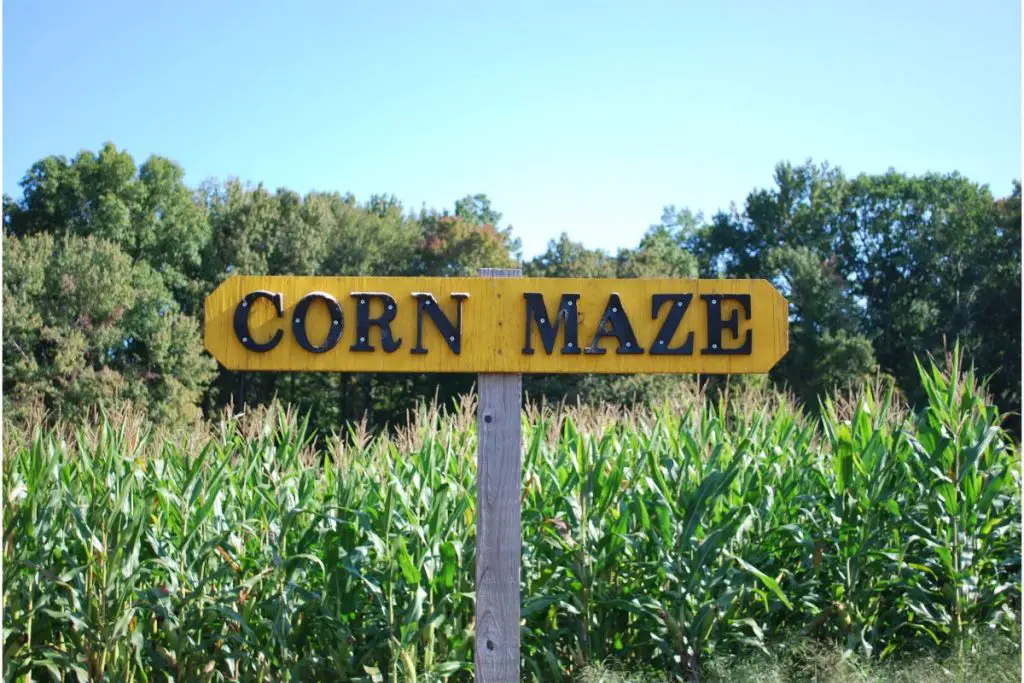 Beans & Greens Farm has been running its corn maze for over 15 years, boasting that it is one of the most difficult corn mazes throughout New Hampshire. With bridges, loops, dead ends, and open squares you're in for a real brain teaser here.  
Open throughout most of September and the entirety of October there is plenty of opportunity for some family fun at the farm. Standard tickets for the maze will cost $10 for a child and $14 for an adult. 
On weekends and Halloween, the farm hosts a haunted night maze (see also 'Haunted Houses In New Hampshire') for those who dare. You can expect to be thoroughly scared and chased through the ears of corn for an exciting  Halloween thrill. Tickets to this event are $20.
Location: 245 Intervale Road, Gilford, New Hampshire
Beech Hill Farm & Ice Cream Barn
Beech Hill Farm is a family-run business that concentrates on farming and their famous ice cream barn. This 9th generation also includes farm animals and a Garden Barn from which customers can purchase fresh produce. 
They have been operating their corn mazes for 24 years, so they know a thing or two about creating a great puzzle. In 2019, Beech Hill Farm won an award for "Best Corn Mazes" from the Parenting New Hampshire Family Favorites organization. 
Some years, customers are treated to two different mazes to explore, each with its own theme. With scavenger hunt activities that match with the theme of the maze, customers can make their way around the 8-acre course. Look out for hidden signs too! 
Tickets to both mazes will cost $7 per person but children under the age of 3 are free, making it one of the most cost-effective family afternoons. 
Location: 107 Beech Hill Road, Hopkinton, New Hampshire
Riverview Farm
The Riverview Farm annual corn maze is a work of art and has been entertaining families for years. Run by the Franklin family for over 30 years, the farm grows a number of fruits and vegetables besides running their fantastic maze. 
Each maze has its own unique theme and story that runs throughout your journey with twists and turns, ghosts and ghouls, and plenty of dead ends. Check out their website to see what this year's theme is! 
Open from August to October, you can visit the maze on more than one occasion to spend a wonderful afternoon outdoors picking fruit and getting lost in the ears of corn. Entry to the maze costs $5 per person and children under 4 years old go free. 
This is the cheapest corn maze featured on this list, however, it doesn't make it any less difficult! 
Location: 141 River Road, Plainfield, New Hampshire
The Bottom Line
Whether you're good at solving corn mazes or are just looking for an excuse to tire out the kids, spending a lazy Sunday afternoon venturing around a farm will always be a good idea.
Luckily, New Hampshire has a wide range of corn mazes run by local family farms for everyone to enjoy. 
As a general rule, always check the websites of the farms and weather conditions before turning up to ensure they are open and running as normal.