Manchester NH – New Hampshire is known for many things: Beautiful mountains and lakes, long frigid winters, and of course, our state slogan, which is the most badass in all 50 territories, "Live Free or Die." One thing we are not known for however, is our food.
I can hear the locals rebuking me now. "What about the Lobster roll?" That's Maine. "What about Maple Syrup?" I wouldn't call that a "food" per se. "What about Clam Chowder?" That's Massachusetts. I'm not saying food in New Hampshire is bad, it's just not anything to write home about. As someone that's spent an extensive amount of time travelling the country, I can honestly say there is no better place to live than in New Hampshire, but when I think of my favorite restaurants, most of them lay outside of Granite State.
That is until now.
Enter Mint Bistro in Manchester…
A restaurant known for a food that is most certainly not New Hampshire: Sushi.  Yet, Mint is so much more than just a Sushi bar, which is a category I erroneously pigeonholed them into for years every time my girlfriend tried to get me to eat there. Finally this year, on her birthday, I capitulated and agreed to go.
And Oh. My. Gosh. Am I Glad That I Did!
The first step to any restaurant moving from good to "great" is an inspired menu. I'm not much a sushi person, and luckily for me, Mint has the type of menu where the server asks what you'd like to eat and you hand them the menu and say "yes."
On this particular occasion we started with the buttermilk fried chicken tenders.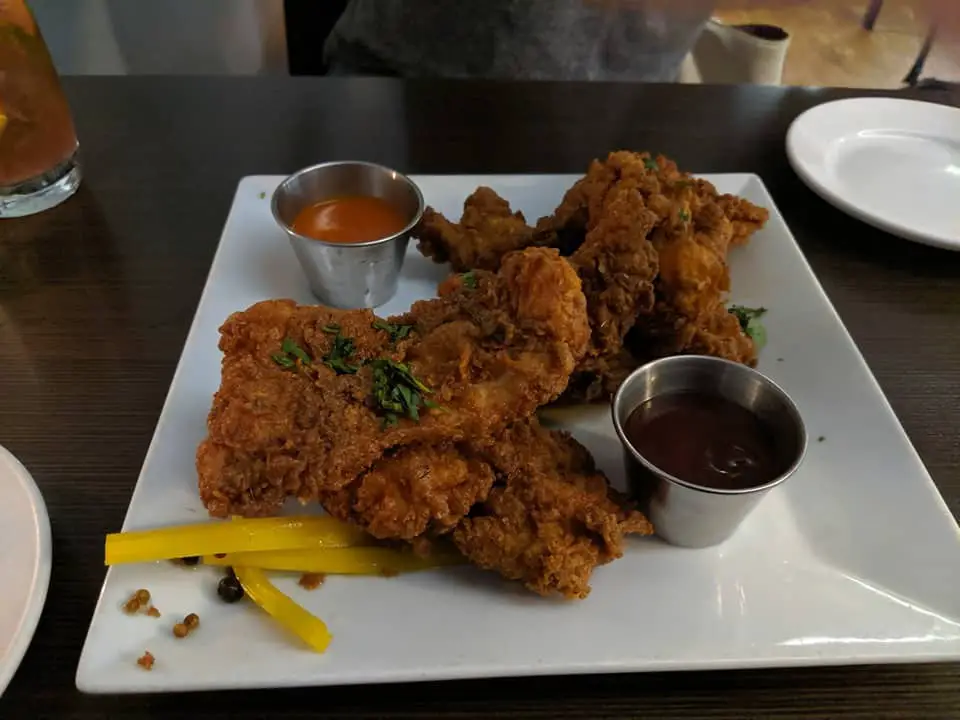 It was a nail-biting decision given other eye-popping options like Old School Meatballs and Asian Short Rib Nachos. Our app was served quickly and came piping hot with large portions of juicy chicken covered in buttermilk batter so good you wouldn't have cared if it was batter for a piece of bark.
For my main course I ordered the Steak Frites to make up for the disappointing steak I had had at another restaurant the night before.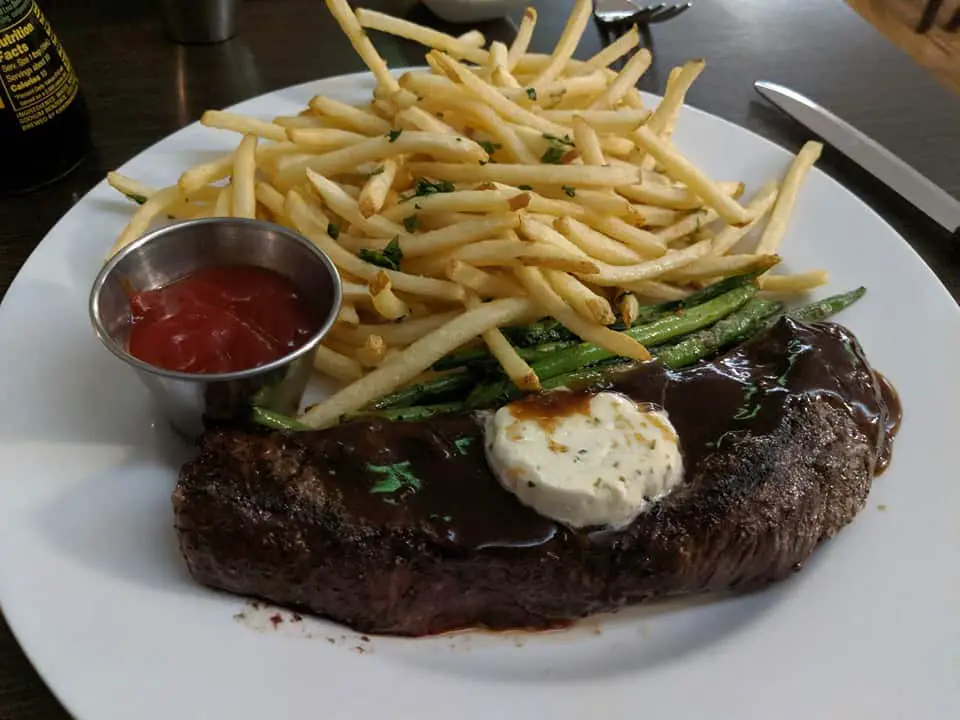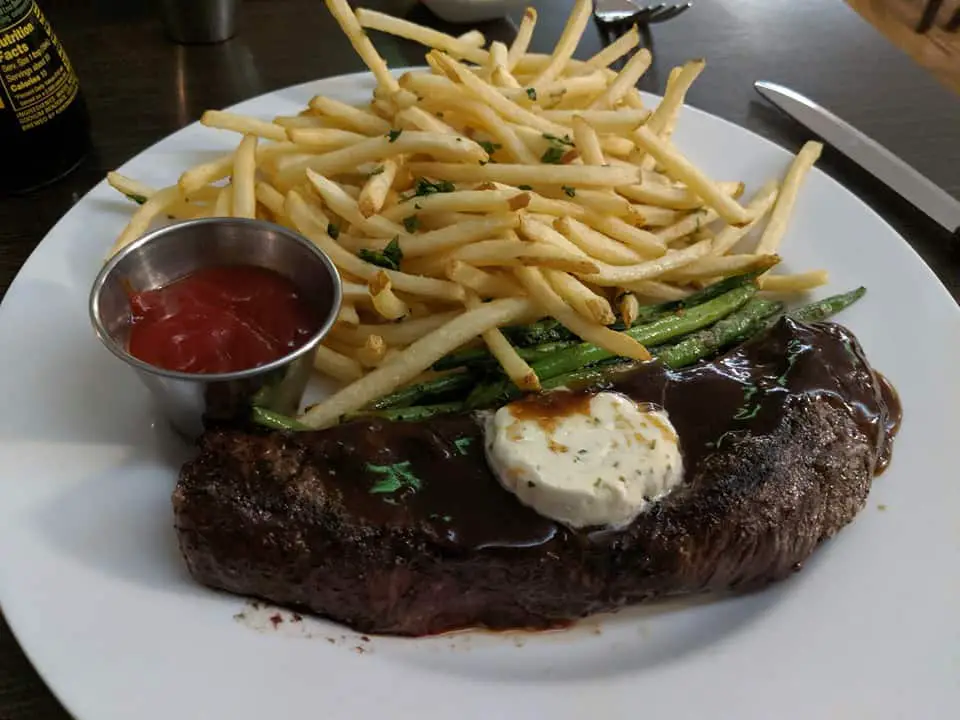 This time there were no accidents, no wrong doings, just a perfectly cooked medium steak lathered in garlic butter, still slightly pink in the center and so tender I didn't need the steak knife it was served with. The steak was crowded up against equally buttered green beans and perfectly crisp shoestring French fries. A restaurant is nothing if it can't get the basics right, and so far Mint was firing on all cylinders, hitting home runs on fried chicken, French fries, and steak.
But a restaurant is more than just food. It's also about the experience.
Although Mint may be modest in its seating, its narrow corridor adds a certain intimacy that many other restaurants lack. Sandwiched in between two bars on the always busy Elm St, the vibe and décor inside the restaurant strives to be a bit more metropolitan.   Our server Chris was attentive making sure our drinks were always topped off, and that we never waited long for any wants. The sushi is rolled in house just behind the bar where you can see it being made, which I hear people are in to.
While New Hampshire may not be known for its food, and while there may be many restaurants worth visiting throughout the state, Mint stands out as a "must go" destination. With great service, a creative menu, perfectly prepared and presented food, I can't wait to go back.
More About Mint Bistro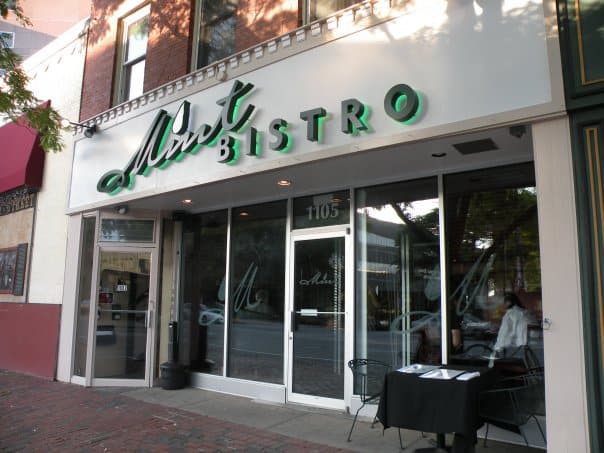 Located in Manchester NH Mint Bistro is described as a restaurant with an eclectic menu with a separate sushi list plus cocktails served in a sleek, contemporary backdrop.

You can find them at:

1105 Elm St Manchester, New Hampshire
Find them online at: https://www.mintbistronh.com