Manchester NH – I recently got the chance to meet Toni to learn about how she uses the SpotOn Collar virtual fence, a NH based company, to keep her dog Finley safe while home in the back yard and camping on the weekends. Toni looked for years for a way to keep Finley, her German Short Hair Setter, protected and finally found a solution in the SpotOn Collar.
Watch To Learn How Toni Uses The SpotOn Collar Virtual Fence To Keep Her Dog Finley Safe:
How The SpotOn Collar Virtual Fence System Works
There are no wires, no digging ditches, no complicated set up. Check out this video from the Spot On Collar team about how their virtual fence system works:
Here Are The Questions We Asked Toni On Our Visit To The Bedford NH Park About How She Uses The SpotOn Collar Virtual Fence System
What was life with your pup like before you had a SpotOn System?
Stressful, Finn has a high prey drive, she absolutely hates chipmunks, they are her nemesis. One day at home she spotted one across the street and took off, she ran across the road and my heart stopped. Anywhere we go, if there are chipmunks, I know she would run after it and I might lose her, or she might get hit by a car.
My goal was to find some kind of containment system to keep her in an area so she wouldn't chase the chipmunks, unfortunately there didn't seem to be anything out there, so poor Finn was leashed if I couldn't keep her contained via a fence or I used an ecollar which didn't offer the ability to track if she got lost and wasn't always reliable.
How did you learn about SpotOn Collars?
For the second year, I signed up for the Dog Jog down in Nashua. This year SpotOn Collars was the sponsor. I was curious about this company, so I immediately looked them up.
What made SpotOn Collar stand out from other options?
For about a year I was looking for a containment system I could use in my yard and when we went camping.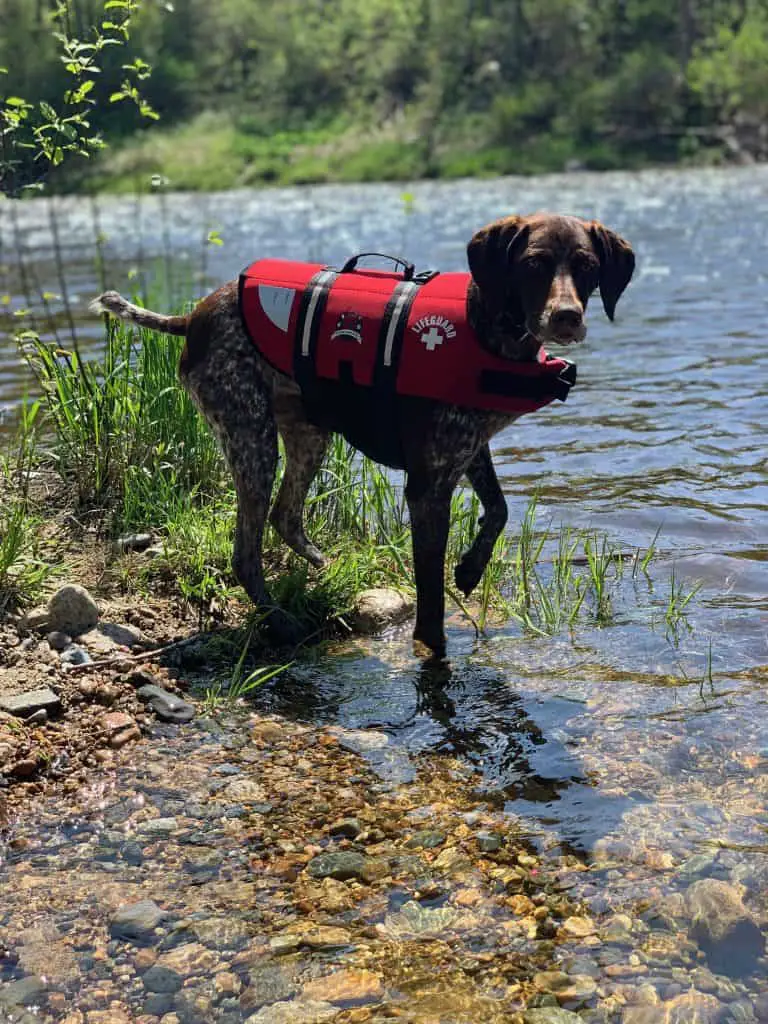 What features sold you on buying SpotOn?
The virtual containment was the biggest thing, the fact that it could track if my dog got lost and give me more real-time location updates really made me feel this system was worth getting.
What has made you happiest about using the SpotOn system?
Seeing my dog have more freedom when camping, she now doesn't need to be tethered and getting all twisted up in a leash and I don't have to worry that she will get off and into trouble while I am not paying full attention to her
How has your relationship with your dog changed since using the SpotOn System?
I feel like we have both grown and built trust and independence together. Our last camping trip was a big success, she had freedom to move around and do what she wanted as long as I could see her, when I had to go in the camper to get something she would sit down in front of the door and wait outside of the camper until I came out. She did this all on her own, I didn't ask her to do this, it was almost like she understood what I needed to feel comfortable since she wasn't on a leash.
What are some of the unexpected benefits of using the SpotOn system?
I'd say I was extremely impressed on how easy it is to set up and quickly teach your dog what the boundary is and what it means. I got my collar over the winter and we did the training so Finn would understand what the collar was and how it worked. But every time we go camping, I need to set up a new perimeter which Finn has to learn. Within a couple hours she has it down and it works! I am still amazed how well it works. She hears the tone and maybe gets the vibration then turns around and comes back to center. 
Would you recommend the SpotOn System to a friend or family member?
I have recommended SpotOn, I get a lot of questions from friends and followers when they see a photo of my dog on social media asking what the collar is, and when I am camping, strangers will come up and ask about it. I highly recommend the product; it is everything I was looking for in a much easier and portable manner.
If a friend or family member was on the "fence" about getting a SpotOn System what would you tell them?
I am sure they would be on the "fence" due to the price tag. But I can tell them now that it is well worth it. It does everything in one device, it's piece of mind, it'll track your dog if it gets lost, it helps to keep your dog safe while allowing them to roam free of leashes that get tangled and restrict them. If my friend was going to install a containment system, I would tell them to buy SpotOn, it is portable, so you are not restricted to just your home. If you travel with your pup and want them to have more freedom without concern that they will leave the area. This is the best system you can buy.
Does your dog roam or does she typically stay close to you?
She is a bird dog, and very prey driven, she is a roamer
What new adventures have you been on with your dog since getting the SpotOn system?
My dog and I go on a lot of adventures already, but this year camping has been a whole new adventure, she has had so much freedom. I am still working on my comfort level, but I hope to use it when we travel for my dogs' various trials and allow her to spend time in parks and around hotels with the collar vs on leash all the time.
Describe the locations where you use SpotOn
We have used it at home, in a park and 4 camping trips. On the camping trips, I usually set a perimeter around all of our campers, we camp with 5 families, this gives my girl room to roam and follow me from site to site as I interact with my friends.
More About Toni's Dog Finley:
What is your dog's name and age?
Finley, AKA Finn, she is 3 years old
How did your dog get his name?
I loved the names Finn, Finley and Finnegan, I looked through a lot of names and these were the ones my husband did not immediately say no to. So, her actual name is Cady Falls Lady Finnegan's Rose. I like non typical names, such as mine being Toni, so I figured I would use Finn for a girl.
What is your dog's breed?
German Shorthaired Pointer
Describe your dog's personality
I can't do this in one or two words, she has multiple personalities. She is smart, serious, focused, energetic, silly, loving/affectionate, snarky, bossy and a great best friend
What are your dog's favorite activities?
Anything that she can chase, she loves playing bubbles, chasing balls, running and attacking her brother (Buck an 8 yr GSP). I have used these activities to get her involved in Dock Diving, Agility, Rally, Obedience and Scent Work. Dock Diving and Agility are her favorite though.
What is your dog's favorite thing to do outside?
Play… play all day outside if she could, rain, snow, sun. It doesn't matter. Unfortunately, I always have to be out playing with her, GSPs are known to be Velcro dogs, they don't like doing much alone. So, we play bubbles and fetch for hours
What is your dog's favorite treat?
Finn is so picky; she is the oddest dog when it comes to that. But I would have to say cheese, she does love cheese and normally doesn't refuse that
More About SpotOn Collars a NH-Based Company
A few years ago I had the opportunity to meet directly with the owners of this awesome New Hampshire based company (they are based out of Bedford NH).  I loved the vision they had for this collar in addition their passion in keeping dogs safe. I have followed their progress on this well-engineered GPS Dog collar ever since. 
They told me about their impressive history in high-tech engineering and how they came to create the SpotOn Collar, which is actually more of a virtual smart fence.  It was clear that they were dog lovers just like me and they have combined their technical backgrounds to create the SpotOn Collar.
With their experience making night vision goggles for the U.S. military, the owners of the SpotOn collar know how to make a top-of-the-line product. They use the same level of quality control that they used in creating products for the U.S. Armed Forces. 
Here's a Great Video About The SpotOn Collar As Shown On NH Chronicle
NH Chronicle did an excellent piece about the SpotOn Collar company that you can see here.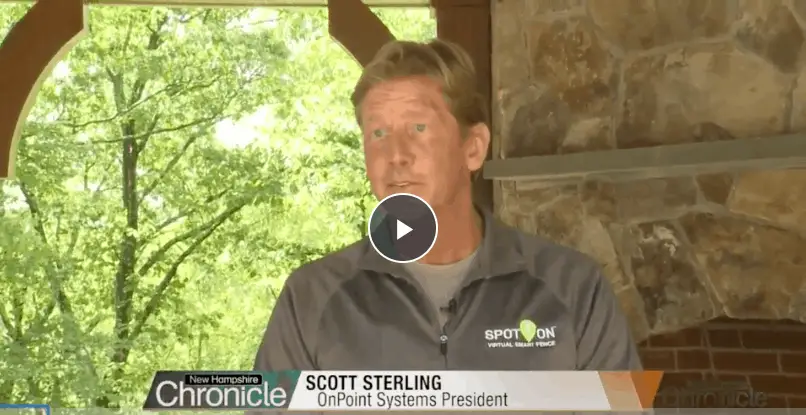 How Does The SpotOn Collar Virtual Fence System Work?
Creating a custom virtual smart fence with the SpotOn Collar is as simple as walking a the area with the antenna facing the sky that you want to keep your dog in. There are no wires, no Wi-Fi, and no base stations required. It's just the Collar and the App on your phone.
That's why it's a really great system for someone like Toni who likes to go to travel to different locations.
Wherever you travel the collar lets you quickly establish a virtually fenced area for your dog. It's an impressive product from a great group of people. You can learn more about their product and the company on their website https://spotoncollar.com