New Hampshire is a U.S state in New England. The state is well known for its charming town, expansive wilderness, and impressive landscapes.
Thousands of hikers visit the White Mountain National Forest, while history buffs enjoy visiting historical locations like the cog railway.
There are also plenty of exciting things for children to do. New Hampshire's also got a pretty killer food scene, in particular Indian food. If you're a big lover of Indian food, this is something you'll be pleased to hear.
In fact, New Hampshire has so many amazing Indian restaurants to visit that they are worthy of their own list. Full of fragrant, tasty, and authentic Indian dishes, we've decided to list the very best Indian restaurants the state has to offer in this post.
Today, we'll show you what each one has to offer. If you're craving Indian food, make sure you stick around!
We'll start with one of the most popular Indian restaurants New Hampshire has to offer. Located in Manchester, NH, Kathmandu Spice is a wonderful place to indulge in traditional Indian and Nepalese food. 
If you're in the mood for exciting dishes or a fusion menu, this is the restaurant to visit. Here, you can enjoy momos, your favorite tandoori dishes, and local favorites.
You might also be pleased to hear that the restaurant has vegan, vegetarian, gluten-free, and meat options. 
Take-out, dine-in, and home delivery services are all available.
Another fantastic Indian restaurant based in Manchester, NH is Taj India. Dedicated to more complex, intricate Indian flavors, this restaurant is the perfect place for any Indian food lover to visit.
Featuring traditional spices, rich flavors, and fresh produce, the Taj India team prides itself on ensuring every detail of its menu is perfectly executed. The restaurant even has a traditional clay oven that they use to make the most amazing Indian bread.
The menu has everything from Indian soups and salads to some of the best curries you'll ever try. Popular menu items include lamb curries, chicken dishes, and shrimp dishes.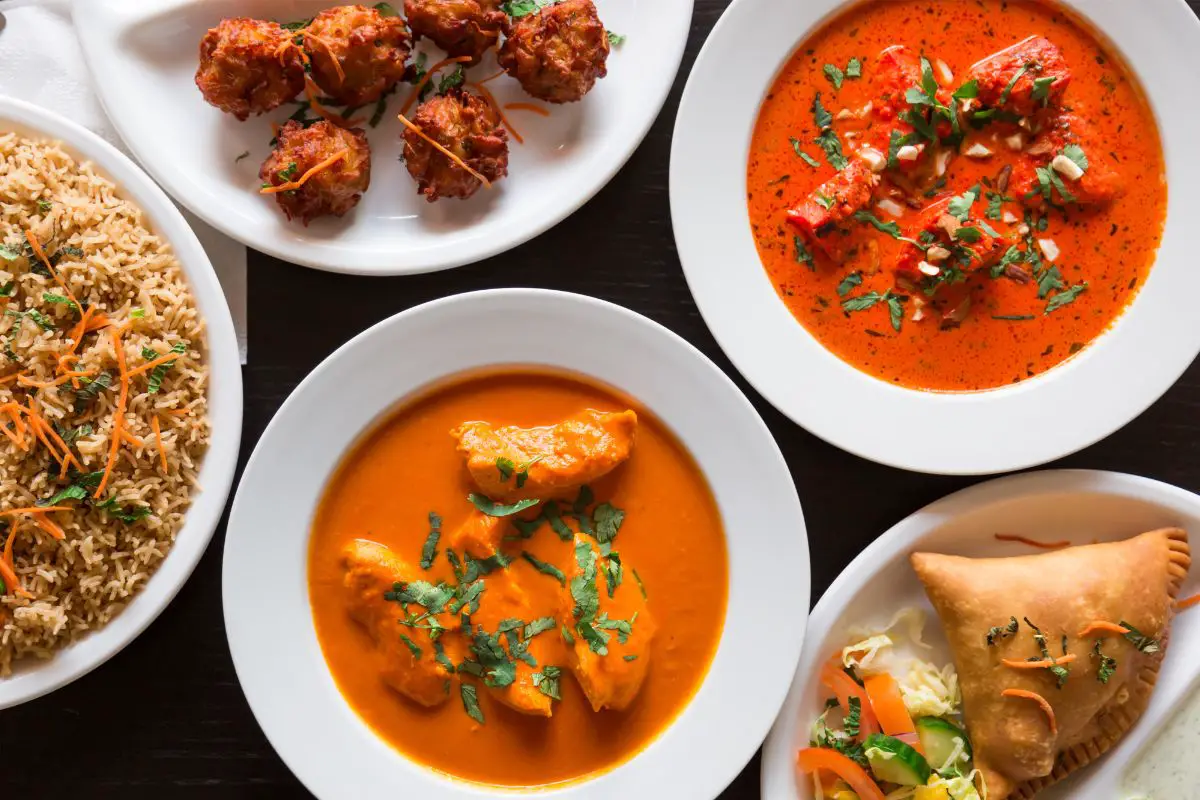 If you prefer a more unique experience when dining, the Himalayan Curry House could be the place for you. Found in the Nashua area, this Indian restaurant prepares incredibly delicious Indian and Nepalese dishes. 
Serving Nepalese-styled food alongside traditional Indian dishes gives guests the chance to experience more distinct, unique flavors. Aside from some of the best food in New Hampshire, the customer service at this curry house is impeccable.
Staff are super friendly and more than happy to help you in any way they can. Like the other restaurants on our list, you can expect high-quality food and an excellent taste of India.
You'll find the next Indian restaurant on our list in Salem. As far as traditional recipes and Indian-inspired drinks go, Kashmir takes some beating.
The food, atmosphere, and overall buzz around this restaurant make it a great place for any special occasion, whether it be a party (see also 'Indoor Birthday Party Places NH') or a romantic date.
Offering dine-in, take-out, and home delivery, the food here is fresh, clean, wonderfully seasoned, and authentic. What more could we ask for?
For those interested, Kashmir also offers event catering. 
With a name like Grand India, we can only expect great things from this restaurant. We are pleased to say, it definitely lives up to expectations.
Located in Salem, Grand India offers guests a five-star Indian dining experience. Run by the same family of brothers for over four decades, authenticity and high-quality food are guaranteed. With an incredible kitchen and amazing customer service, Grand India is a must-visit restaurant.
The extensive menu features lamb, seafood, veggie, chicken, and goat dishes, whilst the traditional chaat specials menu includes dosa specials, biryani specials, and uttapam specials.
The Jewel of India restaurant in Hanover is somewhat of a hidden gem in New Hampshire. This smaller, low-key Indian restaurant features a traditional Indian kitchen, warm hospitality, and a great atmosphere.
Open since 1992, Jewel of India offers dine-in, home delivery, and patio dining. The family owned restaurant has a wide selection of food choices and some excellent sharing platters. Students can get 10% off their food with a valid ID.
Offering a laid back setting, Shalimar is arguably the best Indian restaurant in Portsmouth, NH. Serving up a wide range of authentic Indian flavors, this restaurant takes inspiration from traditional North Indian cuisine. 
All the recipes on the menu aim to recreate the best Indian flavors. Some of the best dishes include chicken specials, seafood specials, and lamb specials. The restaurant also does some pretty awesome starters and desserts. 
Found in Dover, Taste of India is the next Indian restaurant on our list. This restaurant is family-owned, supplying the local area with unbelievably good tasting food since 1991.
With three decades of culinary experience behind them, the team at Taste of India strives to produce the very best Indian food New Hampshire has seen.
Providing guests with an extensive menu full of traditional dishes, everyone can find something they like. While biryani, beef, and goat dishes are up there with the most popular, the restaurant also has a wide range of vegetarian and vegan options available.
The penultimate Indian restaurant on our list is India Palace. If authentic flavors and clean, fresh food is something you enjoy, India Palace is a solid choice.
With 17 years of experience, this Nashua-based restaurant sells premium quality food at a reasonable price. You can choose between small sharing platters or traditional main meals, with the team making fantastic curries such as korma, tikka masala, vindaloo, and so on. 
Some of the popular small plates include jeera scallops, tandoori wings, and pomegranate shrimp.
We've reached the final restaurant on our list. Don't worry, we're ending with an absolute cracker.
If you're on the lookout for a new restaurant in Derry, NH, look no further than Destination India. Offering authentic food made from fresh, strong-flavored ingredients, this restaurant is a great place to kick back and relax whilst enjoying some great food.
The range of options the restaurant offers includes entrees, breads, vegetarian dinners, tandoori specials, and appetizers.
Whether you order a lamb jalfrezi or chicken korma, you can always expect a top quality meal. Indian drinks such as lassi are also available here.
Final Thoughts
As you can see from our list, New Hampshire is blessed with a wide range of amazing Indian restaurants.
It doesn't matter if you want something traditional and authentic or something more unique and different, there's an Indian restaurant in New Hampshire that has what you're looking for.
From fresh, traditionally made food, to new and exciting dishes inspired by Nepalese cooking and Northern Indian cuisine, there's a restaurant on our list for everyone.
Now you have this list of restaurants at your disposal, you should start thinking about where you're going to eat first. With a bit of luck, you might have the time to visit more than one.