Manchester NH – I recently discovered a restaurant called the Crown Tavern on 99 Hanover Street and I am sure happy that I did! My friend Tony had heard great things and apparently this restaurant is run by the same team that runs the Hanover Street Chophouse which is great. We had a perfectly sunny day for our visit so we chose to eat outside and enjoy the nice private terrace they have.
Watch The Video of Our Lunch at The Crown Tavern Manchester NH
The Crown Tavern Described
The team of chefs at the Crown Tavern have created a menu of delicious dishes that utilize local ingredients and take inspiration from the tastes of home. Between meals fit for a night out and snacks that are perfect for sharing with friends, there's something for every occasion at The Crown Tavern. They source ingredients from local farms and producers as much as possible, which allows them to craft dishes that are sustainable, seasonal, and delicious. Their chefs let the ingredients shine – because they know from experience that fresh is always best.
What We Had For Lunch at The Crown Tavern
After making our way to the outside patio we were greeted very pleasantly by our server who took great care of us. I went with an order of 6 Oysters to start with and Tony ordered some amazing "Crown Wings,'Roasted, Not Fried.'" He was gracious to share a couple with me and WOW were they tasty! They came with a nice peanut butter dipping sauce but I personally loved the flavor of the wings all on their own.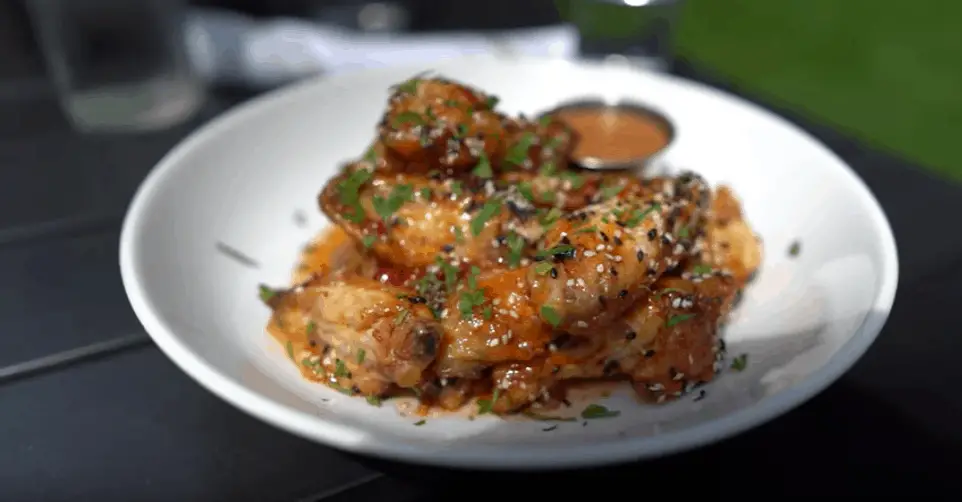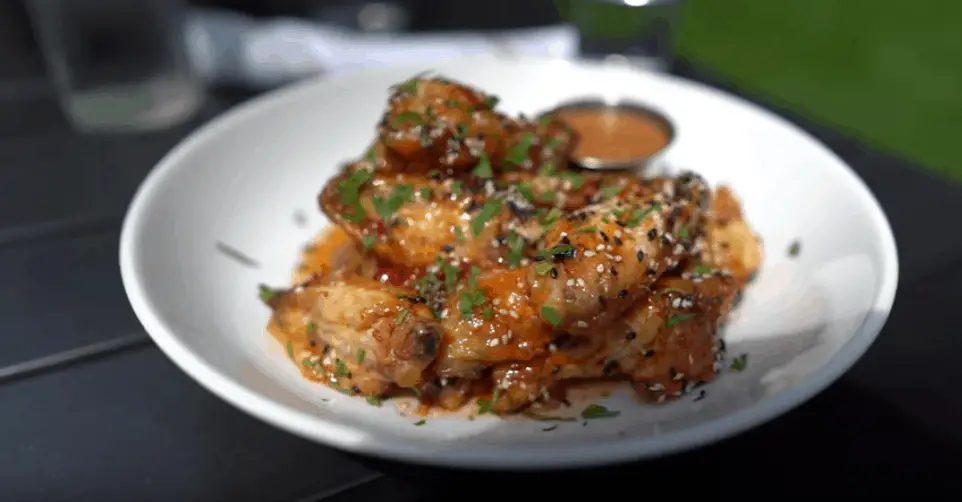 "This Burger Is To Die For!"
While I went with a Spinach salad with Chicken my lunch mate Tony went with the Crown Burger. This burger is a two all-beef patty burger with American cheese, special sauce, lettuce, tomato, and bread & butter pickles. Of course it came with some delicious french fries! Tony exclaimed during lunch, "This burger is to die for!" Safe bet to say he loved it.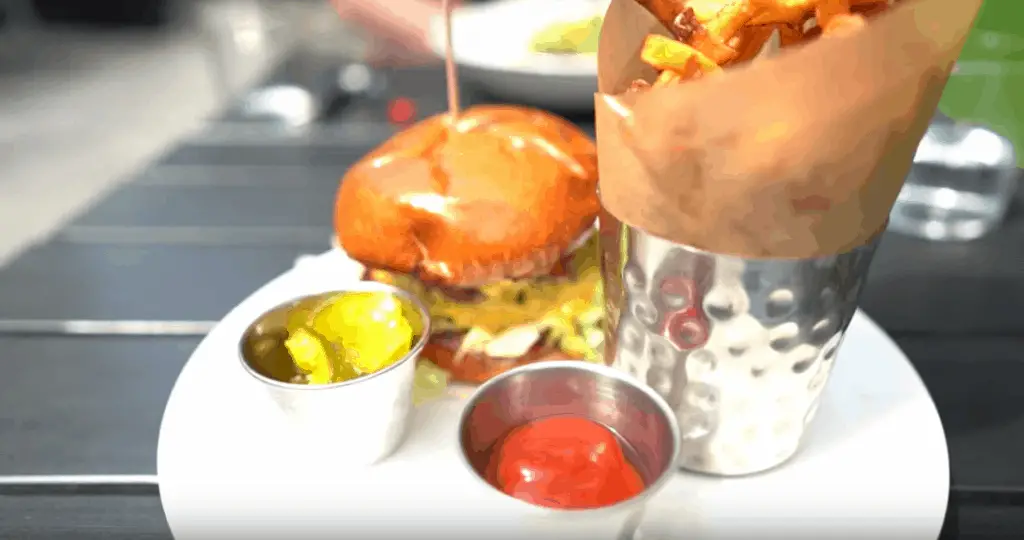 The Crown Tavern's Hidden Oasis – The Outside Terrace
This was by far my favorite part of the Crown Tavern! The food was amazing but what really impressed me was this little backyard oasis that they have created. It's a beautifully-manicured, completely fenced in terrace with ample seating, Adirondack chairs to relax in on the grass, an outdoor bar, and lighting to create a wonderful ambiance.
About The Crown Tavern Manchester NH
You can find The Crown Tavern at 99 Hanover Street, Manchester, NH 03101. You can call them at 603-218-3132 or find them online at https://thecrownonhanover.com/

Find them on Facebook at https://www.facebook.com/CrownTavernManchester/
Find them on Instagram at https://www.instagram.com/crowntavernmanchester/