Candia NH – We stopped for lunch and I was surprised to discover the Town Cabin Deli & Pub inside an Irving gas station.  This hidden tavern is great if you can find it!
It's part of the Irving station off exit 3 on 101. People probably miss it because it looks like just a gas station, Dunkin donuts, and market but the tavern was great! Draft beers, large menu with dinners, sandwiches, and gourmet hot dogs and pizza. Plenty of seats.
They even have live music some nights.
Lunch At The Town Cabin Deli & Pub – My Husband Larry Had The "Richard Gere" BBQ Sandwich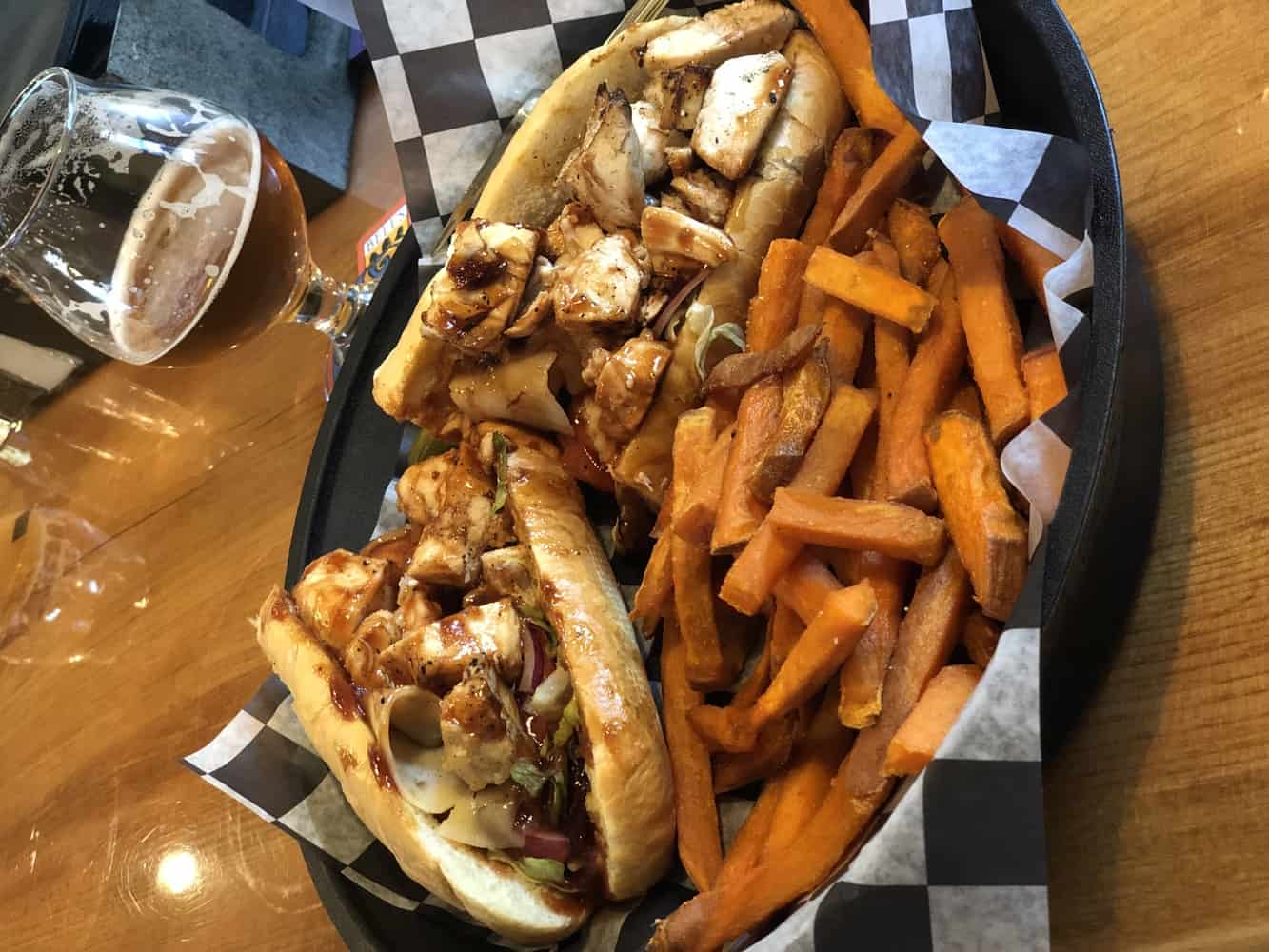 I Had The "Craig and Joe" Grilled Chicken Wrap

Details About The Town Cabin Deli & Pub In Candia NH:
84 Seats inside

46 Seasonal Outdoor Seats on the Patio

Delicious Appetizers, Salads and Homemade Soups

Old Fashion Comfort Food for Lunch or Dinner

Featured Meals that include Steaks, Ribs, Chicken, Seafood, and Italian selections

Gourmet  Sandwiches, Burgers, Hot Dogs, Hand Tossed  Pizza, Chicken Wings & Tenders and many other  great  selections

Home Made Desserts for  Pub Guests

Full Selection of  Custom and  Classic Cocktails, Fine  Wines, 20 Tap Draft Beers  (including great selection of local Craft Beers)  and many other Bottled and Can Beers
The Town Cabin Menu Is Also Available For Takeout
They also feature a "Meat Market" with delicious marinated Steaks, Steak Tips, Chicken and other great meat products for all your grilling and party needs.
Come to their warm and inviting cabin, watch the big game or bring your friends and family, stay awhile, simply relax and catch up. At The Town Cabin they do want you to remember the Simpler moments of life – good food-   good drink ––good friends – lots of laughs.
More About The Town Cabin Deli & Pub In Candia
Family owned and operated Irving gas station and country store in Candia, NH. Featuring high speed diesel pumps, Dunkin' Donuts, The Town Cabin Deli & Pub with full sit down restaurant service, an ice cream stand, truck parking, and Thursday Cruise Nights from April to September.
Find them at: 
285 Old Candia Rd
Candia, NH
See them online here:  
https://www.towncabin.com