Is it already that time of year again? Picking out a Christmas tree is arguably one of the most important jobs during the holiday season.
There will probably be an argument over which tree to pick, but nothing beats having a beautiful fresh tree in your home. 
In this article, I've included the four top Christmas tree farms for you to visit in New Hampshire to help you find your perfect tree.
Many of these family-run farms offer a great day out with the kids along with a wide array of fresh and healthy Christmas trees. 
Ten Rod Farm – Rochester
Ten Rod Farm is owned and run by a husband and wife duo known as Matt and Gretchen. Along with acres of beautiful pastures and hay fields, they are also surrounded by a thick deciduous forest. This family-run business has so much to offer all year round, not just at Christmas. 
Around the holiday season, the farm is bustling more than usual as fresh cut Christmas trees are sold. Although they don't come from the Ten Rod farm itself, they are brought in especially from another local family farm. 
Trees are typically 5-6ft in height and vary in price, ranging from $40 – $55 depending on the tree. They also sell homemade wreaths that Gretchen makes herself which start at around $15.
As they sell the trees from their barn, there's no need to worry about the weather when selecting the perfect tree. 
The farm offers a variety of free services that can help get your tree home that much easier. Netting, tree drilling and free rope to secure trees to the car are all available upon request. 
Location: 195 Ten Rod Road, Rochester, New Hampshire
Glove Hollow Christmas Tree Farm – Plymouth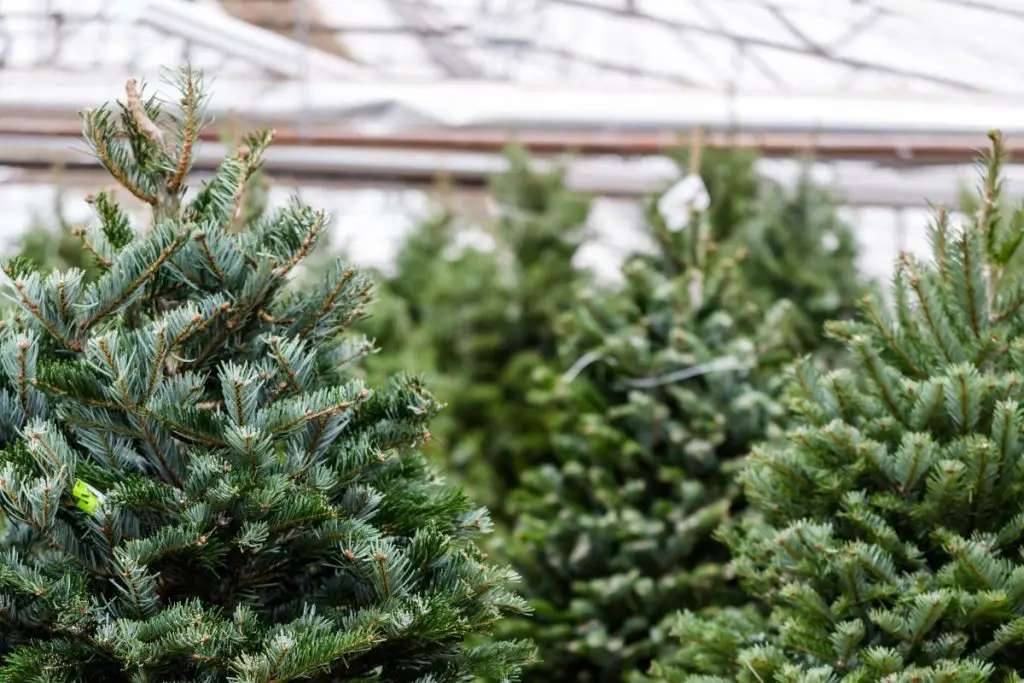 Glove Hollow has over 435 acres of land from which they grow their Christmas trees from. Owned and run by the Ahern family, they've got plenty of exp[erience as they've been running the family farm since 1897.
 After the Thanksgiving celebrations are over, Glove Hollow opens their doors and customers can start to make use of their cut your own tree service.
The tallest cut your own trees available reach heights of 6.5 feet. Pre-cut trees, wreaths and boughs are also available from the farm. 
When you cut your own tree, prices can vary depending on the date of the season. The most expensive trees are the tallest and usually bought in the pre-season sale which occurs the 20th and 21st November and cost around $68. 
After 26th November, prices start to decrease until the last few trees remain.  For a cheaper tree in the late season you can expect to pay around $59.  
When buying a pre-cut tree, customers can expect to pay according to the height and shape of a tree. Small children's trees start from $15. Netting, pin treestands, boughs, and wreaths are also available for purchase. 
Other than Christmas trees, there are tractor hayrides available which are extremely popular with the little ones. Goats, tunnels, towers, and slides are also great additions to the farm that really make it a special day for the whole family. 
Location: 395 DW Highway, Plymouth, New Hampshire
Noel's Tree Farm – Litchfield
With a choice of beautiful Balsam and Fraser Christmas trees on offer at Noel's Tree Farm, you won't need to shop around once you've seen these fresh pre-cut trees. This family run farm will certainly have a lot of Christmas Spirit. 
Open from November 25th to Christmas Eve, you'll have plenty of time to get yourself down to the farm to pick out your tree.
There is also the option to cut your own tree, which can be subject to availability. Check for information on their website to avoid disappointment. 
If you're in the mood to splash the cash, there are a number of handcrafted decorations for sale including decorated wreaths, ropes, and kissing balls. 
Noel's Tree Farm has so much to offer for little ones too, making picking a Christmas tree a truly magical experience for them. There is a tree maze, visits from Santa on a Sunday and some gorgeous petting animals that visit the farm every day! 
Going a step further for the environment, Noel's Tree farm offers a tree recycling program that 
Location: 21 Charles Bancroft Highway, Litchfield, New Hampshire 
Windswept Mountains View Christmas Tree Farm – Richmond
Windswept Mountains Christmas tree farm grows 16 different species of fir trees for their choose and cut services. Many of the trees are native to the United States with many coming from further afield. 
These farm fresh trees are perfect for all the family for some traditional Christmas fun. When the weather is good, you can even take a hayride up the hill to enjoy the breathtaking 70 mile view. This view allows you to see over three different states! 
Pre-cut trees are available around 19th November until the trees run out, at weekends only. Other fun Christmas points of interest include the elves' nook Christmas barn where you'll find handmade and hand carved decorations, wreaths and other small gifts. 
Complimentary mulled cider, candy canes (see also 'The Best Candy Stores In New Hampshire'), coffee, and hot cocoa will be available to customers in the elves nook, perfect for getting out of the cold and embracing the Christmas Spirit. 
Unfortunately I couldn't find any information online about the cost of the trees, however, the farms website does have a 'contact us' section through which you can enquire before you visit. 
Location: 323 Fitzwilliam Road, Richmond, New Hampshire
The Bottom Line
Who doesn't love Christmas? If you're looking to pick up a fresh Christmas tree this year, then try out one of these fantastic establishments for a fun-packed family day out. New Hampshire has so many great family-run businesses to choose from, even when the holidays are over.
Other articles to look into: