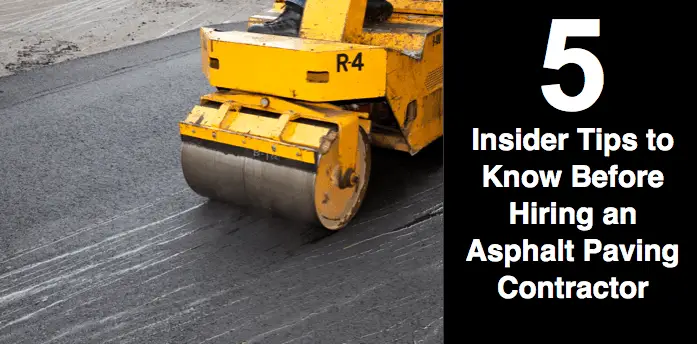 Summer is here in NH and, like clockwork, I personally had a "Paving Company" pull into my driveway and try to sell me on getting my driveway redone.  I've fell for this in the past and wasn't happy with the result so I have done some research on what to watch out for.   The following will help you make an informed decision when choosing a paving contractor.
There are some Paving Scams you will want to watch out for that and many factors that can affect the price and outcome of an asphalt paving project if you do choose to hire a quality contractor. 
Choosing the lowest bid is not always the best choice when choosing an asphalt paving contractor.  Let's dig in…
Paving Scams To Watch Out For In NH
Before we give you tips on how to choose a good paving or asphalt contractor it's important to be aware of some Paving and Seal Coating Scams that NH Home Owners have been victims of.  
The Thieving Paving Company Imposters  – A woman in Chichester NH told police that two men pretending to work for a reputable local paving company asked to use her bathroom and then stole her jewelry.  The men were in a beige truck with no company lettering on the vehicles.  They claimed to work for a well-known paving company but they weren't actually employed there (yikes!).  First and foremost, be sure to look for lettered trucks and please never let contractors in your house.  

"Just Enough Left Over To Do Your Driveway" Door-To-Door-Scam – Please understand, legitimate contractors do not seek work door-to-door.  These cons offer a great low price and claim they have just enough asphalt left over from another job nearby.  

Because the work must be done "immediately", the victim is coerced into having that particular repair crew do the work, with no  opportunity to investigate if they are legit and if it is a good price. Sometimes people will find that they have been charged many times the true cost of the materials and labor for work that was done.  Every Summer you will see this scam in action and my advice would be to avoid these door-to-door contractors completely.  
Insider Tips On What To Look For When Choosing a Great Asphalt Contractor
Now that we have covered a couple of the most common scams, let's equip you with some things to look for when choosing a reputable asphalt contractor.  
#1. Insurance Coverage. 
Just like auto insurance, many contractors choose the minimum of insurance required by state law. When accidents happen and they are on YOUR property, you want to be protected as much as possible. To be protected, your contractor should have the following insurance:
• General liability, Auto Liability, Workers Compensation, and an Umbrella policy.• Minimum $500,000 per policy coverage, $1-$2 million is even better.
#2. Material Selection.
The majority of asphalt is recycled over and over again. There are many grades of asphalt with different percentages of recycled material in them. Having low quality asphalt installed can affect the look and longevity of your asphalt pavement (it seems many of the door-to-door guys use the cheap stuff). Requesting higher grade asphalt with less recycled material is always a wiser choice.
#3. Type of Equipment.
What type of asphalt paving equipment does the contractor have? If it's just two guys in an unlettered truck I'd recommend hiring someone else. Take a look at their equipment – Is it run down? Machines that breakdown frequently can delay the completion of your asphalt paving project. Also, asphalt can cool quickly. Waiting too long to install your asphalt can affect the appearance of you pavement upon completion. Properly maintained equipment is important to any asphalt project.
* I REPEAT: I highly recommend that you avoid hiring anyone that does asphalt paving by hand. Asphalt paving machines can cost more than $100,000. They cost this much because of the technology and efficiency behind them. Be aware of any contractor that tells you he can pave by hand at the same quality and efficiency of a paving machine.
#4.  Sufficient Number In Their Crew.
Does the contractor have an adequate crew? A typical asphalt paving crew consist of 5-8 workers depending on the size of the job. Being understaffed not only affects the overall outcome of your asphalt paving project, but it can delay the project even further.
*Insurance note that is worth asking: Is everyone on their crew covered under the contractor's workers compensation policy?
#5.  Written Estimate.
Before hiring anyone it's a good idea to get a couple quotes from paving contractors and get their estimates in writing.  The reputable paving companies will have no problem sending you a written estimate with terms.  
BONUS Tip – Look For A Good Online Reputation
One more thing came to mind that I feel compelled to share.  When you are doing your research for an asphalt paving company Google can be your friend.  
A few minutes worth of online research can help you avoid hiring someone that isn't very good.  
I recommend going to www.Google.com and searching for "Paving Contractors" or "Paving Contractors Near Me."  
You will see results pop and I recommend clicking on them and reading their Online Reviews.
Here is an example of a search I did and when you click on those stars you will be able to read some reviews from customers so you know who's even worth reaching out to.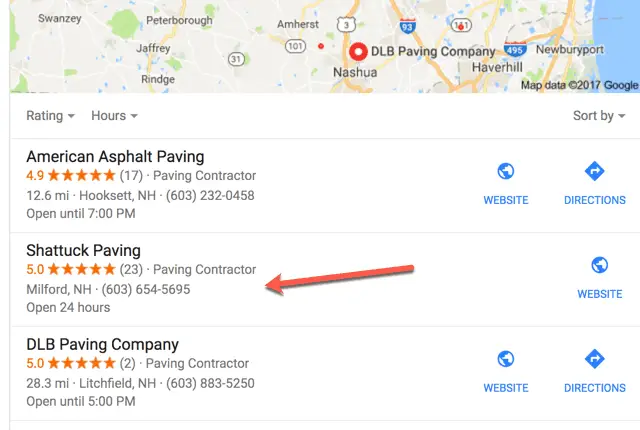 Final Thoughts…
Like the old motto says "you get what you pay for". 
It helps to think of asphalt paving as a long term investment. Properly installed, asphalt paving can last over 20 years. Saving a few hundred in the short term may cost you thousands of dollars down the road. 
Before I Wrap Up…
I found this quote from John Ruskin that I thought was appropriate to share, "It's unwise to pay too much… But it's worse to pay too little. When you pay too little, you lose a little money – that is all. When you pay too little, you sometimes lose everything, because the thing you bought was incapable of doing the thing it was bought to do. The common law of business balance prohibits paying a little and getting a lot – it can't be done. If you deal with the lowest bidder, it is well to add something for the risk you run. And if you do that, you will have enough to pay for something better."  

Make sure you do your research and ask questions to make an educated and informed decision when choosing your asphalt contractor.