In 2018 I met a young man starting his New Hampshire Sealcoating company by the name of Hal Davis. His excitement and enthusiasm for his business was very apparent and having an old driveway that needed a facelift I liked his "Save it before you pave it" mantra. I scheduled an appointment with him to visit my home and look at my driveway to see if it could benefit from some a fresh sealcoat and crack repair.
Hal from HDSealedIt.com then followed up very quickly with a professional and thorough written estimate. I was impressed with his approach and professional estimate so I pulled the trigger and hired Hal from HD Seal and Stripe to sealcoat my driveway. He and one of his workers did a phenomenal job on the sealcoating application and my driveway looked great!
I have since seen Hal's NH sealcoating business grow and he has served hundreds of customers since 2018!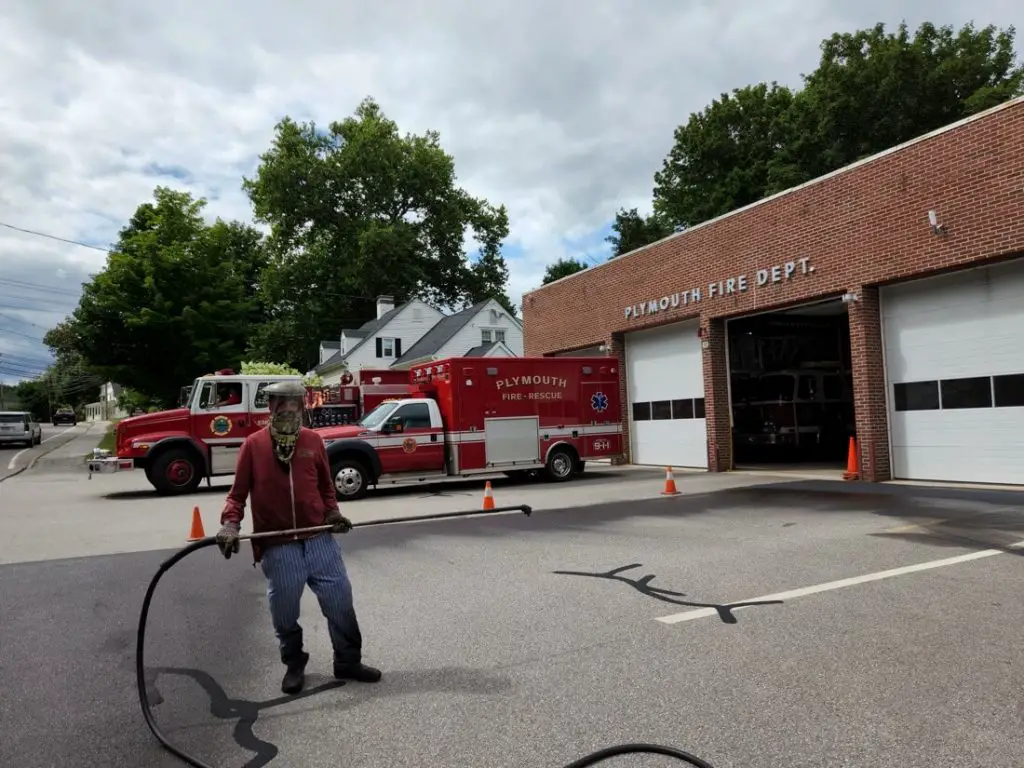 Why I Believe HD Seal & Stripe Is The Best Sealcoating Company In New Hampshire
I have had Hal Davis personally seal coat my driveway multiple times and each time he and his team did a fabulous job on the application and follow up. On top of that, I know many business owners in New Hampshire who have used HD Seal & Stripe LLC and raved about their work. One of my friends and fellow business owners is Kevin Newlen, owner of White Wolf Striping who specializes in parking lot line striping. I have talked about Hal to Kevin on multiple occasions and he raves about his work and they do many jobs together. His vote carries a lot of weight!
Kevin is a "tell it like it is" kind of guy and I trust his judgement and recommendation about Hal. That, combined with my personal experiences working with Hal, plus the hundreds of positive online reviews from Hal's customers gives me the upmost confidence that Hal is hands down the best sealcoating company in NH!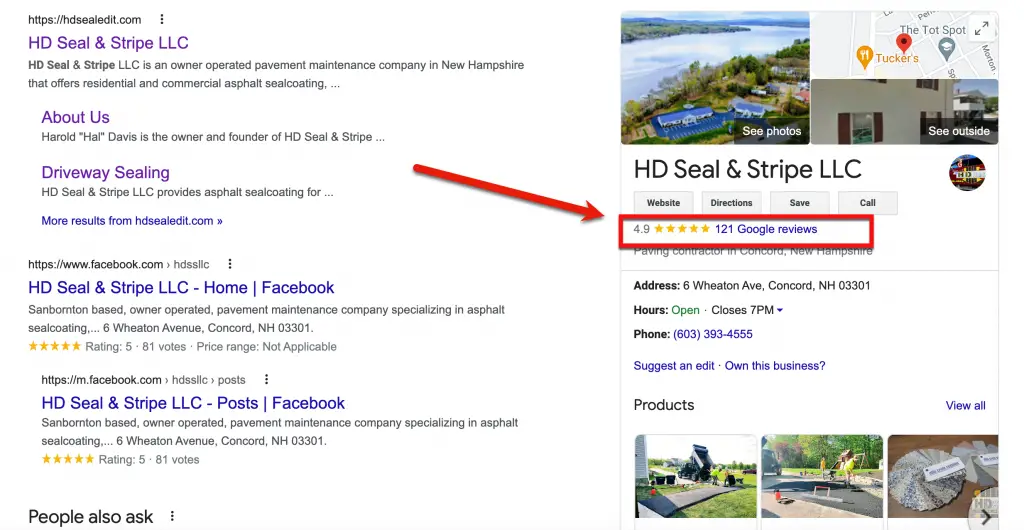 My Interview With Hal Davis Owner of HD Seal & Stripe LLC
I recently had the chance to interview Hal about his business and get some more insights on his business, what he loves about it, and more.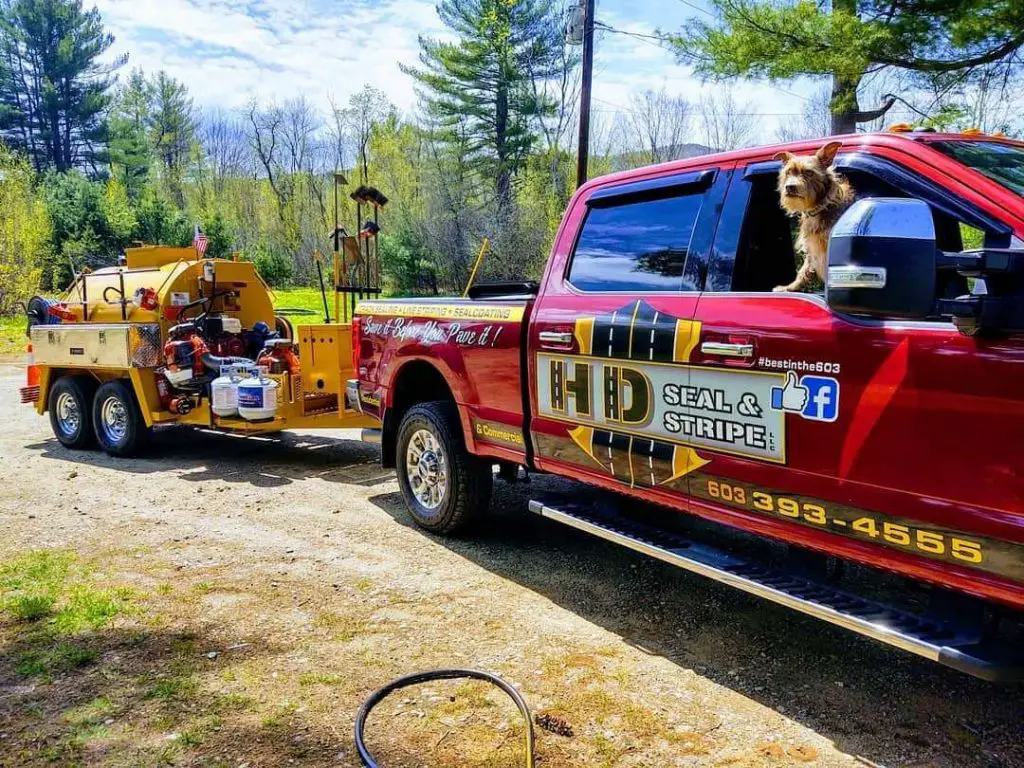 When Did You Start HD Seal & Stripe?
"In the winter of 2018 we took the leap of faith and invested in our own family business, where I'd be the owner and operator running our own asphalt preservation company. HD Seal & Stripe LLC was established in December of 2018, HD standing for Harold Davis, the owner and operator. Our first season under the HD name started as the snow melted Spring of 2019."
Watch This Video of Hal and The HD Seal & Stripe Team Do Some Sealcoating
See Hal's video on YouTube – https://youtu.be/CaLkrszRq0c
How did you get into the sealcoating business and why did you start it?  
"Asphalt work has been in the Davis blood-line since my Grandfather and Grandmother owned their own paving outfit in the 80s and early 90s. My father is also a successful salesman for a sealcoat manufacturing and distribution company, I grew up in his work trucks with him selling jobs and performing equipment and material demos.
I started working myself in the paving and pavement maintenance industry fresh out of high-school in 2010 for a family friend. I worked for a few asphalt companies, big and small, over the next 8 years learning the trade from the inside out. When I worked for other companies, I took extreme pride in my work and paid attention to the details.
The more I experienced, the more knowledge I gained, and practice began to make perfection as I paid attention. When I felt I had really mastered my trade, I knew it was time I bring our Davis family name back into the asphalt game. HD Seal & Stripe LLC was founded with the purpose of protecting pavement the right way the first time by treating every property as if it was our own. I saw a flaw in our industry where most companies put quantity over quality, I knew we could not only do things differently, but better. From that, HD Seal & Stripe was born."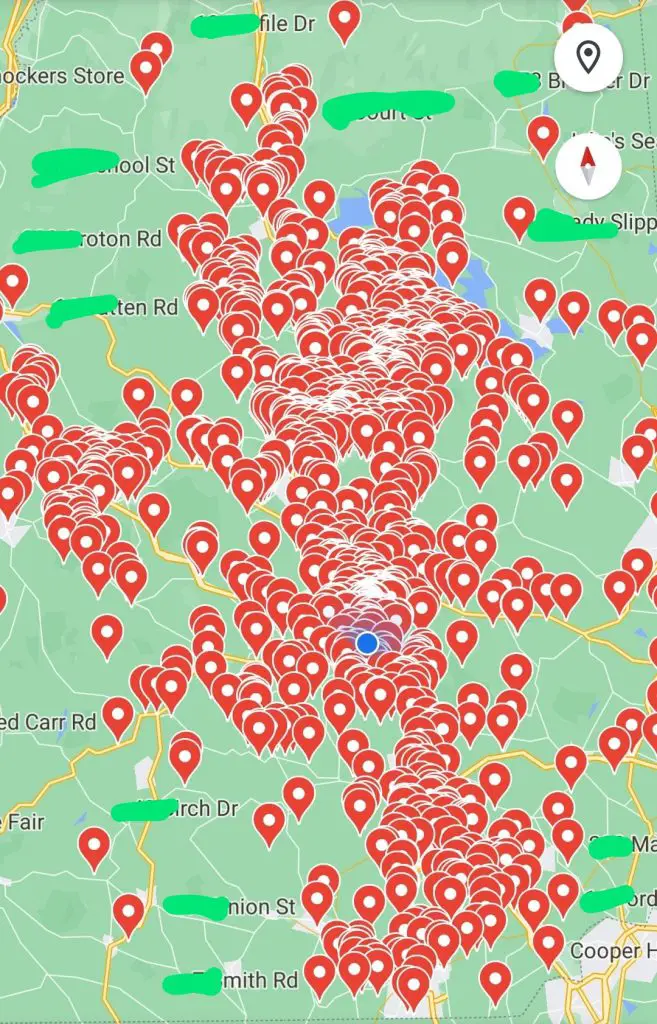 Can you tell me a little about you and what you want people to know about you?  
"I was born and raised in the beautiful Lakes Region of New Hampshire, February 15th 1993. Born in Laconia and growing up in Belmont, the Lakes Region has and always will be home. Since I was a kid i always enjoyed physical activities, playing sports, skateboarding, snowboarding, music, hiking, fishing, pretty much anything that got me outside and active.
Naturally, I knew I never wanted to work at a desk job. Fast forward many many years, I'm not surprised I chose the career path I did. We get to travel, work outside, enjoy different sights, and meet new people every day. Of course, I don't run the business completely alone, I have the help of our great employees and my beautiful wife, Jamie Davis.
Jamie has given me the ultimate motivation for success, our wonderful son and future foreman, Harry Davis. Growing up in sports, competition also came naturally, if i was going to do something I wanted to give it my all and do my best. I never lost that mindset and brought it with us into our business, with the goals of being the best in the 603 when it comes to driveway sealing. I take pride in being an honest contractor who can build trustworthy relationships with our customers for years to come."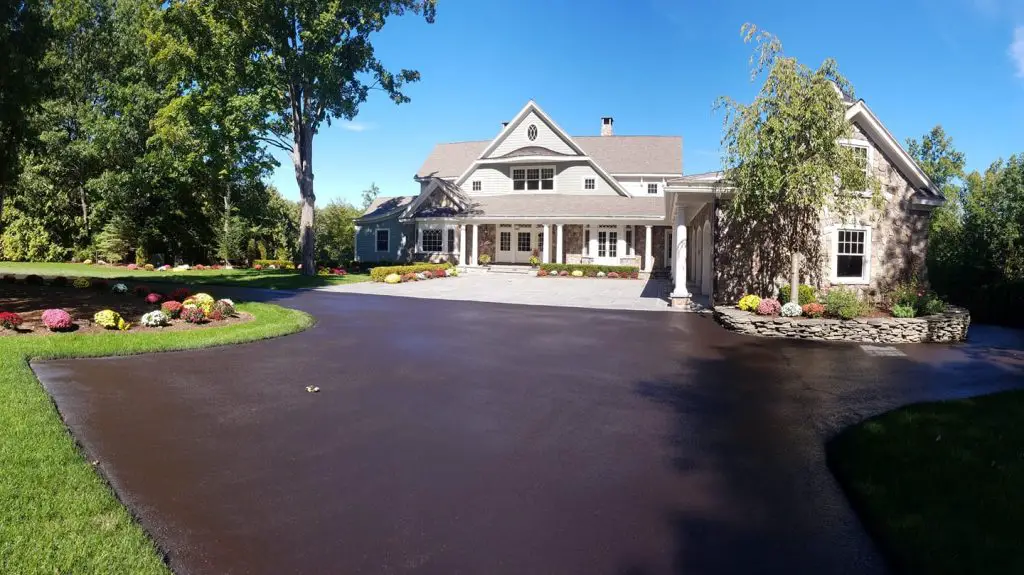 What are some things people should know about Driveway Sealing and how your business is different?  
"The most important thing when it comes to driveway sealing is definitely the prep work. We always say it's 90% preparation and 10% application, that's the recipe for a 100% quality job. We believe in doing the job right the first time, treating every customer's property as if it was our own. We have a saying at HD, "the easiest mess to clean is the one you don't make."
We take a lot of pride in leaving every property better looking than when we started. We take prep work to the extreme, edging every driveway to perfection even if it's 2 feet of overgrown earth or plants. We go above the normal expectations, trimming low hanging branches, pruning overhanging gardens with care, moving decorative rocks to protect them, and putting them back perfectly the way they were meant to be. We don't cut corners, we don't take short cuts.
Our true quality comes from doing the right thing even when no one is looking. A lot of things set us apart from our competition, the biggest one being how neat and clean we leave every job. Sealcoat is made for asphalt and asphalt only. We take extreme measures to guarantee the sealcoat stays on the pavement only, not in your grass, on your landscape rocks, granite curbs, houses foundation, garage door, cobble stones, your family pet, or anything thing is not asphalt.
We only use the highest quality, environmentally friendly, asphalt products and materials.  We do not water down our sealcoat and we do not buy the cheapest equipment, we put safety and quality above all else. Our signature on every project is a perfectly straight line at the road, no overspray off the driveway, an easy to read custom HD caution tape barrier, and an HD Seal & Stripe job sign sporting an American flag on top."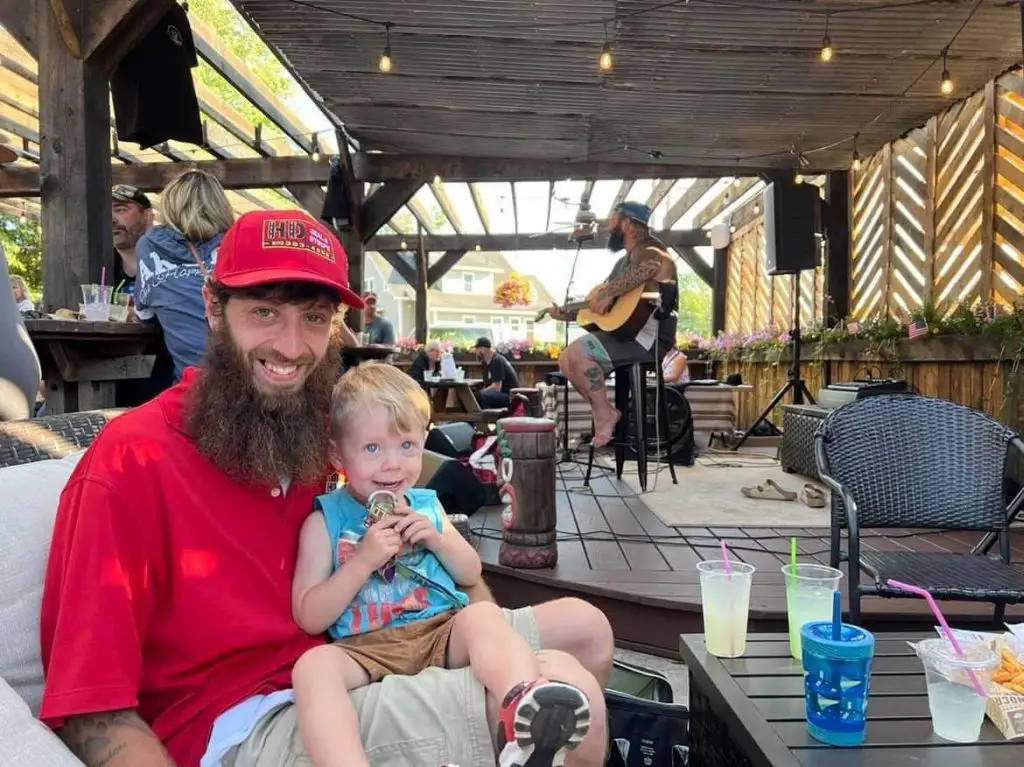 What is the main benefit people get when they have their driveway sealed with you?  
"Preventative maintenance is important with any investment, your pavement is no different. We recommend sealing your paved driveway every 2-4 years to stay on top of maintenance and preserve your driveway in its current state of deterioration. Hot rubber cracksealing is the best method of preventing serious problems with your asphalt, such as grand canyon cracks and pot holes. Asphalt cracks are just like tooth cavities, if not cared for in a timely manner, there may be no saving it.
Cracksealing cost penny's on the dollar compared to paving and replacing pavement. If steps are not taken to crackseal pavement as cracks appear, the only option left will be to preform a more costly repair like cut and patch paving, another service we offer if hot rubber cracksealing no longer a suitable. Sealcoating is like the icing on the cake, it will.give your driveway the first impression you want it to have.
Sealcoat doesn't just make your driveway look good, it protects your driveway from harmful UV rays, helps make your asphalt resistant to oil damage (if cleaned up properly), helps protect against water damage, and extends the average life of your paved driveway and walkways. To learn more we recommend checking us out on social media to see pictures and videos of all the projects we complete. For a free in person inspection and estimate, call or text us today!"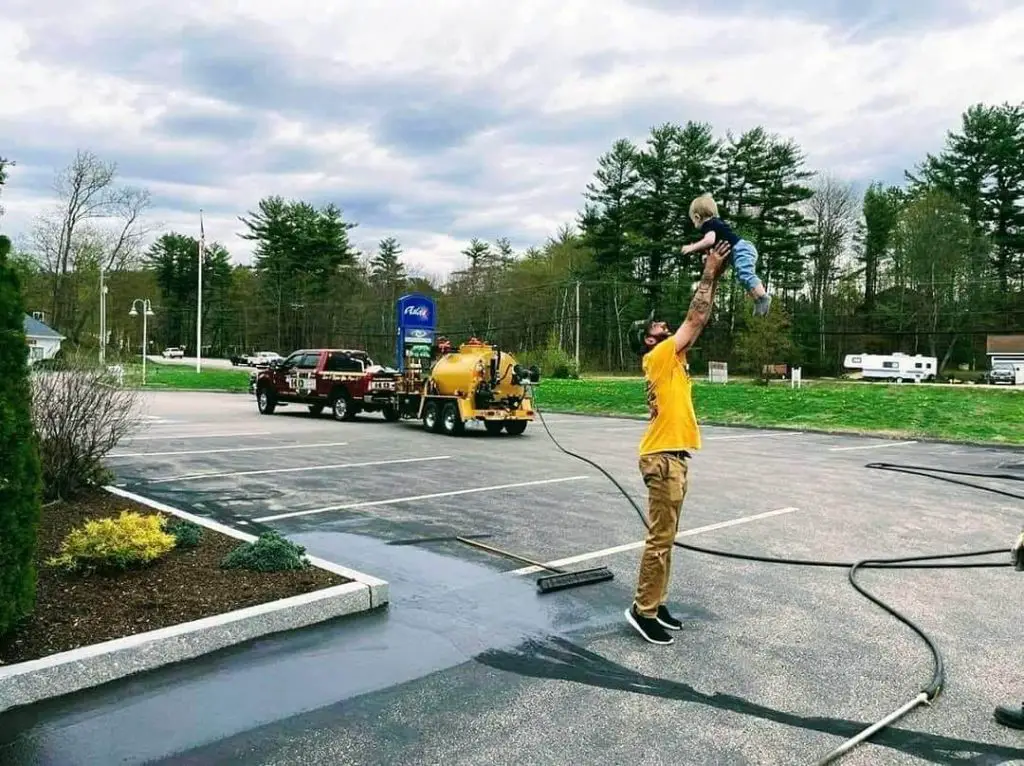 What's the biggest mistake you see people make when it comes to driveway sealing?  
"One of the biggest mistakes we see on a daily bases is the lack of prep work, lack of attention to detail, and caring about quantity over quality. You wouldn't want someone with no experience painting your car, would you? The advantage in hiring an owner operated family business is that we will never send a "new guy" to "learn" how to sealcoat at your properties expense.
When you hire HD, you know exactly what to expect. A lot of companies we see have a revolving door of employees, meaning no one really knows what they're doing. Without experience in this industry and the ability to pay attention to the details, the results are not pretty. We constantly get calls that start with "can you come look at our driveway, we just had it done but don't think it looks right". Unfortunately, a poorly executed sealing job is sometimes worse than not sealing at all.
When preparation is not taken seriously it compromises the materials integrity and longevity. When we have to "clean up someone's mess" it is not an easy task. From ripping up rubber crackseal that was applied over dirty or wet cracks, to scraping off deleminating sealcoat that was applied over poorly prepped asphalt, the results of a poor quality sealing job are just as unappealing as the process to correct it. Bringing us back to our saying "the easiest mess to clean is the one you don't make."
Another common mistake we see is people believing our materials are the same that are offered to them at department stores, in reality that is like comparing a burger from McDonald's to a farm fresh burger grilled in your own backyard. Like most products available to homeowners thru department stores, there is a huge difference in the quality of the materials when it comes to sealcoat and cracksealing products. Having the right tools and equipment, the best materials and products, lots of practice and experience, plus caring about the attention to details, makes all the difference in the quality of your sealing project. Please let us know if you have any questions or concerns, we'd be more than happy to have a chat with you." 
Bonus question:  What's your favorite thing about New Hampshire?  
"My favorite part about NH has to be the nature in NH, especially throughout the different seasons we have. How everything is constantly changing while keeping its beauty, from the lakes to the mountains, the flowers to the trees, and all the native animals we are blessed to live with. NH is a sacred place for me, one I believe should be preserved for our future generations to enjoy just like we do. That is why we care greatly about the footprint we leave, and more importantly, the footprint we don't leave. And I can't forget Jordan's Ice Creamery in Belmont, they're the best!"
Where To Learn More About Hal Davis and HD Seal & Stripe LLC
HD Seal & Stripe Website: https://hdsealedit.com/
HD Seal & Stripe Facebook Page: https://www.facebook.com/hdssllc/
The Best Sealcoating Company In New Hampshire – Final Thoughts
Hal is a great guy and I highly recommend him and his sealcoating services that he offers to New Hampshire homeowners like myself and to businesses too! You can't go wrong calling Hal for a quote on the sealcoating job you have in mind!
For my vote on the best Window replacement company in NH check this out.