No matter what season in New England it is, there are many fun family activities to do in New Hampshire.  Whether your family prefers amusement parks, skiing, hiking or just a quiet nature walk there is something for everyone here in NH!
Best Family Activities in New Hampshire and Fun Family Activities To Do In New Hampshire
NH is an absolutely beautiful state and it offers a wide range of fun for families and things to do to all year round. Some of these activities are indoors while others let you enjoy the beautiful NH outdoors. Let's dive in!
Santa's Village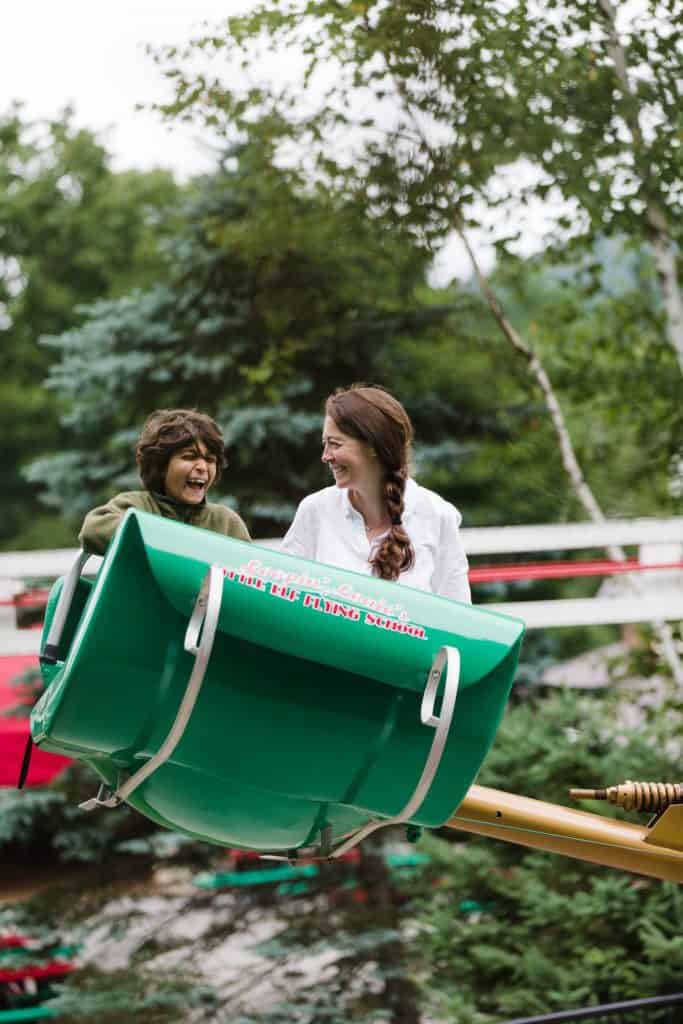 Santa's Village has been a family favorite for many years, you can definitely have a full day of fun with the feel of Christmas joy. You can start your day off by stopping by the Elf University and get your alphabet card to start your scavenger hunt looking for Elves A-Z then turn it back in to get a special prize if you found all 26 Elves! Then you will want to swing by the Doe-nut Factory to get mini donuts that can be very addicting! Moving on you will want to stop by all twenty rides, my personal favorite is the S.S. Peppermint Twist, all rides all family friendly. Depending on the time of year you visit you will want to spend some time in the Ho Ho H2O water park to cool off. You can end your day taking in a show and stopping by to feed the reindeer.  See our full write up about Santa's Village here.

https://www.santasvillage.com
528 Presidential Highway
Jefferson, NH 03583
Santa's Village Offers Great Kids Activities NH
Kancamagus Highway
Photo credit to our friend Cody Lewis
New Hampshire Route 112 is a 56.39 mile long state highway that winds across the state connecting Bath to Conway through scenic and mountainous White Mountain National Forest. There are many hiking trails along the Kancamagus Highway, Moat Mountain Trail, Boulder Loop Trail, Rail and River Trail just to name a few. Hiking the Kancamagus is especially beautiful during the fall season to see the beautiful foliage. You will also find backcountry ponds, 4000 foot mountain summits, beautiful waterfalls and excellent swimming holes. 
https://www.newenglandwaterfalls.com/waterfallsofthekancamagushighway.php
https://www.fs.usda.gov/activity/whitemountain/recreation/scenicdrivinginfo
https://www.kancamagushighway.com/trails/
Route 112
North Conway, NH 03813
Squam Lakes Natural Science Center
Squam Lakes Natural Science Center has something for everyone to enjoy. Many different wild animals live and are on exhibit at the center, including river otters, mountain lions, bobcats deer, bears just to name a few. The Science Centers main purpose is to educate visitors about New Hampshire's natural world. The walking trails are beautiful with nice shady spots if you visit on a hot day. The animals are all well cared for and the staff is friendly. The Science Center also has an impressive kids interactive play area, so parents can take a break while the kids play! 
23 Science Center Road
Holderness, NH 03245
Story Land
Story Land has been offering rides and entertainment to thousands of families for over 65 years. The park offers over 30 attractions for all to enjoy, you can eat dinner with the characters or stop by for tea time, Story Land offers fairy tale fun for all. Be sure to take a ride on the Swan Boats and get aboard the Huff Puff & Whistle Railroad, then stop by and try your luck at Rory's Dino Dash to see how fast you can make your Dinosaur run, if yours is the fastest you will win a prize! End the day by joining Daniel Tiger and his friend Katerina Kittycat for a full show of make believe!
850 NH Route 16
Glen, NH 03838
Polar Caves Park
Polar Caves have been a family favorite since 1922! The caves are located in the scenic Baker River Valley in Rumney. There are 9 glacial boulder caves to explore and Polar Climbing walls with different levels of difficulty to offer a challenge for everyone. Bring your own lunch and enjoy a picnic, then stop by to feed some of the animals and before you leave for the day stop by the Gift Shop to try some fudge!
705 Rumney Route 25
Rumney, NH 03266
Northeast Delta Dental Stadium – Home Of The NH Fishercats
Northeast Delta Dental Stadium is home to the NH Fishercats where you can go catch a high quality baseball game with tons of fan interaction between innings to keep your whole family entertained. Plan your visit on a Sunday and kids get to run the bases before the game! They have great options for food and prices are reasonable.  Before you buy your tickets check the website for the theme of the night and if it is an Atlas Fireworks night, you will not be disappointed with the fireworks show! 
https://www.milb.com/new-hampshire
1 Line Drive
Manchester, NH 03101
Children's Museum of New Hampshire
At the Children's Museum of New Hampshire families are able to explore creative exhibits that make learning fun. You will discover dinosaurs, submarines, aerodynamics, brain waves, music, art, nature and more. There is a designated area for babies and toddlers upstairs to enjoy.  You can pack a lunch and enjoy a picnic in a Riverfront setting that offers a playground. The museum is open year round and offers special events, classes, performances and workshops so be sure to check out the schedule found on their site before your visit!
https://www.childrens-museum.org/
6 Washington Street
Dover, NH 03820
Ice Castles
I feel like a kid every time I go to the Ice Castles. The Ice Castles expertly built in North Woodstock (see also 'Things To Do In North Woodstock NH') are absolutely stunning and it makes for a really fun Winter family trip in New Hampshire. Each year the ice structures are a little different but always include cool music (pun intended), an ice throne, ice buildings, and impressive ice slide, ice tunnels to crawl through, frozen fountains and ice towers. Last time we went we saw some Fire jugglers put on an awesome show.

You will definitely want to make sure you and the kids are dressed warm. We always bring a couple packets of those Hot Hands to make sure we stay warm in our gloves and mittens. recommend buying your tickets in advance as they sell out regularly. You can purchase hot chocolate, cider and some other goodies there. We always pack a Thermos full of hot chocolate for the Jeep ride home. Enjoy!
Moulton Farm
Moulton Farm is open seven days a week in the summer, they are dedicated to providing the highest quality fruits and vegetables. The farm market offers baked goods, prepared foods, Seafood from Sal's Fresh Seafood, quality selection of meats, cheeses and other items from New England producers. They also have a garden center offering a wide variety of plants and garden supplies. You will want to be sure to stop at the Cider Bellies stand for fresh cider doughnuts. If you are lucky enough to be visiting in September or October you will be able to enjoy they corn maze (see also 'The 5 Best Corn Mazes In New Hampshire') and pick your own pumpkin from their patch. 
18 Quarry Road
Meredith, NH 03253
Canobie Lake Park
Canobie Lake Park offers a full day of family fun with over 85 rides, Games, Live Entertainment and Attractions!  There is a ride for everyone the daring person will want to take a ride on Untamed which is the park's newest roller coaster featuring grizzly bear cars then jump in line for the Yankee Cannonball which is a traditional wooden roller coaster with quick drops and plenty of thrills in the 60 second ride. If you are visiting on a hot day you will enjoy Castaway Island water park, or you can take a ride on the Boston Tea Party where you are sure to get soaked riding the 20 passenger boat that travels down a 50 foot drop! For the little family members they will enjoy the junior sports cars or the kiddie canoes. There is so much to choose from at Canobie Lake Park you will want to visit again and again!
85 N. Policy Street 
Salem, NH 03079
Lost River Gorge & Boulder Caves
I have fond memories of coming here with my family as a child. Located in the White Mountains, with this classic NH attraction you can adventure beneath the earth at Lost River Gorge & Boulder Caves. This natural attraction formed by Glaciers a long time ago has been captivating families for years. Lost River Gorge is comprised of natural granite cliffs, impressive waterfalls, caves you can spelunk in, and a river that weaves in and out of the rocks. There is also a section of boardwalk where you can hike along, or step off and explore the boulder caves, including the Sun Altar, Thor's Workshop, the Devil's Kitchen, the Lemon Squeezer, and the Judgment Hall of Pluto. Sturdy footwear and outdoor clothing are recommended. Open early May to mid-October.
1712 Lost River Road — Route 112W
North Woodstock, NH, 03262

https://www.lostrivergorge.com/
Gunstock Mountain
Gunstock is New Hampshire's closest major ski area with breathtaking views of Lake Winnipesaukee, perfect for a family fun vacation or weekend getaway for two. Enjoy the best of New Hampshire where you can Ski, Snowboard, Tube, Cross Country Ski, Snowshoe, or ride a FatTire Bike on our 32 miles of Cross Country trails, and try out our Mountain Coaster. Our energy efficient and high capacity snowmaking guarantees great conditions all winter, day and night. And when you're done, the Lakes Region offers great dining, lodging and entertainment. Enjoy miles of hiking and mountain biking trails and stay in our campground.
719 Cherry Valley Rd,
Gilford, NH 03249

https://www.gunstock.com/
Mountain Washington Cog Railway
At this awesome NH attraction you can ride the world's first mountain climbing cog railway to the top of Mount Washington – the highest peak in New England! It is an impressive sight for sure! The Cog Railway train climbs 6,288 feet to the highest summit on the East Coast. When you reach the peak you can even get out and explore. On a clear day you'll see New Hampshire's White Mountains spread out around you, and all the way to the Atlantic Ocean. 
Off Route 302
Bretton Woods, NH, 03589

https://www.thecog.com
Clark's Trading Post
Clark's Trading Post is a fun family favorite that has been celebrating entertainment for over 80 years! You will not want to miss the 30 minute bear show, yes real live bear show starring North American Black Bears. Take a ride on the White Mountain Central RR steam train going under a covered bridge and into Wolfman's territory. If you are visiting on a hot day your can cool off on the Blaster Boats, take are tour through Merlin's Mystical Mansion or the Tuttle's Rustic House. You will want to end your day by making your own sundae at the Peppermint Saloon then swing by the Gift Shop which is the largest gift shop in the White Mountains. You will definitely enjoy your time at Clark's Trading Post!
110 Daniel Webster Highway
Lincoln, NH 03251
Loon Mountain Resort
Loon Mountain is New England's most-accessible mountain resort destination, located in New Hampshire's White Mountains just two hours north of Boston. Loon Mountain offers skiers and snowboarders 2,100 feet of vertical, three peaks of terrain variety, and a full progression of award-winning terrain parks. During the Summer and Fall, Loon features NH's longest scenic Gondola Skyride, Aerial Forest Adventure Park, zipline, LogJam maze, glacial caves, bungee trampoline, bike rentals, hiking, and more fun activities. 
60 Loon Mountain Rd.,
Lincoln, NH 03251

https://www.loonmtn.com
Chuckster's Family Fun Park
Chuckster's is fun for adults and kids of all ages. Chuckster's has three locations; one in Chichester NH, one in Hooksett NH, and one in Alton Bay NH. The Chuckster's Family Fun Park has lots of great family-friendly activities including miniature golf (they boast the longest mini golf hole in the US), Aerial Adventure, batting cages, go-karts, climbing wall, Jumpsters, Shoot-N-Shower, Aeroball, Log Slammer, Balloon Blast, TimberClimb and 32 flavors of ice cream, and more!

9 Bailey Rd
Chichester, NH 03258

58 Hackett Hill Rd,
Hooksett, NH 03106

5 Mt Major Hwy,
Alton Bay, NH 03810

https://www.chuckstersnh.com/
Mt. Washington Auto Road
The Mount Washington Auto Road an 8 mile toll road that extends from New Hampshire Route 16 in Pinkham Notch to the summit of Mount Washington in the White Mountains of New Hampshire. More than 45,000 vehicles a year drive the Mt. Washington Auto Road. If you have steady hands this is a great family adventure! The sign at the foot of the mountain reads "ATTENTION! The Mt. Washing Auto Road is steep, narrow mountain road with no guardrails. At mid-mountain, there is one mile of gravel road before returning to pavement. If you have fear of heights you may not appreciate this driving experience. Guided tours are available."
Route 16, Pinkham Notch
Gorham, NH, 03581
https://mtwashingtonautoroad.com
Other Fun Family Activities To Do In New Hampshire? Message Me With Your Ideas And I Will Add To The List…
Message me with other fun family activities you love to do and I will consider adding them to this list.