Plymouth NH – Rainbow Falls is a short 1.2 mile up and back hike located in Plymouth NH that features a nice scenic waterfall as part of the hike.  If you are looking for waterfall hikes near you this might be an easy one to add to your list. It's likely to be a less crowded hike as compared to some of the more popular hikes in NH.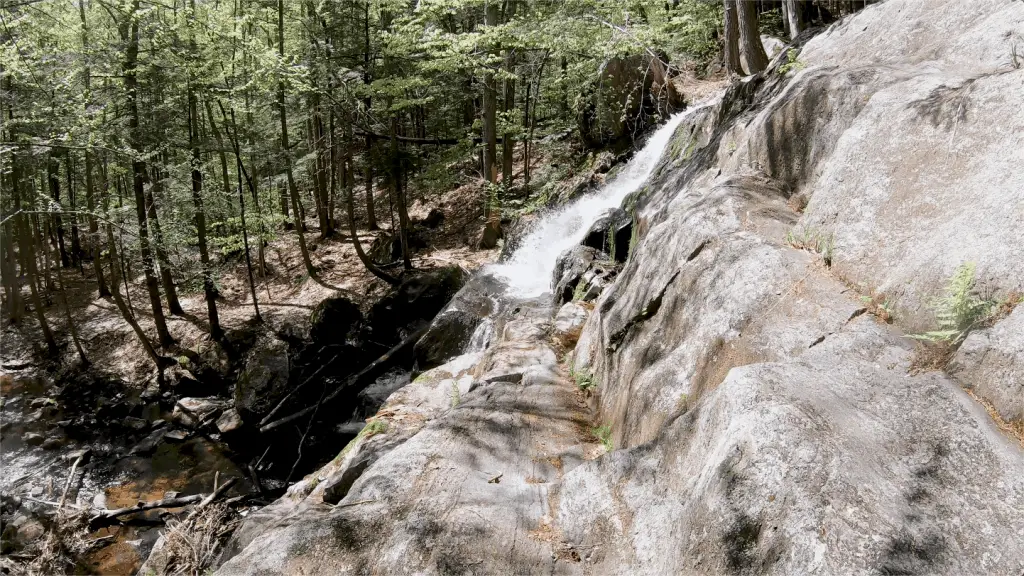 Rainbow Falls is part of the nature preserve called the Walter-Newton Natural Area.  Our contributor Tony said this is a hike best done in the Spring as the waterfall will have good volume at this time of year.  Just be aware that it can get muddy so wear appropriate footwear.  
Video of The Rainbow Falls Plymouth NH Hike
About The Rainbow Falls Hike
From the small parking area walk up the road to the kiosk on the right. This short 1.2 mile hiking trail is relatively flat and easy as it follows a marsh at the start of the hike. 
As you can see in the video from Tony, the trail follows along the very pretty Glove Hollow Brook which is the water source of Rainbow Falls.  It's a fairly flat hike and doesn't contain much of an incline.   
The trail climbs a little toward the end as you passes a couple of snowshoeing trails on the left.  Then you arrive at the Rainbow Falls waterfall. You will be rewarded with a nice view once you see the Falls.  Rainbow Falls is a relatively small waterfall (probably about 25 feet tall in height) but worth the trip.  
It's a picturesque spot worthy of some photographs once you reach the Falls.  
Two benches are currently in place at the Falls so you can sit and rest while watching the water cascade over the Falls. 
Tip:  As Tony mentioned in the video be aware that is buggy in the Spring so make sure you pack bug spray.  
All said and done the hike took Tony and his hiking partner an hour from start to finish.
Rainbow Falls Plymouth NH Directions
If you would like to go on this waterfall hike you can find Rainbow Falls at 47 Cummings Hill Rd, Plymouth, NH 03264. Below is a Google Map of how to get to Rainbow Falls in Plymouth NH. Happy trails!!