Since there are a whole host of bugs, insects, and creepy crawlies that live in New Hampshire, you may be wondering if scorpions also take residence here.
Now, when you think of the typical habitat of a scorpion you're probably thinking dry, hot, sahara deserts, right? I would too. And that is where a lot of scorpions like to live, so you're not wrong.
And New Hampshire and dry sahara deserts aren't exactly synonymous, so you'd think that in terms of scorpions, there's at least one dangerous creature that you're safe from. And in a way you are.
There aren't scorpions as such crawling around in New Hampshire. But there is a type of creature that is basically a scorpion, just without the tail. So let's take a look.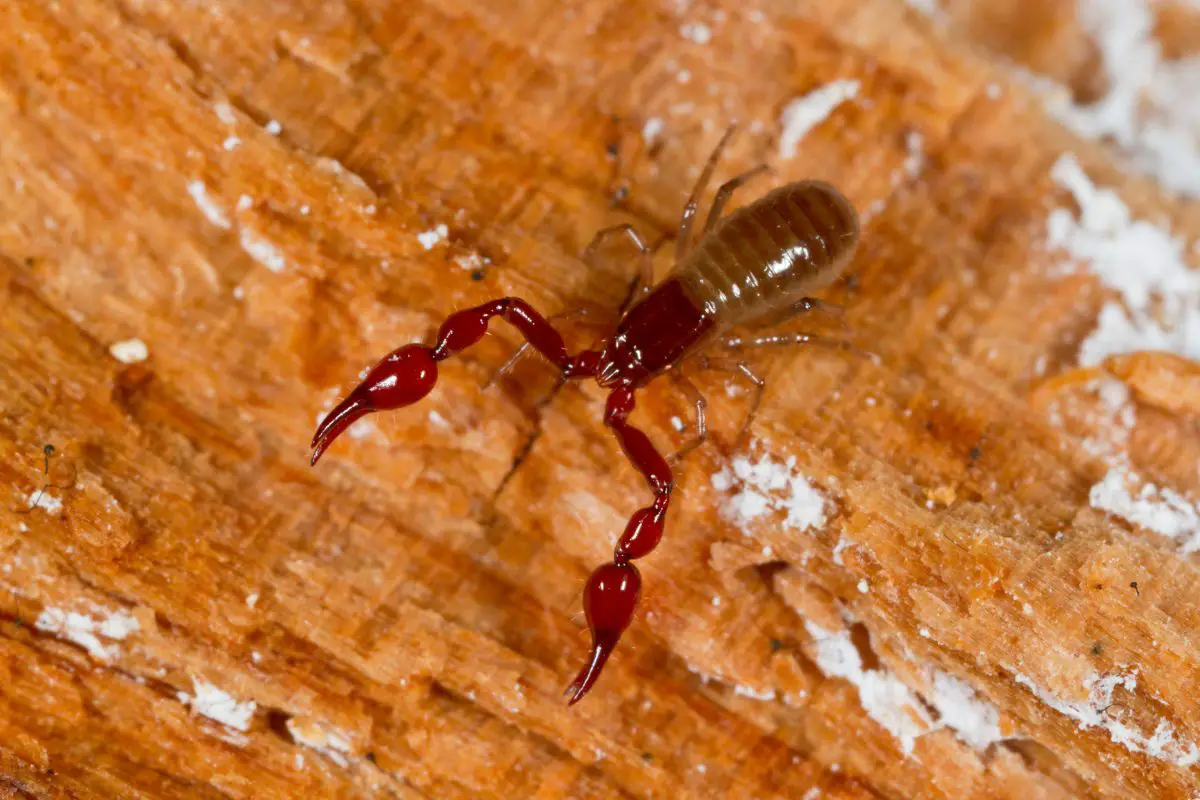 Meet The Pseudoscorpion
What is a pseudoscorpion? I hear you ask in apprehension and fear. Well, there a pretty close relative of the scorpion. Luckily, these scorpion-like creatures aren't quite as scary as their more commonly known counterpart.
Pseudoscorpions look pretty similar to a scorpion, except they are teeny tiny in size in comparision.
Oh, and the feared venom-filled stinger? Yeah, they don't have one of those. So they don't have quite the same fear factor as their larger relatives.
And when I say that these creatures are tiny, I'm talking smaller than a grain of rice kind of tiny. Is it bad I actually think they look kind of cute?
The word Pseudo quite literally translates to false or fake. So the name of these little arachnids is literally 'fakescorpion.' The do look very similar but they pose absolutely no threat to humans.
The key idenifying factors of these little creatures are as follows:
Minute reddish-brown body. This can differ though for certain species.
A segmented 'teardrop' body shape.
Eight legs and pincers that are much larger than the rest of their body
About The Pseudoscorpion
This little guy will not only not harm you unlike a typical scorpion, but it will actually help you keep other unwelcome visitors away. It's almost as if these little creatures have adapted to work in perfect harmony with us humans.
They tend to like to live in dark spots in places such as your closet. You won't tend to ever really see or notice them, so they remain generally undetected or 'scary' to the public.
However, they also sit back and munch on moth lava, ants, mites, small flies, and all other host of unwanted pests that might make their way into your home.
While they do not have a venomous tail, they do actually have venomous pincers. But don't worry, they aren't an issue for humans.
These pincers are very effective at killing their prey though. And we want that prey out of our homes just as much as they want their next meal.
It is actually somewhat similar to a spider too. Only because they can make silk too. They also have eight legs, so there's that too, I guess. But unlike a spider, they won't make a web to catch prey.
When they use their silk, it's usually so that they can create a cocoon that they'll use as shelter to protect themselves during the colder winter months.
They're Actually Pretty Common In New Hampshire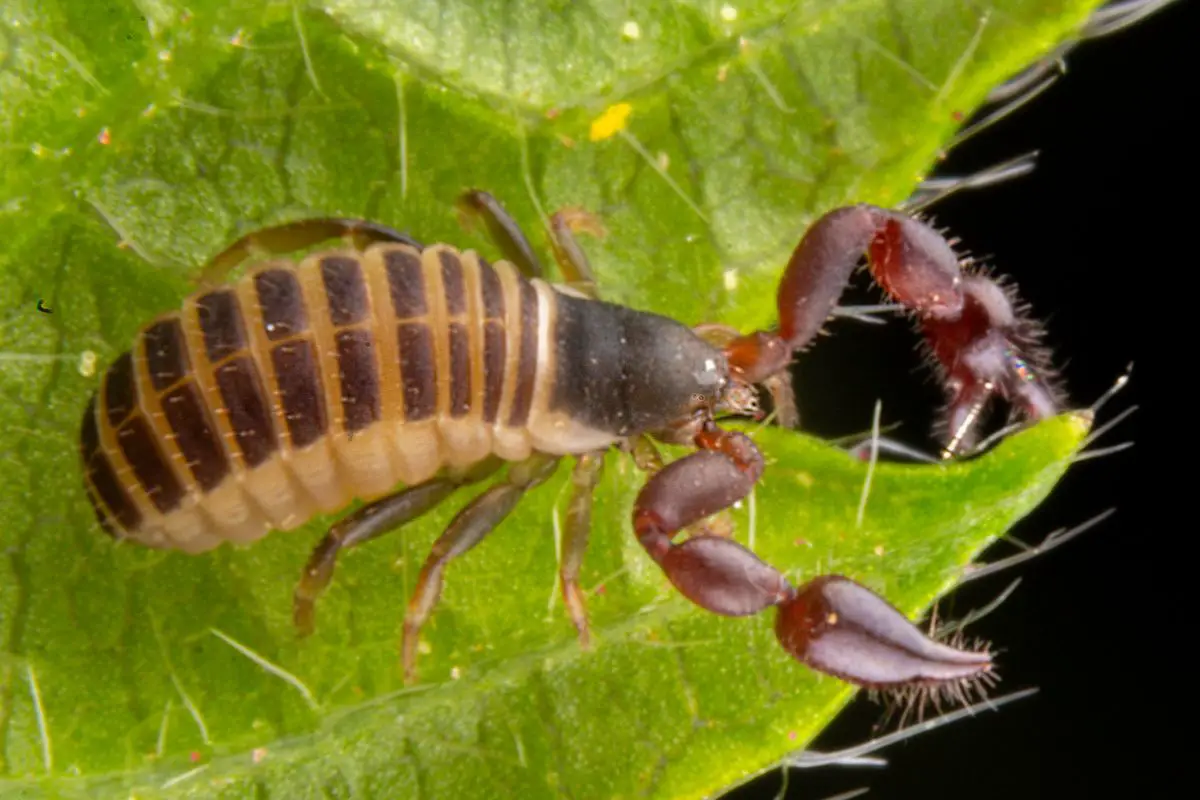 These little creatures are actually really common in New Hampshire, but it often surprises many people.
There are lots of people that tell me they've never even seen them before. I've put this down to their very small size, I imagine they often fly under the radar undetected or overlooked.
But they're basically everywhere. Did you know that some species of pseudoscorpions will even grab a lift with other flying insects when they want to move locations. This probably attributes to why they are all over the area.
There are actually dozens of different species of this little guy across New Hampshire.
How They Hunt
These tiny little creatures rely on the hairs on their pedipalps when it comes to hunting prey.
Pedipalps is the official name for those little yet deadly (to prey) pincers. They depend on these so much because they have really bad eyesight.
The way in which they hunt will vary from species to species. Some will stalk down their prey pretty aggressively, while others will lie back, hidden, waiting for the perfect moment to attack.
When an unsuspecting insect brushes against these hairs, the psuedoscorpion will instantly attack.
The poison in the pincers will instantly paralyze their prey. It'll then inject saliva into their prey and then feed on the liquified contents which is pretty similar to how a spider eats his prey too.
And while this sounds pretty scary, there's no need to worry because the poison glands in these pinchers poses no risk to you or any of your pets. Just those pesky pests that you want gone anyway.
How To Get Rid Of Pseudoscorpions
While an infestation of these creatures is incredibly rare, it can happen. And even if it isn't quite an infestation, there may be enough of them to cause you a fair amount of nuisance.
If you want to get rid of these tiny-looking scorpions, then you will need to ensure that you are controlling the moisture levels in your home.
Make sure that you clean up any spills, and leaking pipes are fixed, and that you have a dehumidifier.
You may have a problem with these creatures if your house has recently flooded. If this is the case, you'll want to remove and replace any items that are waterlogged and spray any visible critters with insecticides.
In the case of an infestation it may also be worthwhile calling a professional pest control company to exterminate the infestation.
It is likely that where there is an infestation of pseudoscorpions that there will also be an infestation of other insects too since that is what they feed on. So it's always worth dealing with quickly.
Final Thoughts
So, are there scorpions in New Hampshire? Not quite. Not in the crawling stinging-tailed super dangerous kind.
Not the kind that you initially envisioned when you asked the question. And that, in my opinion at least, is a pretty good thing. There's enough to contend with without adding scorpions to the mix.
With that being said, though, pseudoscorpions are very common in New Hampshire. And they are a reactive of the scorpion. So I guess there is a type of scorpion in New Hampshire.
Luckily though, these little creatures pose very little threat to humans and pets.
For the most case, they'll linger in the dark undetected and will just munch on the kind of bugs and critters that you really don't want in your house.
They don't have that nasty stinging tail, and they are only venomous to the prey they intend to eat.
And actually, only some of these species actually even like to live in your home. Many of the species will often be found outdoors under rotting leaves or logs or in your well-watered lawn.
But if you do see one of these little guys, you can rest easy knowing that it is know a baby scorpion that is going to grow to have that stinging tail. It's just its teeny-tiny mainly inoffensive relative!