Deciding to stay in Portsmouth is easy, given all the great things to do while you're there, but I'm gonna level with you and admit that choosing which hotel to stay in can be tricky – there are so many great options to choose from.
And to help you in your decision of which hotel to stay at, I've put together this little run through of what I consider to be among the best hotels in the area, and why you might like them.
Please feel free to scroll ahead to any section that jumps out at you. Here goes!
What To Consider When Choosing Your Hotel
Location
Of course, the main thing to consider when choosing is the precise location.
You want to be close to whatever it is that's attracted you to the area, whether it's the historic downtown area that's full to the brim with great shops and boutiques, or the amazing restaurants and cafés that foodies can't get enough of, or the intriguing historic sites, the stunning Prescott Park, or Portsmouth harbor and the seafront.
The list goes on!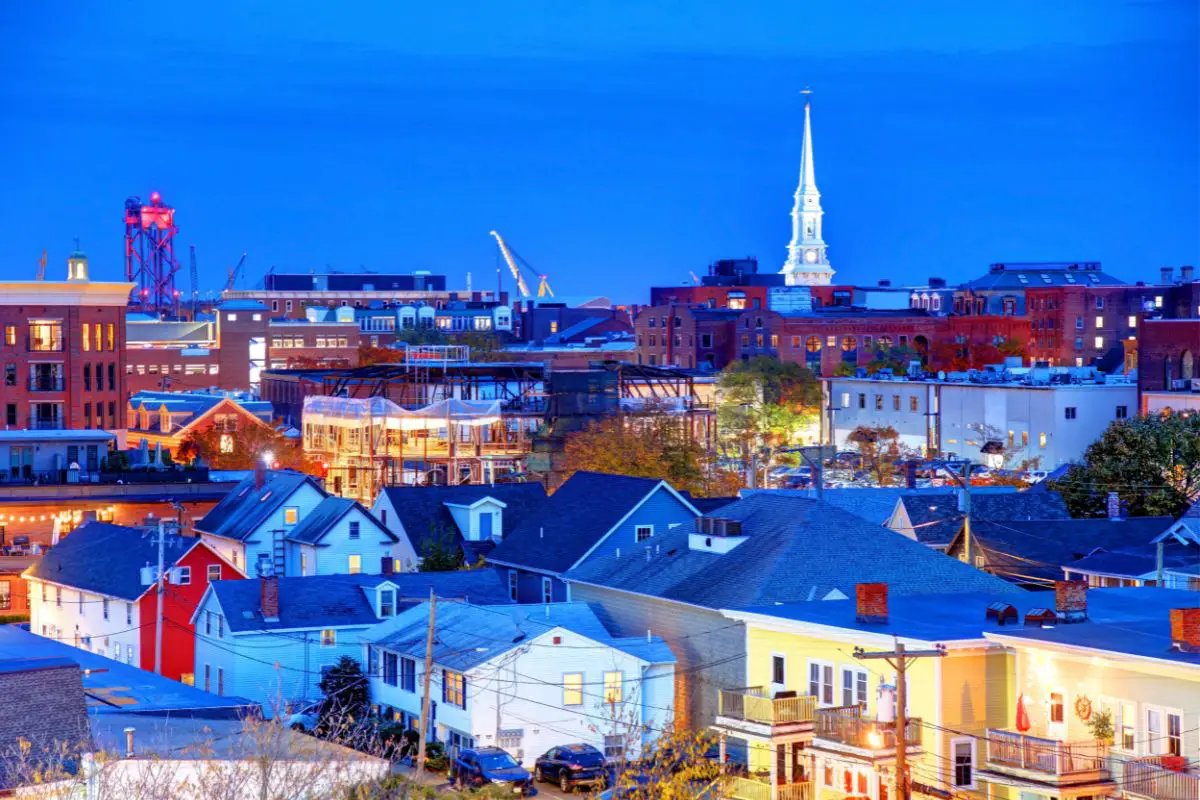 Other Factors
But in choosing your hotel, you may also want to consider the costs, because no-one likes to pay more than is necessary, and of course the overall customer experience.
If you're coming by car, you'll also be interested to learn about the hotel's parking arrangements. If it's a working trip, or even if it isn't, you may also be interested in the Wi-Fi signal. And depending on the time of year, you may also be interested in air conditioning.
Best Hotels To Stay At In Portsmouth, New Hampshire
Side note – I'm not going to include prices in the article because prices can change, so I'll just comment on affordability instead. But as a rough guide, the average price for a weekend night is $263.
In a hurry? Check out my number one pick below!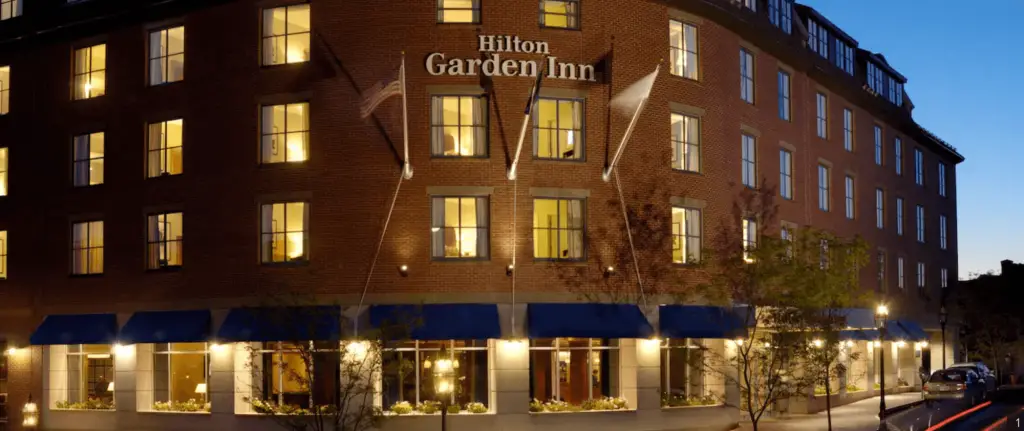 Hilton Garden Inn, Portsmouth Downtown
I just love the location of this hotel and I have stayed here on multiple occasions. It's within half a mile of the museums and other historical attractions of the area, and only a block away from the Old Harbor river. It is walking distance away from some of my favorite Portsmouth restaurants.
And it's not too far from the University of New Hampshire, either.
Again, it has earned excellent reviews on TripAdvisor, earning 4 and a half stars even after well over 1,500 individual customer ratings.
The rooms have a very clean, modern aesthetic, often featuring very large windows that almost reach the floor.
They serve both breakfast and dinner in their very own restaurant and bar. Or alternatively, you can always grab a quick snack at their 24-hour Pavilion Pantry.
Their available amenities include free Wi-Fi, adjoining rooms, and pet friendly rooms. There's also a little indoor pool and small fitness center.
Learn more at their website here.
Port Inn And Suites Portsmouth, Ascend Hotel Collection
One of the great things about this particular hotel is affordable pricing – their deals can come well below the average cost (mentioned earlier). If you are looking for an affordable option this is a good choice.
But that's certainly not all that this hotel has going for it.
Judging from the ratings and reviews on TripAdvisor, the customer experience at this hotel is rather good, having earned a 4 and a half star rating after well over 1,000 individual customer reviews.
It has a very convenient location, near both the I-95 and Portsmouth International Airport.
It is a vintage-style hotel dating back to the 1950s, and they offer a warm and friendly service. And in addition to such conveniences as free parking and free Wi-Fi, it has a lot of advantages you don't always see in a hotel…
For example, there are charging stations available to use for electric vehicles, free long distance calls to U.S. & Canada, dog friendly accommodations, so you don't have to leave your best friend behind, and a heated outdoor pool, together with a beautiful patio area for barbecues.
Learn more here.

Hampton Inn & Suites Portsmouth Downtown
Like my number one pick, the Port Inn, the Hampton Inn has also earned excellent ratings and reviews on TripAdvisor. And for good reason, too.
Less than a mile from the I-95, it has an excellent location, that's just a minute walk from downtown shops and restaurants and the picturesque waterfront views of the New Hampshire Seacoast.
The amenities are superb. You can book adjoining rooms and/or pet friendly rooms. There's valet parking and electric vehicle charging available.
There's a dedicated fitness center, so you don't have to miss your regular trip to the gym, a luxurious indoor saltwater pool, and an excellent on-site restaurant to boot.
And their Wi-Fi is free to use, of course. Plus, you also get a complimentary breakfast included in the price of your stay.
The Hotel Portsmouth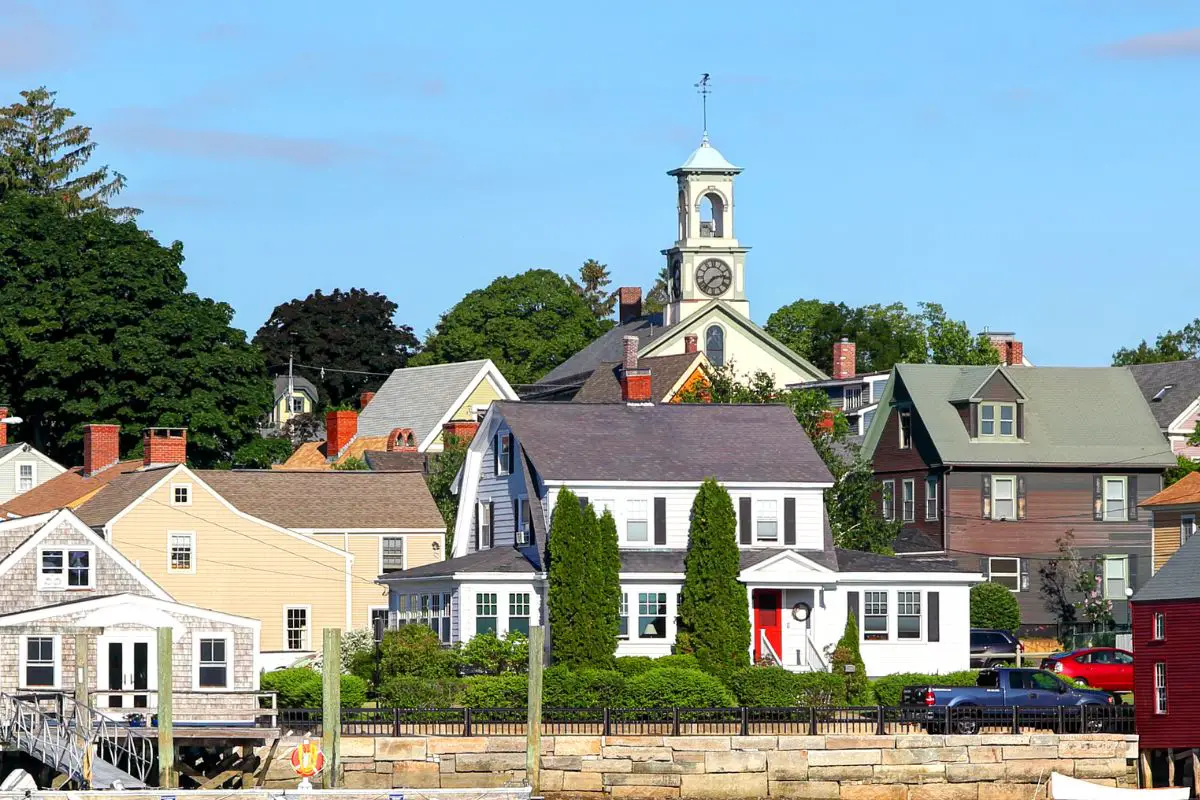 Described as Portsmouth's favorite downtown hotel, the Hotel Portsmouth is to be found a short distance away from the downtown area, and has earned a 4 and a half star rating on TripAdvisor, even after well over 700 individual reviews.
Both the outside and the inside of the hotel provide an historic, grand, and sophisticated ambience.
The rooms are immaculately kept, and the staff are excellent, always happy to provide recommendations about where to go and where to sample the local cuisine.
There's free parking, free Wi-Fi, air conditioning, and the front desk is open 24/7. What's more, the pricing is competitive, and it's easy to find a good deal online.
Residence Inn Portsmouth Downtown / Waterfront
If you want to be right in the midst of Portsmouth's goings-on, the Residence Inn is the place to be. It's right in the heart of Downtown Portsmouth, just steps away from the Piscataqua River. So whether you're there for art galleries or live theater, you won't have to trek far.
It also enables easy access to the University of New Hampshire, the New Hampshire beaches, and the Kittery Shopping Outlets.
And it has all the amenities you could want, including pet-friendly rooms, a heated indoor pool, and a fitness center. Not to mention complimentary hot breakfast and free Wi-Fi.
Wrap Up
So, there you have it, 5 wonderful places to stay while you're in Portsmouth – enjoy!