The Northern Rail Trail is 58-mile recreational trail running from Boscawen NH to Lebanon NH.  Built on the former Northern Line it is now part of the NH State Park system.  The Northern Rail Trail spans two counties and has been worked on heavily over the years to make it a great four-season trail. The surface on most of the trail is perfect for walking, biking, snowmobiling and more.  The Northern Rail Trail offers some scenic views through small and even around Mascoma Lake. 
Here's My Experience Mountain Biking On The Northern Rail Trail
Wednesday morning I set out on my bike for a new adventure.  I've been searching for all the dirt and gravel roads in New Hampshire this summer as I prepare for a ride I'm doing Labor Day weekend.  When I heard about the Northern Rail Trail, I was excited and intrigued immediately. 
It's the longest rail trail in New Hampshire at 58 miles and it runs from Boscawen to Lebanon.
First, let me explain gravel riding to you because it's quickly gaining in popularity in the cycling community.  People are flocking to it for many different reasons.  I got bit by the bug because it's the perfect blend of mountain biking terrain and road cycling.  While I love mountain biking, sometimes I want to ride on less technical terrain and actually pedal my bicycle.  I started riding on the roads to build up some endurance, but riding on the road is beyond scary with people texting and trying to squeeze by cyclists when another vehicle is coming at them.  Riding on gravel and dirt checks off what I want from a bike ride and makes me so happy. 
I can pedal my heart out (and my legs) without worrying about traffic (too much), and I can see some pretty cools sights from my bike.
But where to find the dirt?    I've done a pretty good job finding some around us this summer but like I mentioned, I heard about the Northern Rail Trail and was psyched to know there was 58 miles of pure dirt ready for me and my bike.  The trail has many different access points and is so well taken care of.  It's easily usable by people from all different abilities.  I would have loved to ride the whole length, but I had to make it back to my car.  So I got in 35 miles heading northwest before turning around and making it a 70 mile round trip.  There were so many spots I wanted to stop and take pictures but alas, this was technically a training ride and I wanted to push myself a little.  So I'll do my best to show you some points of interest that stuck out to me and hope it inspires you to check out this awesome trail we have right in our own state!
I was a little later than I hoped getting to the Hannah Dustin park & ride in Boscawen but it was gorgeous to start my ride just as the sun was coming up.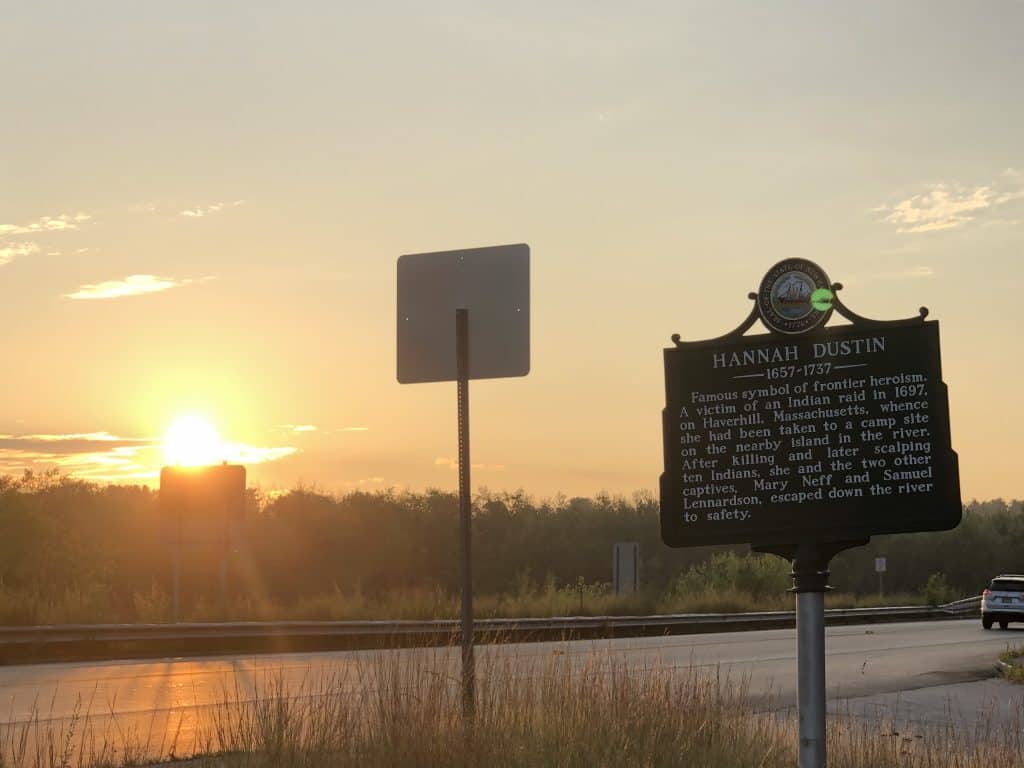 Before riding I did a lot of research and was still somewhat nervous about finding the trailhead from the parking lot. 
Luckily, there is plenty of signage…not just here, but all along the trail.  I mean, once you're on it, it's pretty much a straight shot, but it's comforting to know the information is there if you need it.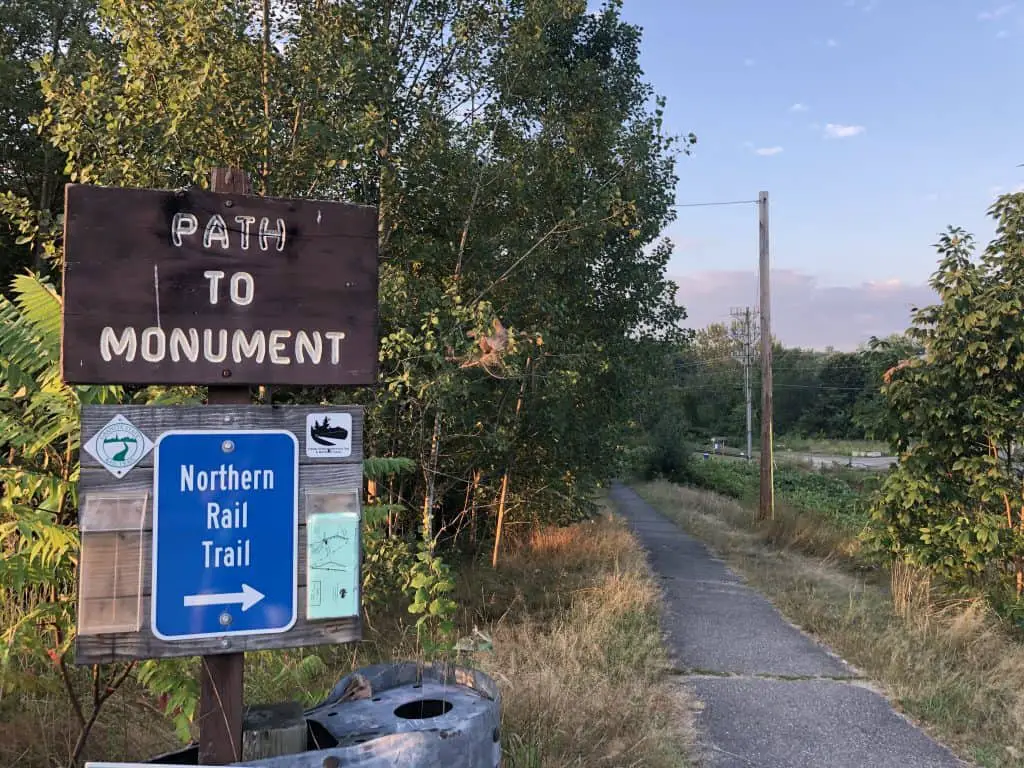 Within a mile of riding, I just had to stop.  I felt like I was chasing the sunrise along this amazing strip of farmland.  So I stopped.  I mean, when you experience views like this, you can't just take it for granted.  I was all alone, enjoying the most beautiful landscape while most people weren't even awake yet.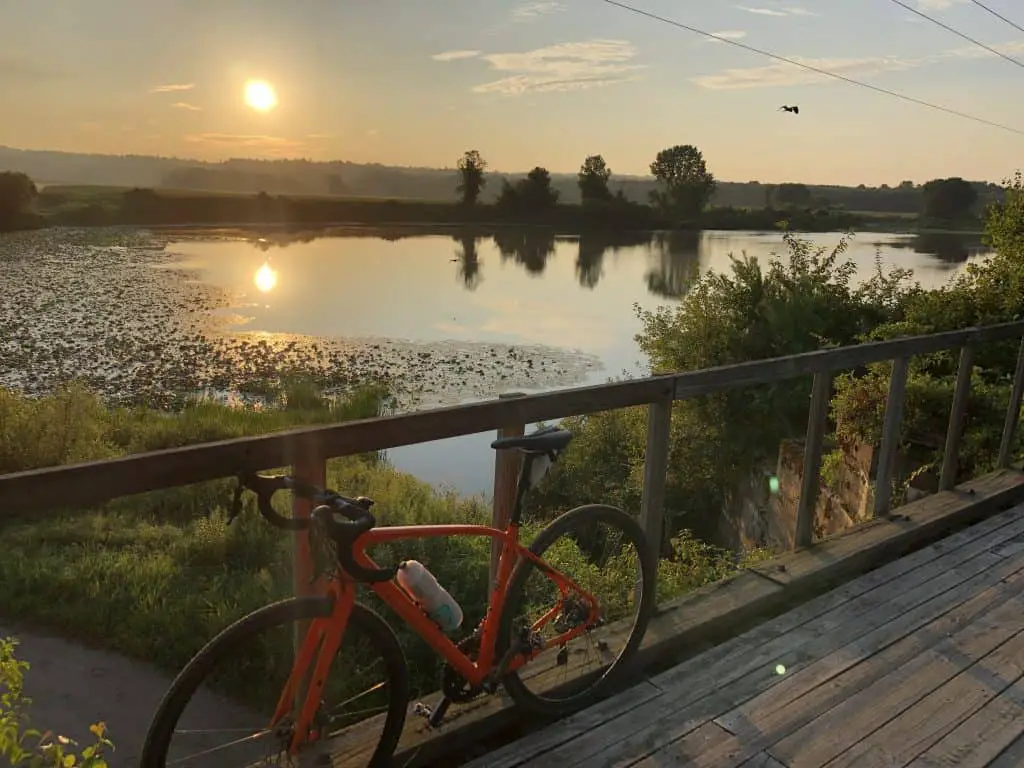 I told myself to continue riding, enjoy the views, but that I didn't have to stop at each viewpoint.  I soon arrived at Webster Lake and wanted so badly to stop but kept pedaling.  I love a calm lake early in the morning….unfortunately that wasn't on my agenda so I kept going.
As I rode, I was in awe of all the cool bridges I was going over and under!  They are all very safe to cross but added a bit of adventure to my ride.  Around mile 23, I was forced to stop when I crossed one bridge that led me to a beautiful covered bridge in Andover.  Pictures here were necessary…there's something about covered bridges that reminds me of visiting my grandparents in Northern New Hampshire as a kid and makes me happy.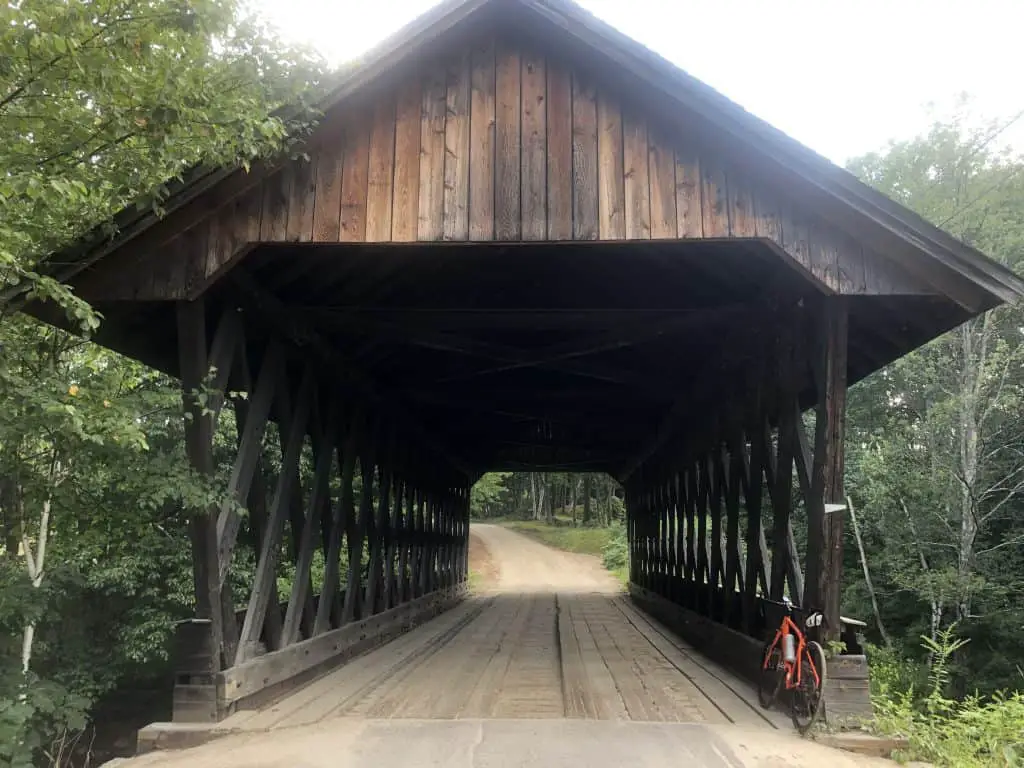 Still smiling, I continued along my route. 
I knew that the whole time I was riding an old railroad bed, but all of a sudden to my right, I could see the tracks.  They aren't always visible on the trail but here you see them and they began to bend to the right.  Then I could see some old rail cars and a cute little train station – turns out I made it to Potter Place.  Built in 1874, I was riding by some pretty cool history.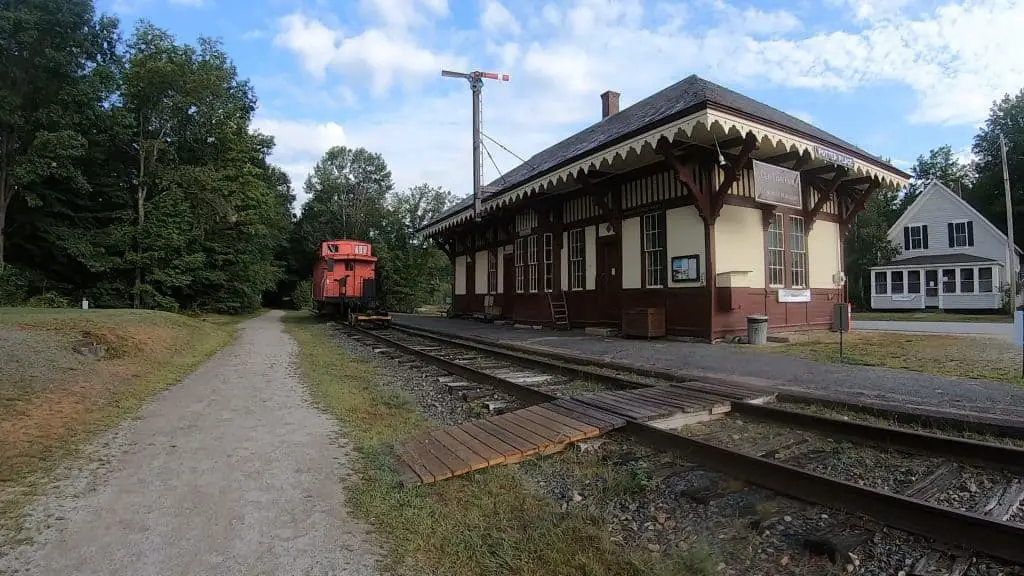 The next 10 miles or so through Wilmot and Danbury were very peaceful. 
By this point it was about 8:30 in the morning and I began to see other people using the trail, also on bikes, some runners, and walkers.  When I hit 35 miles, I stopped to take a picture and turn around to head back towards Boscawen.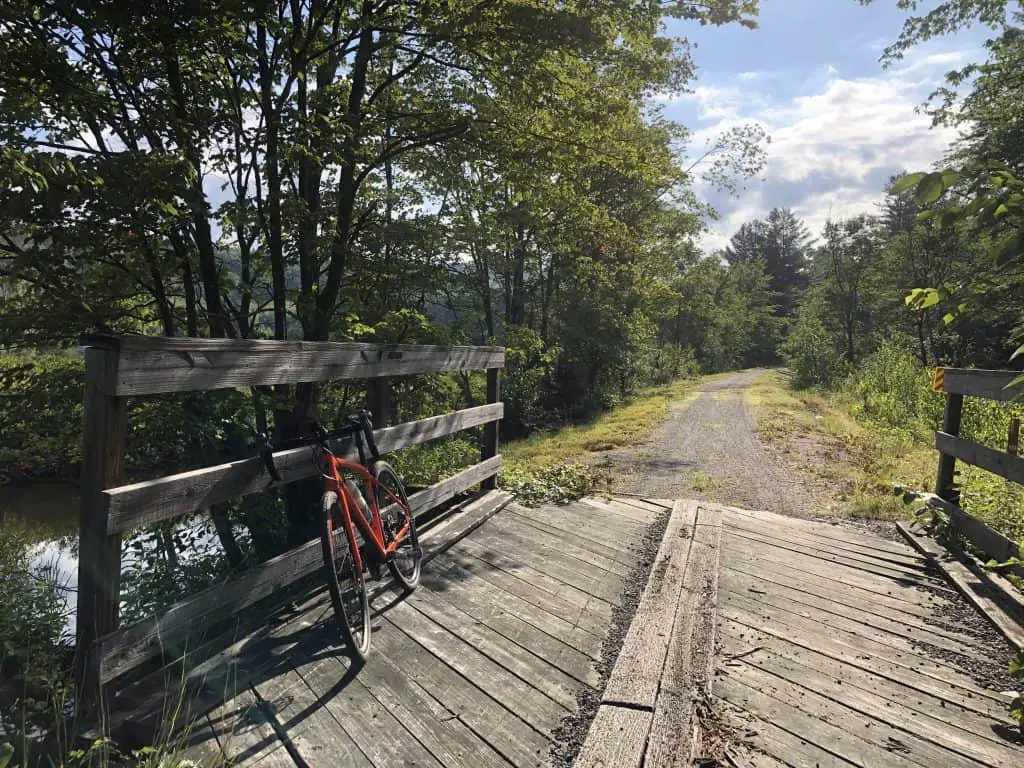 I stopped at the Danbury Country Store which is listed on the Northern Rail Trail website as a helpful stop for people using the trail. 
There was a rack out front so I could set my bike.  I went inside and was welcomed by a friendly woman who let me use the restroom and replenish my water.  I don't usually like to sit down in the middle of a ride but I sat on the front porch to enjoy a part of my sandwich, refill my water bottle and my CamelBak.  It was perfect and much appreciated.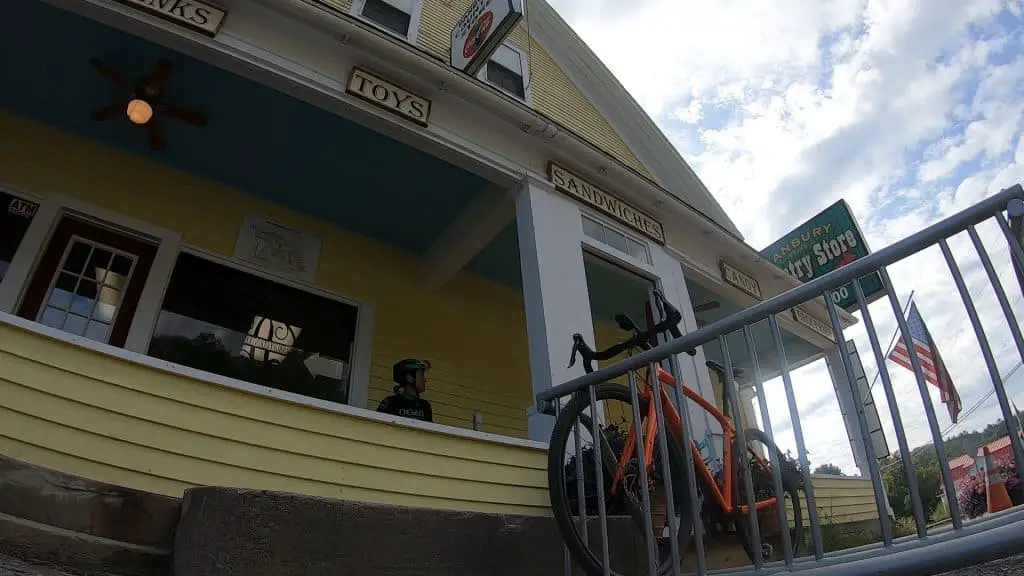 The ride back went a lot faster than the ride out. 
I thought elevation would be higher riding from Boscawen towards Lebanon, but my ride analysis shows it being the same on the way out as the way back.  So I guess I became more energized with everything I saw.  I was also afraid that the way back would be a little boring seeing everything I had already seen, but it wasn't!  I relate it to mountain biking trails.  When you ride a singletrack trail you get used to everything you see.  when you ride the same trail in the opposite direction it can feel like a completely different trail.  I think the same thing happened here.  The bridges appeared different. I noticed different buildings, signs, and landmarks.  I saw a lot more people who were enjoying the trail and sharing friendly "hellos" and waves.  I pulled out my camera and took a few pictures of things I skipped over on the way out.  There was a gravel pit with a bunch of kids trucks that I thought my son would absolutely love!  As I was nearing my car, I saw the Gerrish Depot in Boscawen which is another easy access point to the trail with parking.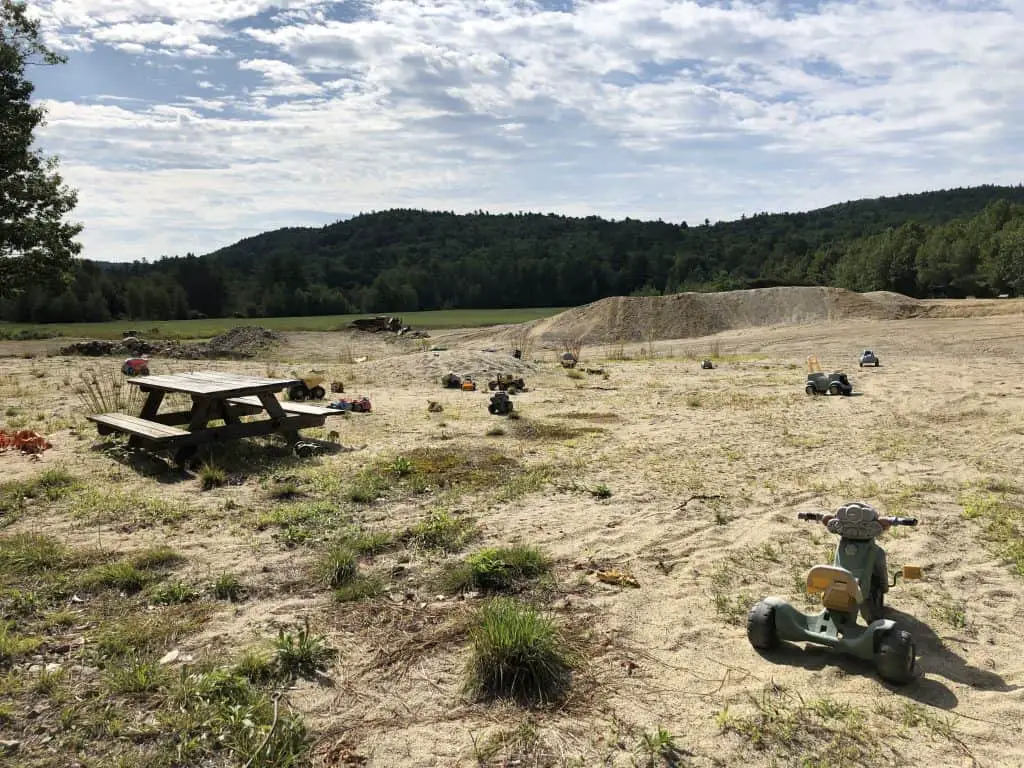 The whole ride of 70 miles, including my stops to take pictures and eat, took me five hours to complete. 
Five hours on a bike by yourself gives you a lot of time to think.  And get songs stuck in your head.  And try to figure out math problems like "If I'm riding 17 miles an hour, I should get to point A within this timeframe…".  Sometimes when I'm riding my bike or running I put so much pressure on myself to finish within a certain time, or feel like I've worked X hard.  I realized on this ride that I just love to explore on my bike.  It doesn't matter how hard it is, or how long it takes.  We're surrounded by so many cool things to see…beautiful, historical, and sometimes just plain random.  Some of this you can't see unless you're on foot or bike.  And I love that.  It just makes me happy.  I hope you can experience that and see these sights.  You don't have to do 70 miles or 58 miles, or even 20 miles.  Just get out and explore. I hope it makes you happy!
I Had A Great Time Riding The Northern Rail Trail