CONCORD, NH – Located across the street from the Capital building you will find one of my favorite restaurants in town. I have many friends around New Hampshire that say the Barley House makes the "best burger in the state." The Barley House has been a staple in Concord, New Hampshire for years and is always a popular choice elevated pub food for residents and tourists passing through town.
The Barley House offers high quality food, friendly service, and local craft brews. With it's convenient downtown location The Barley House is a popular choice for business lunches, small functions in their downstairs bar, after-work gatherings, and burger-seeking foodies.
Here's a Video of My Lunch Visit To The Barley House in Concord NH
What I Choose For My Barley House Lunch – The McBarley Burger
I chose the McBarley Burger which their Menu describes as Russian dressing, pickles, roasted red onions, house-cured bacon, and cheddar on an Orford, NH based humanely-raised burger from Robie Farms.
Wow was it good!! Filling and delicious!
Tony Chose The Roasted Turkey and House-Smoked Mozzarella Sandwich With Sweet Potato Fries
My lunch mate and friend Tony choose the Roasted Turkey and house-smoked mozzarella sandwich with sweet potato french fries. Judging by the clean plate at the end of the meal I'd say he enjoyed his sandwich too. 😉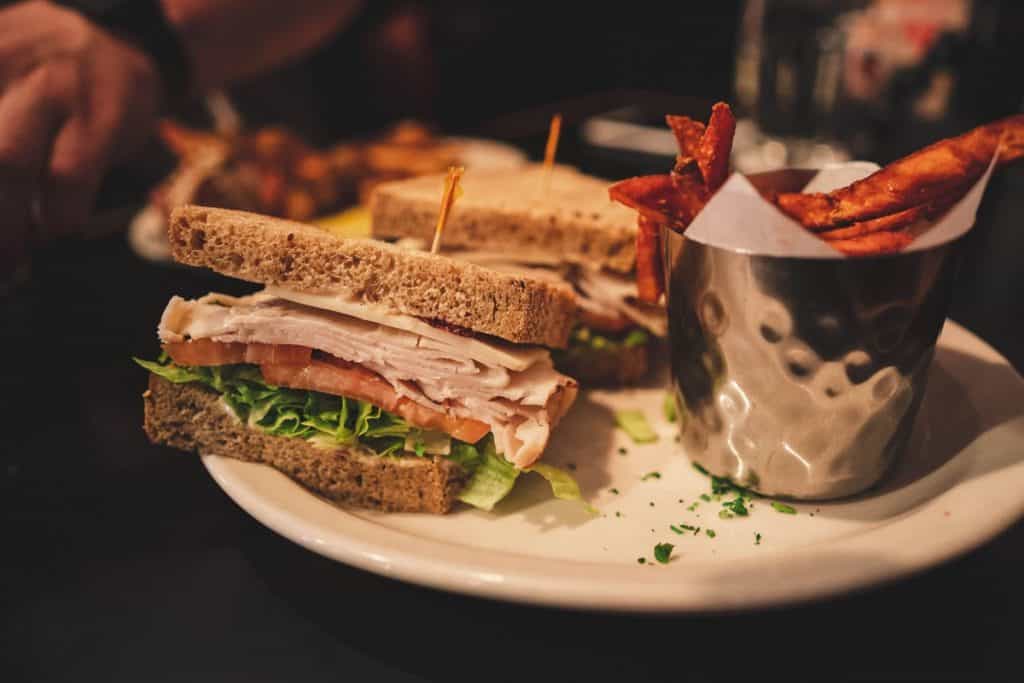 The Verdict on The Barley House Concord NH
Absolutely delicious.
The environment is always great, bartenders and staff are awesome, and the food is always top-notch. They have so many great food items and their yearly Burger Fest fundraiser features even more amazing limited-time burger combinations. Stop in for lunch, dinner, or drinks and in the summer you can grab a table outside with a great view of the Capital building. The prices are very reasonable and the food is fabulous!
About The Barley House Concord NH
You can find The Barley House at 132 North Main Street in Concord, NH, and online at thebarleyhouse.com. You can also find their North Hampton location at 43 Lafayette Road and online here: https://seacoast.thebarleyhouse.com