When it comes to the state of New Hampshire, there's an enormous amount of history and culture to get lost in. Across its wide variety of cities, there's a lot to learn about their cultures, history, and interesting landmarks, among other fascinating things. 
However, it's easy to ignore some of New Hampshire's cities in favor of the more well-known ones like Portsmouth and Manchester.
Outside of these are fascinating places such as Rochester. What's the history of Rochester, New Hampshire? What landmarks does it contain?
I've got all the answers to these questions and more in my historical guide to Rochester, New Hampshire! I'm going to look at the city as a whole, it's interesting history, and a few of its best historical landmarks. By the end, you'll be itching to visit Rochester! 
An Overview Of Rochester In New Hampshire
Rochester is a city in New Hampshire, found in Stafford County. Due to this, it shares some of Baxter Lake, which is a 300 or so acre lake that's found in Stafford County.
The city includes a few villages, such as North Rochester and Gonic, and even has its own airport – Skyhaven. 
As for the population, Rochester is said to be one of the fastest growing New Hampshire cities in the past decade. 
According to the 2020 census, Rochester has 32,492 people living in it. This is an increase of almost 3,000 people since 2010, where the census recorded 29,752.
For some context as to the size of this leap, the 2000 census before that only counted 28,461 people. This is such a small increase when compared to Rochester's past decade. 
This population puts Rochester as the sixth highest city in New Hampshire, in terms of amount of people. The number one spot is held by the massive Manchester, which has 115,462, although this is a figure far above any others in New Hampshire, and hardly comparable. 
A History Of Rochester, New Hampshire
Beginnings
Before Rochester became the settlement it's known as today, the land was inhabited by the Pennacook tribe, who were Abenaki Indigenous people.
They would move around the area because their agricultural work would exhaust the soil, and they would hunt and fish as well. 
However, in 1722, Samuel Shute granted the land and Rochester was incorporated. Shute was a colonial governor for New Hampshire and Massachusetts at the time, and he named the place after his friend the Englishman Laurence Hyde, who was the 1st Earl of Rochester. 
Colonising wasn't so easy, though, because the Abenaki people understandably fought back. This would mean that settlement didn't take place until 1728, 6 years after the place had been incorporated.
With that being said, this was far from the end of the attacks, because they would continue for another two decades after that.
This meant that life was drought for those early settlers, and their first communities would be located together in order to offer protection. 
Early Growth – The 1700s
Rochester soon began to expand and grow, building up an impressive farming community, which contained as many as 60 families.
On top of this, religion also took route in Rochester, with the settling of Reverend Amos Main in 1737. He was the first pastor of the Congregational Church to settle there, and the church building itself was eventually moved to Rochester Common.
Rochester Common, which is now where you would find Rochester's downtown area, became something of a hub for the town around 1780. The location was already an important place in the Revolutionary War, being a spot for soldiers to meet before going off to fight. 
It was also where the majority of people had settled down, and as a result they constructed a building to double as both a meeting horse and a church, fostering the community to become even closer and stronger. 
Admittedly, the community would grow smaller as time went on, because more and more of it was being sold to developers.
An early mail service system was also established in Rochester in 1768, when a rider would bring gazettes through a series of places in New Hampshire. A few decades later, in 1792, this system would thankfully expand, with a mailman collecting mail on a weekly basis.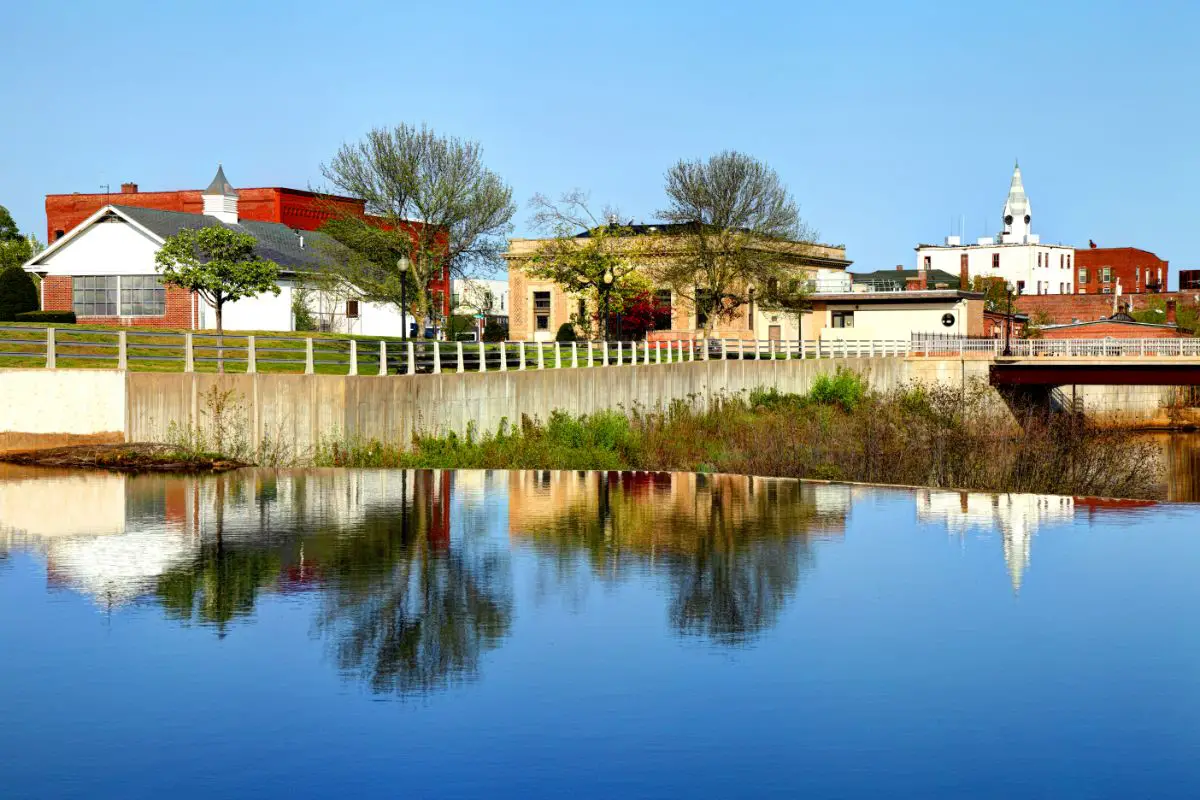 Better Development – The 1800s
Continuing with the topic of mail, Rochester got its first proper post office in 1812, allowing the town to be even more connected with itself and places outside it, whether they were in New Hampshire or further states.
On the subject of communication and connection, Rochester got its very first telephone towards the end of the century, in 1885. This  became increasingly popular, with the start of the next century seeing over 1000 calls each day. 
Rochester also had a library installed, opening in 1894. It was initially working out of a small building, but soon moved to the City Hall of all places, where it would stay for eight years before money was put into building a new library in 1905.
The 19th century also saw improvements in the school system which had already been established as far back as 1750. Especially notable was an 1850 vote where high schools were allowed, even if the first wouldn't be opened until 7 years later.
Interestingly, a key economic event was 1854's creation of a Shoe Company, because this would later become the city's thriving industry.
The Great Depression And The 1900s
The Great Depression between 1929 and 1940 saw a handful of industries suffering in Rochester. Some of them simply went bankrupt, while others took their business elsewhere to cheaper places. 
However, Rochester's shoe industry continued to do well, having a payroll of $3 million at its peak. It had already become the city's largest employer, with more than 700 workers at the start of the century, and would continue to succeed until the 1970s.
What Are Some Historic Landmarks In Rochester, New Hampshire?
There are a handful of fascinating historic landmarks to visit in Rochester, allowing you to see the history that you've just read about in action. I've collected together a few must-see examples!
First United Methodist Church
Where? 34 South Main Street
This large church doesn't just have an interesting symmetrical design, but it also dates as far back as 1868, when it replaced the original church from 1825. The building uses red brick, which contrasts with the white paint of the tower and windows, really making it stand out.
Rochester Civil War Monument
Where? Rochester Common
Earlier on, I mentioned how Civil War soldiers would meet up on Rochester Common just before going off to battle. For this reason, there is a Civil War monument erected at the same spot, first dedicated in the 1870s and then seeing a statue added in the 1880s. 
It's an important place to pay your respects and a moving reminder of Rochester's past. There used to be cannons around the monument, but they were melted down in the war for their materials, so World War II guns were added instead.
Final Thoughts
Rochester in New Hampshire has a fascinating and varied history, along with interesting historic landmarks to visit.