Whether you're just visiting New Hampshire or you've been a resident your whole life, it's always important and interesting to visit some of its famous historical landmarks.
There are loads to choose from, and all of them have their own fascinating history. They're a great way to understand not only the history of this great state, but also the history of America.
In my guide below, I'm going to list 20 historical landmarks that you need to check out in New Hampshire. With each one, I've got a little explanation of what makes it so essential. Read on!
20 Historical Landmarks You Should Check Out In New Hampshire
1. Canterbury Shaker Village
First on our list is this historic community site in Canterbury, specifically the location of some Shakers. If you haven't heard of them before, Shakers are a Christian sect.
At the site, you can learn about the ideals and lives of the Canterbury Shakers thanks to a museum that's packed with tours and exhibits. 
2. The Robert Frost Farm
Robert Frost was a famous poet whose work is still celebrated today, and the Robert Frost Farm in New Hampshire's town of Derry is where Frost lived for eleven years.
As a result, it's the site where he wrote a number of important poems, and the historic house museum that's been set up here will educate you about them – as well as his storied life.
3. MacDowell 
This is the spot for an artist's residency program, and you can find it in Peterborough, New Hampshire. Set up by pianist Marian MacDowell after the death of her husband, composer Edward MacDowell, in 1908, the former farm is a nonprofit retreat for creative artists to go and work. 
4. The USS Albacore
In Portsmouth, New Hampshire, you'll be able to find this wonderful and fascinating old submarine on display. Built in 1953 and decommissioned in 1972, this research submarine was a pioneer of American design.
How so? Well, it was the first submarine to feature the American version of a teardrop hull. 
5. The John Paul Jones House
This is a historic house museum also in Portsmouth, New Hampshire, and the house is where John Paul Jones lived between 1781 and 1782.
Jones was a naval hero of the American Revolutionary War, often nicknamed the "Father of the American Navy" for his historic exploits. The downstairs of the house has many museum exhibits, informing visitors about his life.
6. The John Sullivan House
Found in Durham, New Hampshire, this historical house was once the residence of John Sullivan. Another famous figure of the American Revolutionary War, Sullivan was a General.
Not only that, but he has a special connection to the state, because he later became its Governor (then known as "President").
7. The Epic Of American Civilization
This is a masterpiece of a painted mural, created by social realist artist José Clemente Orozco between the years 1932 and 1934. The mural is massive, containing 24 fresco panels.
Across these panels, Orozco depicts three major historical factors: industrialization and its effect on humans, the impact of colonists on North America, and the effects of war. The mural is found at Hanover's Dartmouth College. 
8. Joy Farm (The E. E. Cummings House)
Found in Madison, New Hampshire, this historical house was once the summer home of the famous American poet and playwright E. E. Cummings. It's a beautiful house, accompanied by a barn and a small tower, and Cummings spent every summer there for 33 years.
9. The Matthew Thornton House 
Matthew Thornton is a key figure in American history, being one of the Founding Fathers.
As a signer of the Declaration of Independence, it's fascinating to see this residence where Thornton lived at one point in his life. It's a beautiful white house, though there is unfortunately no museum inside it.
10.  The Mount Washington Hotel 
This is a historical hotel in Bretton Woods and one that's hard to miss – it's enormous! Building on it began in 1900 and lasted until 1902, making it well over a century old. If you're able to stay there, it's a gorgeous building both inside and out.
11. The Josiah Bartlett House
Like The Matthew Thornton House, this is a historic building that was once home to an American Founding Father, in this case Josiah Bartlett.
He built the house in 1774, but extra additions were added to the house over the years. Bartlett actually died in the house. The building is not often open to the public, but there's plenty to admire from outside.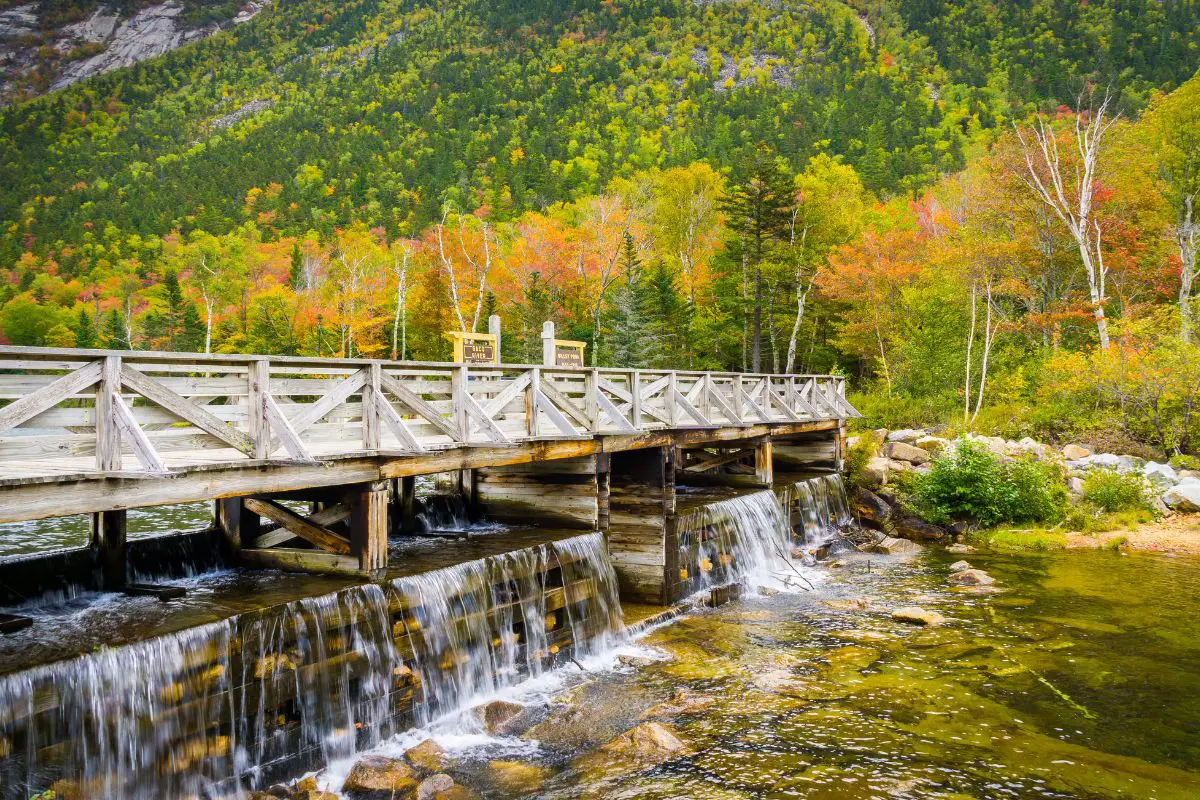 12. Harrisville Historic District
This is the site of an old New England mill village, which has thankfully been preserved well over the centuries. A mill village is a settlement that has been made around a mill or a factory, and you're able to see both Harris Meal and Cheshire Mill here. 
13. The Wentworth-Gardner House 
Found in Portsmouth, this is a historic house in the mid-Georgian style, which is now run as a museum with guided tours on some days. There's lots to see inside, but make sure to spend extra time in the hall – it's very elegant and big.
14. The Moffatt-Ladd House
Also found in Portsmouth, this is another historic house that now doubles as a museum. The building is particularly special because William Whipple lived there, one of the Founding Fathers of America. Inside the house, you can see a portrait of Whipple, as well as certain items of his. 
15. The Salmon P. Chase Birthplace
Salmon Portland Chase was a famous jurist and politician, serving as America's sixth ever chief justice at the Supreme Court.
He was born in Cornish, New Hampshire, and you can visit the very house where it happened. Chase lived in the building until eight years old. Interestingly, the house is now a bed and breakfast, so you can stay there!
16. The Richard Jackson House
This house in Portsmouth holds the special title of being the oldest sanding wood-frame home in all of New Hampshire, and was built in 1664 by Richard Jackson. It's not a historic house museum, where you can learn about its background. 
17. The MacPheadris-Warner House 
Another historic house museum in Portsmouth, this is northern New England's very oldest, urban brick house. You can learn about its history in the museum, where you'll learn about its use as a Governor's Mansion, among other things. It was even almost turned into a gas station!
18. The Ladd-Gilman House 
This historical house in Exter was one of New Hampshire's very first brick houses, built around 1721. While the American Revolutionary War raged on, the building acted as the state treasury. 
19. The Daniel Webster Family Home
Daniel Webster was the U.S. Secretary of State under three different Presidents, making him a key figure in America's history. This was the Webster family home from 1800 to 1858, but is now part of a substance abuse program.
20. Franklin Pierce Homestead
Our final entry is very important: the historical childhood home of Franklin Pierce, the 14th President of the United States. It now houses a museum, where you'll learn about this amazing figure.
Final Thoughts
New Hampshire is packed with historical landmarks – use our list to plan your trips!